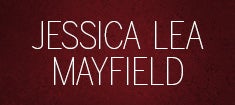 Jessica Lea Mayfield
Oct

28

, 2017
·
STAGE DOOR THEATER at Blumenthal Performing Arts Center
$16 in advance, $18 at the door.
with Blank Range
Presented by:
MaxxMusic & Blumenthal Performing Arts
Jessica Lea Mayfield
Oct

28

, 2017
·
STAGE DOOR THEATER at Blumenthal Performing Arts Center
$16 in advance, $18 at the door.
with Blank Range
Presented by:
MaxxMusic & Blumenthal Performing Arts
"The whole record is about me taking my life back, without really realizing it," she says. "I realized I'm the only person that is going to look out for me. I have to be my main person. No one else."
Jessica Lea Mayfield might make some people uncomfortable with the level of honesty she projects on her forthcoming LP, Sorry Is Gone, but she's not going to apologize – for that, or for anything else on her complex, confessional fourth album. Recorded with producer John Agnello (Sonic Youth, Kurt Vile, Phosphorescent and Dinosaur Jr.), Sorry Is Gone is a raw document of a woman in progress; one weathering cruel storms but finally able to blame the rain itself for the flood. Written as the truth of her own poisonous marriage unfolded before her eyes, Sorry Is Gone is a record of permission. Permission to create freely, to escape what is no longer safe and to stop bearing responsibility for things done to her, not by her. As Mayfield sings on the title track, "the sorry is gone." Indeed, it is; kicked to the curb with every strum of her guitar.
Written in the years since her last solo LP, Make My Head Sing, in 2014, and her 2015 collaboration with Seth Avett, Seth Avett and Jessica Lea Mayfield Sing Elliott Smith, Sorry Is Gone became the soundtrack to a highly personal and traumatic story. The Ohio-born Mayfield was quietly enduring years of domestic abuse, smiling and touring while she hid a brewing tempest – and the bruises, too. But lyrics don't lie even as bruises fade, and they started to tell the tale of her marriage before she was even able to; songs often dark and dangerous and ready to confront and claim her life. Written primarily on an acoustic baritone guitar – out of necessity at first, in her thin-walled apartment - Mayfield started to process the years of hurt and uncertainly through words and melodies that helped her see the light in the darkness.
Though much of Make My Head Sing was written music-first, Sorry Is Gone began with those lyrics, and, so often, a path forward unfolded itself as the songs formed. "The cold hard truth is you love me too much," she sings on "Meadow," a moody, echoey moment about finally realizing someone's true colors. "The cold hard truth is you couldn't love me enough." It's a brutal line from someone who refuses to be victimized. Evoking the pathos of nineties grunge, the folk confessions of her idol, Smith, and the cool blasé of bands like Luscious Jackson, the tracks that comprise Sorry Is Gone aren't devised to make anyone comfortable but herself – but they are there to help share an emotional journal and a certain kind of healing that can only come through music.
"I have to sing about things and write about things that have happened to me as therapy," says Mayfield, who shaped so many of these songs in the isolation of the small apartment she shared with her husband while their marriage fell apart in her hands – in many ways, those songs pointed to the way out before she could get there herself. "That's what connects me to other music I listen to. I want music to make me feel things. This is my inner dialogue, and my chance to get the last word."
Recorded with Agnello at Water Music and Electric Lady Studios, Mayfield recruited a stellar group of musicians for Sorry Is Gone, including Avett on backing vocals and keys, drummer Steve Shelley (Sonic Youth, Sun Kil Moon), bassist Emil Amos (Grails, Holy Sons), guitarist Cameron Deyell (Sia, Streets of Laredo) and Patrick Damphier (The Mynabirds, Field Days, who produced and played on "Offa My Hands"). Together, they worked to create an ominous take on love, where hope can exist among heartbreak and the end is only as finite as we make it to be. On songs like the title track and "Bum Me Out," Mayfield bends the angelic notes of her voice over off-kilter orchestration, building an environment of warrior-style triumph; on "Safe 2 Connect 2," she takes stock of the digital world to a haunting, acoustic backdrop that gives a subtle ode to her bluegrass roots.
"Been though hell, there's no telling what might happen in my future," she sings. "All I can do is be thankful for each moment that's my own."
Mayfield has paved an unconventional lifestyle – playing in her family's bluegrass band since the age of eight, she didn't have any traditional schooling and released her first album at the age of fifteen, when she was discovered by Dan Auerbach of the Black Keys. Influenced by everything from that mountain sound to the modern garage, Mayfield has been able to come at songwriting from a pure perspective, lead more by her heart than any textbook. It's what makes the tracks of Sorry Is Gone so striking and visceral – there is no filter on the emotions, no rulebook and certainly no excuses for anything she's been through or the candor she fires.
"I'm not going to bite my lip on anything," she says. "If there is one thing I am going to do, it's talk and sing about what I want to. No one is going to manipulate me."
The sorry is gone, once and for all – and Sorry Is Gone is a permission slip for anyone who wants to stop apologizing for others, and start living for themselves.
---
"It's a snapshot of transition, of worldview formation, of deciding which questions to try to answer, and which ones to leave alone." That's Grant Gustafson (guitar/vocals), theorizing about the genesis of Blank Range's new EP, Vista Bent.
Blank Range was born in Nashville in 2012, by accident. Jonathon Childers (guitar/vocals) and Matt Novotny (drums/vocals) were touring the Southeast with their college band, and through an acquaintance, stayed at Grant's on their way through Nashville. The last stop on the tour after Nashville was a Memphis house show that was canceled, leaving Childers and Novotny in Nashville for a few more days than originally planned. The seeds of the band-to-be were planted during those days and within six months, Childers and Novotny moved to Nashville. Blank Range was formed shortly thereafter as two separate creative conversations fused into a conversation between two front men and two songwriters.
After making the decision to end an eight-year relationship in favor of forging ahead with a then young creative partnership, Childers slipped into emotional disarray, finding discrete and temporary refuge in the bottoms of bottles. The recording process of Vista Bent forced Childers to reckon with his past face-to-face, unearthing a sober purpose and previously buried optimism. The concluding optimistic outlook of "Gardens" and "Circumstances," Childers' two contributions to Vista Bent, are his statements of intent.
Jonathon Childers' songs are raw, they read like attacks on himself and his circumstances. His voice bears the imprint of more years living than he has been alive, getting gritty when he reaches: "Just take me back," he pleads, in vain, as "Circumstances" approaches its refrains."
Gustafson's questions of intent are communicated partially through a lens that was developed during his music studies at North Central College in Chicago, particularly improvisational jazz. "Jeff Parker was the guy. I took a guitar lesson with him - he was involved with everybody. People didn't have regular bands at North Central. One guy would get a gig, and invite a bunch of friends to play. It was all improvised."
Gustafson plays a baritone guitar, custom built by his brother, Alex Gustafson at Chicago Fret Works. An obsession with 1960's Italian Spaghetti Westerns and soundtrack composer Ennio Morricone led Grant and Alex to collaborate on a baritone guitar that would become part of the foundation of the Blank Range sound. Alex rounded out the Blank Range six string customizations with a recent build for Childers.
Will Brown (keyboards) and Matt Novotny also studied music in college. Novotny gravitated toward the complexity of Latin rhythms. "Matt had a lot of ideas for subtle percussion additions that had been floating around in his head," Childers indicates. "Seeing him get to realize some of those on Vista Bent was a real joy." Taylor Zachry's (bass/vocals) persistence for pursuing The Byrds' four-part harmonies and Brown's draw to Duke Ellington's composition style, round out the Blank Range sound that is ever evolving.
Their shared study of music gives Blank Range a wide sonic palette to draw from, and therefore, the ability to craft more refined portraits of feeling. The execution of communicating those feelings in a live setting has been crafted, in part, by members' performances on tours playing with Jessica Lea Mayfield, Michael Nau (of Cotton Jones), Quiet Life, Jonny Fritz, and Rayland Baxter.
Blank Range spent the last three years touring North America, supporting national tours for Benjamin Booker, The Mountain Goats, The Cave Singers, and Black Joe Lewis & The Honeybears. On an enigma of a weekend, they opened for Alice In Chains in a few Midwestern casinos. Blank Range's live performance has blossomed, in part due to the education witnessed while sharing the stage with Spoon, Drive-By Truckers, Houndmouth, Strand of Oaks, Kevin Morby, The Wild Reeds, and Diarrhea Planet.
Vista Bent speaks straight to the heart of the transition into adulthood, where the emblems of youth live on as indelible parts of a full-fledged identity.
Read More
Performance Schedule

Parking and Directions

A special preferred parking rate of only $5* is available for our patrons in our designated garage.
Bank of America Center Parking Garage
Enter on Trade or 5th Streets between N. College and N. Brevard Streets.

The $5 rate is applicable when parked in the garage after 5pm on weekdays, Mon – Fri. If parked in the garage before 5pm, the $5 rate is void. There is no time restriction for the weekend, Sat & Sun.

Getting and Using Your Parking Pass When You Arrive

Pull the garage entry ticket when you arrive at the designated garage. You will need this to exit!
Purchase a $5 Blumenthal exit pass at the theater or click here to purchase in advance online. If you would rather purchase by phone, please call 704.335.1010*

When You Exit

Insert your garage entry ticket into the yellow slot. Amount due will display on the screen.
Insert your Blumenthal exit pass in the same yellow slot, with arrow pointing at slot.
Gate arm will rise and screen will display "drive safely."

*Pre-paid parking is not available day of show.

CLICK HERE to Purchase your Parking Exit Pass in Advance

CLICK HERE for parking information for Spirit Square events. (McGlohon Theater, Duke Energy Theater)

CLICK HERE for parking information for Knight Theater events.

Accessibility

Advance reservations for Patron Assistance are encouraged to ensure the best possible experience!

Assistive listening systems available
Wheelchair accessibility
Wheelchair seating
Limited booster seats available at Belk Theater.

Wheelchair access
All of our theaters and classrooms are accessible to patrons who use wheelchairs. Most restrooms and water fountains in all facilities are wheelchair accessible, and restrooms are equipped with strobe-light as well as audio alarm systems. A wheelchair accessible "unisex" restroom on the Belk Theater's Grand Tier level accommodates persons who may need assistance from a spouse or companion of the opposite sex. Ask an usher for the location.

Entry and exit assistance
For performances in the Belk Theater, an usher can meet patrons who need assistance at the corner of Tryon and 5th Streets or valet parking on Tryon. If you wish to receive this service, please contact the Box Office at least 2 days prior to the performance to make these arrangements.

SERVICES FOR THE VISUALLY-IMPAIRED

Audio Description
Certain performances will be audio described for the blind or visually impaired. The Box Office will provide a schedule of these performances upon request. Audio description provides an on-going oral description of the action, sets and costumes during the performance. Each participant wears a headset, and no other patrons are able to hear the descriptions. For Belk Theater performances, patrons can pick up headsets at the coat check in the Grand Tier Lobby.

Large Print Programs
Large print programs are available for patrons at many performances. At Belk Theater, assistance is available at the coat check in the Grand Tier Lobby.

Service Animals
If you or someone in your party plans to attend an event with a service animal, please inform the Box Office when purchasing your tickets so that we may arrange for an aisle seat.

SERVICES FOR THE DEAF AND HARD-OF-HEARING

Interpreting
Certain performances at the Performing Arts Center will be interpreted for the hearing impaired. The Box Office will provide a schedule of these performances as requested. There will be one Sign Interpreted and Audio Described performance in each Broadway Lights engagement on a Sunday at 2pm.

Assistive Listening Devices
Assistive listening equipment is available free of charge for all amplified performances. Please see an usher for assistance. In Belk Theater, headsets may be checked out from the coat check located in the Grand Tier.

Communication Devices
TTY/TOO is available on the Mezzanine Level of the Belk Theater near the entrance from Founders Hall.