Blumenthal Performing Arts Unveils New Logo at 25th Anniversary Season Kick Off Celebration!
By Becky Bereiter

Nov 14, 2017
(Nov. 14, 2017) Charlotte, NC –Blumenthal Performing Arts introduced a new logo Tuesday evening at Belk Theater during a festive gala evening officially beginning the celebration of Blumenthal Performing Arts Center's 25th Anniversary season. The 25th Anniversary season is presented to the community by Barings, the Dale F. Halton Foundation, The Doctor Family Foundation and Wells Fargo.
"The new logo marks the start of our next 25 years of service to the community. It symbolizes the diversity of events and arts fans we want to feel welcome here," said Blumenthal President and CEO Tom Gabbard. "The design also pays tribute to the beautiful curves of Cesar Pelli's classic design of the Performing Arts Center."
The colorful new logo made its first appearance at "Celebrating Big Dreams," a concert created especially for the anniversary kick off starring Hamilton's Tony Award Winning Best Actor Leslie Odom Jr., Charlotte's own Abby Corrigan who is currently starring in the national tour of Broadway's Tony Award Winning Best Musical Fun Home, and dozens of area high school theater students who have participated in Blumenthal's High School Musical Theater Awards (The Blumey's). A new film celebrating Blumenthal's history and its future aspirations also debuted at the sold-out event.
The new logo was created by Wray Ward, a Charlotte-based marketing communications agency. It is part of a new vibrant branding campaign that will be unveiled throughout the anniversary year. Like a true performer, it was strategically designed for quick changes and can easily adapt to any new and exciting venture – including a version specifically celebrating Blumenthal's 25th year.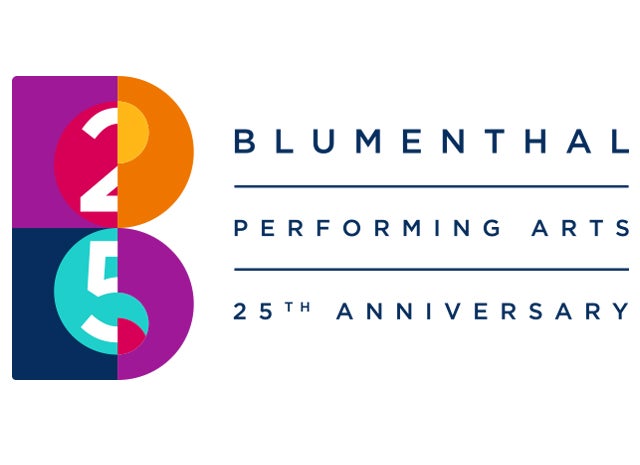 Please update your graphics packages and use this logo moving forward when referencing Blumenthal Performing Arts. Thank you for helping spread the word on this exciting new chapter!
LOCAL MEDIA CONTACT
Becky Bereiter, (704) 348-5814
ABOUT BLUMENTHAL PERFORMING ARTS
Blumenthal Performing Arts serves the Carolinas as a leading cultural, entertainment and education provider. For more information, call (704) 372-1000 or visit BlumenthalArts.org. Blumenthal Performing Arts receives operating support from the Arts & Science Council and the North Carolina Arts Council. Generous support is also provided by PNC Bank, sponsor of PNC Broadway Lights and PNC Celebrity Series.
###