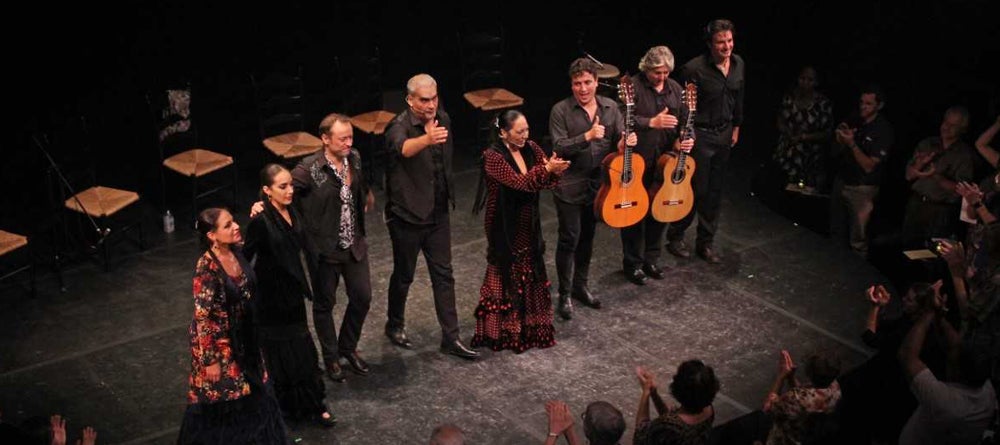 Booth: An International Playhouse
The weather may have cooled, but things are certainly heating up in Booth Playhouse. After two iterations of Tablao Flamenco, a brand new show is premiering in February: A Night in Andalucia. And you can see how it all began with Gypsy Soul, an exploration of how Romani gypsies influenced and were influenced by the many cultures they visited over thousands of years.
We asked Leah Keith, co-creator of Tablao Flamenco, and Vadim Kolpakov, Gypsy Soul guitarist and co-creator, to talk a little about the two shows and how they relate to one another.
Where are you from and when did you begin to become involved in art?
Vadim Kolpakov: I'm originally from Russia [and have lived] in Charlotte for 12 years. I started playing music at age 7, and my professional music career began when I was about 14.
Leah Keith: I was born in Arvada, Colorado. My mother is from Colombia, and my father is from Los Angeles of Austrian and Italian descent. I began dancing ballet when I was 3 years old. When I was 7, I informed my mother that I felt ballet was too "cold" and I didn't feel like I could express myself. She had studied classical Spanish dance and flamenco when she was young in Colombia and enrolled me in classes. I started with Mexican folkloric dance, classical Spanish dance and flamenco, choosing to focus and specialize in flamenco when I was 13.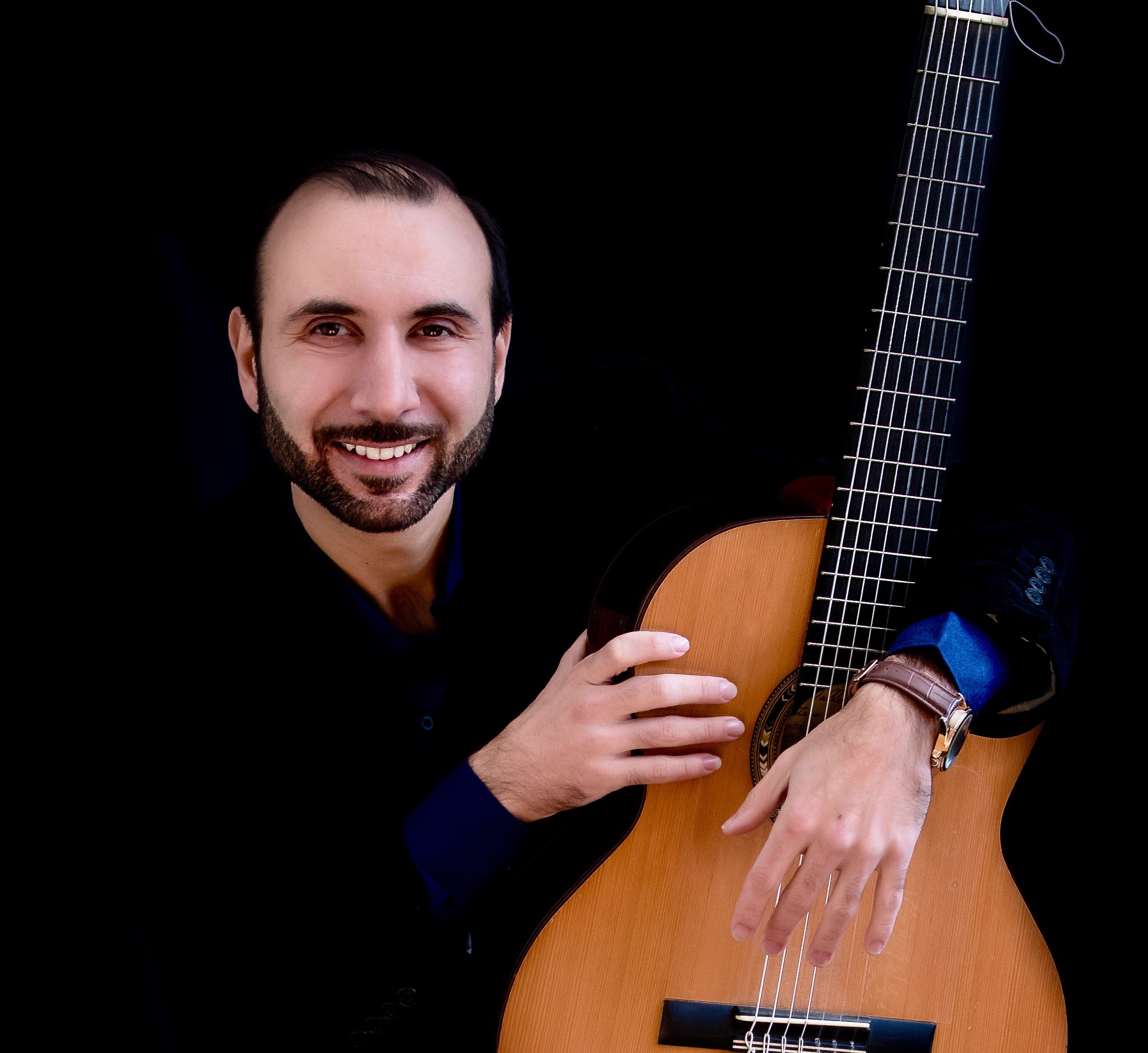 L: Vadim Kolpakov; R: Leah Keith, photo by Jamie Jung.
Can you speak to some of the connections between flamenco and gypsy art?
VK: Since Romani (Gypsy_ people originates in India and traveled all over the world, they came to Spain, where they created flamenco, and to Russia, where they developed [the] Russian-Gypsy style of music and dance. The dance moves are similar in these two styles.
LK: The gypsies were a nomadic people who have origins in northern India and migrated throughout Europe and northern Africa. They brought their dance and music to territories and countries where they traveled and settled, and both their music and dance influenced the host country's music and dance and vice versa. Because of this, gypsy music and dance varies depending on the country. Flamenco would not exist without the gypsies. However, flamenco also does not exist outside of Spain because there were other influences specific to Spain in the development of flamenco dance, music, and song.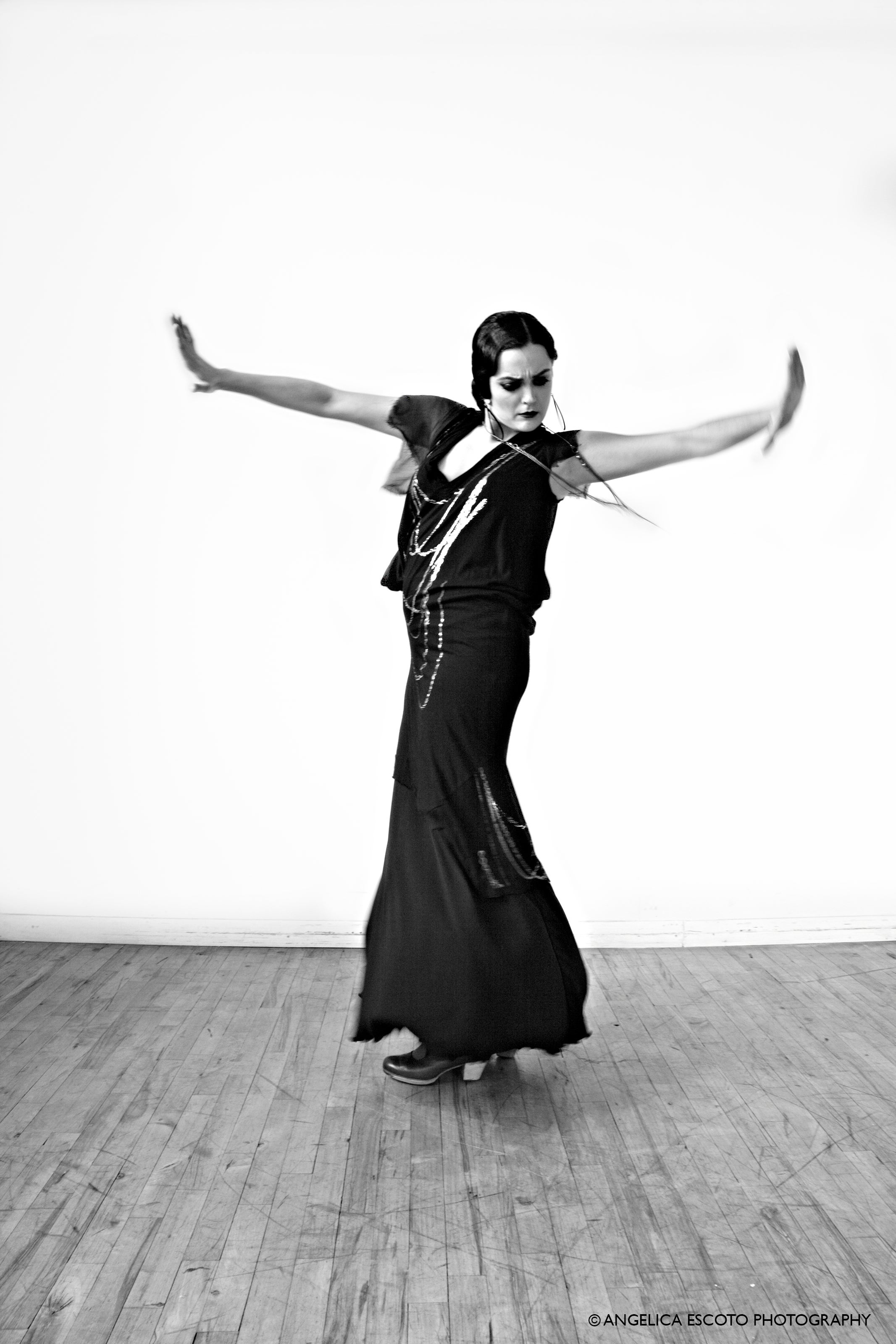 The beginnings of flamenco come from the Moors, Sephardic Jews, as well as the gypsies--all oppressed people in Andalusia during the Spanish Inquisition. These groups of people used music and dance to express themselves, and combined with traditional Spanish folk music, flamenco started to develop and it has been passed down through the generations as an oral tradition.
What is it like to perform in Booth Theater?
LK: It is such a luxury to call the Booth Playhouse home for a week! Rehearsing in the space we can tailor the show to the unique specifications that have been created for us. The atmosphere during each show is electric. The Charlotte audiences are so generous and are definitely part of the show--the more they give, the more the artists give. Since the stage is almost surrounded by the audience, the stage feels like it is getting a huge hug. Since there is a large element of improvisation in flamenco, each night is a different experience.
Leah performing. Photo by Angelica Escoto.
What makes these shows, Gypsy Soul and Tablao Flamenco, a unique experience for audiences?
VK: [Gypsy Soul] will introduce Romani music and dance culture from different cultures.
LK: Tablao Flamenco brings Spain to you. [We] wanted to capture the raw, improvisatory and fresh sensation that one gets when...spending an evening in a flamenco club. Also...the audience is a participant of the show -- much more so than in a traditional dance show. And of course, who doesn't like indulging in a glass of wine or a cocktail while enjoying a show? [Ed. note: you can order drinks directly from your seat at a cabaret table. These seats not only provide a great view of the dancers' detailed footwork but also give you the most exclusive experience, complete with table-side drink service.]
Which three words best encompass your show?
VK: Passionate, unique and soulful.
LK: Three words to describe flamenco as a whole -- raw, deep, elegant, fun, heart-on-a-platter...three words are too few.
Is there anything else you'd like audiences to know before they attend both Gypsy Soul and Tablao Flamenco?​
VK: The audience will experience the journey of Romani people through the second millennium with their music and dance.
LK: Listen to the space between the notes and between the rhythm as much as you revel in the flashiness of the fancy footwork. If you like something, don't be shy and shout "Olé!"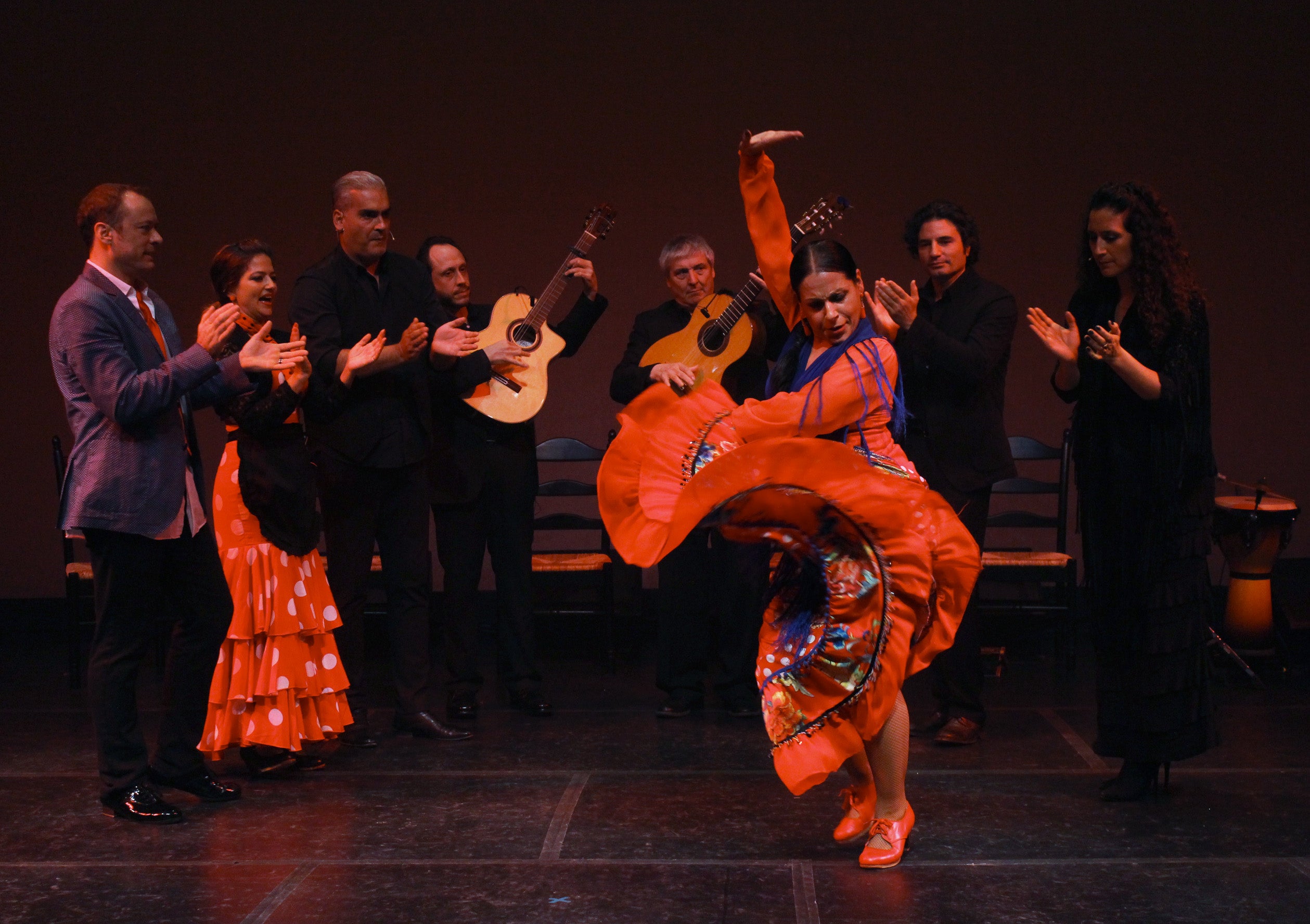 The cast of Tablao Flamenco, fall 2018. Photo by Daniel Coston.
Gypsy Soul: A Thousand Year's Journey runs January 25 and 26. Tablao Flamenco: A Night in Andalucia plays February 19-23. Tickets are on sale now.
Vadim Kolpakov is an acclaimed seven-string guitarist who has toured internationally and with artists including Madonna. He is one half of VS Guitar Duo, in which he plays along side his nephew, virtuoso guitarist Sasha Kolpakov.
Leah Keith holds a MFA in Performing Arts Management from Brooklyn College and has an extensive performance and research background in the art of flamenco. She currently serves as an agent for Rhythm of the Arts.