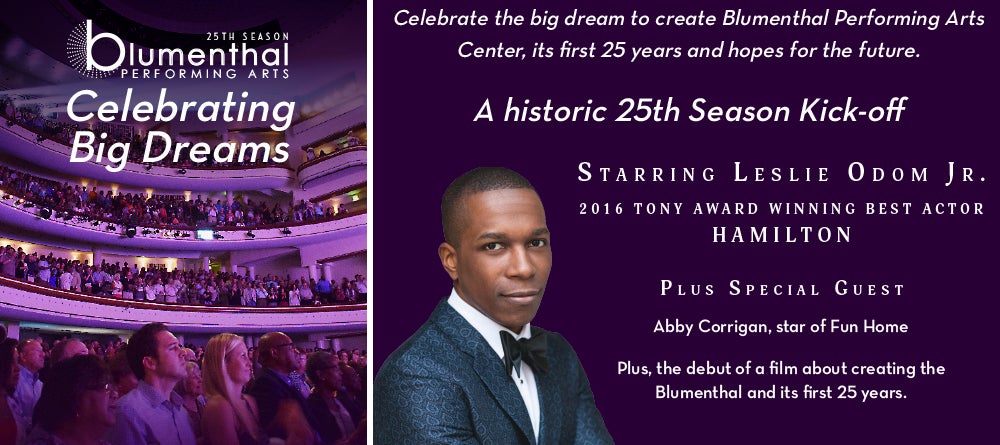 Celebrating Your Big Dreams
By Kitty Janvrin

Nov 14, 2017
We asked; you answered! Thank you to everyone who sent in their hopes and dreams for our Charlotte arts scene. We are thrilled to launch the first of our 25th anniversary events tonight at Belk Theater. Before Leslie Odom, Jr. lights up the stage with some local artists during Celebrating Big Dreams, we'd like to share some of your big dreams for our community!
"My dream for Charlotte theatre is that it continues to grow and delight audiences with unparalleled productions. We've lived here since 2008...and it keeps getting better and better." -Rebecca H.
"When we first moved to Charlotte 32 years ago, we missed having the opportunities to attend arts programs. We became involved first by volunteering with Spirit Square, when there was little else downtown. Then we watched as Charlotte's arts programming grew and blossomed into what it is today. My wish for the Charlotte arts community is for it to continue to grow at a sustainable pace, so all of the various groups can continue to thrive. I would encourage all of the different arts groups to continue to work together to grow Charlotte as a cultural hub." -Marcia B.
"My dream for the Charlotte community would be lots of support from local citizens and businesses. A diverse arts scene with music, visual arts, and performing arts of different genres and points of view." -Jody N.
"My dream for the Charlotte arts community is for quality and diverse shows to continue to be offered in our area, allowing local NC residents a chance to experience world class art! This autumn, I was inspired to audition for a local production, was cast, and I had an amazing experience being on stage. I love that our local community and state have these opportunities for individuals to witness world class performing arts, become inspired and even express their own artistic personality!" -Holley D.
"STEAM. Science, technology, engineering, ARTS and math in our school systems. As children graduate and become contributing members of society, they participate in, they attend, they donate, they pursue careers in, they introduce others to the life-giving world of the arts." -Diana W.
"My dream for Charlotte's arts scene is that we continue to make the arts visible in our public square, and that we work to make the arts and arts education more accessible to every corner of our community. Every student deserves the chance to hear a symphony, see a play, and grow up with public art as part of their community, and every adult should have the chance to experience transformative, cathartic works.." -Sam S.
"My dream for Charlotte is to wear her crown with pride! We appreciate, celebrate and support the arts." -Claire S.
"Celebrating a birthday and Big Dreams, may the performing arts and Blumenthal have another 125, 225, 325 spectacular years of inspiring the greater Charlotte area. My wish on that good luck candle is for more people to be touched by these performances and greater access for younger audiences. Happy birthday, Blumenthal!" -Vicki P.
Thank you for sharing your stories and wishes! We are excited to see how the arts will continue to grow in the Queen City. Have something you'd like to share? Email us!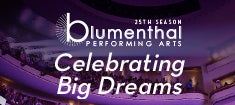 BELK THEATER at Blumenthal Performing Arts Center