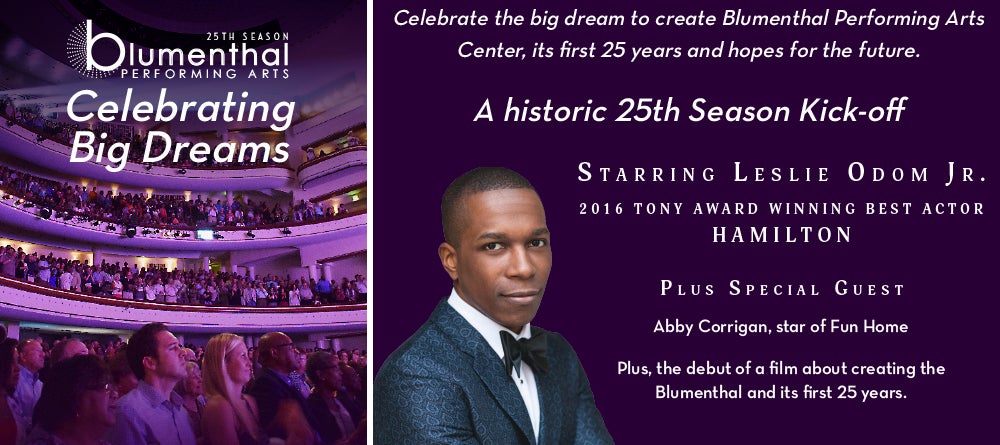 Our Year-Long Party Begins Next Month!
By Kitty Janvrin

Oct 17, 2017
Four weeks from today, actors and musicians, dancers and filmmakers will take the Belk Theater stage for the launch of Celebrating Big Dreams, an original show headlined by Leslie Odom, Jr. The evening will include various performances as well as memories from Blumenthal's first 25 years. It's all in celebration of our anniversary and will launch "a year-long party to celebrate the dream of building a performing arts center in Charlotte" according to Blumenthal President Tom Gabbard. Here's some of what you can expect from this special event on November 14.
Leslie Odom, Jr.
The multi-talented musical actor is perhaps best known for originating the part of Aaron Burr in Hamilton. The antagonistic role played against Lin Manuel-Miranda as Alexander won Odom the Tony Award for Best Lead Actor in a Musical in 2016. You may also know Odom from appearances on various TV shows, including NBC's Smash, or from his debut solo album which sits at #1 on the iTunes jazz charts. With sincere and soulful renditions of Broadway, jazz and pop favorites, Odom is sure to give audiences a killer show.
Abby Corrigan
A win for Best Actress at the 2014 Blumey Awards followed by a starring role as Medium Alison in the Fun Home national tour (which brought her back to Charlotte for a week this summer) is mere testament to Corrigan's performance chops. She will once again take the Blumenthal stage joined by other Blumey Awards participants in celebration of their own big dreams and the aspirations of many others who have been a part of Blumenthal's 25-year history.
Film Premiere
From the initial spark of an idea to the grassroots campaign to bring professional performing arts to uptown, this video project catalogues the past quarter-century. You'll get to hear about Blumenthal's growth as well as memories and stories from those who assisted with its development.
Tickets are still available for this star-studded event. You can read more about the performance here.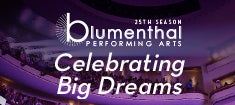 BELK THEATER at Blumenthal Performing Arts Center