Parking & Transit Information for
February 14 - 17: NBA All-Star Weekend
Festivities associated with the 68th annual NBA All-Star Game will impact traffic and parking in center city Charlotte Feb. 11-17. The most significant impacts will occur Feb. 14-17. If you are attending events at Blumenthal Performing Arts Center or Spirit Square during this time, please consider the information below carefully as you make travel plans. We recommend you plan extra travel time regardless of your mode of transportation.
Parking/Drop-Offs
Street closures will impact traffic and parking, including our designated garages – Bank of America Corporate Center Garage and 7th Street Station Garage. See below for the current street closure map.
Our $5 event rate will be available for the Bank of America Corporate Center Garage and 7th Street Station for your event, but parking will be first come, first served. Heavy demand is anticipated all weekend.
Entry and exit from the Bank of America Corporate Center Garage will be limited to North College Street.
The relocation of the Charlotte Transit Center to 7th Street will impact traffic flow around 7th Street Station.
Drop-off locations for your show will be on North Tryon Street in front of your theater location.
Road Closures
Heavy pedestrian traffic is expected in Uptown. The following roads surrounding Spectrum Arena will be closed to public traffic beginning Thursday, Feb. 14:
Caldwell Street and Brevard Street between 4th Street and 6th Street
East Trade Street and East 5th Street between College Street and North Davidson Street
Visit www.charlottenc.gov/nba for more information about the 2019 NBA All-Star Weekend.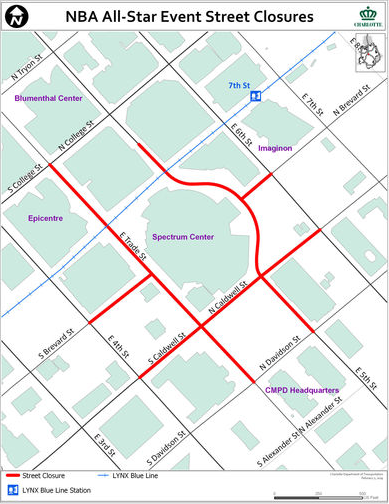 ENHANCED SECURITY will be in effect at many garages and LYNX light rail.
Review light rail schedules and security rules carefully. Special protocols (no bags/purses permitted!) will be in effect. Visit https://charlottenc.gov/cats/bus/Pages/NBA-AllStar.aspx for more information.
Cars may be subject to search and other enhanced security checks at some garages.
Key Tips
Allow extra travel time.
Garages and surface lots located on the west side of Tryon Street may be less congested than those closer to Spectrum Arena. Garages/surface lots located on Church Street, including Discovery Place Garage, those in the South Tryon Street area around Knight Theater and Gateway Village area are options to consider.
Parking fees may be higher than normal in the center city.
We'll post additional updates and alerts as we receive them from officials. That said, be aware, parking/street closures/light rail are subject to change without notice. Plan accordingly and give yourself plenty of time!