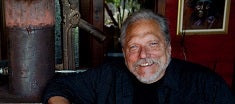 An Evening with Jorma Kaukonen
Mar

6

, 2018
·
McGLOHON THEATER at Spirit Square
Prices start at $25.
Presented by:
MaxxMusic
Box Office:

(704) 372-1000

Tell a Friend
An Evening with Jorma Kaukonen
Mar

6

, 2018
·
McGLOHON THEATER at Spirit Square
Prices start at $25.
Presented by:
MaxxMusic
A Brief History of Jorma Kaukonen – (11.12.2014)
In a career that has already spanned a half-century, Jorma Kaukonen has been one of the most highly respected interpreters of American roots music, blues, and Americana, and at the forefront of popular rock-and-roll. A member of the Rock & Roll Hall of Fame and a Grammy nominee, he is a founding member of two legendary bands, Jefferson Airplane and the still-touring Hot Tuna. Jorma Kaukonen's repertoire goes far beyond his involvement creating psychedelic rock; he is a music legend and one of the finest singer-songwriters in music.
Jorma currently, as he has for many years, tours the world bringing his unique styling to old blues tunes while presenting new songs of weight and dimension. Jorma is releasing his next solo album, Ain't In No Hurry, early in 2015 on Red House Records.
The son of a State Department official, Jorma Kaukonen, Jr. was born and raised in the Washington D.C. area, with occasional extended trips outside the United States. He was a devotee of rock-and-roll in the Buddy Holly era but soon developed a love for the blues and bluegrass that were profuse in the clubs and concerts in the nation's capitol. He wanted to take up guitar and make that kind of music himself. Soon he met Jack Casady, the younger brother of a friend and a guitar player in his own right. Though they could not have known it, they were beginning a musical partnership that has continued for over 50 years.
Jorma graduated from high school and headed off for Antioch College in Ohio, where he met Ian Buchanan, who introduced him to the elaborate fingerstyle fretwork of the Rev. Gary Davis. A work-study program in New York introduced the increasingly skilled guitarist to that city's burgeoning folk-blues-bluegrass scene and many of its players. After a break from college and travel overseas, Jorma moved to California, where he returned to classes at Santa Clara University and earned money by teaching guitar. It was at this time, that he met Paul Kantner and was asked to join a new band. Although Jorma's true passion was roots music, he decided to join. That band was the Jefferson Airplane. Jorma invited his old musical partner Jack Casady to come out to San Francisco and play electric bass for Jefferson Airplane, and together they created much of Jefferson Airplane's signature sound. A pioneer of counterculture-era psychedelic rock, the group was the first band from the San Francisco scene to achieve international mainstream success. They performed at the three most famous American rock festivals of the 1960s—Monterey (1967), Woodstock(1969) and Altamont (1969)—as well as headlining the first Isle of Wight Festival (1968). Their 1967 record Surrealistic Pillow is regarded as one of the key recordings of the "Summer of Love". Two hits from that album, "Somebody to Love" and "White Rabbit", are listed in Rolling Stone's "500 Greatest Songs of All Time".
Jorma and Jack would jam whenever they could and would sometimes perform sets within sets at Airplane concerts. The two would often play clubs following Airplane performances. Making a name for themselves as a duo, they struck a record deal, and Hot Tuna was born. Jorma left Jefferson Airplane after the band's most productive five years, pursuing his full-time job with Hot Tuna.
Over the next three and a half decades Hot Tuna would perform thousands of concerts and release more than two-dozen records. The musicians who performed with them were many and widely varied, as were their styles—from acoustic to long and loud electric jams but never straying far from their musical roots. What is remarkable is that they have never coasted. Hot Tuna today sounds better than ever.
In addition to his work with Hot Tuna, Jorma has recorded more than a dozen solo albums on major labels beginning with 1974's Quah and continuing with his recent acoustic releases on Red House Records—2007's Stars in My Crown and River of Time, produced by Larry Campbell and featuring Levon Helm.
But performance and recording are only part of the story. As the leading practitioner and teacher of fingerstyle guitar, Jorma and his wife Vanessa Lillian operate one of the world's most unique centers for the study of guitar and other instruments. Jorma Kaukonen's Fur Peace Ranch Guitar Camp is located on 125 acres of fields, woods, hills, and streams in the Appalachian foothills of Southeastern Ohio. Since it opened in 1998, thousands of musicians whose skills range from basic to highly accomplished gather for weekends of master instruction offered by Jorma and other instructors who are leaders in their musical fields.
A multitude of renowned performers make the trek to Ohio to teach at Fur Peace Ranch and play at the performance hall, Fur Peace Station. It has become an important stop on the touring circuit for artists who do not normally play intimate 200-seat venues, bringing such artists as David Bromberg, Roger McGuinn, Arlo Guthrie, Dave Alvin, Ramblin' Jack Elliott, Warren Haynes, Lee Roy Parnell, Chris Hillman and more. Students, instructors, and visiting artists alike welcome the peace and tranquility -- as well as the great music and great instruction -- that Fur Peace Ranch offers. There they have opened the Psylodelic Gallery, a museum in a silo, which celebrates the music, art, culture, and literature of the 1960's, tracing important events and movements of the psychedelic era.
Jorma Kaukonen is constantly looking to take his musical horizons further still, always moving forward and he is quick to say that teaching is among the most rewarding aspects of his career. "You just can't go backward. The arrow of time only goes in one direction."
Read More
Performance Schedule

This event has already occured.

Parking and Directions

A special preferred parking rate of only $5* is available for our patrons in our designated garage.

7th Street Station Parking Garage
Enter on 6th or 7th Streets between N. College and N. Brevard Streets.

*The $5 rate is applicable when parked in the garage after 5pm on weekdays, Mon – Fri. If parked in the garage before 5pm, the $5 rate is void. There is no time restriction for the weekend, Sat & Sun.

Getting and Using Your Parking Pass When You Arrive

Pull the garage entry ticket when you arrive at the designated garage. You will need this to exit!
Purchase a $5 Blumenthal exit pass at the theater or click here to purchase in advance online. If you would rather purchase by phone, please call 704.335.1010*

When You Exit

Insert your garage entry ticket into the yellow slot. Amount due will display on the screen.
Insert your Blumenthal exit pass in the same yellow slot, with arrow pointing at slot.
Gate arm will rise and screen will display "drive safely."

*Pre-paid parking is not available day of show.

CLICK HERE to Purchase your Parking Exit Pass in Advance

CLICK HERE for parking information for Blumenthal Performing Arts Center events. (Belk Theater, Booth Playhouse, Stage Door Theater)

CLICK HERE for parking information for Knight Theater events.

Accessibility

Advance reservations for Patron Assistance are encouraged to ensure the best possible experience.

Infrared listening system for people with hearing impairments
Wheelchair accessibility
Wheelchair seating

Wheelchair access
All of our theaters and classrooms are accessible to patrons who use wheelchairs. Most restrooms and water fountains in all facilities are wheelchair accessible, and restrooms are equipped with strobe-light as well as audio alarm systems.

Entry and exit assistance
For performances at Spirit Square's McGlohon Theatre or Duke Power Theatre, an usher can meet patrons who need assistance at the Tryon Street entrance or in the 7th Street drop-off area.

SERVICES FOR THE VISUALLY-IMPAIRED

Audio Description
Certain performances will be audio described for the blind or visually impaired. The Box Office will provide a schedule of these performances upon request. Audio description provides an on-going oral description of the action, sets and costumes during the performance. Each participant wears a headset, and no other patrons are able to hear the descriptions.

Large Print Programs
Large print programs are available for patrons at many performances. At Spirit Square's McGlohon Theatre or Duke Power Theatre, simply ask any usher for assistance.

Service Animals
If you or someone in your party plans to attend an event with a service animal, please inform the Box Office when purchasing your tickets so that we may arrange for an aisle seat.

SERVICES FOR THE DEAF AND HARD-OF-HEARING

Interpreting
Certain performances at Spirit Square will be interpreted for the hearing impaired. The Box Office will provide a schedule of these performances as requested.

Assistive Learning Devices
Infrared hearing amplification is available free of charge for all performances at Spirit Square. In McGlohon Theatre or Duke Power Theatre, patrons may ask an usher for assistance.