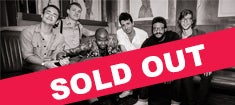 Charlotte Jazz Festival First Night
Apr

21

, 2016
·
Mint Museum of Art
Starring Sammy Miller and the Congregation with special guest Wynton Marsalis
Presented by:
Blumenthal Performing Arts
Box Office:

(704) 372-1000

This event is SOLD OUT. Please check with the box office to see if any seats become available 704.372.1000

Tell a Friend
Charlotte Jazz Festival First Night
Apr

21

, 2016
·
Mint Museum of Art
Starring Sammy Miller and the Congregation with special guest Wynton Marsalis
Presented by:
Blumenthal Performing Arts
Table seats for this event are SOLD OUT. Theater seating (does not include food) is available.
Kick off the second annual Charlotte Jazz Festival on a truly righteous note with Sammy Miller and the Congregation. Special guest Wynton Marsalis will join the band for several selections. Your ticket delivers an evening of what the group calls "joyful jazz" plus a delicious hors d'oeuvres buffet (cash bar) and a chance to meet and mingle with others who share your jazz passion.
The stars of the night, Sammy Miller and The Congregation, are on a mission to put the generosity back into jazz and bring art back to the people. They aim to entertain, but most of all to uplift their audiences.
A native of Los Angeles and a Juilliard graduate, Miller is known for his relentless focus on making music that feels good and sharing the power of community through music. Miller and the Congregation, as well as individual band members, have performed and recorded with many notable artists including O.A.R., Joshua Redman, Lee Fields, Jason Moran and Wynton Marsalis, who will be joining them for this special concert in Charlotte. The Mint Museum Uptown makes the list of some of America's most celebrated venues that have hosted the band's performances, including Lincoln Center, the Hollywood Bowl and the White House.
Included with a table seating ticket is a hors d'oeuvres buffet featuring:
Carolina Antipasto
Black Eyed Pea Caviar, Shoe-Peg Corn Salsa, Spicy Pimento Cheese, Pickled Okra
Mediterranean Plate + Grilled Chicken Skewers
Housemade Hummus, Mediterranean Olives, Pepperocinis, Pita Bread
Charcuterie & Cheese Plate
Prosciutto, Sopprasata, Pickled Vegetables, Cheese Trio, Apple Butter, Baguette Toasts
Read More
Performance Schedule

This event has already occured.