Check out upcoming Sounds on the Square performances below.
Join us every Friday night Now-August 31 at 7 PM, rain or shine! Concessions and beverages will be available for purchase. Don't forget to bring your own lawn chair!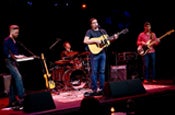 Friday, August 31: Aaron Burdette
Creating music isn't a means to an end, it is an end with a meaning for Aaron Burdett. Writing and creating songs is rooted somewhere deep in his psyche; it's something that can't be denied and must be shared. His lyrics are soul-touching, intelligent, witty, and poetic all at once, while his music style is a seamless blend of Americana, country, blues, bluegrass, and folk-rock that cohesively creates a story.