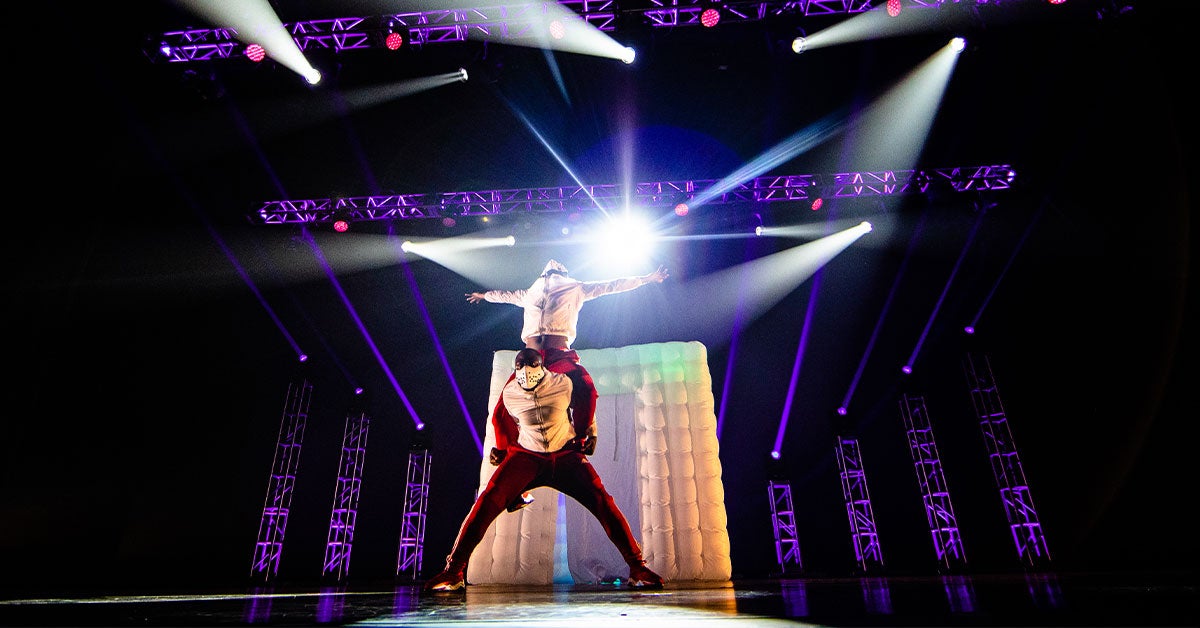 Inaugural We Are Hip Hop Coming to Blumenthal's Booth Playhouse
The four-day event will celebrate hip hop music, art, movement and culture
UPDATE (11/17/2020): January's We Are Hip Hop event at Booth Playhouse has been postponed. We are working to reschedule the event and will announce new dates at a later time.
CHARLOTTE, N.C. (Aug. 11, 2020)– Conceived and organized by a group of Charlotte-area artists, We Are Hip Hop will take over Booth Playhouse Jan. 21 - 24, 2021, with performances and installations by hip hop artists and dancers, DJs, spoken word poets, graffiti artists and more. The four-day event will kick off an ongoing series of activities throughout the year under the We Are Hip Hop banner.
Building on the success and excitement of Breakin' Convention, an international festival of hip hop dance theater that took place at Knight Theater from 2015 to 2017, We Are Hop Hop will be a hybrid of in-person and virtual performances, concluding with a faith-friendly "After Church Party" on Sunday, Jan. 24.
Slammaster Boris "Bluz" Rogers, visual artist Bree Stallings, dancer and CrayzeeBeat Dance founder AJ Glasco and Heal Charlotte Executive Director Greg Jackson have come together in collaboration with Blumenthal Performing Arts to present the multi-day celebration. "I'm very excited to be supported by Blumenthal and mirror that support to the community," said Stallings. "I have big ideas and we plan on making this event a staple in Charlotte."
"We want to build on the success we had with Breakin' Convention to create a new program that is truly our own in celebrating hip hop and Charlotte artists," said Blumenthal President Tom Gabbard. "We aim to make these activities unifying, uplifting and insightful. I'm thankful for Bluz, Bree, Greg and AJ for their leadership in producing this kickoff weekend."
We Are Hip Hop will feature hip hop performers from across the country, as well as from Charlotte's own neighborhoods and the surrounding region. Dancers, rappers, spoken word poets, vocalists, DJs and other hip hop performers who would like to participate can visit https://bit.ly/WeAreHipHop. Applications will be accepted through Aug. 20. All performers will be compensated.
"I'm excited about what We Are Hip Hop has to offer the Charlotte community— a chance to see something new, yet familiar, and be introduced to one of the most creative cultures on the planet," said Rogers. Glasco, a North Carolina native, added, "it's important to show Charlotte the hip hop scene, as it has shaped so much of the culture that's here in the city. I hope that this will be something that the world knows and associates with not only the Queen City, but the Carolinas as a whole."
A limited amount of general admission tickets will be available to purchase on a future date to be announced. Tickets will be available at BlumenthalArts.org/wearehiphop or by phone at 704-372-1000.
###
ABOUT BORIS "BLUZ" ROGERS
Words are a formless grouping of letters with very little meaning until poet and author Bluz speaks them. Born Boris Rogers, Bluz has been unwavering in his quest to stretch the boundaries of poetry. During the past seven years of performing, Bluz has won four Emmy Awards, 2010 Southern Fried Poetry Slam and is Slam Master and Coach of the 2007 and 2008 award-winning competitive slam team Slam Charlotte.
ABOUT BREE STALLINGS
Breanna "Bree" Stallings is North Carolina native, multi-media artist, illustrator, writer and activist. Bree graduated from Queens University of Charlotte in 2013 with a bachelor's degree in Studio Art and Creative Writing. She resides near uptown Charlotte where she works as a painter, illustrator and muralist. Currently, she teaches adults and children intermediate and advanced drawing and painting techniques at her studio called the Learning Lab. Using art as her vehicle, she raises awareness for many causes that affect her life and those closest to her such as economic mobility, sexual health advocacy, homelessness and environmental consciousness.
ABOUT AJ GLASCO
AJ is the founder of CrayzeeBeat Dance, one of Charlotte's premier street dance/choreography companies. AJ attended Johnson and Wales University in Charlotte, NC but left school to pursue his heart's true desire, which is to dance and teach young adults all over the world. His dream is to inspire others to reach their goals both in and out of the studio.

ABOUT GREG JACKSON
Greg Jackson was a rapper and a sous chef when the September 2016 protests in Charlotte began. He showed up with others to protest the Charlotte-Mecklenburg Police Department at its headquarters the day after the Keith Lamont Scott shooting, but a crucial conversation that day changed his trajectory. After creating his nonprofit Heal Charlotte, he partnered with CMPD to train officers how to communicate with the community in volatile situations and has created an after-school camp for at-risk youth in his northeast Charlotte neighborhood.
ABOUT BLUMENTHAL PERFORMING ARTS
Blumenthal Performing Arts serves the Carolinas as a leading cultural, entertainment and education provider. For more information, call (704) 372-1000 or visit BlumenthalArts.org. Blumenthal Performing Arts receives operating support from the Arts & Science Council and North Carolina Arts Council. Blumenthal Performing Arts is also supported by PNC Bank, sponsor of the PNC Broadway Lights.