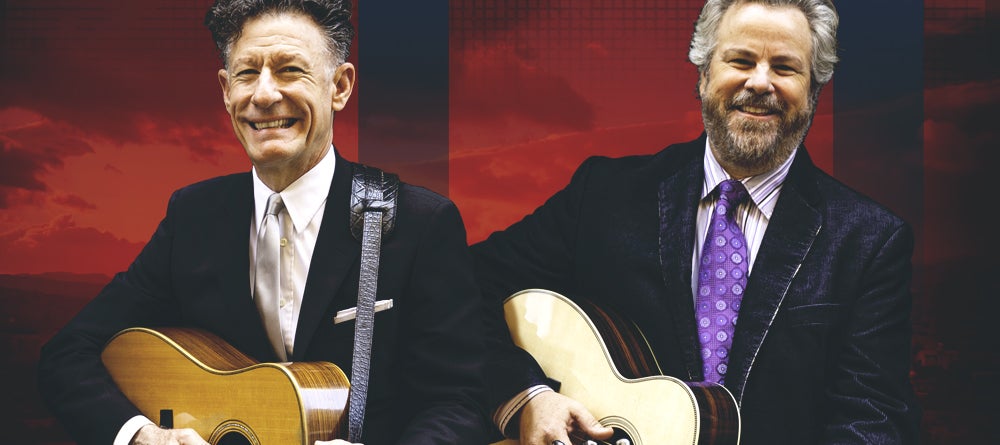 Join Lyle Lovett and Robert Earl Keen on 'This Old Porch'
Two of folk music's greats, Lyle Lovett and Robert Earl Keen, will take the stage at Knight Theater at Levine Center for the Arts on October 12. These two Texas musicians did indeed meet on a front porch, a chance meeting that led to some of the best collaborations in Americana music. Even apart, Lovett and Keen have had prolific careers in music, and they don't plan to stop anytime soon.
Lyle Lovett emerged on the music scene in the '80s, infusing gospel, bluegrass and jazz into a folk sound. His lyrical storytelling earned him praise as one of Texas' true talents, an accolade that was solidified when he was named an official Texas State Musician. His reach has far exceeded the realm of music as he has appeared in both film and television. With 4 Grammy Awards under his belt, Lovett is a musical master.
Another impressive voice, Robert Earl Keen made his way to the top of the folk music chain through his songwriting. His sense of humor shines through his catchy songs, growing a strong fan-base and a reputation as a fantastically skilled singer-songwriter. Keen has recorded over a dozen albums, toured across the U.S. multiple times, and worked with other greats like Joe Ely and, of course, Lyle Lovett.
Lovett and Keen met in college and have remained close collaborators since. Both were inducted into the Texas Heritage Songwriters Hall of Fame in 2012. Listen to both Lovett and Keen perform separate versions of a song they composed together, "This Old Porch", and buy your tickets to see these legends in concert October 12.