Junior Ambassador Program Continues to Be a Success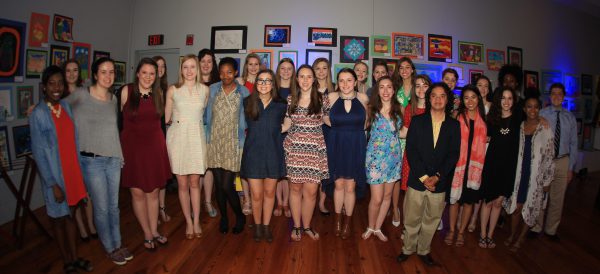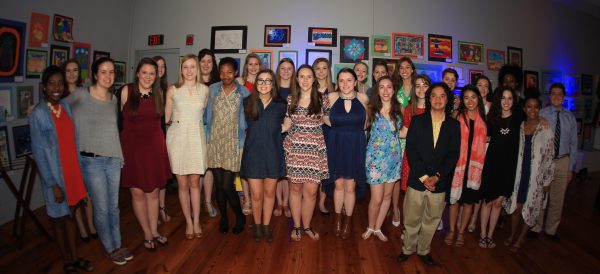 Blumenthal's 2015-2016 Junior Ambassadors!
Blumenthal Performing Arts Junior Ambassadors program launched several years ago and has grown to be quite a rewarding program for both the students involved and the organization as a whole. The volunteer program is for high school students and requires service as an usher in the theaters, as well as attendance at several seminars about the field of arts management. The program is available to high school juniors and seniors as a way to help them develop greater appreciation for the performing arts, enhance interpersonal skills and to foster new relationships.
"I can easily say that being a part of this program at Blumenthal has been the best experience of my high school life," explained Victoria Hargett of Piedmont High School during a banquet in April. "I have been a Junior Ambassador for the past two years, and I wish I could continue on with it. This place is more like a family than a business, and I'm so grateful to have been a part of this family."
The hope is that Junior Ambassadors are able to complete the program as a lifelong ambassador for the arts, no matter what career path they ultimately choose.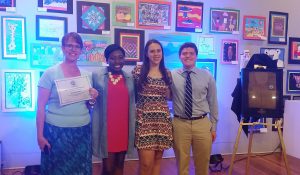 Congratulations to those selected for the Spirit of Service Awards!
"I've had such a blast in this program and done such a wide variety of things here," said Eleanor Zelinski of South Mecklenburg High School. "I've worked Open Mic Night, comedy shows, Broadway musicals. I've seen shows that I never would have thought I would enjoy but I absolutelyloved! Through this program, I have learned so much and grown as a person.I plan to major in theater and minor in communications. Thanks to being a part of this program, I now see so many great options to work in this field."
At the end of the year, Blumenthal provides scholarship funds for several students as a part of its Spirit of Service Scholarship program. The following students were selected this year: Sarah Gardner, Bo Carlson, Ashley Gast and Cydney Spencer. Congratulations students!
Thirty-five students participated in the program this year, and they contributed approximately 1,800 hours of volunteer hours to Blumenthal.