TEACHERS LOUNGE: A "Secret" Every Educator Should Know
It's a Tuesday night and Booth Playhouse is buzzing with conversation, good food and plenty of anticipation for the evening's performance of ALADDIN taking place in nearby Belk Theater. Filled with a crowd more accustomed to being in front of the classroom than center stage, this is a pre-show event for Teachers Lounge, one of Blumenthal's most popular affinity groups.
Teachers Lounge offers a low cost way for educators to connect with one another and enjoy the arts. Throughout the season, Blumenthal hosts eight pre-show parties at a variety of locations within walking distance to the theater. Recent events have taken place at Chima Steakhouse, 204 North Kitchen and Cocktails, and Amelie's Uptown. This evening the action is on the stage itself, where educators are enjoying a catered dinner.
Tonight there are about 100 people in attendance, including 70 Teachers Lounge subscribers who have opted in for the entire season of shows and pre-show parties. Other guests purchased single tickets, a limited number of which are usually available to Teachers Lounge events with advance purchase. For these eight shows, Blumenthal helps subsidize the cost of tickets and completely covers the cost of dinner plus a complimentary drink for each guest.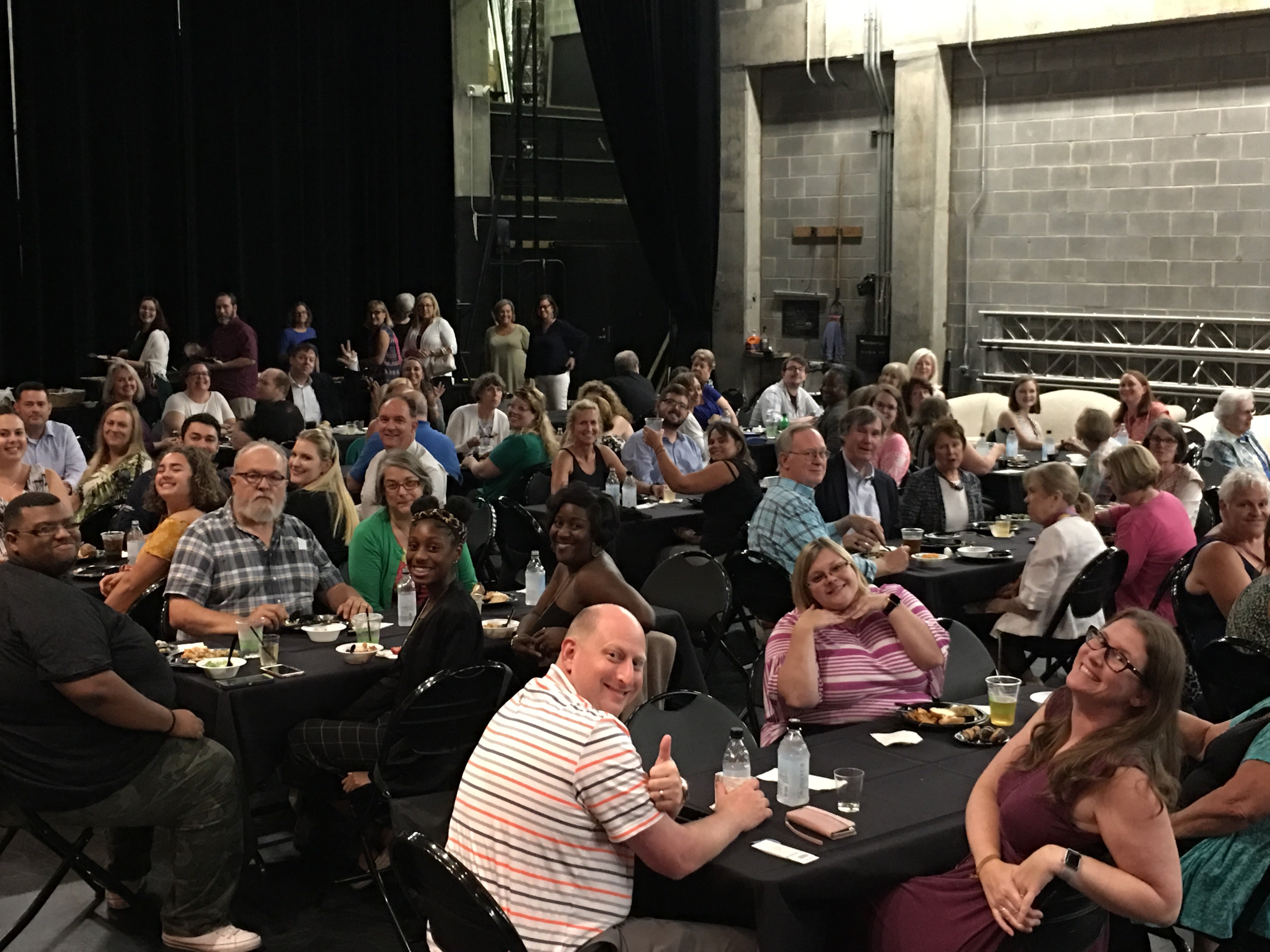 "This is the least Blumenthal can do," says Kacy Connon, who has managed the group for nearly five years. "We can say: 'we see you and we want you to be part of this group'…nobody deserves a drink more at the end of a day than this group of teachers."
As the guests eat and mingle, Connon steps up front to address the crowd.
"I know a lot of you just started school years, so bless you!" she says, then takes a few minutes to update them on the upcoming 2019-2020 season and remind them that single tickets to the next set of Teachers Lounge events, ONCE ON THIS ISLAND (Nov. 12) and THE PLAY THAT GOES WRONG (Nov. 26), will be available online beginning 30 days before each show date.
"I will always fight to get discounts to other shows," adds Connon. "That's really important to me."
SIGNING UP FOR INFO AND OFFERS IS FREE!
Tickets for Teachers Lounge are in high demand. There's a waiting list for subscriptions, and single tickets to events often sell out quickly. Want to be the first to know about upcoming offers? Sign up online at BlumenthalArts.org/teacherslounge. In addition to the eight official Teachers Lounge events, many other shows throughout the season offer discounts to teachers who sign up for the free email updates.
DATE NIGHT
Marissa and Rod Neumann decided to pair their anniversary celebration with this night at Teachers Lounge. Now that their kids are older (one is a high school senior and the other a college junior), these two educators no longer have to consider the cost of a babysitter and have been able to start going out again. For the last few years, they have purchased single tickets to Teachers Lounge events.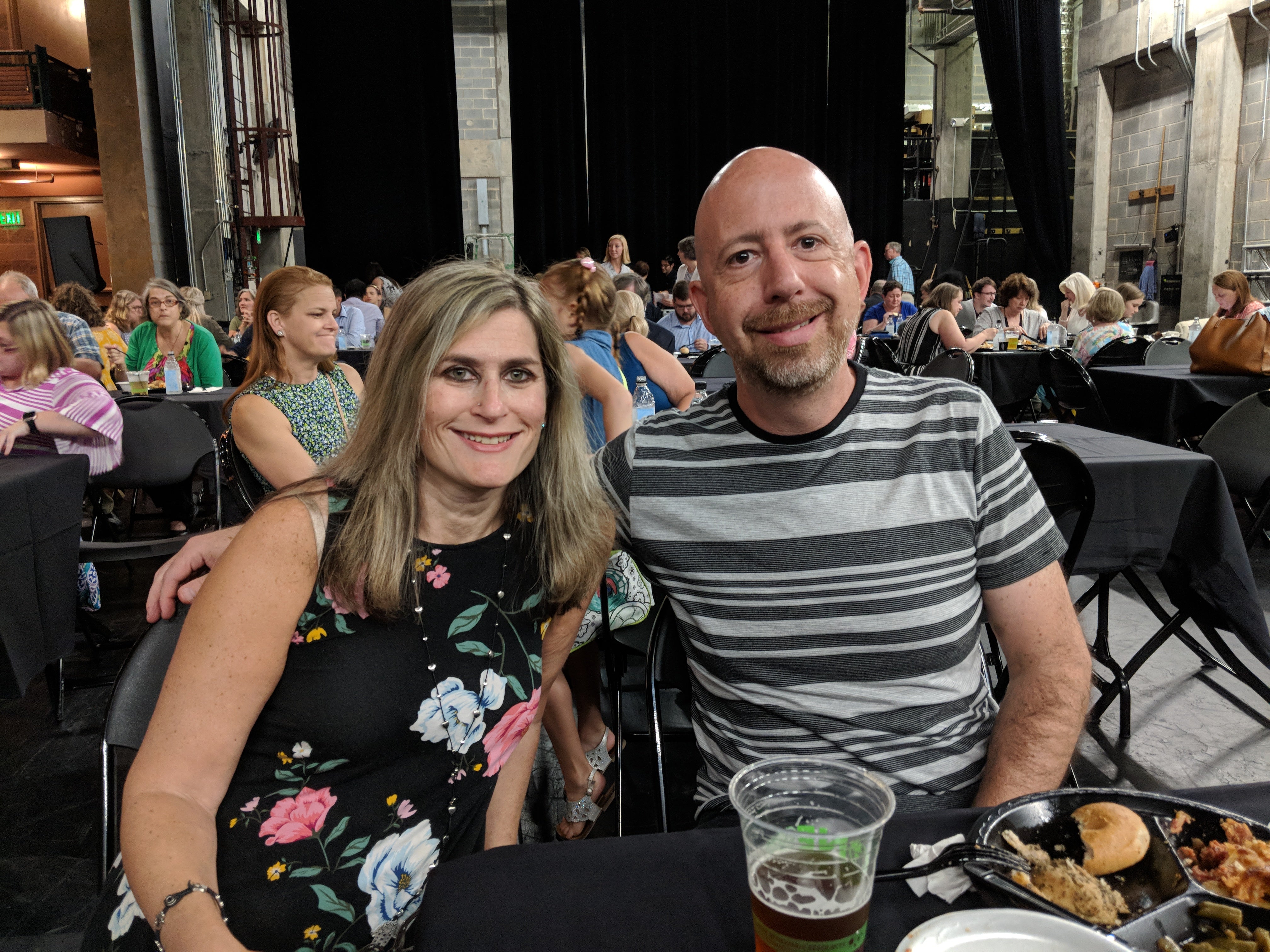 "It gives us an opportunity to come at a reasonable price," says Marissa Neumann, now in her 21st year of teaching. She works with exceptional children at Alexander Graham Middle School.
The couple used to live in New Jersey and would sometimes take advantage of discount ticket offers to see Broadway shows in New York. They were happy to discover this opportunity to catch theater in Charlotte too. Recent shows they have seen through Teachers Lounge include THE BOOK OF MORMON, BEAUTIFUL, and HELLO, DOLLY! in addition to tonight's ALADDIN.
"It makes you feel appreciated by Blumenthal… that we get this wonderful reception," says Rodd Neumann, a CTE/Marketing teacher at South Mecklenburg High School, who originally found out about Teachers Lounge by browsing Blumenthal's website.
"You would be amazed how many teachers don't know it exists," says Marissa Neumann.
A NIGHT OUT WITH FRIENDS
Meanwhile, at another table, three friends are chatting and enjoying their evening out together. They subscribe to Teachers Lounge and sometimes come with as many as eight people in their group.
"I teach Pre-K so being able... to enjoy something at the end of the day, that's a wonderful thing to do, just to kind of relax and unwind," says Anne Barbee of the Bright Beginnings program at Hidden Valley Elementary School. "And with the Teachers Lounge, where else can you get dinner and then have a drink or a soda… and be able to see top quality musicals and plays and stuff for the amount of money? ... I wouldn't be able to afford it if it wasn't for this."
"If you can write 'THANK YOU' in big caps, you know just like across the page, we'd appreciate it," adds Rowena Tunnel, an exceptional children teacher, based at the Smith Family Center.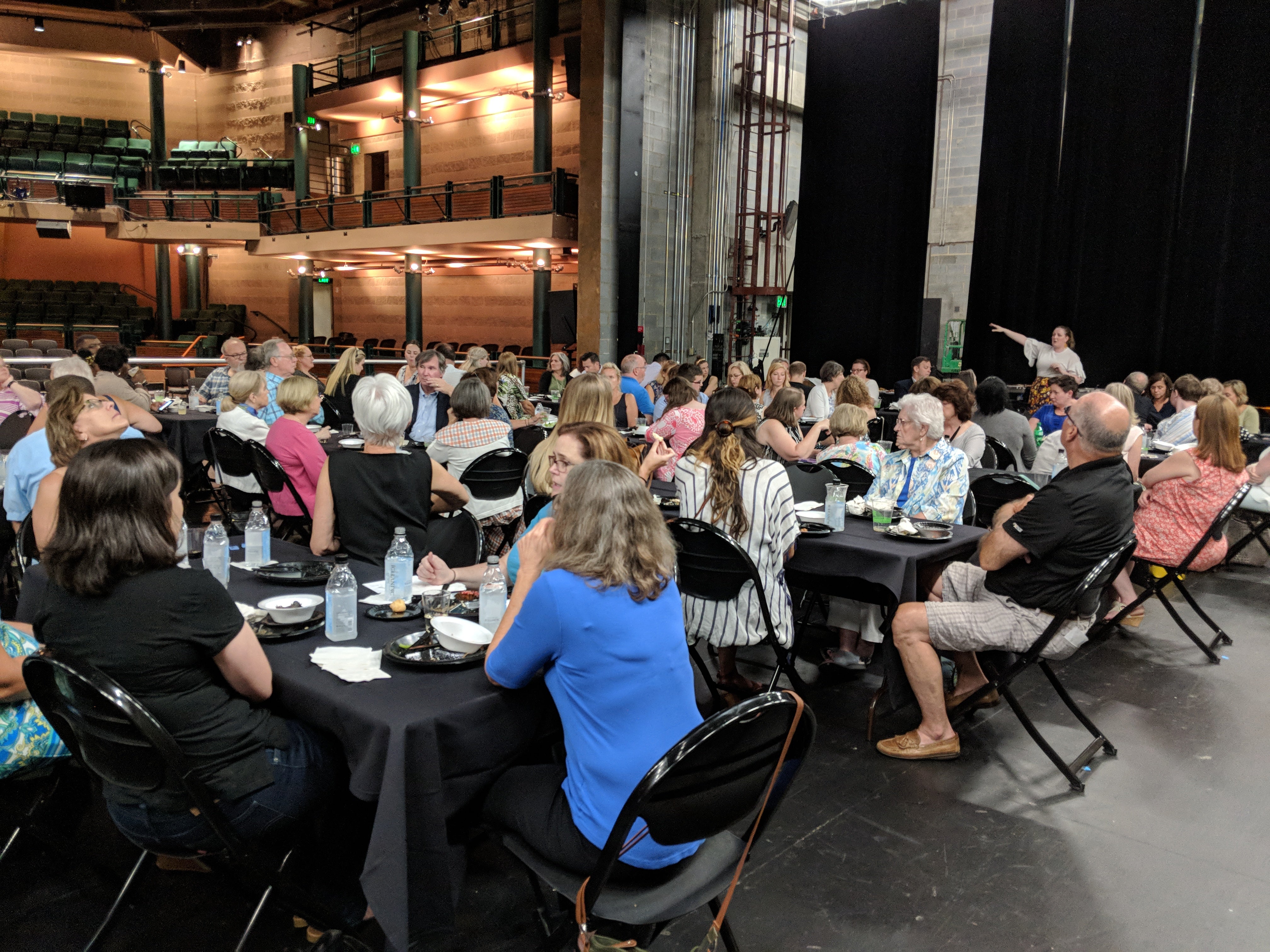 It's clear they also have a lot of affection for the personal touch Connon brings to the program.
"She is fabulous," says Barbee. "She makes the program work."
"She is organized. She manages to keep up with people," says Tunnel. "She remembers your name…"
PROFESSIONAL DEVELOPMENT
Besides being a fun, affordable night out, Teachers Lounge gives Jay M. Robinson Middle School colleagues, Stacey Boone and Melissa Leftwich, an opportunity to explore new ideas and share resources.
"We bring this back to our kids," says Leftwich, who teaches visual arts. "It's just a wonderful night out, it's also professional development."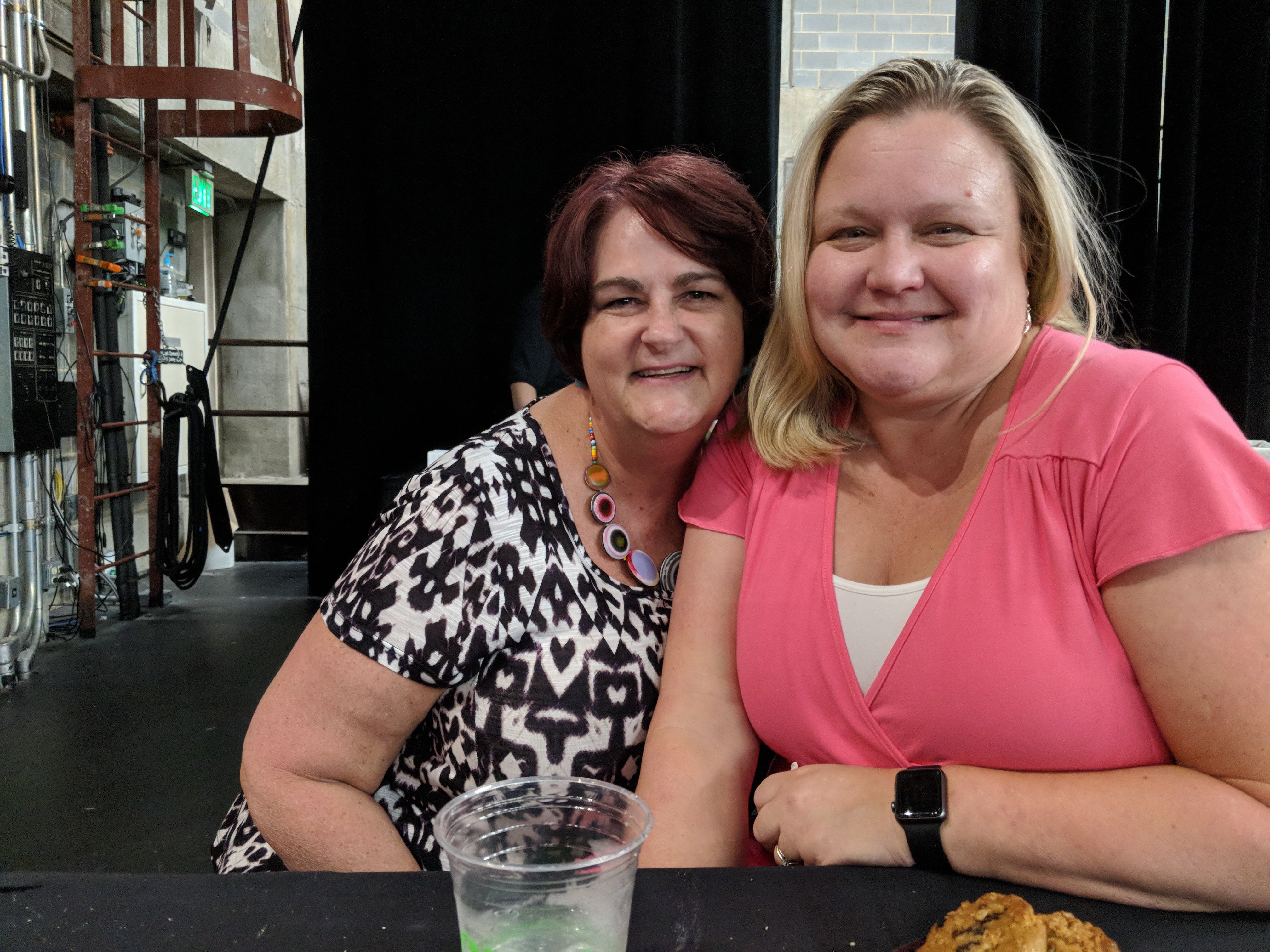 Over the years, Leftwich has picked up costume ideas—like a quick change Cinderella dress— that the school later incorporated into its own productions. Boone, the school's theater arts teacher, plans to use the evening's production as part of her lesson plan the following day, so students connect what they do in the classroom with what happens in a professional setting.
Teachers Lounge has also provided a way to share resources with other educators. For example, Leftwich and Boone loaned set pieces to another school after connecting with a teacher at a previous event.
CONNECTING WITH OTHER EDUCATORS
Monica Pettiford and Qwa Dorsey of Porch Productions, an organization that specializes in empowering kids through theater experiences, are here for their first Teachers Lounge event. Monica's daughter, Camille, a sophomore at Northwest School of the Arts, also joins them. Pettiford notes the event's affordability and convenience—teachers don't even have to worry about preparing dinner before they come.
"I just think of all the stuff [Blumenthal does] for us as educators… and we don't even teach in schools full day," says Pettiford, whose company manages school residencies as well as independent productions for youth.
She's been looking forward to this event all day and is excited about the networking opportunities she may find here. She wonders if attendees could band together to create a calendar of performances incorporating each school they represent to share with others who take part in Teachers Lounge.
That's an idea that could appeal to someone like Kendra Taylor, a second grade teacher at University Park Creative Arts. She's always looking for programs with a focus on younger kids so she could bring them to see shows too. At Teachers Lounge, she appreciates the opportunity to connect with others to talk about both teaching and the arts. "It's a good way to socialize," says Taylor.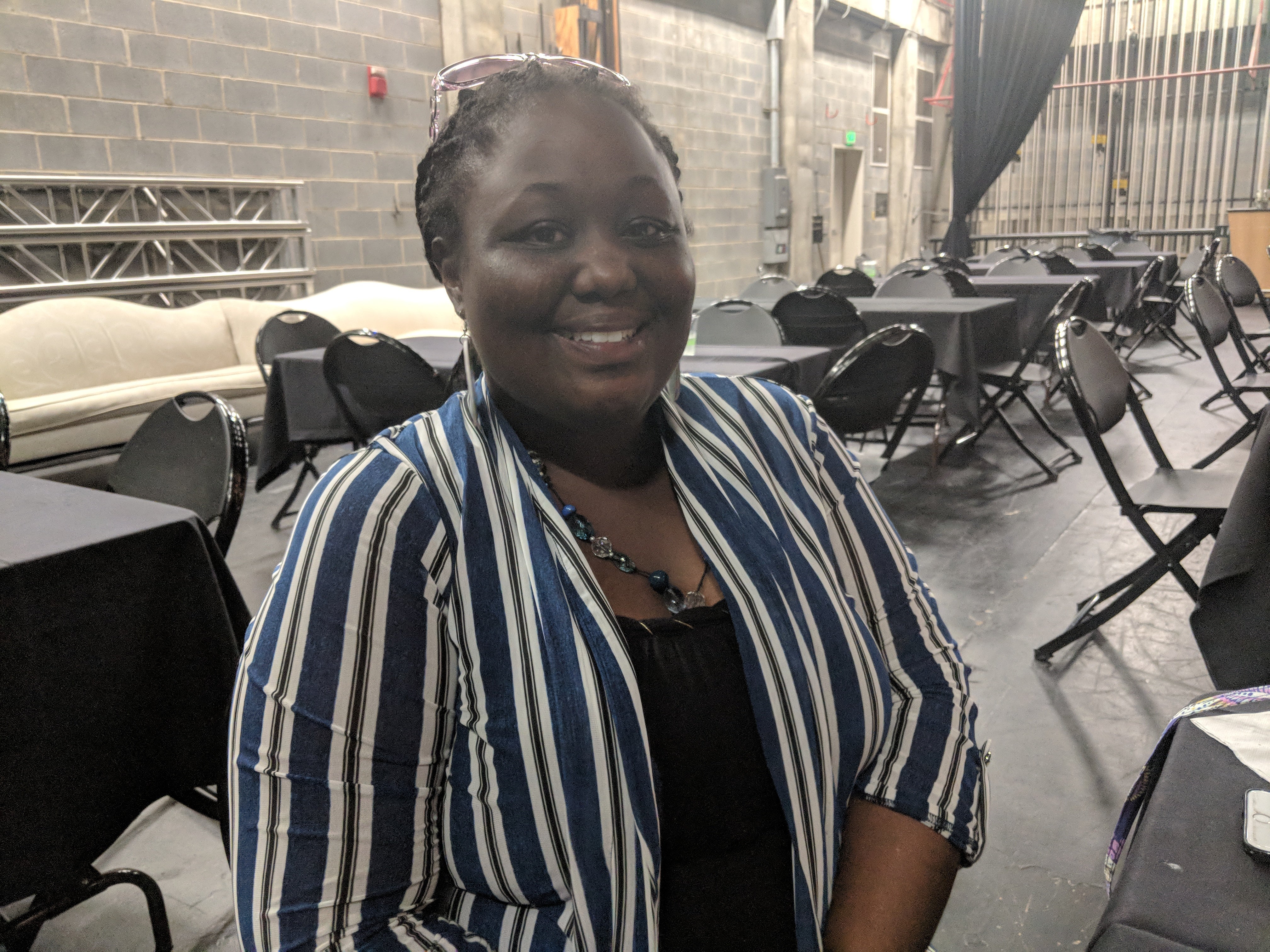 The camaraderie, the show, the food and the price all lead to one inevitable truth: "Our retention for subscribers is really ridiculously high," says Connon.
But for those who act quickly, single tickets are a great way to get in on the action. For more info on upcoming events and ticket offers especially for educators, sign up at BlumenthalArts.org/TeachersLounge.