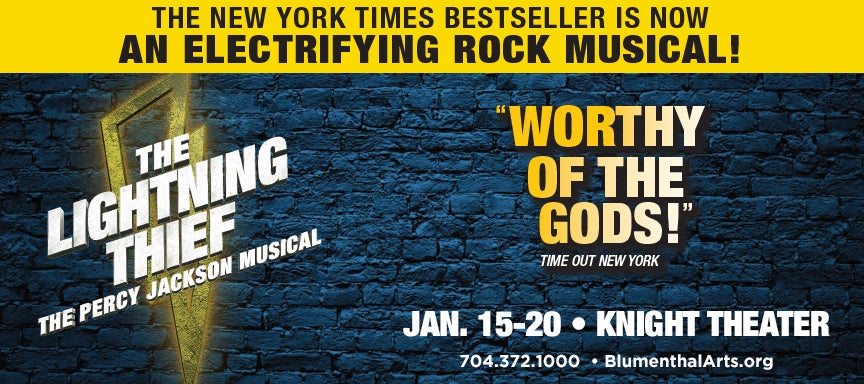 THE LIGHTNING THIEF: THE PERCY JACKSON MUSICAL ANNOUNCES LOTTERY TICKET POLICY
THE LIGHTNING THIEF: THE PERCY JACKSON MUSICAL, the "winning adaptation" (The Hollywood Reporter) of the best-selling novel by Rick Riordan, is pleased to announce a lottery ticket policy for the National Tour, which begins Jan. 15 in Charlotte and plays a limited one-week engagement at Knight Theater through Jan. 20. The production will conduct a pre-show lottery at the Knight Theater box office, making tickets in the first row available at $25 apiece.
Entries will be accepted at the box office beginning two and a half hours prior to each performance; each person will print their name and the number of tickets (1 or 2) they wish to purchase on a card that is provided. Two hours before curtain, names will be drawn at random for a limited number of tickets priced at $25 each. Only one entry is allowed per person. Cards are checked for duplication prior to drawing. Winners must be present at the time of the drawing and show valid ID to purchase tickets. Limit one entry per person and two tickets per winner. Tickets are subject to availability.
THE LIGHTNING THIEF: THE PERCY JACKSON MUSICAL is "electrifying!" (Newsday). The Greek gods are real, and they're ruining Percy Jackson's life. As a son of Poseidon, Percy has newly discovered powers he can't control, monsters on his trail, and is on an epic quest to find Zeus's lightning bolt to prevent a war between the gods. Nominated for 3 Drama Desk Awards including Best Musical, THE LIGHTNING THIEF is "mesmerizing" and proves "lightning can strike twice!" (TheaterMania).
For event and ticket info, visit: