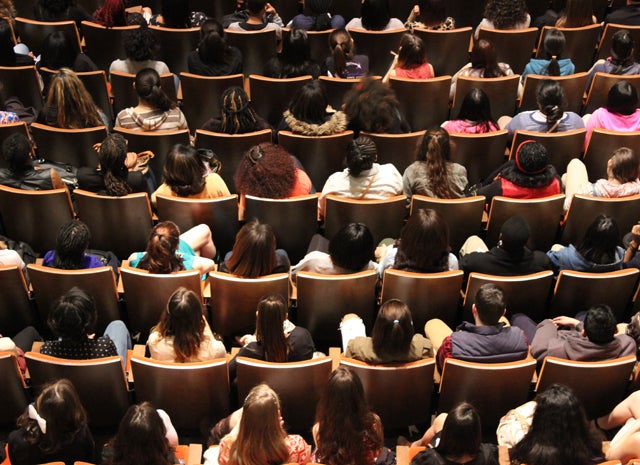 2018-2019 School Year
Blumenthal Performing Arts is pleased to announce the following school shows for the 2018-2019 season!
NATIONAL GEOGRAPHIC LIVE! - McGlohon Theater and Discovery Place Science
Coral Kingdoms and Empires of Ice: Tuesday, October 23, 2018, 10:00 AM - 11:00 AM
View From Above: Tuesday, January 29, 2019, 10:00 AM - 11:00 AM
On the Trail of Big Cats: Tuesday, March 26, 2019, 10:00 AM - 11:00 AM
Discovery Place/ McGlohon Theater
Explore the natural world with this series of three presentations from National Gegraphic Live! Students can discover an unspoiled wilderness of water crowded with layers of life with David Doubilet and Jennifer Hayes at Coral Kingdoms and Empires of Ice, hear astronaut Terry Virts discuss his perspective from the International Space Station with View From Above, and go around the world in search of fierce felines with Steve Winter's On the Trail of Big Cats. Each performance also includes an interactive workshop at Discovery Place Science. These shows are presented by Discovery Place and Blumenthal Performing Arts. For ticket purchases and pricing information, please call 704-372-6261 ext. 300.
BLACK VIOLIN - Belk Theater
Tuesday, March 5, 2019, 10:30 AM – 11:30 AM
Black Violin is a hip hop duo from Florida that is composed of two classically-trained sting instrumentalists. Their music is a blend of classical, hip hop, rock, R&B, and bluegrass music. Since starting Black Violin a decade ago, Wil Baptiste and Kev Marcus remain committed to turning young fans on to their own potential.
Each school show ticket for BLACK VIOLIN is $5.00 and must be paid before the performance. Home school families and groups are able to attend as well.
Interested? Contact Eric Figueroa at [email protected]