Take the L.E.A.P. with Blumenthal! Blumenthal L.E.A.P., literacy engagement through arts programs, uses the magic of theater to enhance critical literacy, public speaking, and creative writing for upper elementary students with a specific emphasis on 4th and 5th grade. The program's curriculum directly corresponds to the NC Reading Standards for Literature and Informational Text, Writing Standards, Speaking and Listening Standards, and Language Standards.
Students in this program work towards two finalized products during this 20-week residency. The first is a class performance of a fairy, folk, or peace tale onstage at the Knight Theater as part of our LEAP Day celebration in March. The second is a printed book of all student stories created in the program along with an illustration created in tandem with it. This "LEAP Book" is distributed to students involved at the end of the year as a keepsake of their work and growth in the program.
Click here for an example of an abridged copy of our 2023 LEAP Book!
Interested in bringing L.E.A.P. to your school? Contact our Education Initiatives Manager, Micah Deer, at Micah.Deer@blumenthalarts.org to learn more about this program.
Each participating classroom teacher is paired with a partnering teaching artist.
Classroom teachers and teaching artists attend program training together.
Teaching artists visit each classroom for a 60-90 minute lesson each week for 20 weeks; lessons can be split into multiple visits or weeks can be adjusted depending the school's needs.
The classroom teacher and teaching artist collaborate to ensure lessons are uniquely tailored to each classroom's students, needs, and curriculum.
Classroom teachers gain new techniques that can be utilized beyond the program.
Lessons consist of verbal and physical story dramatization, text analysis, creative writing and performance with a scaffolded curriculum that focuses on generating independent written prose from each student.
The program culminates in a trip to the theater at which time each classroom presents a rehearsed story drama on stage at one of Blumenthal's venues and each student receives a printed book copy highlighting one final written and illustrated piece by each participant.
"Students who read on grade level by third grade are 96% more likely to graduate high school, a key economic mobility indicator. Currently, only 39% of CMS third graders are reading on grade level."
Charlotte's upward mobility study highlighted the importance of reading proficiency as a key indicator to opportunity. Since the publication of this study, many initiatives have been put in place in 3rd grade classrooms. By targeting 4th and 5th grade, L.E.A.P. seeks to bridge the gap by cultivating enthusiasm for and proficiency in reading and writing before students enter middle school, continuing the efforts in earlier grade levels. By using theater as the vehicle, students who have participated in previous program iterations across the country have consistently demonstrated a renewed, or new, excitement for reading and writing; a task that has become laborious and a requirement for testing shifts to an imaginative creative process giving students a voice and the opportunity to express their perspectives. Students in 4th and 5th grade are able to engage in critical discourse, allowing the program to explore how text is used to influence and express opinion; students who can understand that every text is affected by the author have a greater ability to form and express their own opinions, use text as a tool for their own success, discern influences to make educated choices, and become the storytellers of their own lives.
Learn more https://forcharlotte.org/resources/focus-area/upward-mobility
2023-2024 Participating Schools
Bruns Avenue Elementary School
Thomasboro Academy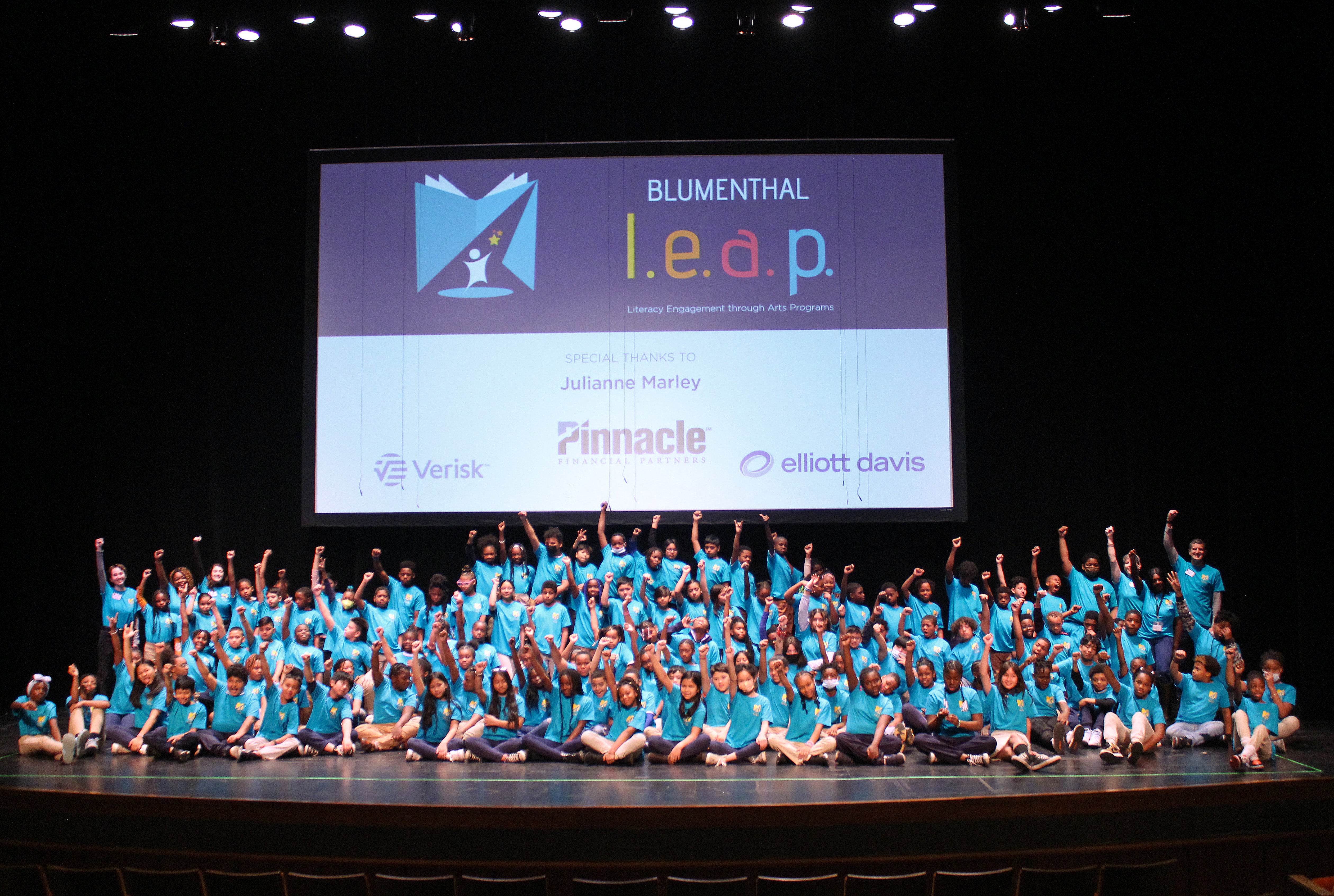 Sponsors and Supporters
Thank you to our generous sponsors who make this program accessible!