Out on the Town
What is Out On The Town?
An LGBT social group sponsored by Blumenthal Performing Arts. Out On The Town members enjoy special ticket discount offers as well as FREE mixers before or after select performances. There are no dues, no officers and no membership requirements. You can become a member by simply signing up!
How do I join Out On The Town?
Just send your name, email address and address to [email protected]. You'll begin to receive information about Out On The Town programs via email.
Like Out on the Town on Facebook! We often post events and special offers.
Upcoming Out on the Town Events
Thursday, May 3, 2018 - The Humans - pre-show party - Knight Theater VIP Room
Thursday, May 10, 2018 - Something Rotten! - pre-show party - Cantina 1511 Uptown
Thursday, June 28, 2018 - Bright Star - pre-show party - location TBD
Thursday, July 12, 2018 - The Color Purple - pre-show party - location TBD
Available Offers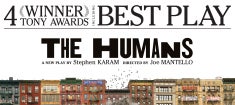 Save $10 and join us for the pre-show party! Thursday, May 3 only.
Buy Now
Details