Blumenthal Performing Arts Requests Submissions for the 100 TINY THINGS PROJECT
(July 28, 2022) Charlotte, NC – Blumenthal Performing Arts will launch its new Charlotte International Arts Festival (CIAF) in Uptown Charlotte and surrounding areas September 16–October 2, 2022. The festival will bring exciting and innovative art and entertainment from all over the world, across a variety of genres and mediums, as well as highlight the rich international cultures that are present in the Queen City. There will be unique chances for local artists to get involved with CIAF in big and small ways, from workshops and master classes to assisting visiting international artists in building large-scale installations.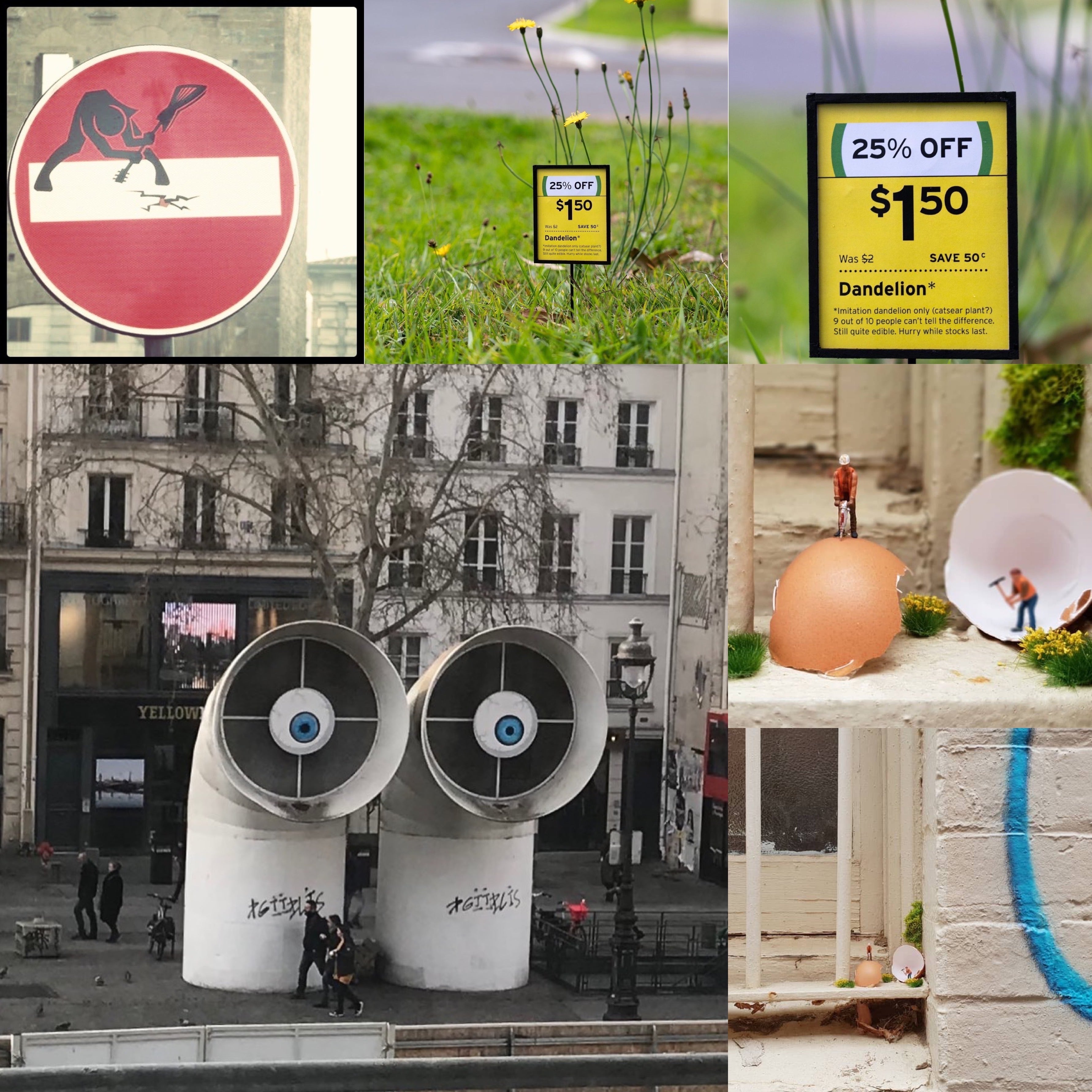 (Artist credit: Liz Sonntag, Karen Anderson Singer, Clet Abraham, Michael Pederson)
One of the featured CIAF art installations is 100 TINY THINGS, a project that's part surprise, part treasure hunt on Tryon Street between Blumenthal's Belk and Knight Theaters. 100 TINY THINGS are playful, curious, and delightfully disruptive installations that are a joy to stumble upon and encourage the public to explore the larger footprint of CIAF, as well as begin to see the city through new eyes.
Blumenthal is calling all local artists to submit applications for Tiny Things. This is an opportunity for creative urban repair, a way to manipulate the mundane, and to interpret serious architecture with a personified flair. From googly eyes to mini-murals to small sculptures, Blumenthal is inviting public awareness with a giggle. The Tiny Things will encourage people to slow down, enjoy where they are, and learn to explore through play.
Applications can be submitted here.
Details
Entry dates are open August 1–10

Acceptance announcements will be sent no later than August 15

Installation days are September 12–15

Artists may submit more than one Tiny Thing. Each individual idea accepted will be awarded $200.

Artists will be paid after installation is complete

Artists are completely responsible for all design, creation, fabrication, and installation fees, and physical installation.

Artists will be featured on the 100 Tiny Things map, as well as the CIAF website.
A full festival lineup announcement is coming soon. For more information on the myriad ways local artists can get involved with CIAF, keep an eye on charlotteartsfest.com, where more information will be revealed in the coming weeks. For questions about the 100 Tiny Things project, contact: 100TinyThings@blumenthalarts.org.
Follow CIAF on Facebook and Instagram for updates, location details, and surprises! Tag us in your posts using #cltartsfest
ABOUT CIAF
The Charlotte International Arts Festival is an annual celebration of imaginative visual and performing arts from the most creative international and local minds. Fun for everyone, from families to individuals, we invite you to stay awhile, play, and welcome curiosity, as we begin to see our city through new eyes. With over 200 attractions, many for free, this festival has something for everyone.
ABOUT BLUMENTHAL PERFORMING ARTS
Blumenthal Performing Arts serves the Carolinas as a leading cultural, entertainment and education provider. For more information, call (704) 372-1000 or visit BlumenthalArts.org. Blumenthal Performing Arts receives support from the Infusion Fund and the North Carolina Arts Council. Generous support is also provided by PNC Bank, sponsor of the PNC Broadway Lights series, and Equitable, sponsor of the Equitable Bravo Series
Follow Blumenthal Performing Arts on Facebook, Instagram, Twitter and YouTube.