Our Restaurant Partners Would Love Your Support!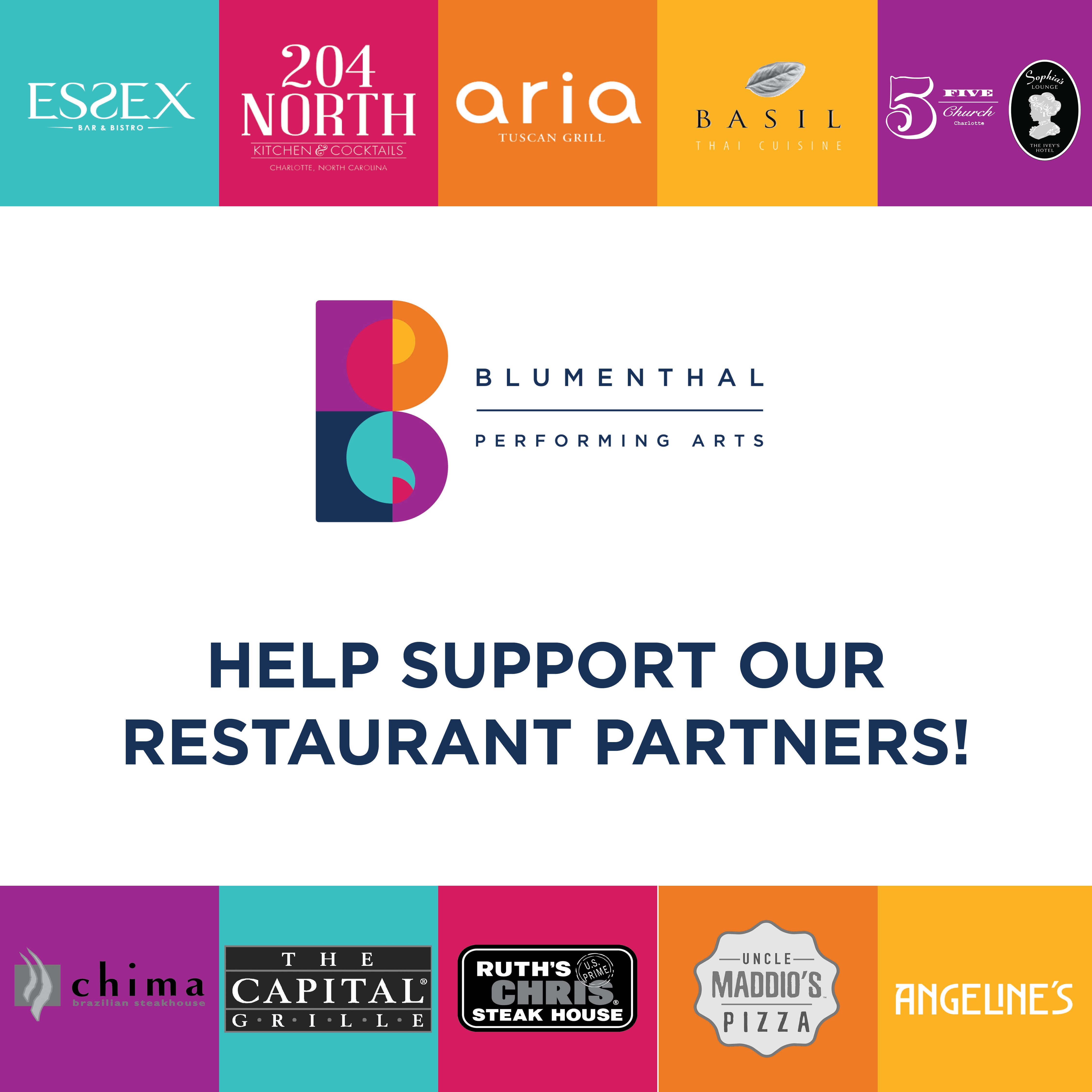 As social isolation in Charlotte edges into its second week, many local businesses are struggling. We are so grateful for the support our dining and hospitality partners extend to our organization and to our theater family season after season.
While dining rooms are currently closed, many uptown restaurants are still offering takeout and delivery options! Others are offering gift cards that can be purchased now and used later (perhaps for a celebratory pre-theater meal once we are able to welcome you again into our spaces).
Nobody knows for sure how long #TheNewNormal will last. In the meantime, you can still enjoy great food and support these fabulous businesses and their hardworking employees.
OPEN FOR TAKEOUT AND/OR DELIVERY:
Angeline's – Enjoy a 20% discount on all takeout orders! Call (704) 445- 2540 to place your order, Sunday - Thursday, 11am - 8pm and Friday - Saturday, 11am - 9pm. Curbside pickup available by pulling into the Kimpton Tryon Park Hotel valet loop.
Delivery service also available via DoorDash.
Aria Tuscan Grill – Offering a Limited Takeout Menu, available for curbside pick-up. You can place your order beginning at 2pm. Pick-up between 4 - 7pm. Call (704) 376-8880 to order.
Gift Card Special: Purchase a $100 gift card and receive an additional $25 gift card.
Basil Thai – Open for curbside pick-up or delivery via Doordash, Monday through Friday, 11:30am – 2pm and every day, 5 - 9pm. Call (843) 724-3490 or order online.
Capital Grille – Offering takeout service, 12 - 8pm daily. Call (704) 348-1400 to place an order.
https://www.thecapitalgrille.com
Mama Ricotta's – Offering curbside pickup, 11am – 8 pm daily.
Midwood Smokehouse - Offering curbside pickup, 11am - 8pm daily as well as delivery via DoorDash.
Paco's Tacos - Offering curbside pickup and delivery via DoorDash, 4 - 7:15pm.
Ruth's Chris – Offering takeout 4-8:30pm by calling (704) 338-9444. Delivery also available via UberEats.
Gift Card Special: Now through April 5, eGift Card purchases of $100+ receive a 25% bonus card.
Uncle Maddio's Overstreet Mall – Pickup only, Monday - Friday, 7am - 7pm. Order online, unclemaddios.com
Uptown Catering – Operating on a case by case basis with pickup and delivery. For more info, email info@uptowncateringco.com
YAFO - Offering curbside pickup, 11am - 8pm, daily and delivery via DoorDash, 11am - 7:15pm.
SUPPORT THESE OTHER RESTAURANT PARTNERS BY PURCHASING ONLINE GIFT CARDS
Essex – Free $20 gift card with $100 gift card purchase.
204North – Gift cards are available for purchase with 20% of the sales going directly to their employees.
facebook.com/204Northkitchenandcocktails/ (click 'shop now')