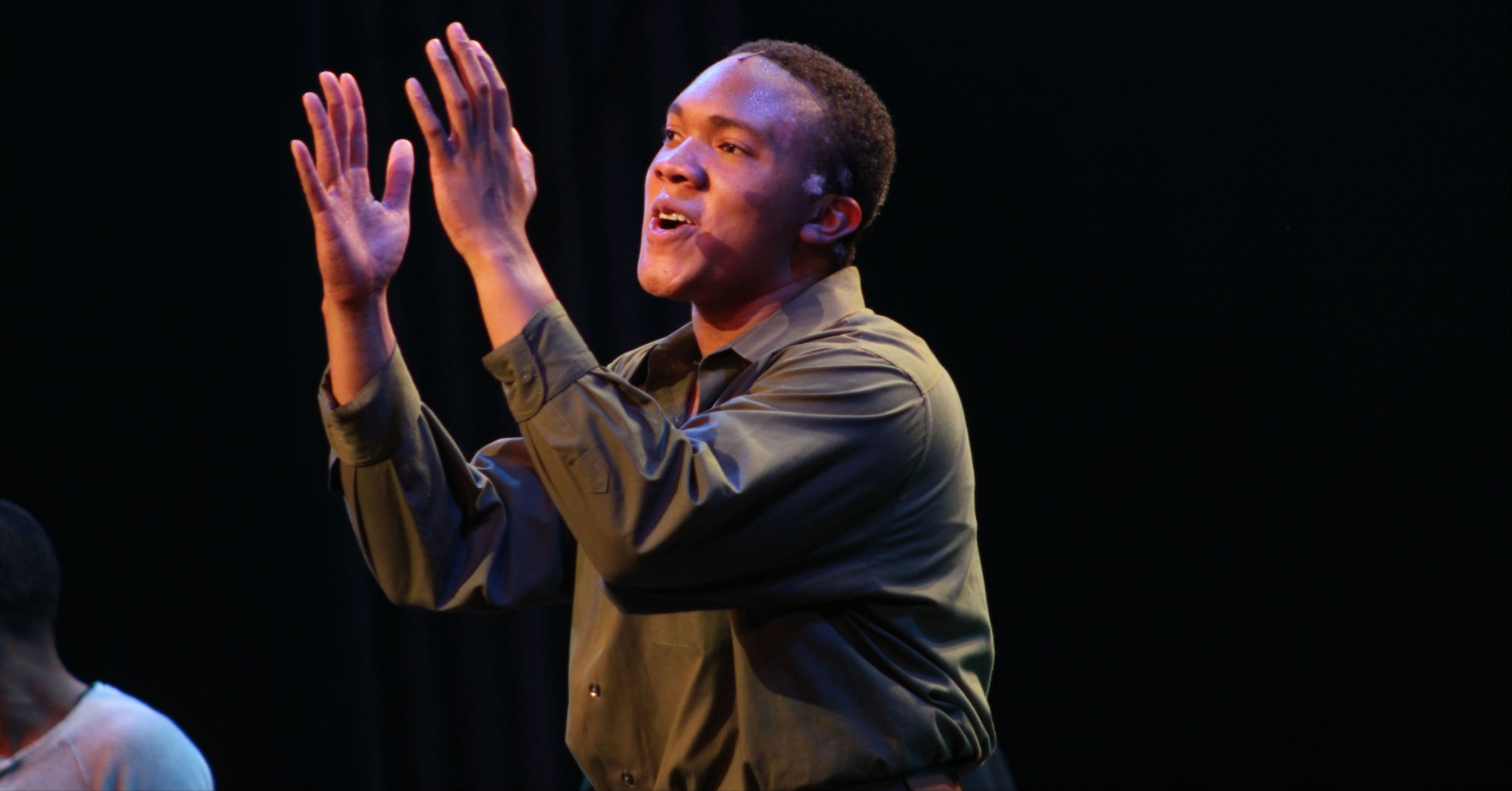 Hickory Ridge High School Graduate Wins Best Performance By An Actor at 2021 Jimmy Awards®
Charlotte, NC (July 16, 2021) – Blumenthal Performing Arts is pleased to announce Bryson Battle, named Best Actor at the 9th Annual Blumey Awards presented by Wells Fargo in May, took home the top male honor and a $25,000 college scholarship last night at the 12th Annual National High School Musical Theatre Awards®, also known as the Jimmy Awards®.
Battle is a recent graduate of Hickory Ridge High School in Harrisburg and plans on attending the Boston Conservatory at Berklee in the fall to study Musical Theater. The evening was a momentous one for North Carolina with Best Performance by an Actress going to Elena Holder from Durham Performing Arts Center's Triangle Rising Stars program.
"Bryson radiates when performing and brings a uniquely stunning voice along with an authenticity in his characterization that is absolutely captivating and a gift to audiences," said Andie Maloney, Vice President of Blumenthal's Education Department. "He is not only a brilliant actor but an exceptional person and we look forward to watching him flourish in the industry!"
The 12th Annual Jimmy Awards® ceremony was presented online Thursday evening. The event, hosted by Corbin Bleu with a special appearance from Mandy Gonzalez, can be viewed at www.JimmyAwards.com through Sunday, July 18th.
This year, all coaching, rehearsals, and activities took place online. 72 nominees from 36 participating regional programs competed and a total of 20 awards and scholarships were awarded to participants. Winners were selected by a panel of Broadway industry experts.
Battle and Kate McCracken, a rising senior at Charlotte Latin School, represented Charlotte after competing in the 2021 Blumenthal Performing Arts High School Musical Theater Awards, also known as the Blumey Awards. Sponsored by Wells Fargo, the Blumey Awards program was created by Blumenthal Performing Arts to recognize, celebrate and nurture the talents of high school musical theater students in the Charlotte region, as well as offer area students a pathway to the national competition.
This year marked the fifth time one of Charlotte's winners made it to the finals at The Jimmy Awards®. Battle is the third Charlotte-area performer to take top honors. Reneé Rapp, a graduate of Northwest School of the Arts, who went on to star in Mean Girls on Broadway took home the Best Actress award in 2018. Amina Faye, a graduate of Central Academy of Technology and Arts in Monroe, who graduated last year from Penn State's Musical Theater Department took home the Best Actress award in 2016.
"Wells Fargo's investment as presenting sponsor of the Blumey Awards yields continued education and recognition for outstanding students like Bryson Battle," added Jay Everette, Community Affairs Manager for Wells Fargo. "We are excited for his growth and career potential!"
Founded in 2009 by Nederlander Alliances LLC, Pittsburgh CLO, and Broadway Education Alliance, the mission of the Jimmy Awards®/National High School Musical Theatre Awards® is to raise the profile of musical theatre in schools, recognize dedicated teachers, and inspire the next generation of performers and enthusiasts. The program, named in honor of legendary Broadway producer/theatre owner James M. Nederlander, has been the catalyst for more than $4,000,000 in educational scholarships to date, and many past student participants have appeared in leading or supporting roles in Broadway, Touring and West End productions.
For video of Bryson Battle performing "Heaven On Their Minds" from Jesus Christ Superstar at the 2021 Jimmy Awards, click here.
For media inquiries and requests for photo and video assets, contact Becky Bereiter at rbereiter@blumenthalarts.org or (336)508-2146.
# # #
ABOUT BLUMENTHAL PERFORMING ARTS
Blumenthal Performing Arts serves the Carolinas as a leading cultural, entertainment and education provider. For more information, call (704) 372-1000 or visit BlumenthalArts.org. Blumenthal Performing Arts receives operating support from the Arts & Science Council and North Carolina Arts Council. Blumenthal Performing Arts is also supported by PNC Bank, sponsor of the PNC Broadway Lights.
WELLS FARGO & COMPANY (NYSE: WFC) is a diversified, community-based financial services company with $2.0 trillion in assets. Wells Fargo's vision is to satisfy our customers' financial needs and help them succeed financially. Founded in 1852 and headquartered in San Francisco, Wells Fargo provides banking, investments, mortgage, and consumer and commercial finance through more than 8,300 locations, 13,000 ATMs, the internet (wellsfargo.com) and mobile banking, and has offices in 42 countries and territories to support customers who conduct business in the global economy. With approximately 263,000 team members, Wells Fargo serves one in three households in the United States. Wells Fargo & Company was ranked No. 25 on Fortune's 2017 rankings of America's largest corporations.
THE BROADWAY LEAGUE (Charlotte St. Martin, President), founded in 1930, is the national trade association for the Broadway industry. The League's 700-plus members include theatre owners and operators, producers, presenters, and general managers who present in nearly 200 markets in North America. Each year, League members bring Broadway to nearly 30 million people in New York and on tour across the U.S. and Canada. The Broadway League has recently added a new category for International membership to collaborate with professionals from around the world who produce and present Broadway quality theatre. The Broadway League annually co-presents the Antoinette Perry "Tony" Awards®, one of the most coveted awards in the entertainment industry.
Key League programs and resources include: Kids' Night on Broadway®, The Jimmy Awards®, Stars in the Alley®, Internet Broadway Database® (ibdb.com), Broadway.org, SpotlightonBroadway.com, Commercial Theater Institute (with Theatre Development Fund), as well as numerous conferences and forums for our members. Broadway Bridges® is aimed at giving every New York City public high school student the opportunity to see a Broadway show before graduation. Careers.Broadway is a one-stop resource for anyone who wants to know what to do, where to look, and how to build a career on Broadway. TheatreAccess.NYC (co-produced with TDF) is the one-stop website of accessible Broadway performances for theatregoers with disabilities. Broadway.org is the League's official on-line headquarters for Broadway in NYC, on tour, and internationally.
For more information visit BroadwayLeague.com or follow @BroadwayLeague on Twitter and visit us at Facebook.com/BroadwayLeague. Follow @Broadway on Instagram for more Broadway content.
- # -