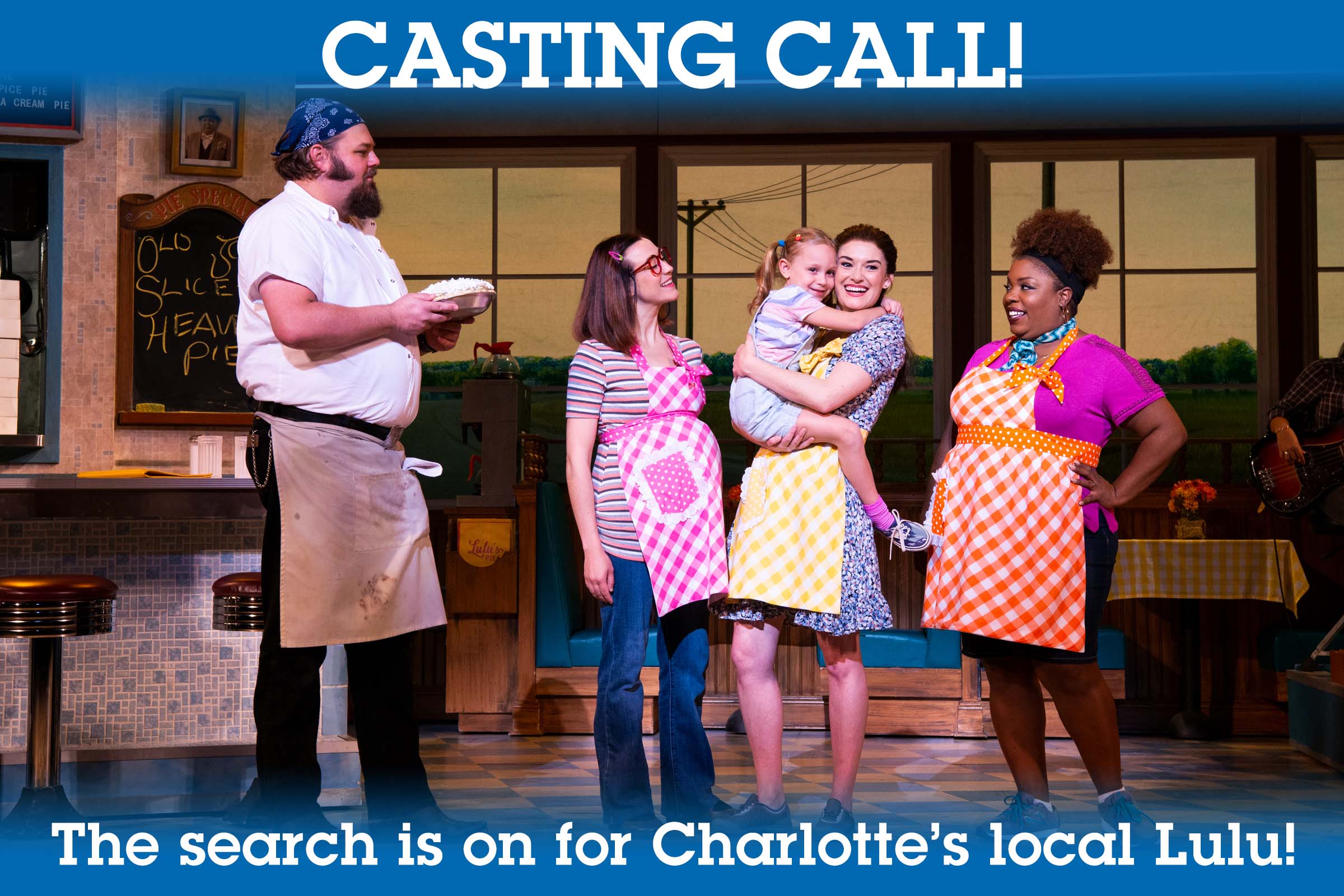 Search for "Lulu" in the hit musical WAITRESS will be held in Charlotte
(March 23, 2022) Charlotte, NC – "The Search for Lulu" is on! The producers of Waitress and Blumenthal Performing Arts previously announced that the role of "Lulu" in the hit Broadway musical, with music by Grammy winner Sara Bareilles, will be cast locally in Charlotte. Producers are searching for two young girls to alternate the role in four performances per week throughout the special 5-week engagement. Auditions will take place at the Booth Playhouse on Tuesday, March 29 from 2 p.m.–5 p.m.
When Waitress made its Charlotte debut at the Belk Theater in 2018, locals Harper Kuehnle and Matilda McCullough, then age 5, shared the role of "Lulu."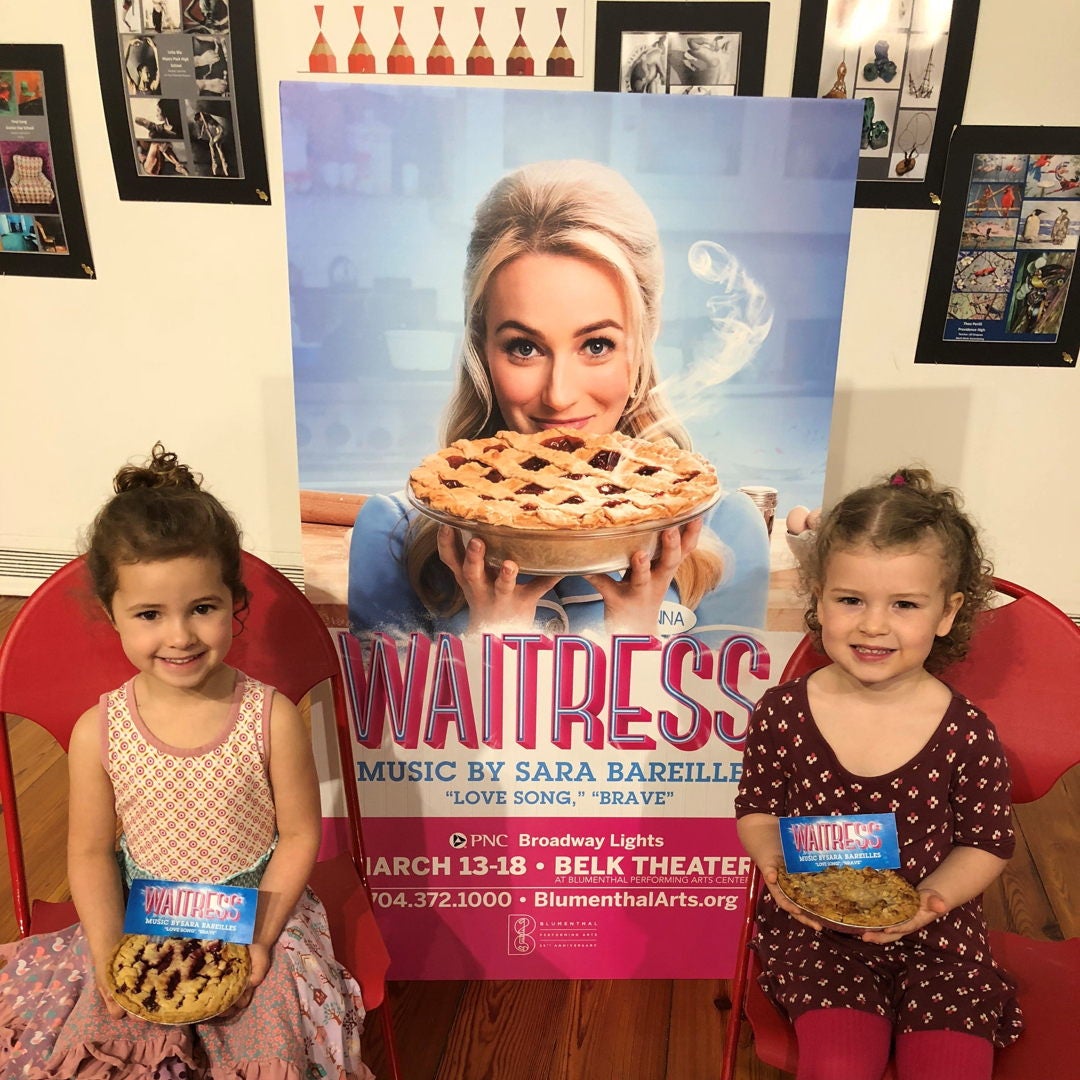 (Matilda McCullough and Harper Kuehnle)
Harper's mother, Juliet Lam Kuehnle, had this to say about her family's experience:
"The way Sara Bareilles and Waitress know the sweet spot for finding a kiddo at just the right age is brilliant. At age 5, Harper couldn't grasp the magnitude of having her own dressing room, someone to do her hair, and thousands of people gasping and clapping for her. We joke that she certainly started her 'acting career' pretty darn strongly—the bar is high! Everyone in the show and at Blumenthal was so supportive and warm, we will feel forever connected. Such a special experience."
The character of "Lulu" is a sweet and carefree 4-to-5-year-old who appears in the show's final scene. Qualified young girls should be shorter than 4'2" and be no older than 5 years and not yet in kindergarten. Individual applicants are welcome, as are sets of twins or siblings. Auditions will take place at the Booth Playhouse. Each audition is expected to take approximately 5 minutes, however timing may vary. Parents should be prepared to stay at the audition for approximately 1–2 hours. The audition will consist of the child reading two lines from the show. If possible, parents should bring a current headshot and resume for each child, however headshot, resume, and prior acting experience is not required. Space is limited to the first 40 applicants to sign up. Sign up here: https://www.blumenthalarts.org/events-tickets/search-for-lulu
Based on the 2007 motion picture written by Adrienne Shelly, Waitress is the first Broadway musical in history to have four women in the four top creative team spots, with a book by Jessie Nelson, music and lyrics by Grammy@ winner and Tony@ and Emmy Award@–nominated Sara Bareilles, choreography by Lorin Latarro, and direction by Tony Award@ winner Diane Paulus.
The Waitress design team features sets by Tony Award@ winner Scott Pask, costumes by Suttirat Anne Larlarb, lighting by Ken Billington, and sound by Tony Award@ nominee Jonathan Deans. Music supervisor is Nadia DiGiallonardo. Casting is by The Telsey Office.
Debuting in April 2016, Waitress is one of the longest-running shows in recent Broadway history, playing more than 1500 performances at The Brooks Atkinson Theatre. The musical recouped its production investment in less than 10 months—Waitressand Hamilton were the only new musicals from the 2015–2016 Broadway season that went into profit that year.
Waitress has also played successful productions on US National Tours, London's West End and around the world. New international productions include a UK tour currently on the road.
Waitress tells the story of Jenna, a waitress and expert pie maker stuck in a small town and a loveless marriage. When a baking contest in a nearby county offers her a chance at escape, Jenna fights to reclaim a long-forgotten part of herself. Through the support of her fellow Waitresses and an unexpected romance, Jenna begins to find the courage to take a long-abandoned dream off the shelf. Waitress celebrates the power of friendship, dreams, the family we choose, and the beauty of a well baked pie.
Waitress is produced on Broadway by Barry and Fran Weissler and Norton and Elayne Herrick. 
The Waitress original motion picture was produced by Michael Roiff / Night & Day Productions. The musical's world premiere was produced by the American Repertory Theatre at Harvard University, August 2, 2015 (Diane Paulus, Artistic Director, and Diane Borger, Producer).
Tickets and more information are available at blumenthalarts.org.
Follow on Facebook, Instagram, Twitter & YouTube: @WaitressMusical
# # #
About Blumenthal Performing Arts
Blumenthal Performing Arts serves the Carolinas as a leading cultural, entertainment and education provider. For more information, call (704) 372-1000 or visit BlumenthalArts.org. Blumenthal Performing Arts receives support from the Infusion Fund and the North Carolina Arts Council. Generous support is also provided by PNC Bank, sponsor of the PNC Broadway Lights series, and Equitable, sponsor of the Equitable Bravo Series
Follow Blumenthal Performing Arts on Facebook, Instagram, Twitter and YouTube.