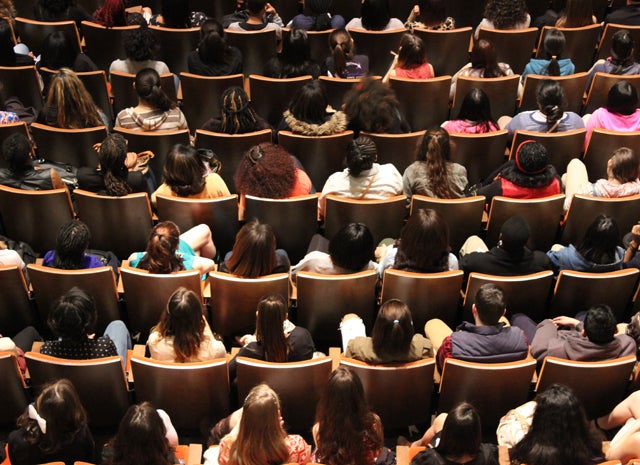 2017-2018 School Year
Breakin' Convention
Friday, October 13
Knight Theater
10:30AM - 12:00PM
Breakin' Convention is the world's biggest festival of hip hop dance theatre showcasing the very best from around the world and around the corner.
Curated and hosted by UK hip hop pioneer Jonzi D, this is an awe inspiring weekend of exceptional performances from world champion b-boy crews to cutting edge street dance companies - live on stage! Spiling off stage and taking over the whole building, dance workshops, graffiti, DJs, and freestyle sessions make Breakin' Convention an unforgettable experience for students and the family.
Starring international companies, Protocol (UK), Salah (France), Soweto Skeleton Movers (South Africa), and Yeah Yellow (France) and local line-up to be announced soon!
One of Blumenthal's most popular school shows of the year, join us at 10:30AM for a fun and invigorating dance performance!
Scrap Arts Music
Monday, April 23
McGlohon Theater
10:30AM - 11:30AM
Scrap Arts Music [skrap-artz-myoo'zik] - noun. 1. An internationally renowned, athletic next-generation percussion ensemble. 2. An earth-friendly, Vancouver-based company that creates unforgettable performances using mobile instruments artfully crafted from industrial scraps. 3. Five extraordinary, virtuosic and innovative drummers. 4. The group that transforms "scrap" into "art," and "arts" into "music."
Scrap Arts Music delivers intricate rhythms, raw energy, athletic choreography and the hottest - most inventive - reuse of materials on stage today.
With instruments fashioned from industrial scrap and offbeat materials ranging from accordion parts to artillery shells, Scrap Arts music's original instruments and music are as visually striking as they are sonically riveting. Audiences from four continents have welcomed this electrifying quintet with unbridled enthusiasm, embracing their intoxicating mix of music, movement and spectacle.
Join us for a school show with Scrap Arts Music on Monday, April 23!
---
Each school show ticket is $5.00 and must be paid before the performance. Home school families and groups are able to attend as well.
Interested? Contact Jenny Kabool at [email protected]