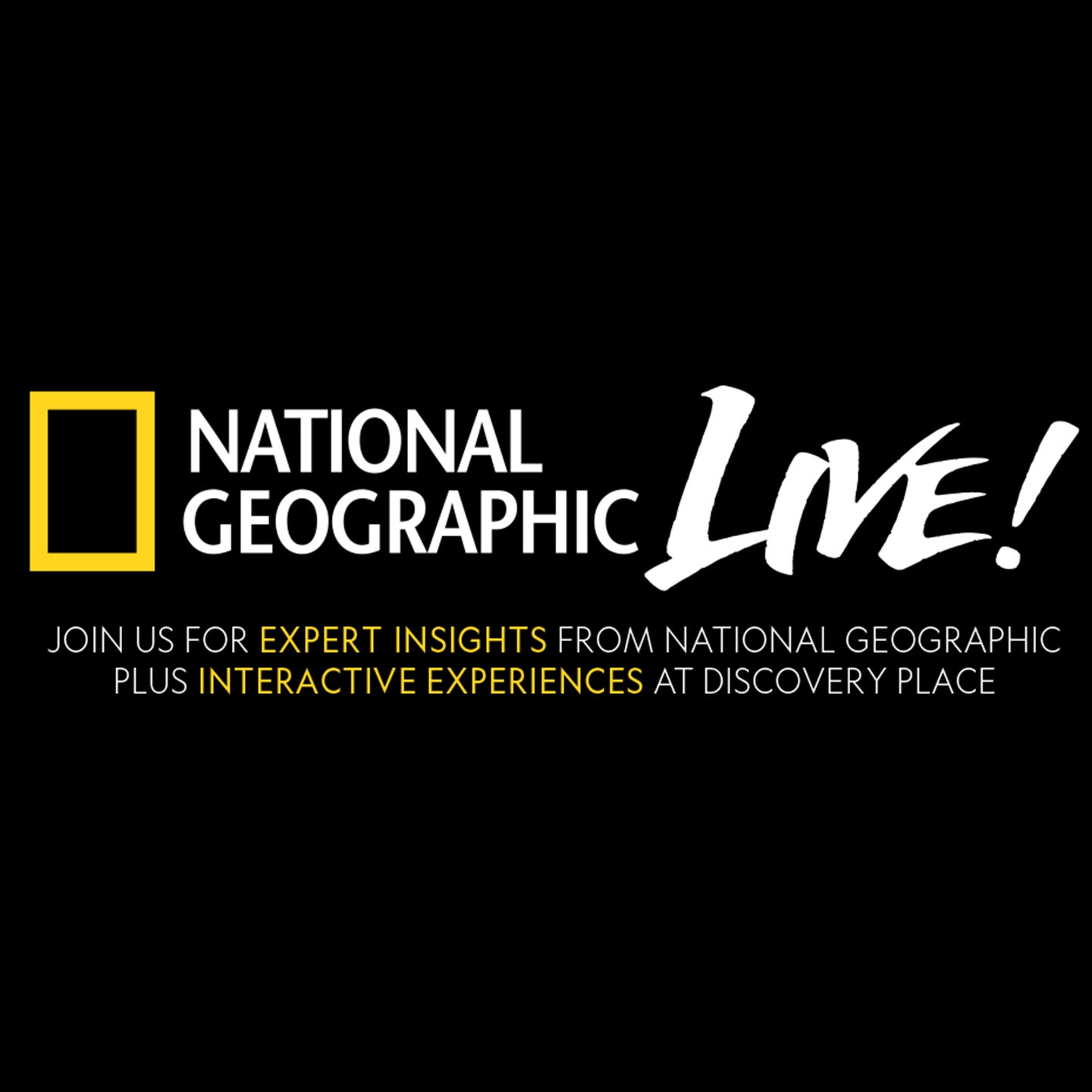 Blumenthal Performing Arts & Discovery Place Science Announce National Geographic Live! - Sponsored By CompuCom
Charlotte, NC (June 11, 2018) –Blumenthal Performing Arts and Discovery Place Science have joined forces to create a new and unique experience for Charlotte area 'explorers' interested in discovering the natural world with National Geographic Live and connecting with others who share their curiosity. The new three-event series featuring National Geographic Live's speakers is sponsored by CompuCom.
The new series will bring National Geographic Live!, a highly acclaimed speaker series featuring thought-provoking presentations by today's leading explorers, scientists, and photographers, to Charlotte for three exciting programs starting Oct. 23 with Coral Kingdoms and Empires of Ice. Two additional programs are slated in January and March.
Nat Geo Live has grown rapidly and is currently presented in more than 50 cities in North America. The collaboration between Blumenthal and Discovery Place Science adds Charlotte to the list.
"We are thrilled to be bringing some of National Geographic's most dynamic and entertaining explorers to McGlohon Theater. National Geographic Live! events are a unique opportunity for people in Charlotte to meet these visionary individuals in person, and to be inspired by the fascinating stories and breathtaking images they will share from their expeditions to the far corners of our planet," said Yulia Petrossian Boyle, Senior Vice President for Global Media and Experiences at National Geographic.
"We are excited to join Discovery Place Science in bringing National Geographic Live! to Charlotte," said Blumenthal President Tom Gabbard. "It's an extraordinary program in and of itself, but we have added an additional element, thanks to the assets of Discovery Place Science, that we think will make this a truly unique experience. Along with compelling speakers, participants can attend a pre-show party where they'll meet others who share their curiosity about the world and get a chance to play with some of Discovery Place's fantastic 'toys,' like telescopes and touch tanks."
National Geographic Live! participants will begin their evening at 6pm in Discovery Place Science where they'll have a chance to enjoy cocktails and chat with other guests, as well as try out special activities and demonstrations associated with that evening's National Geographic Live! topic. The National Geographic Live! speaker will begin at 7:30 PM at McGlohon Theater in Spirit Square, directly across the street from Discovery Place Science.
"We are delighted to build a bridge across North Tryon St. to join forces with the Blumenthal in bringing this nationally-acclaimed series to Charlotte," said Catherine Wilson Horne, President & CEO, Discovery Place. "The combination of visual arts, cutting-edge exploration, hands-on science and social conversation will make for enlightening and not-to-be-missed events."
"CompuCom is very proud to be the sponsor for the National Geographic Live! series and is happy to partner with Blumenthal Performing Arts and Discovery Place to bring the series to Charlotte," added Ken Jackowitz, Chief Product Officer at CompuCom. "Great things happen when the arts and sciences come together and we are excited to be helping two great organizations inspire new and diverse audiences in the community."
In addition to the three public performances, the Blumenthal and Discovery Place Science collaboration includes a dedicated performance by each of the National Geographic Live! speakers to area students via school shows. There also will be special activities and experiences for the students at Discovery Place after each speaker presentation. For information and tickets for the school shows, contact Discovery Place at 704-372-6261 ext. 300.
Season tickets for the National Geographic Live! series will go on sale to the public Friday, June 15 at BlumenthalArts.org or at 704.372-1010. The three-event season ticket will admit buyers to both the pre-show party (cash bar) at Discovery Place and the speaker at McGlohon Theater.
Season tickets begin at less than $80. A five-month extended payment plan is available for season tickets.
The National Geographic Live! programs featured on this series' debut in Charlotte include:
2018/2019 SPEAKERS & TOPICS
Coral Kingdoms and Empires of Ice October 23, 2018
Follow along as David Doubilet and Jennifer Hayes dive deep into the unknown. The ocean covers 70 percent of our planet and yet remains a mostly fragile frontier. Experience the tropical marine waters of Papua New Guinea, Philippines, and Indonesia, see the vast 1800 miles of The Great Barrier Reef, and learn how Cuba's reefs thrive due to political isolation. All around the world, reefs are teeming cities of biodiversity with layers of life that range from the tiniest coral polyp to apex predators. With the pair's immersive photographs and storytelling, you'll catch a glimpse of life down under through a lens unlike any other.
David Doubilet and Jennifer Hayes are a photographic team specializing in underwater imagery. They have their own studio and photography company as well as a book, Face to Face with Sharks.
Doubilet is known as the world's leading underwater photographer, having taken his first underwater photograph at the age of 12 with a Brownie Hawkeye sealed in a plastic bag. Focusing on the mystery of the deep sea, Doubilet has photographed more than 70 stories for National Geographic, from coral reefs to historic shipwrecks. Equipped with a witty sense of humor and a poetic way of describing his subjects, Doubilet is an audience favorite.
Hayes is an aquatic biologist and photojournalist specializing in natural history and marine environments. Her work can be found in many magazines, including DIVE and Sports Illustrated.
Cocktails and Conversation pre-show
Join us as we dive deeper into the Coral Kingdoms. Discover how corals reproduce and the journey the take to go from larvae to adults. Engage in activities to learn of some challenges corals face across our oceans including ocean acidification, climate change and pollution. Before you go, be sure to come up close with the Candy Cane Coral in our touch tank, discover tools of the trade and see our collection of coral artifacts.
View From Above January 29, 2019
Sometimes, a little distance is all you need to see things in a brand new way. For astronaut Terry Virts, his newfound perspective was from the International Space Station (ISS), where he installed the Cupola module, granting an unprecedented 360- degree view from the station. When he later became the commander of the ISS, he made good use of the Cupola, taking more photographs than any astronaut who came before him. Many of those images were later used in the National Geographic book View From Above and IMAX film A Beautiful Planet, but to hear Virts tell it, no photo can capture the perfect shade of blue from a sunrise viewed from outer space.
Terry Virts is a former U.S. Airforce officer and International Space Station Commander. He helped to deliver the Cupola, a now famous device that provides astronauts with a 360-degree view of the planet. Virts has used the Cupola to take hundreds of thousands of photos from space, which you can find in his book, View From Above.
Cocktails and Conversation pre-show
Join us at Discovery Place Science to go beyond earth and learn all about our solar system! How long is a day on Mars, what do you weigh in space and what's your space height? Explore the wonders of the universe by relaxing under the stars in the Star Lab and have a look through a telescope.

Big Cats March 26, 2019
Go around the world in search of big cats with award-winning photographer Steve Winter. A determined explorer, Winter will lead you from Asian jungles where resilient tiger populations persist, to the Himalaya, home of the rare snow leopard. Follow him into the rainforests of Latin America to view the elusive jaguar and to Hollywood in pursuit of the American cougar. He'll share both dangerous and lighter moments: from getting stuck in quicksand to mishaps with remote-controlled cameras. Co-author of the new National Geographic book Tigers Forever, Winter's mission is to share the beauty of big cats while working to save them.
Steve Winter has been leading photographic expeditions to remote locations for over 20 years, all with the mission of saving big cats. He is fiercely dedicated to the protection of jaguars, cougars, leopards, snow leopards, and tigers. Since signing as a photojournalist for Black Star Photo Agency, Winter has produced stories for GEO, Time, Newsweek, Fortune, Natural History, Business Week, and National Geographic, among others. Winter has become the foundation for the National Geographic Big Cats Initiative, a long-term commitment to stop poaching, preserve habitats, and support education to stop extinction of the world's large cat species.
Cocktails and Conversation pre-show
It's all about CATS both big and small! Identify the genetic and physical adaptations that make both wild and domestic cats the way they are. Get hands on and dirty with what comes out of the front end of some and the back end of all cats. Classify species based on teeth replicas and explore our collection of large cat furs and skulls with our Collections staff.
Season tickets are on sale now!
For more information or to make a purchase:
Visit BlumenthalArts.org/NatGeoLive
Call 704-335-1010
Visit the Belk Theater box office, 130 N. Tryon St., Mon.-Sat., 10 a.m.-6 p.m.
ABOUT BLUMENTHAL PERFORMING ARTS
Blumenthal Performing Arts serves the Carolinas as a leading cultural, entertainment and education provider. For more information, call (704) 372-1000 or visit BlumenthalArts.org. Blumenthal Performing Arts receives operating support from the Arts & Science Council and North Carolina Arts Council. Blumenthal Performing Arts is also supported by PNC Bank, sponsor of the PNC Broadway Lights.
ABOUT DISCOVERY PLACE
Discovery Place is a 501c3 nonprofit that provides STEM education to the Carolinas through four distinct museum experiences at Discovery Place Science, Discovery Place Nature and Discovery Place Kids, interactive educational programming, professional development training and community outreach initiatives. Discovery Place is supported, in part, with funding from the Arts & Science Council.
ABOUT NATIONAL GEOGRAPHIC LIVE!
National Geographic Live! is the live events division of National Geographic. With a broad roster of talent including renowned photographers, scientists, authors, filmmakers and adventurers, National Geographic Live's critically acclaimed programs have connected with audiences worldwide for over a century. Currently, National Geographic Live! events are held in a variety of cities around the world, including, Seattle, Tampa, Los Angeles, and Calgary. In each of these cities, speakers share behind-the-scenes stories from the front lines of exploration onstage alongside stunning imagery and gripping footage. For more information, visit natgeolive.com.
ABOUT COMPUCOM
CompuCom Systems, Inc., a wholly owned subsidiary of Office Depot, Inc. (NASDAQ:ODP), provides end-to-end managed services, technology and consulting to enable the digital workplace for enterprise, midsize and small businesses. Celebrating its 30th year, CompuCom offers clients individualized experiences, drives workplace collaboration and productivity, and delivers operational performance and efficiency. For more information, visit www.compucom.com.
MEDIA CONTACTS:
Becky Bereiter, (704)348-5814 - [email protected]
Debra Smul, (704)348-1966 - [email protected]
Hannah Sedgwick, (202)912-6762 - [email protected]