Caroline Calouche & Co. Flying High
No matter how they make our hearts soar, most dance companies remain physically earthbound. Not so for Caroline Calouche & Co., Charlotte's own aerial dance and contemporary group and one of Blumenthal's resident arts companies. Melding various styles of dance, from ballet and hip hop to Capoeira and circus arts, this group flies high as it creates new possibilities in dance.
Unlimited possibilities are something important to Artistic & Executive Director Caroline Calouche, who spent much of her childhood climbing trees, riding her bike and playing sports outdoors with her two brothers. Those activities balanced well with her piano lessons and first forays into dance at Gaston Dance Theatre, where master dancers often visited to demonstrate techniques like flamenco, african dance, and character dance.
"Trying a lot of things when you're young is really good," Calouche says, "And see what clicks with you and for life."
Turns out many of these experiences clicked with Calouche and have contributed to her artistic vision as both a choreographer and educator.
Her early dance experiences have inspired her openness toward incorporating a variety of dance genres into her work; learning to read music has enhanced her understanding of the mechanics of musical phrasing; and, of course, that ability to leap from one tree limb to another has also served her well.
After obtaining two BFA degrees in ballet and modern dance at Texas Christian University, Calouche headed to Europe to pursue postgraduate work in dance. There she saw incredible things.
"My first experience with contemporary circus was while I was living in Salzburg, Austria," Calouche says. "It was a tent show from an Italian company whose artistic director was a dance choreographer. Seeing how this choreography wove the circus tricks into a story with meaning, was inspiring to me."
When she returned to Charlotte in 2005, she expected to find the same city she had left—the one which basically went dark after working hours. "We'd go to Blumenthal to see shows and then we'd go home," says Calouche, recalling the Queen City of the mid-1990s.
But what she found instead was a city in the midst of transformation:
with new theaters and museums in the works and expanded opportunities in the arts. The time seemed right for bringing in more dance too. She decided to start not one but two new non-profit organizations simultaneously: Charlotte Dance Festival and her own dance company.
"That was interesting and a challenge," says Calouche."There weren't really 'how to' books on how to start a dance company."
But a dozen years later, both organizations are thriving. Charlotte Dance Festival was created to serve as a platform for emerging artists, like herself, and as an opportunity to bring in nationally-known dancers. For her own company, she wanted to focus on contemporary dance presented in a way that was different from what she saw elsewhere.
"I was getting tired of seeing a lot of contemporary dance shows and getting depressed," Calouche says.
She also continued to expand her own repertoire. At an age where many professional dancers give up performance for alternate careers, Calouche started experimenting with cirque and aerial dance. "I started flying at age 27—kind of at the age where you start thinking, 'Am I done?,'" she says.
These skills have become an essential part of the repertoire at CC&CO. Calouche has used circus arts and aerial dance along with humor and creativity to engage audiences. "Trying to figure out how to build an audience is the hardest thing," says Calouche, who strives to create relevant work that brings out the best in her dancers and connects with the public.
She's also found the perfect performance home at Booth Playhouse, as one of Blumenthal's resident arts companies. The theater has been specially equipped to accommodate aerial dance performances with anchors in the walls, boosted lighting and sound equipment.
"[Blumenthal's] tech director, the box office staff, the marketing staff are really open to helping us succeed," says Calouche. "They help us in a myriad of ways in advance of shows…"
The flexibility of Booth Playhouse, in which the stage and seating can be reconfigured in different ways, has also enabled CC&Co. to focus on another objective: building authentic engagement with the audience and not just leaving them as spectators. In the show, Lingua, some audience members are actually seated on stage. For the cabaret show, Rouge, special rigs allow aerial dancers to go beyond the stage and into the audience.
Calouche is also proud of the spirit of collaboration that has developed among the diverse group of artists and students at the organization's school, Charlotte Cirque and Dance Center, located in South Charlotte. "Nobody has the exact same background and experiences which is what I love," Calouche says. "So we can all learn from each other… we all love learning. That trickles into our students."
Calouche says the cirque tradition has a real family quality to it that supports artistry and creativity over competition. That syncs perfectly with Calouche's vision too, going back to her earliest days of studying dance as a child in Gastonia.
"I'm inspired every day by how we can get our students young and older to think differently," says Calouche. "… You're building community, you're problem solving with other people to make something work."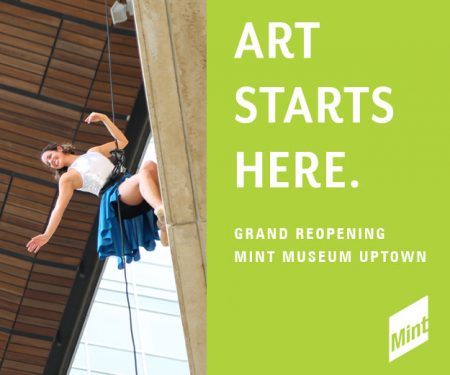 Want to see them for yourself?
Caroline Calouche & Co. will perform its first aerial dance on a building Sept. 21 and 22 at the grand reopening celebration of the Mint Museum Uptown at Levine Center for the Arts. This free event is part of the debut of Lumisonica, an interactive light/sound installation at the museum.. The group performs outside on the facade of Mint Museum Uptown at 5 PM, 6 PM, 7 PM, and 8 PM on Friday the 21st and Saturday the 22nd!
For more information on The Mint Museum Uptown Grand Re-opening, visit: mintmuseum.org
For more details on their current season of performances or to subscribe, visit carolinecalouche.org