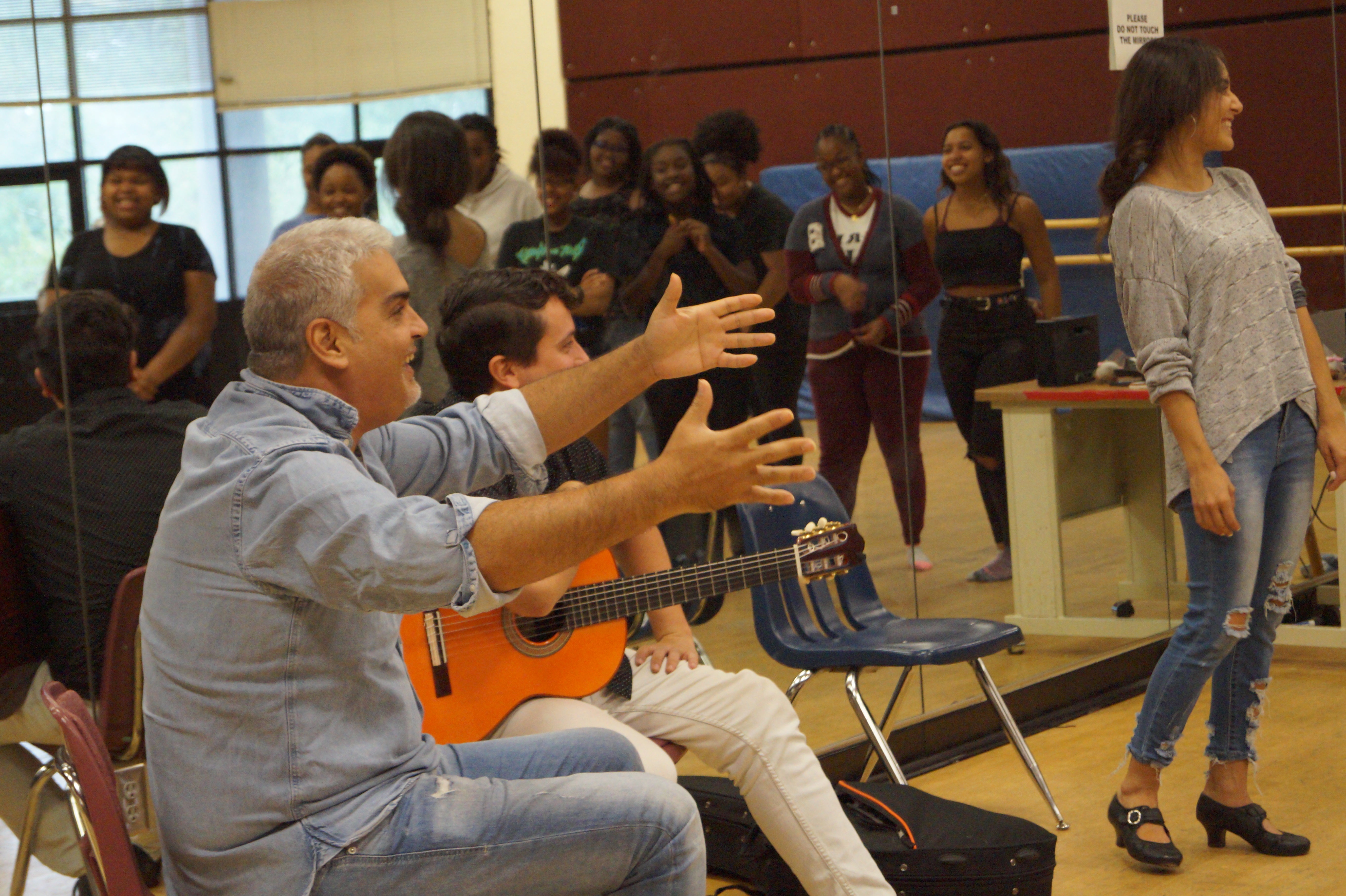 Cast of TABLAO FLAMENCO Brings Unique Learning Opportunities to Hundreds of High School Students
On an early fall morning in Charlotte, local high school students twirled and stamped their feet in intricate patterns, clapped their hands to complex rhythms, and practiced singing in Spanish. This was no ordinary school day—not even at Northwest School of the Arts, a CMS magnet program where students pursue their passions in the performing or visual arts. Today, the eight-member company of TABLAO FLAMENCO was on campus leading Master Classes on the art and origins of Flamenco music and dancing.
INSPIRING STUDENTS
"It just makes you want to aspire to be like them more," says Isaiah, a senior who plays viola in the school's orchestra and dreams of becoming a professional musician. "They obviously started at a young age so we have the potential to be like them." An opportunity like this one is important for young musicians, he adds, because it helps them to become more versatile performers. But it was not only the music that caught Isaiah's attention.
"I actually want to try to dance Flamenco," says the lanky high schooler. "I'm 6'5" but it looks fun!"
Approximately 250 students participated in the workshops, learning about the rich history and techniques of this Spanish-born artform that combines singing, dancing, guitar and percussion. Many students and their parents also had the opportunity to see the show at Blumenthal's Booth Playhouse earlier in the week—the space transformed to bring the audience close to the action, replicating the intimate club atmosphere of traditional Spanish tablaos.
Flamenco is a remarkably collaborative artform. Like jazz, it relies heavily on improvisation. It also uses a common "language" rooted in rhythm, which is created by all the performers. Even the dancers act as percussionists: nails in the bottom of their shoes strike the floor as they execute their dramatic footwork. Together, an ensemble creates the structure and then layer upon layer of counter-rhythms that give the music its distinctive sounds.
With such a cooperative artform, it seemed especially appropriate that the workshops at NWSA were interdisciplinary. Students studying music, dance, and Spanish language all took part.
"I love academics and the arts and when you can mix them together, it's a beautiful thing," says Chandra McCloud-Glover, a dance educator at NWSA who partnered with Blumenthal's Education Department to organize the visit. For this kind of workshop, she explains, all students come in on a level playing field: Spanish-learners are experimenting with dance and rhythm while musicians and dancers are picking up Spanish vocabulary.
"Dance does not exist in isolation," she says.
Spanish teacher Michelle Fleshman says her students are discovering other cultures through these unique workshops. Kids are learning new vocabulary, interacting with native Spanish speakers from around the globe and learning to sing a real flamenco verse. It's a great opportunity for students "anytime you can tie in their love [of the arts] into their learning Spanish," says Fleshman.
ARTISTS AT WORK
"How we think is not how a classically-trained musician would think," says teaching artist and percussionist Peter Bogdanos to a group of orchestra students working on a Flamenco-inspired piece for an upcoming concert. Bogdanos is also Executive Director of Rhythm of the Arts, the organization that co-produces TABLAO FLAMENCO with Blumenthal. "We can all communicate because of form… if you're going to get on the stage with professionals, you need to know the form."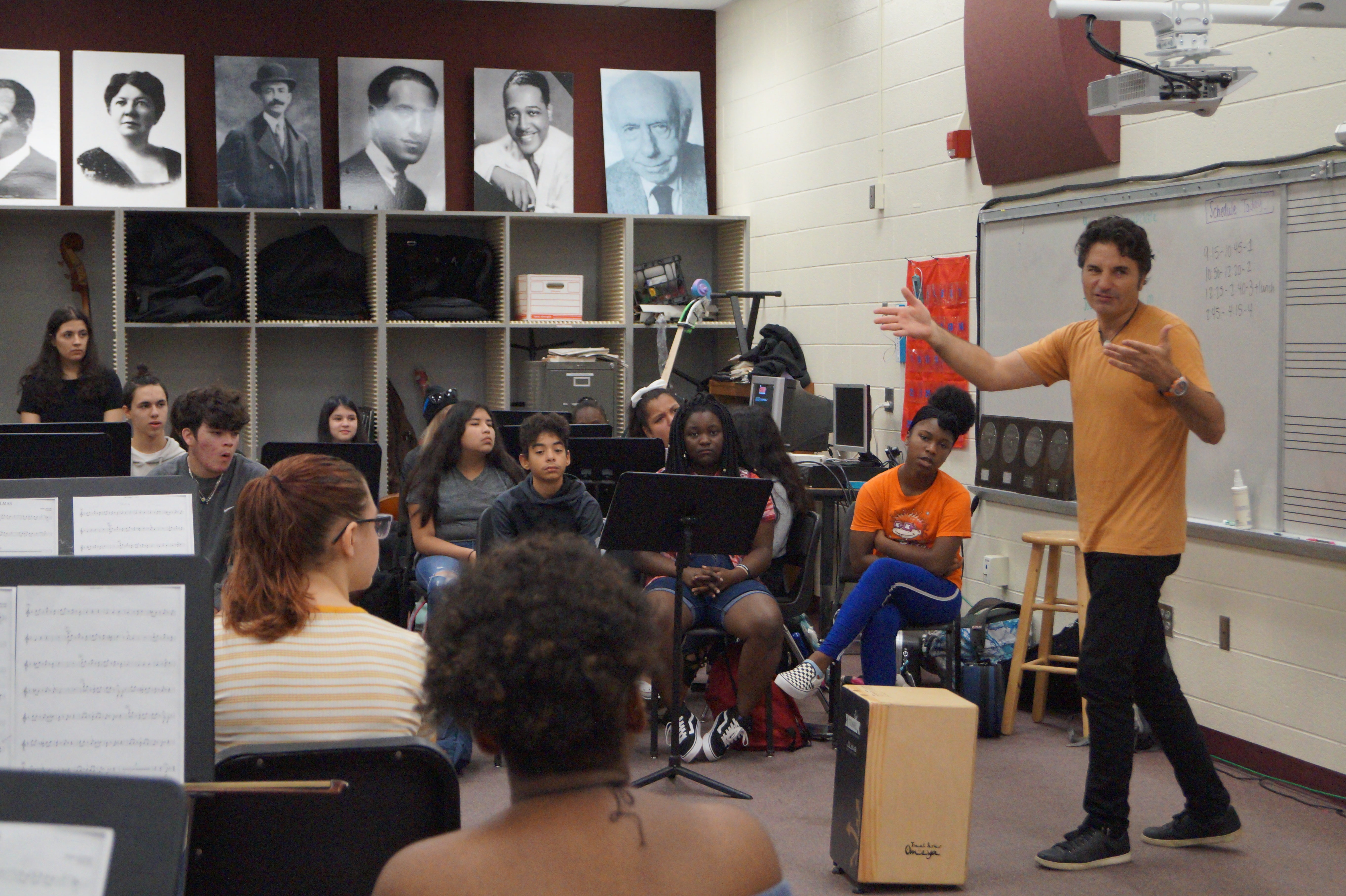 He also emphasizes the importance of precision as they tackle their piece. "You have to play your part well in order for that whole to work," he says, demonstrating how different palmas (clapping) change the dynamics and mood of a Flamenco piece.
Meanwhile, in a large upstairs studio, other students practice palmas and footwork with dancer Illeana Gomez. "We can do more stylistic things so it doesn't look robotic," says Gomez, who grew up in Laredo, TX and now lives in Madrid, where she performs flamenco six nights a week.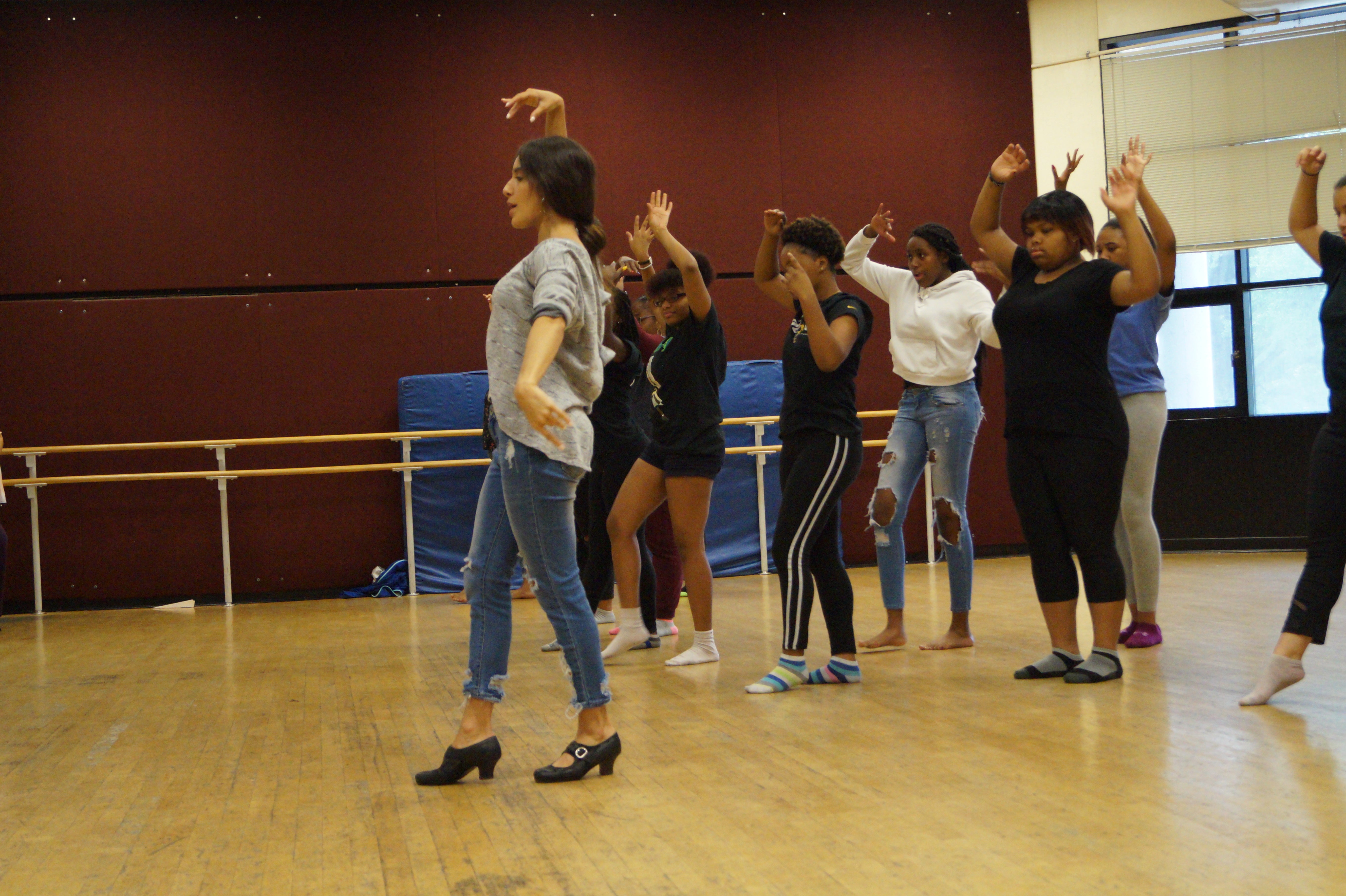 She compares the collaboration between flamenco musicians and dancers to playing catch. They have to be in sync to spin their stories through rhythm, music, words and emotion. The singer establishes the mood and the artists use modality and style to keep it together in the same way a standard provides a form for jazz music.
She and the other performers demonstrate: Singer Jose Cortes, who grew up in the South of France immersed in the flamenco tradition within his gypsy family, sings a verse; Gomez's husband Alejandro Pais Iriart, originally from Argentina, joins on guitar while Gomez uses her whole body, twirling, clapping and punctuating the music with her footwork. Then, suddenly and almost miraculously, they all stop on the same beat.
This is a rare opportunity. Students are getting an insider perspective they could not get in their regular academic studies. Teaching artists play an essential role sharing their knowledge with a new generation of artists. "Arts in Education is important work," says Bogdanos who has been visiting schools through various arts and education initiatives for about 20 years. "I got into this field because I grew up in New York City in the 70s and 80s during the period when arts funding was cut." He didn't want other kids to miss out on rich arts experiences.
McCloud-Glover, now in her 15th year teaching at NWSA, shares a similar sentiment. She was exposed to cultural dance while growing up in Durham and always knew that as a teacher she would want to provide the same opportunities to her students.
"[B]ecause we are so ballet-modern-jazz-and-tap centric [at NWSA], I think we forget about cultural dance, ethnic dance." She watches Blumenthal's calendar carefully for potential opportunities to bring visiting artists into the school and for students to experience live arts performances.
"It made my heart smile," says McCloud-Glover, recalling the faces of students and their parents who attended a performance of TABLAO FLAMENCO with complimentary tickets earlier in the week. "I can't thank the Blumenthal enough."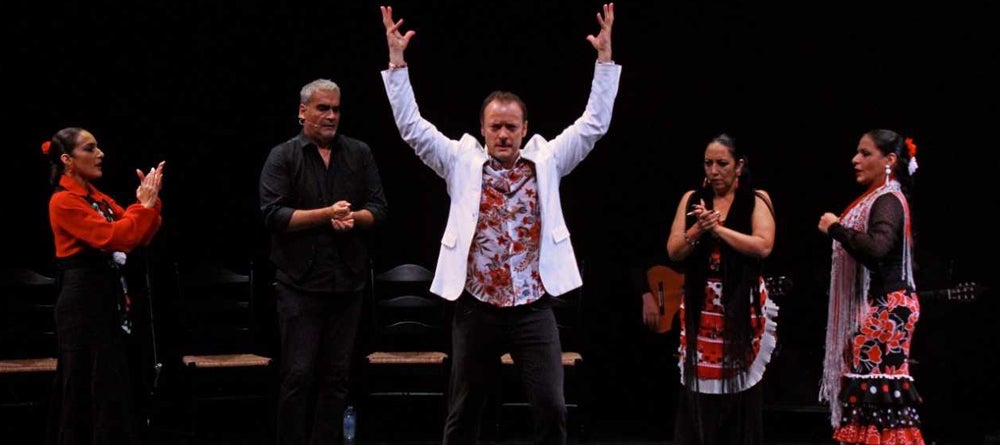 These brilliant performers return to Booth Playhouse February 19-23 with another all new show - Tablao Flamenco: A Night in Andalucia.
See the passion and energy of flamenco come alive as the intimate Booth Playhouse is transformed into a vibrant Spanish dance club. Experience the world-class lineup of international artists up-close with exclusive drink service at a cabaret table, or sit back in an elevated theater seat—there's not a bad view in this club.
Tickets are on sale now! For details, visit: www.blumenthalarts.org/events/detail/tablao-flamenco-a-night-in-andalucia