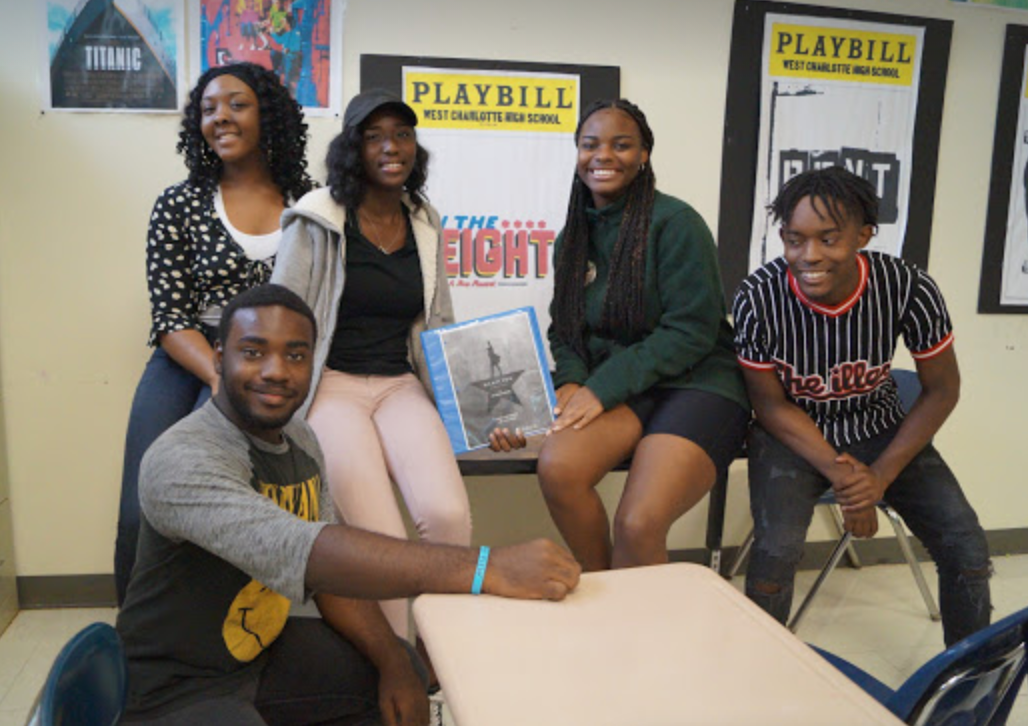 Discovering HAMILTON - Part 1: Local High School Students Follow in Steps of Lin Manuel Miranda to Transform History into Their Own Works of Art
As Charlotte counts down the days until the Broadway mega-hit HAMILTON arrives, some lucky students are discovering the musical through a unique educational opportunity, affectionately referred to as EduHam. The program, a partnership between the Gilder Lehrman Institute of American History, the producers of HAMILTON and playwright/composer Lin Manuel Miranda provides students at select Title I schools with an insider look at the historical events, real people and research that inspired Miranda's creation. Participating schools come from all over North Carolina, South Carolina and as far away as Virginia and Georgia. Blumenthal is thrilled to be the first venue in the south to host this game changing program!
As part of the initiative, students are also guided through the process of creating their own original performance pieces, using primary historical documents and supplementary research. After completing the written work and performing their own creations at their school, the project culminates with students seeing the 11-time Tony Award-winning sensation at Blumenthal's Belk Theater. Thanks to the support of The Rockefeller Foundation and other generous donors, students pay only one Hamilton each (i.e., $10) to see this amazing show.
GETTING STARTED
Last week, 120 students at West Charlotte High School, one of five CMS schools participating locally, started diving into the HAMILTON Student Performance and Study Guide. IB American History students were busy comparing the texts of two Revolutionary Era documents—one by the loyalist Reverend Samuel Seabury and the other a rebuke from a 19-year old student at King's College named Alexander Hamilton. (Yes! That Alexander Hamilton!) These primary sources inspired Miranda's song, a spirited stand-off between Seabury and Hamilton called "Farmer Refuted."
"There's a conversation going on," says English teacher Lawdawna Robinson to the group of about 20 students in this early morning class. "… Am I right?"
As the students analyze the documents, Robinson guides them to look for the point of view of each writer, identify the topics they are discussing, determine the audience and how the words they choose give us insight into the attitudes and personalities of these historical figures. Robinson splits the room in half and asks each group to imagine they are representing either Seabury or Hamilton in a debate—how would they describe and critique their opponent? She encourages them use precise language in their explanations, utilizing vocabulary words they have been exploring in class.
Hands shoot up: students describe Seabury as hostile, on edge, arrogant. Hamilton is combative, defensive and audacious.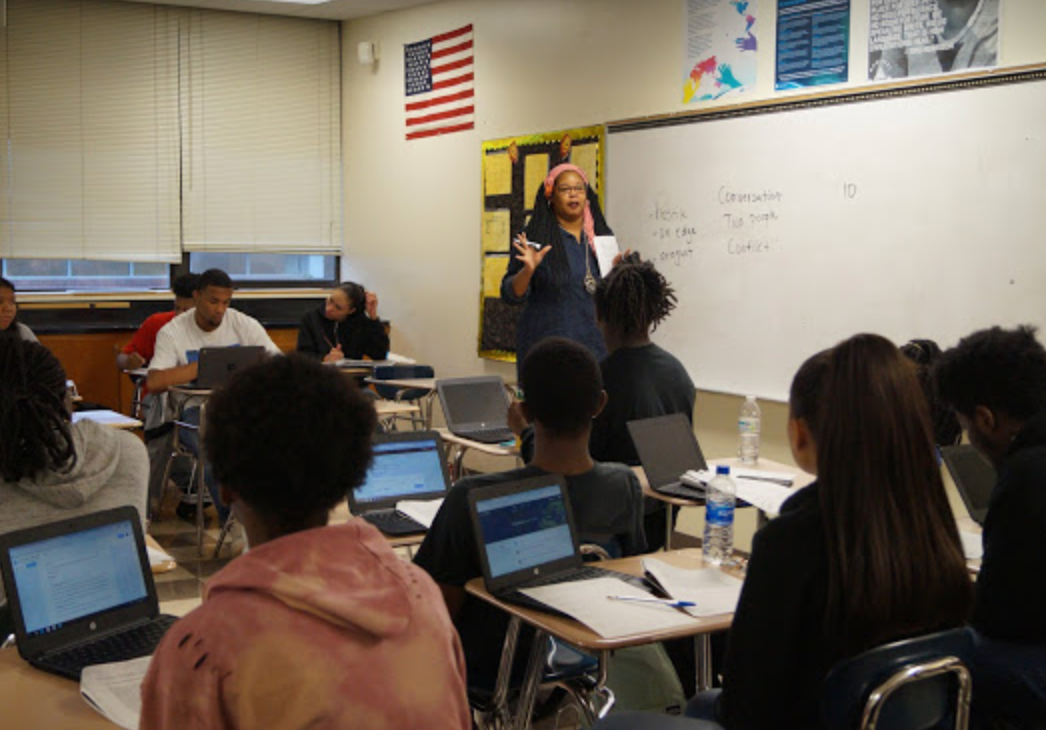 As they discuss the political context of these documents, the students remind one another of the particular events that led to and immediately followed the Boston Tea Party. Together, they explore how these events influenced the perspectives of each of these writers.
Now they are ready for the next step: listening to the song Miranda created based on these documents. "I know you all are great rappers and singers," says Robinson, as she starts the music. "But we're just going to read it." She reminds them to focus on artistic license and note the ways Miranda distilled the essence of a lengthy debate into a song.
They too will soon be putting their own spin on historical documents, personalities or events from the Founding Era in a two-minute rap, monologue, poem or other performance piece they will create in the next few weeks. For many students, this will be their first experience creating and performing an original work of art.
TRANSFORMING LEARNING THROUGH THE ARTS
"It's just a very exciting opportunity," says West Charlotte High School Principal Dr. Timisha Barnes-Jones, noting that the project is helping students develop their writing and speaking skills. She says this hands-on experience with theater fits perfectly with the school's mission, ensuring all students graduate with competence in the skills needed in the 21st century. Participants are practicing and gaining confidence as communicators, an essential skill for them to thrive post high school. Barnes-Jones is a huge advocate of the arts, having grown up in Charlotte participating in community theater and music. She went on to major in music at Davidson College and later received a voice degree from the University of Cincinnati Conservatory of Music.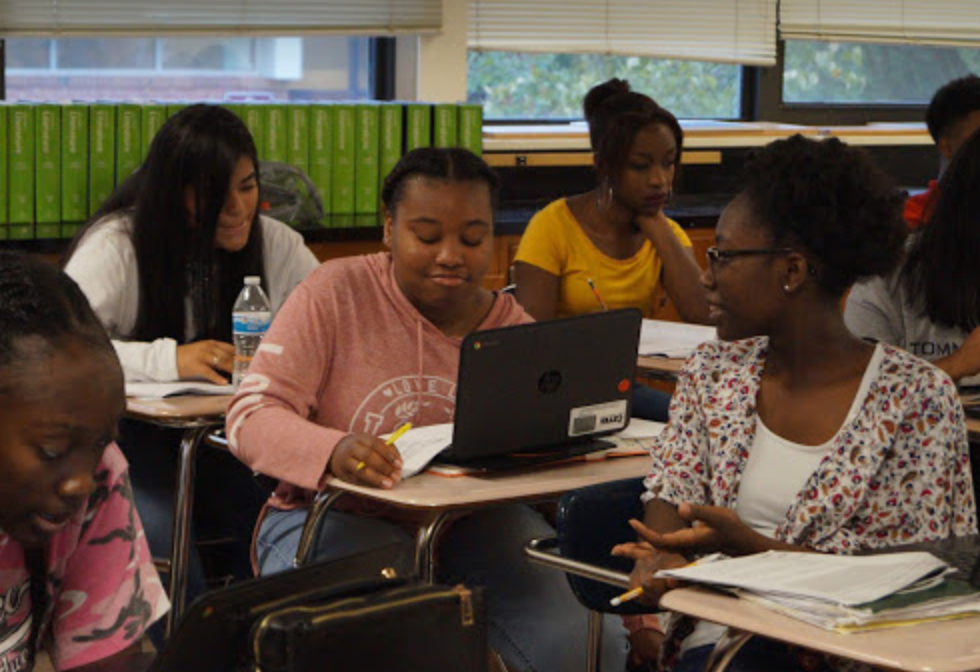 "Theater and music changed my life and I can see it already transforming my students so I get really excited," says Barnes-Jones.
The HAMILTON Education project, while focused on American History, has been an exciting complement to the school's current efforts to expand arts programming. Last spring, students in the Drama Club staged Lin Manuel Miranda's IN THE HEIGHTS, the school's first full musical in thirteen years. This year, a new full time Theater teacher has been added to the faculty, multiple theatrical productions are planned, and the school is fundraising to give 30 - 40 students with a passion for the arts the chance to take an organized trip to New York with behind-the-scenes theatrical experiences. (A lead gift of $2,500 from the community organization Playing For Others is helping to make this dream a reality.)
The renewed focus on the arts is invigorating the campus and inspiring alumni and community members to get involved in the school. "It's creating a really positive momentum in our culture," says Barnes-Jones.
MAKING HISTORY COME TO LIFE
For students who are already involved in theater at the school, this opportunity to explore the process of a playwright/composer they admire has been thrilling. "[Lin Manuel Miranda's] an inspiration for me," says senior Miyoni Heard, one of the students active in Drama Club. "I want to do what he does—writing music for shows and plays." Looking at American history through the lens of the show has transformed a topic that Heard says many high school students would usually call "boring" into something that piques their interest.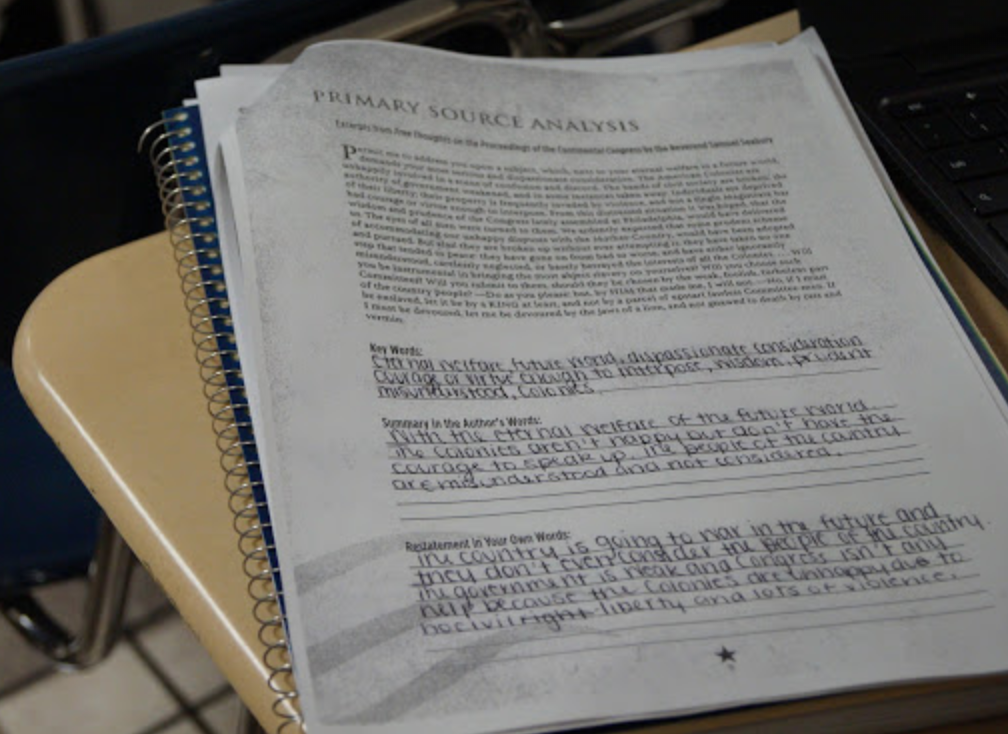 Junior Maurice Collins, another member of the Drama Club who is enrolled in Honors American History, first discovered the show HAMILTON during the summer before his sophomore year. After watching a clip of a song "Guns and Ships," he could not wait to hear the entire soundtrack. He fell in love with it and listened to it almost constantly last spring during rehearsal breaks from IN THE HEIGHTS. It even inspired him to do his own research to understand the show and songs better. "He [Lin Manuel Miranda] made history more fun—even if it's a small part," says Collins, pointing to the styles of music used as the key to making the story relevant to his generation.
For Junior Demaya Hinton, the opportunity to discover a historical figure she could relate to has been an important part of this experience. She's focusing her research on Abigail Adams, a staunch advocate for women's rights, for the dramatic poem she will write and perform.
"This woman seemed kind of interesting because I'm sort of a feminist myself," says Hinton "This woman stepped up to tell her husband [John Adams]: 'Don't forget about the women.'" Hinton also says the project is different from their typical history assignments: "We have to dig deep to know about their background… what caused them to be this person that impacted the United States."
English teacher Franchone Bey who directed last spring's musical hopes the experience will be transformative for both students and teachers. As students learn about Miranda's methodology and follow in his footsteps to use historical facts and data to make art, she hopes they will see that history isn't boring. It may also change their mindset for other topics they are studying. "It could open up a window for them," says Bey. "It opened up a window for me… Maybe it will inspire them to create something on their own as well. Maybe it will inspire teachers to think outside of the box and be creative."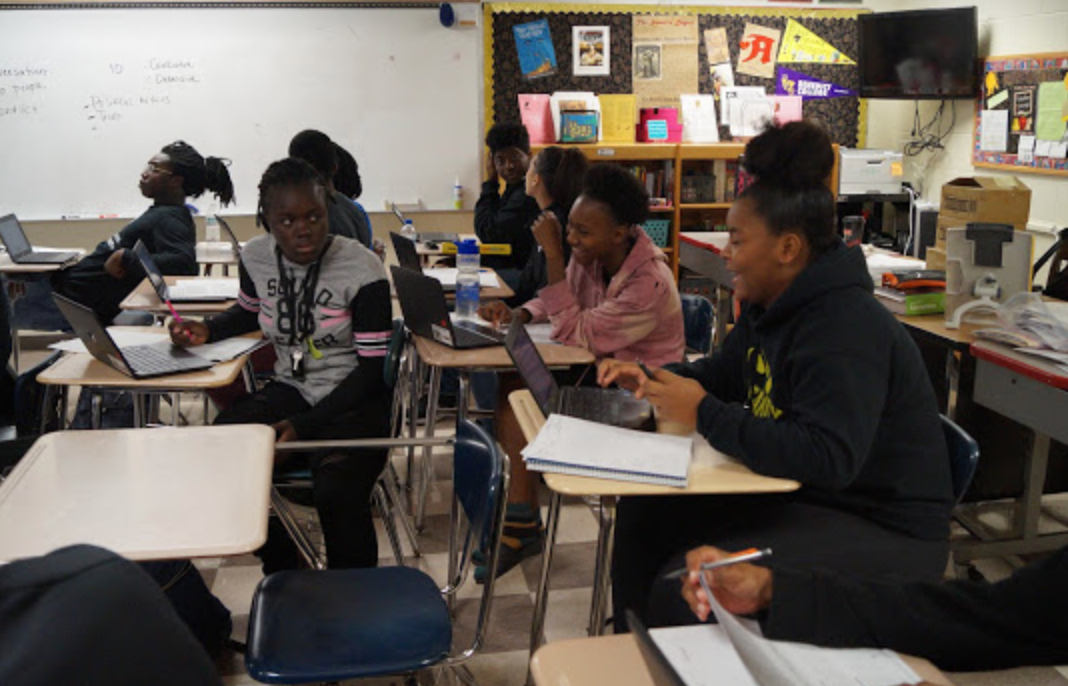 Stay tuned as we continue to follow this school's journey of discovery and creation on the road to see HAMILTON.