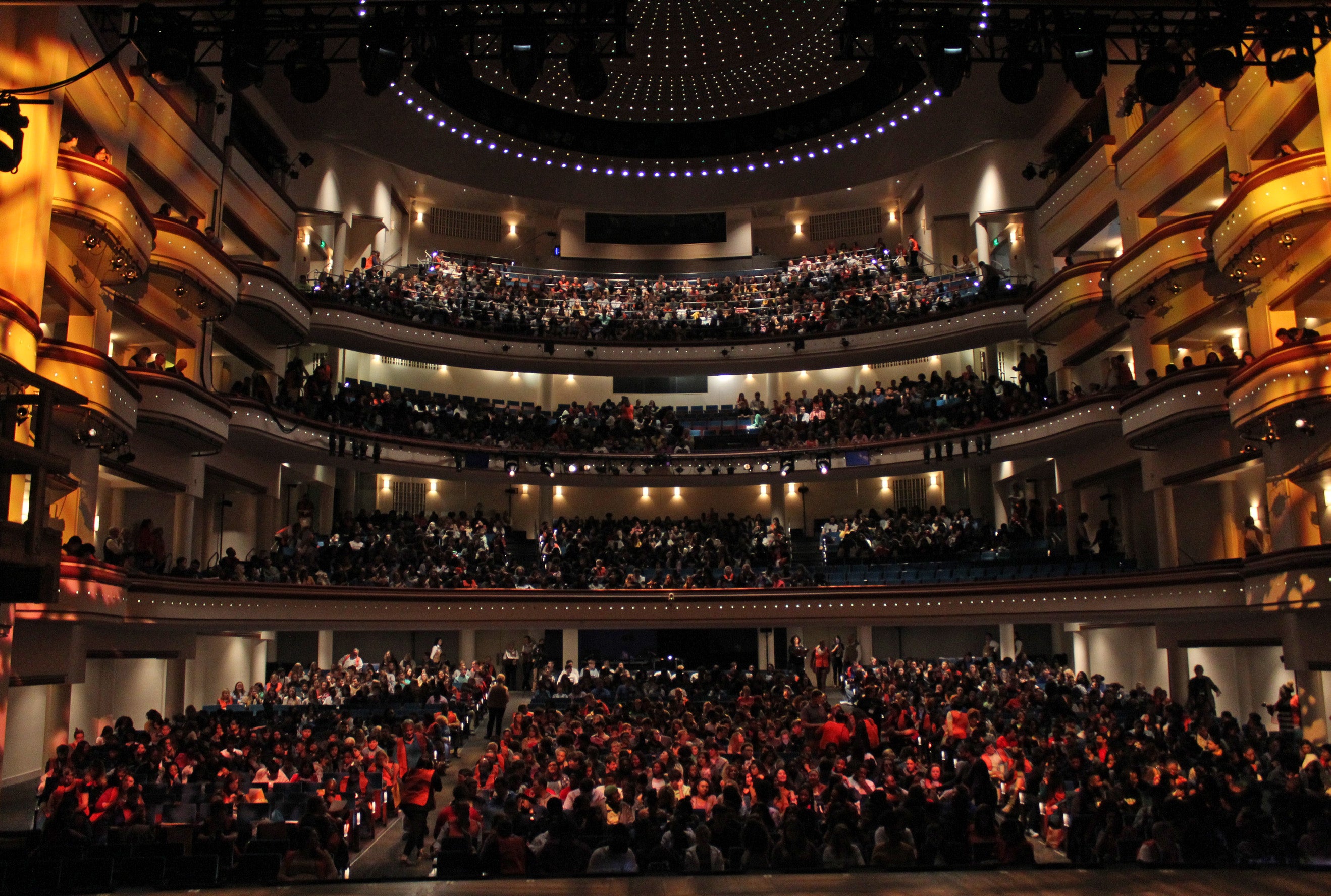 Discovering Hamilton - Part 3: In The Room Where It Happens
As workers clutched their coffees, hurrying to uptown offices last Thursday morning, something extraordinary was taking place at Blumenthal's Belk Theater. The roaring crowd inside sounded like an audience reacting to a rock concert but these were actually high schoolers cheering on their peers' original performances about people and events from the American Revolution.
"Are you guys excited about this?" asked HAMILTON cast member Tyler McKenzie, an alumnus of Central Academy of Technology in Monroe, who emceed the morning events.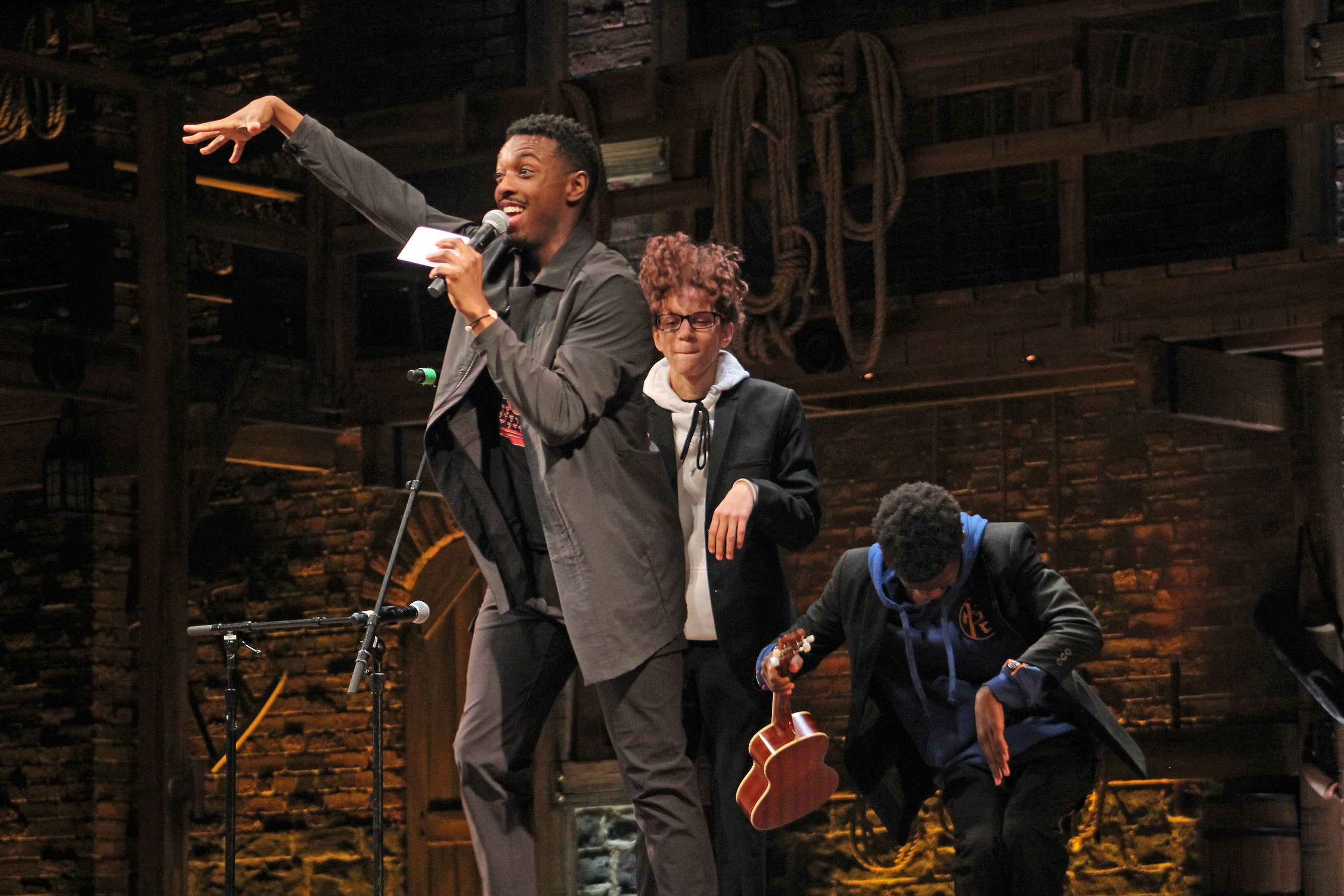 "Yes!!!!!" came the resounding response from the 2,100 students and teachers from Virginia and the Carolinas who filled the theater.
This is "the room where it happens"—8 shows per week—but today it wasn't only the cast of HAMILTON performing. The audience, representing 22 high schools (including five from CMS), had the rare opportunity to watch a morning of original student performances, attend a talk-back with the cast and then head to a special matinee performance of HAMILTON.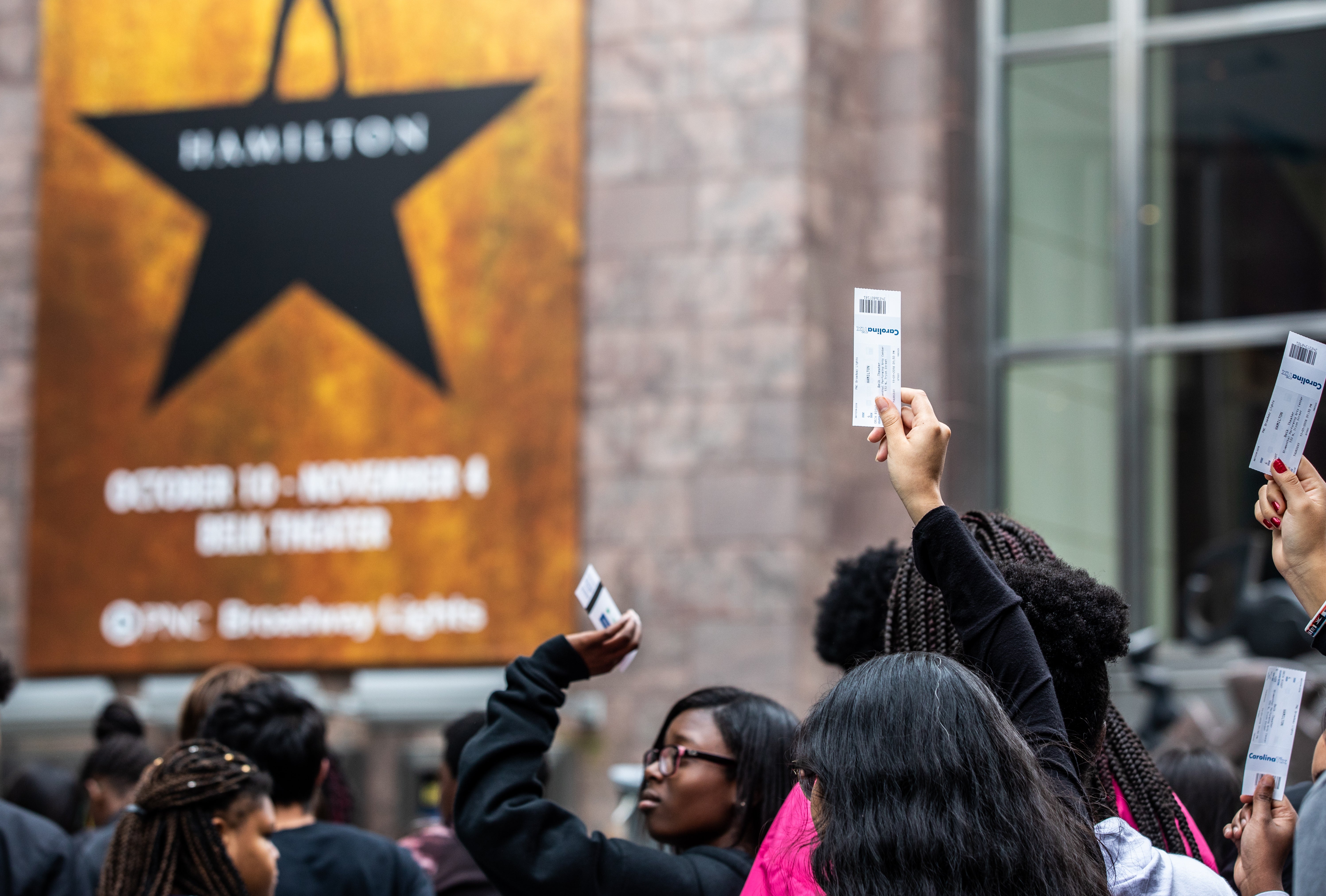 These students, like the West Charlotte High School group we have been following since early October (See Parts 1 and 2), had spent the last few weeks participating in the Hamilton Education Program, an innovative initiative that combines historical research and the performing arts. Through the program, affectionately known as EduHam, students learned how HAMILTON playwright/composer Lin Manuel Miranda developed his hit musical and then took their own shot at creating a two minute performance piece. Charlotte was the first city in the south to host an EduHam program.
HAMILTON producers made tickets for this educational partnership available for $70, $60 of which is subsidized by the John S. and James L. Knight Foundation, Duke Energy Foundation and Blumenthal Performing Arts. Therefore, tickets cost each student $10 (one Hamilton).
STUDENT PERFORMANCES
Fourteen separate student groups from schools around the region were selected to perform at Belk Theater, including three West Charlotte students—Kaycee Hailey, Shazaria Hoover, and Kaliyah Landrum.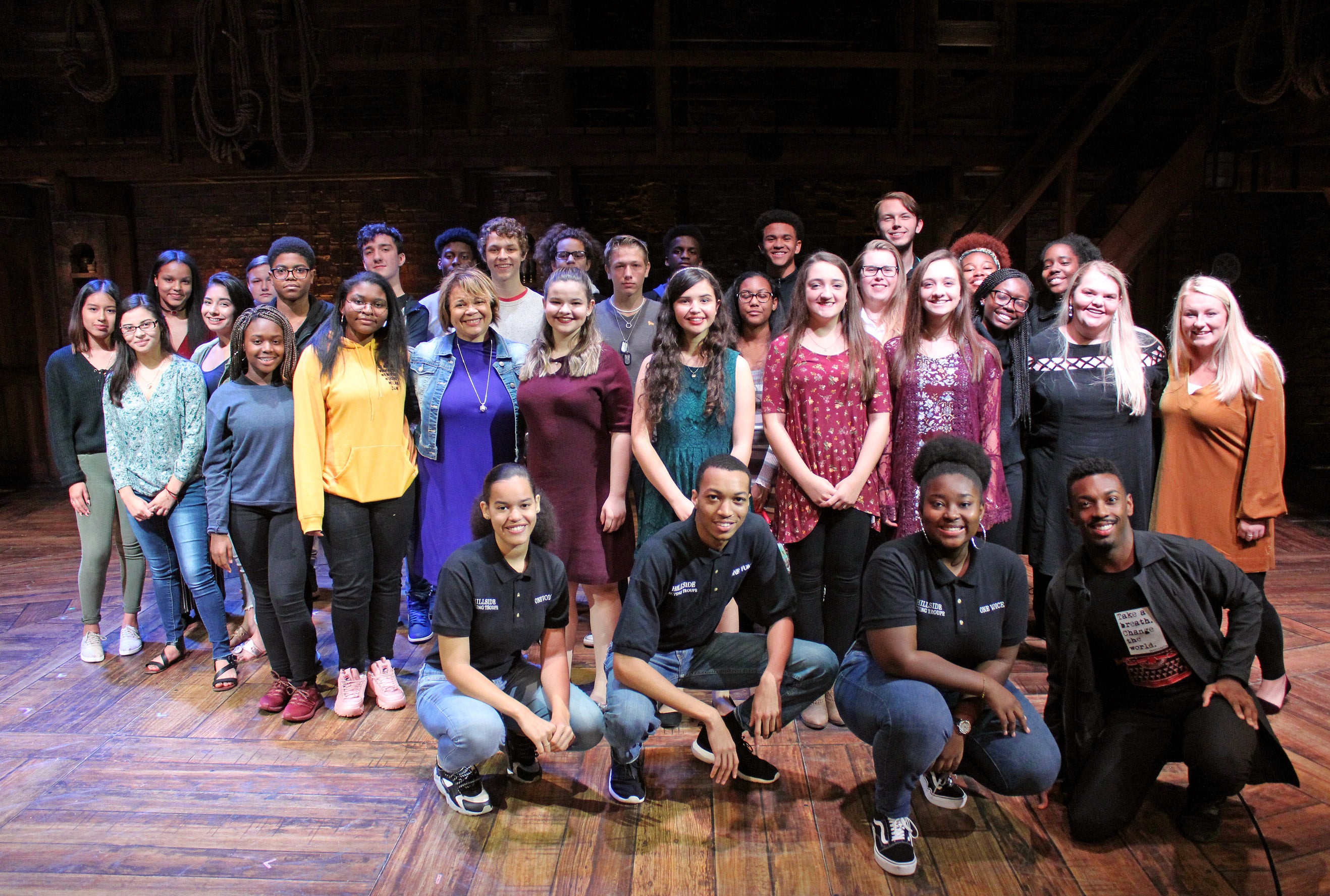 Their project used spoken word and violin to tell the story of Sally Hemings, the African American enslaved woman who most experts believe gave birth to multiple children fathered by Thomas Jefferson. The young women enjoyed having the chance to select their own topic to research and develop into a theatrical piece.
"[This project] made history more interesting for me," said Hoover who worked with her classmates under the guidance of West Charlotte teacher Lawdawna Robinson.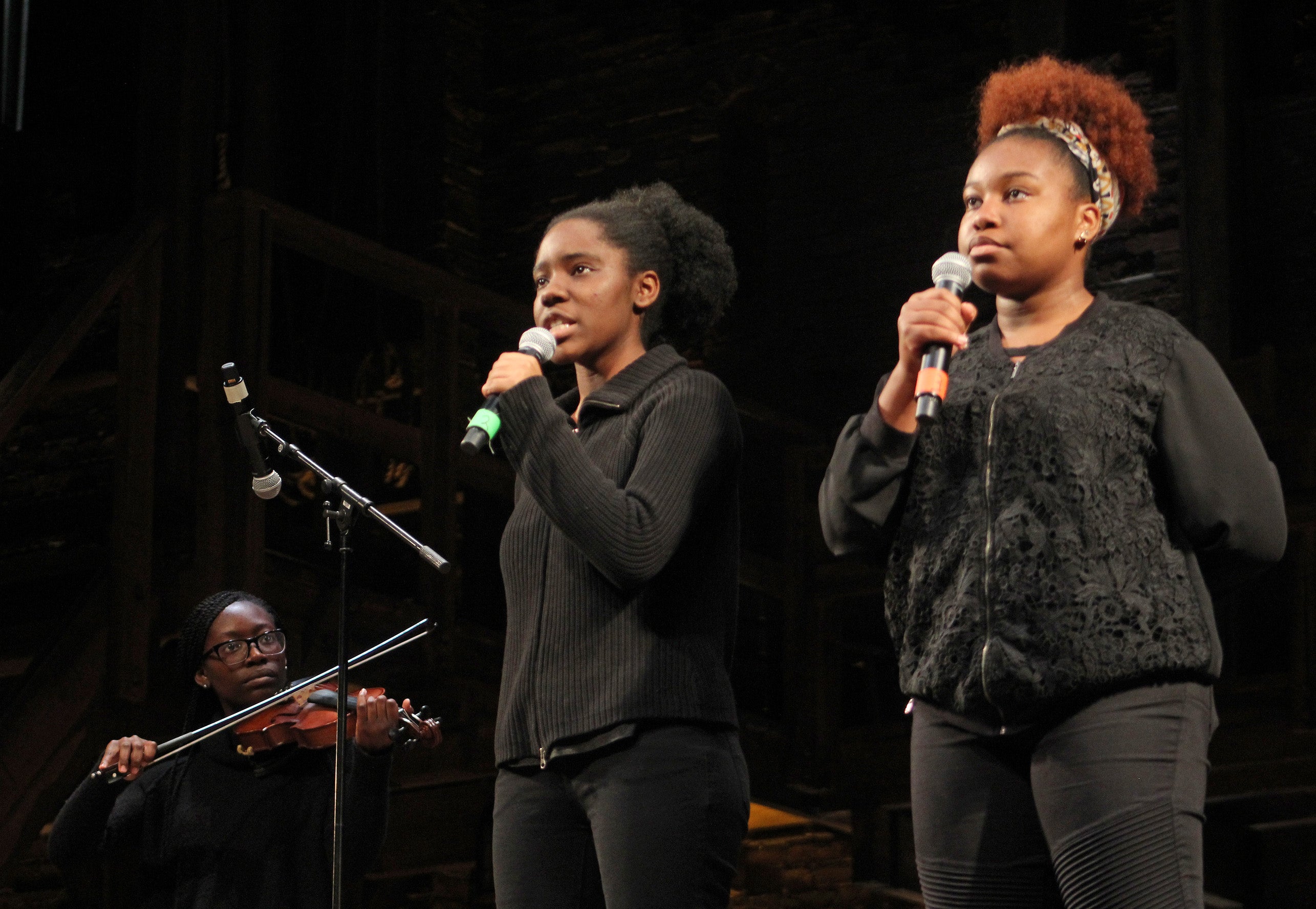 Presenting their own creation on stage at Belk Theater was also inspiring. "It's a really amazing experience," said Landrum, who often passes by the building but never imagined herself appearing on stage.
And for Hailey, who played the violin for the piece, the experience gave her a sense of new possibility. "It showed me I have a place to do something really interesting in the performing arts," she said.
Student performers from other schools shared similar sentiments after putting their own spin on a variety of topics, from a rap about the Declaration of Independence (and the hypocrisy of leaving out women and enslaved people) to a trio harmonizing about the Bill of Rights set to the tune of "Can't Help Falling In Love" and the imagined fleeting thoughts of Alexander Hamilton, shown moonwalking away from his rival Aaron Burr during their infamous duel.
North Rowan High School students give us their take on Hamilton vs. Burr. Check out the duel. #eduham #CharlotteNC #Hamilton #AarronBurr #historyeducation @NRHSCAVALIERS @BlumenthalArts @HamiltonMusical pic.twitter.com/KNyG3KPHkp

— The Gilder Lehrman Institute of American History (@Gilder_Lehrman) November 2, 2018
"It feels so life-changing, like the biggest opportunity in the world," said Mason Gumbs of North Forsyth High School.
He and classmate Dorrian Perkins performed a rousing number about the origins of the Boston Tea Party. Perkins strummed the ukulele and the two young men cleverly weaved the complaints of the colonists throughout their song before breaking into the crowd-pleasing, spoken word chorus: "And you know what we should do? Dump the tea! Dump the tea! Dump the tea!"
No taxation without representation. @hamiltonmusical @NoFoVikings @BlumenthalArts #DumptheTea #EduHam #historyeducation #americanhistory #sschat #performingarts pic.twitter.com/VQ0kOBm840

— The Gilder Lehrman Institute of American History (@Gilder_Lehrman) November 1, 2018
Sisters Elena and Adelita Maddy from Narrows High School made the long journey from Giles County, VA to perform an a cappella piece titled "Lexington and Concord." The young women both love to perform but exploring the musical HAMILTON has really pushed Elena, a senior, toward pursuing opportunities in musical theater.
"I've been toying with the idea—is this something I want to do?" said Elena, who received a book on the making of the musical HAMILTON last Christmas. She cried when she found out that her school would be participating in EduHam and that she would actually get the chance to see the show.
"It never even crossed our mind that we would be able [to perform]," she said.
PROGRAM GOALS
"We're really encouraging students to find their own voices," said Amy DiChristina, Hamilton Education Program Manager for the Gilder Lehrman Institute of American History. She is part of the team that brings EduHam to select cities across the country, providing curriculum materials and managing logistics with the local host theater. The Gilder Lehrman Institute is halfway toward their 5-year goal of reaching 250,000 students at Title I schools.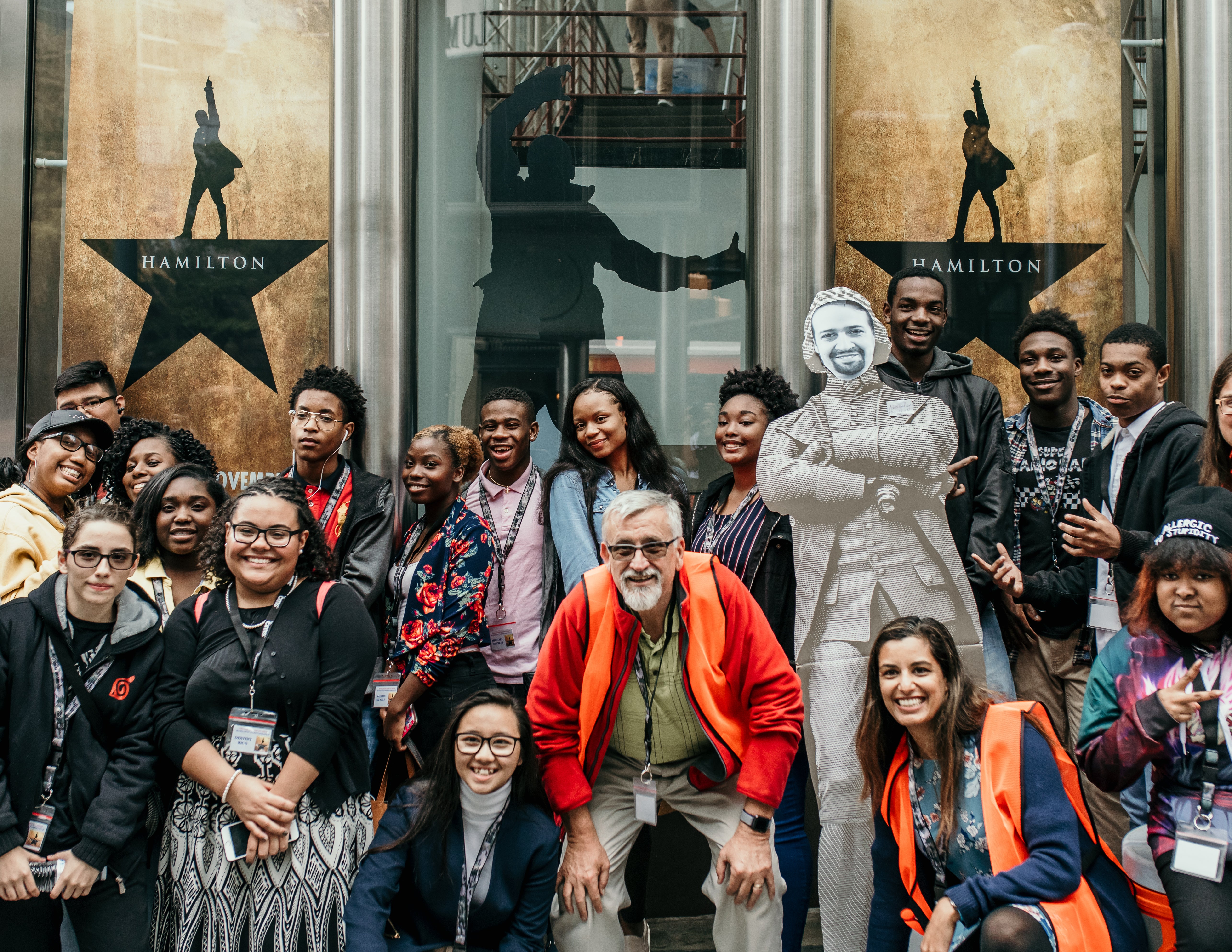 "It's been so amazing and rewarding to work with teachers all across the country," said DiChristina, who spent 10 years teaching American history in Brooklyn, NY before taking on this role.
According to DiChristina, many teachers report the program has invigorated their classroom and shown them other ways to assess student progress besides standardized tests.
"We've heard back that teachers are always blown away by their [students'] desire to perform," she said. "...We're hoping that the curriculum is transferable to other parts of history as well."
For students, the program's objectives are manifold. "The larger goal is to embed a love for American history through this unique partnership with HAMILTON," said DiChristina, but providing access is also key.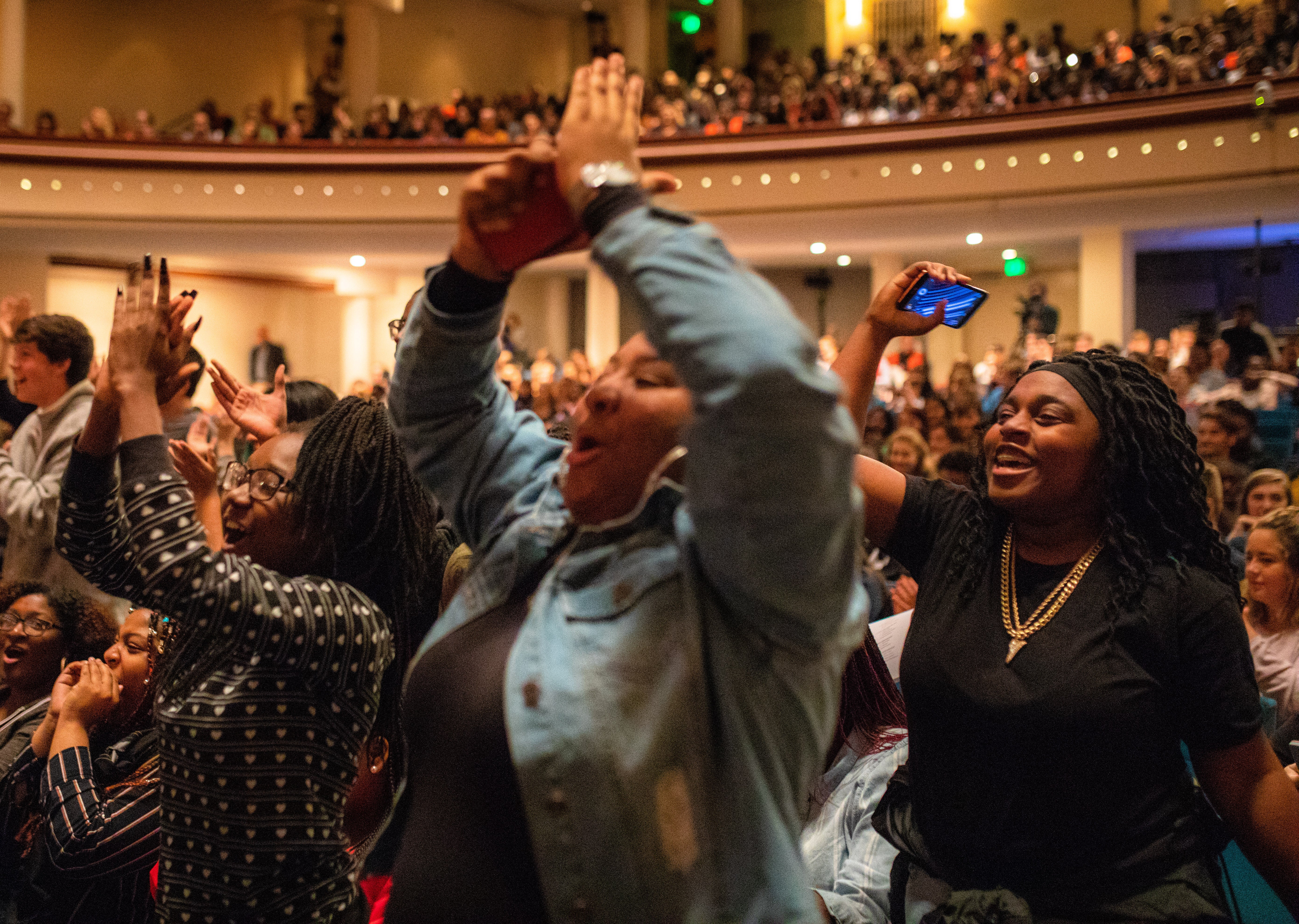 Surveys have shown that over 60% of participants have never attended live theater before. The program's focus on Title I Schools is an intentional. "Those are the schools that are the most under-resourced," said DiChristina.
Not only does EduHam provide access to one of the most celebrated shows in the history of Broadway, but also to educational materials and primary documents that may never have been made available to these teachers and schools before.
"I think it's different when students are interacting with the primary documents themselves," said DiChristina.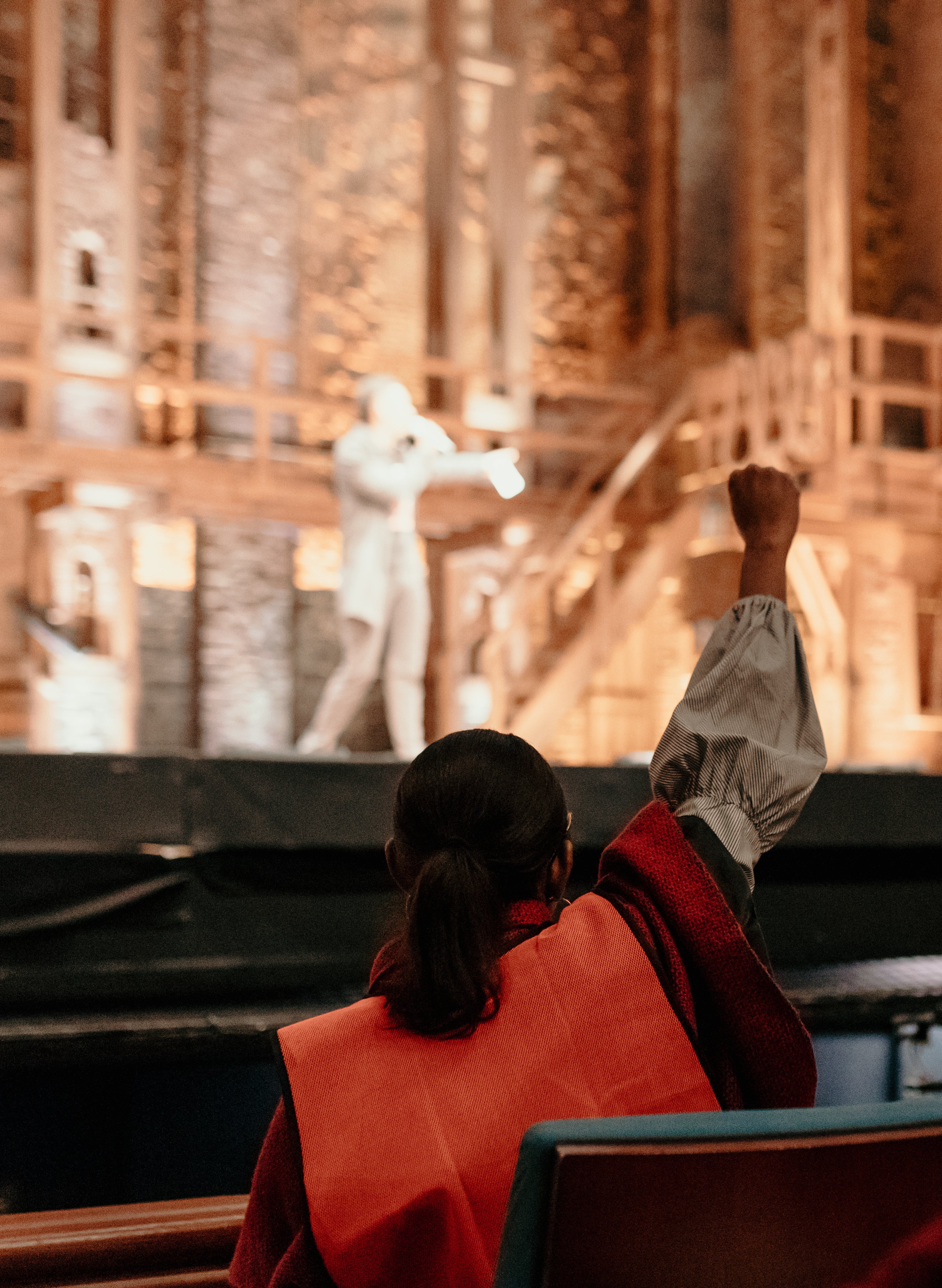 HEARING FROM CAST AND CREW MEMBERS
Students also had the opportunity to hear from cast members and crew about what it's like being part of this hit show and what a career in the performing arts requires. From the research actors do to create their characters and what happens on stage when somebody messes up to what the show means to them personally, students got a full tour of life on the road.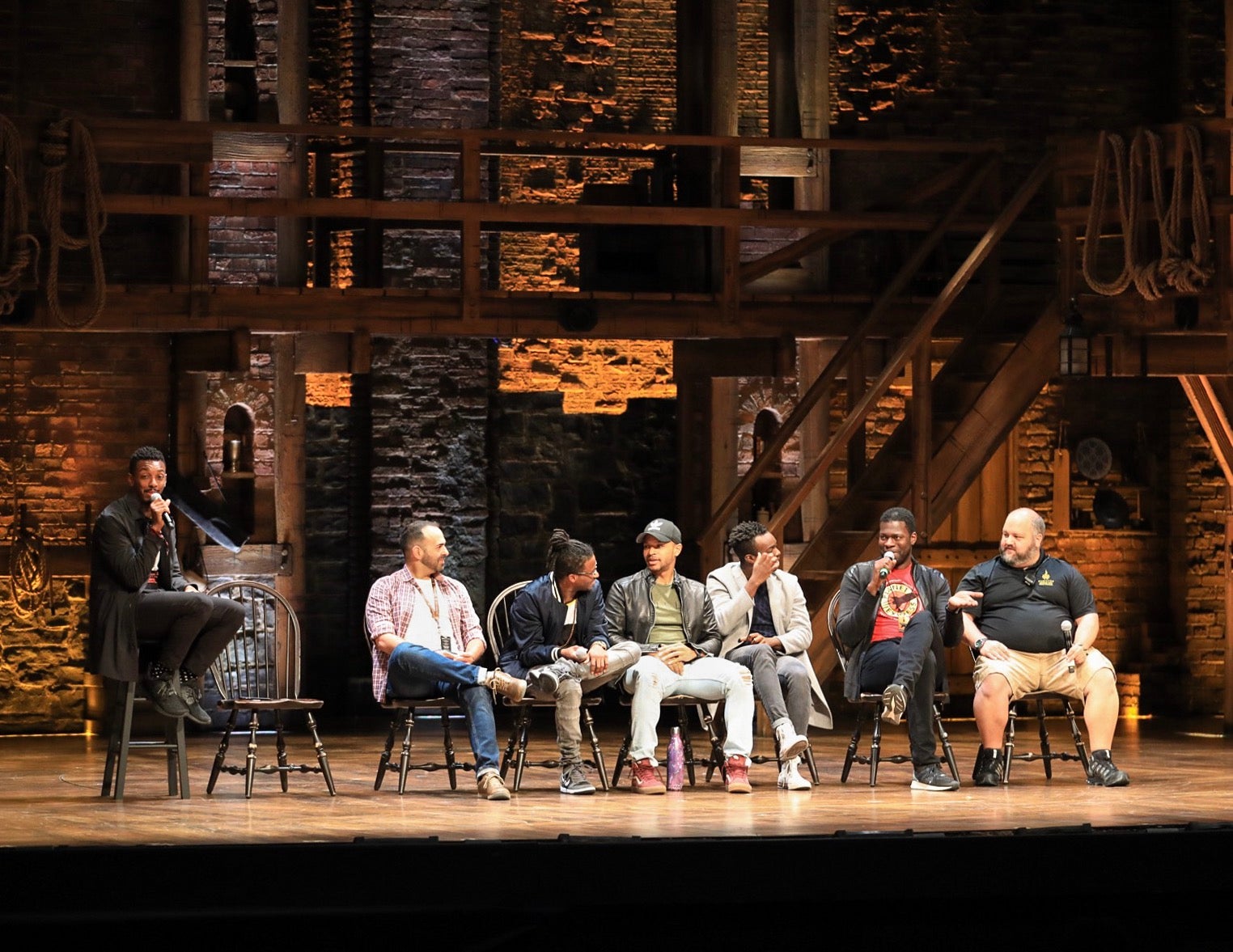 "As a person of color, it's my responsibility to tell you, 'you matter,'" said cast member and Charlotte native Willie Smith III, recalling that as a high schooler he rarely saw people who looked like him on the stage.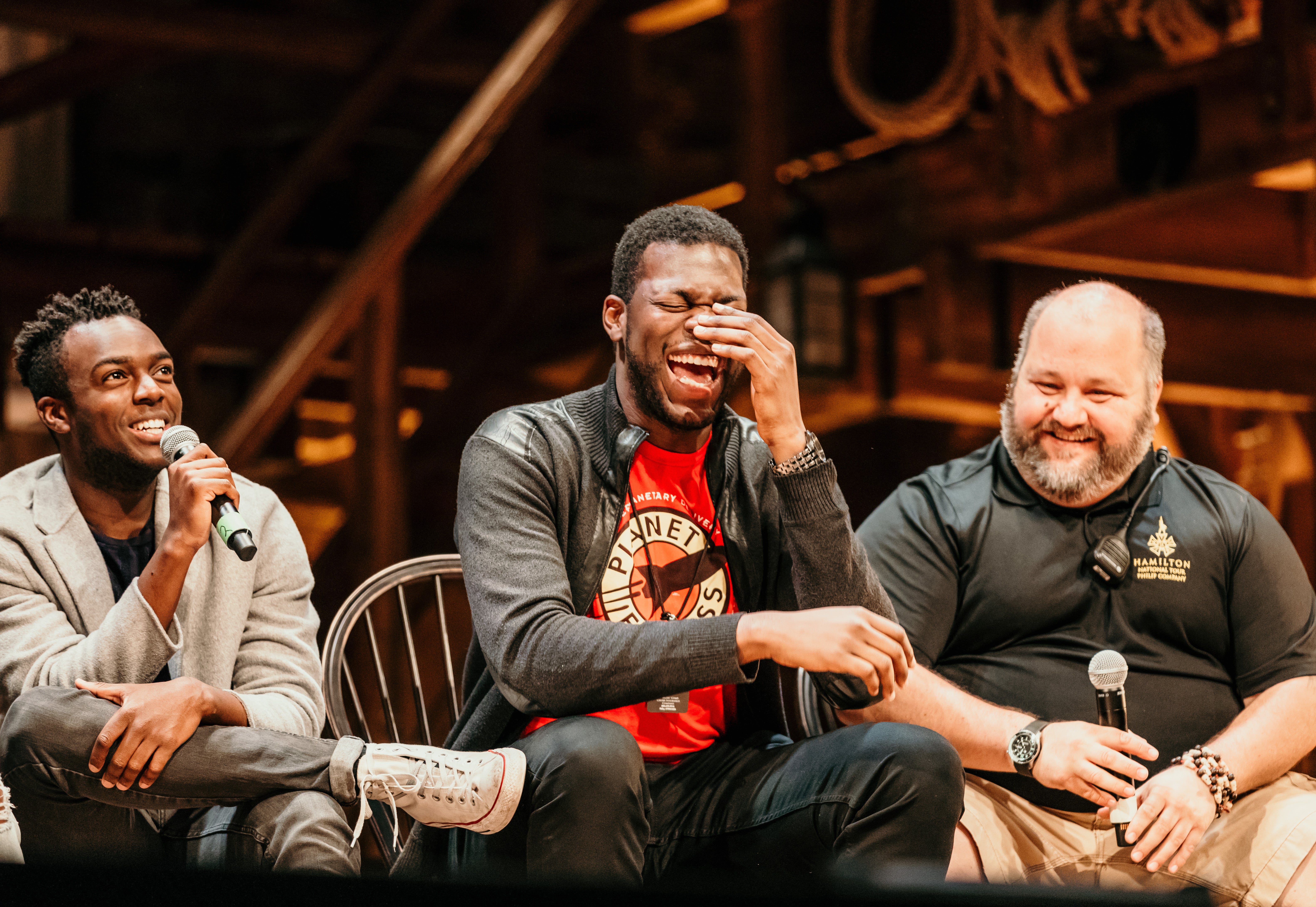 "They've absolutely loved the student performances and the opportunity to hear questions and answers [from cast members]," said Garringer High School teacher Walter Ellerbe, as students ate lunch before heading into the afternoon matinee. "It's inspiring to all our students."
Garringer teacher Michael Silverman, whose American History I course focuses on the founding era, believes EduHam has provided a life-changing experience for many of his students. "I would venture to say over half haven't been to uptown Charlotte before," he said.
"Getting them out into the world—showing them history is not 'boring'" are important takeaways, said Silverman. "History is real, is happening, and they're part of it."