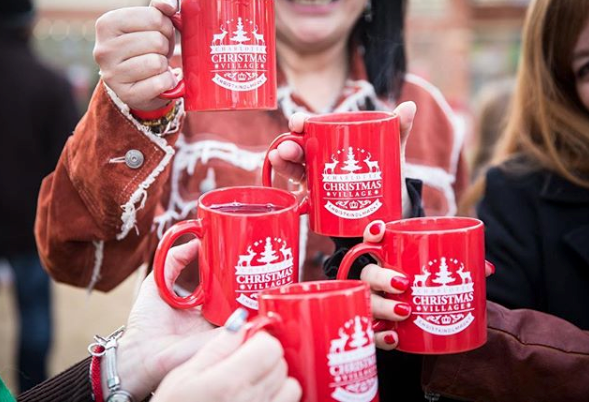 Kick Off Your Holidays Artfully with these Upcoming Special Events at Spirit Square
Looking for fun ways to ring in the holiday season with an arts twist? Combine your visit to the Charlotte Christmas Village, in its new location at the corner of N. Tryon and 7th Street, with two free, family-friendly events taking place next door at Blumenthal's Spirit Square.
THURSDAY, NOVEMBER 29
Uptown Tree Lighting, live entertainment and Holiday Uptown Crawl
Start the festivities at 5:30pm at Charlotte Christmas Village with the tree lighting and entertainment, including performances by brass musicians from The Charlotte Symphony.
Then swing by Spirit Square, your first stop on the Holiday Uptown Crawl (6-9pm), to see artwork created by students at Charlotte Latin School as well as exhibits from local photographer Daniel Coston, featuring his live concert photos of world-renowned musicians, like Aretha Franklin and ZZ Top, snapped during performances at McGlohon Theater. Coston's photos of well-known Carolina-born artists like Maya Angelou, James Brown, and James Taylor are also on display next to the permanent exhibit, "A Tribute to North Carolina Artists."
While you explore, enjoy live solo and ensemble string performances from student musicians of Arts+ (formerly Community School of the Arts). Hop on the free trolley to visit seven other gallery and museum destinations, including the Levine Museum of the New South, McColl Center for Art + Innovation, and Sozo Gallery.
SATURDAY, DECEMBER 8
Jingle Jangle
Four community organizations that call Spirit Square "home" will be joining forces in this special holiday-themed performance event taking place outdoors in the Square at Spirit Square, 11am - 1pm. Expect a variety of dance styles, including break dancing, jazz, hip hop, and ballet as Breakers for Life, JBP Entertainment, Lil Miss Fits, and Reliable Brothers take the stage.
"This is the first time that Spirit Square has put together our own show and we are thrilled to death to be invited to participate," says Director/Choreographer Jena Burgin-Peters of JBP Entertainment, a local conservatory known for training kids for careers on Broadway and in film. (Former students include Eva Noblezada, who starred in the Broadway and West End productions of Miss Saigon, and Mekhai Lee, who recently came through Charlotte with the tour of The Color Purple!) In one number, dancers will be performing their own version of a Radio City Rockettes-style piece, as beautifully dressed dolls coming out of boxes.
"I love being part of the Blumenthal family," says Burgin-Peters. "...They do so much for us and the other tenants in Spirit Square."
JBP Entertainment Spring 2017 from Ellis Chandler on Vimeo.
Breakers for Life will bring another side of dance to the event. The crew of kids, ages 5 - 12, will show off their amazing break dancing to the sounds of a hip-hop holiday music mix. Students have spent several months prepping and rehearsing for this show. "They're definitely really, really psyched for it," says founder Tron Robinson, one of only a handful of teachers in NC specialized in break dancing.
Blumenthal provides high quality rehearsal space, theaters, galleries, and meeting rooms at low cost to many community groups, including more than 20 non-profit organizations.These free events are a great way to support local arts groups and see another side of Blumenthal that you may not have experienced before!