THE JOURNEY TO THE JIMMY AWARDS: One Top Educator Looks Back On What He Learned There
By Liz Rothaus Bertrand

Jun 20, 2018
This week, students Renée Rapp and Ethan Holtzman are following in the steps of many talented local performers who got their start at the Blumey Awards. The pair is headed to New York City for the The National High School Musical Theatre Awards™ (a.k.a., The Jimmy Awards), after winning top honors in Charlotte in May. They will spend five days training with top theater professionals, culminating in a ceremony Monday, June 25 recognizing achievement in the performing arts. We know that journey can be life-changing for participants but it turns out, experiencing The Jimmy Awards as an audience member can also inspire innovative arts education programs hundreds of miles from Broadway.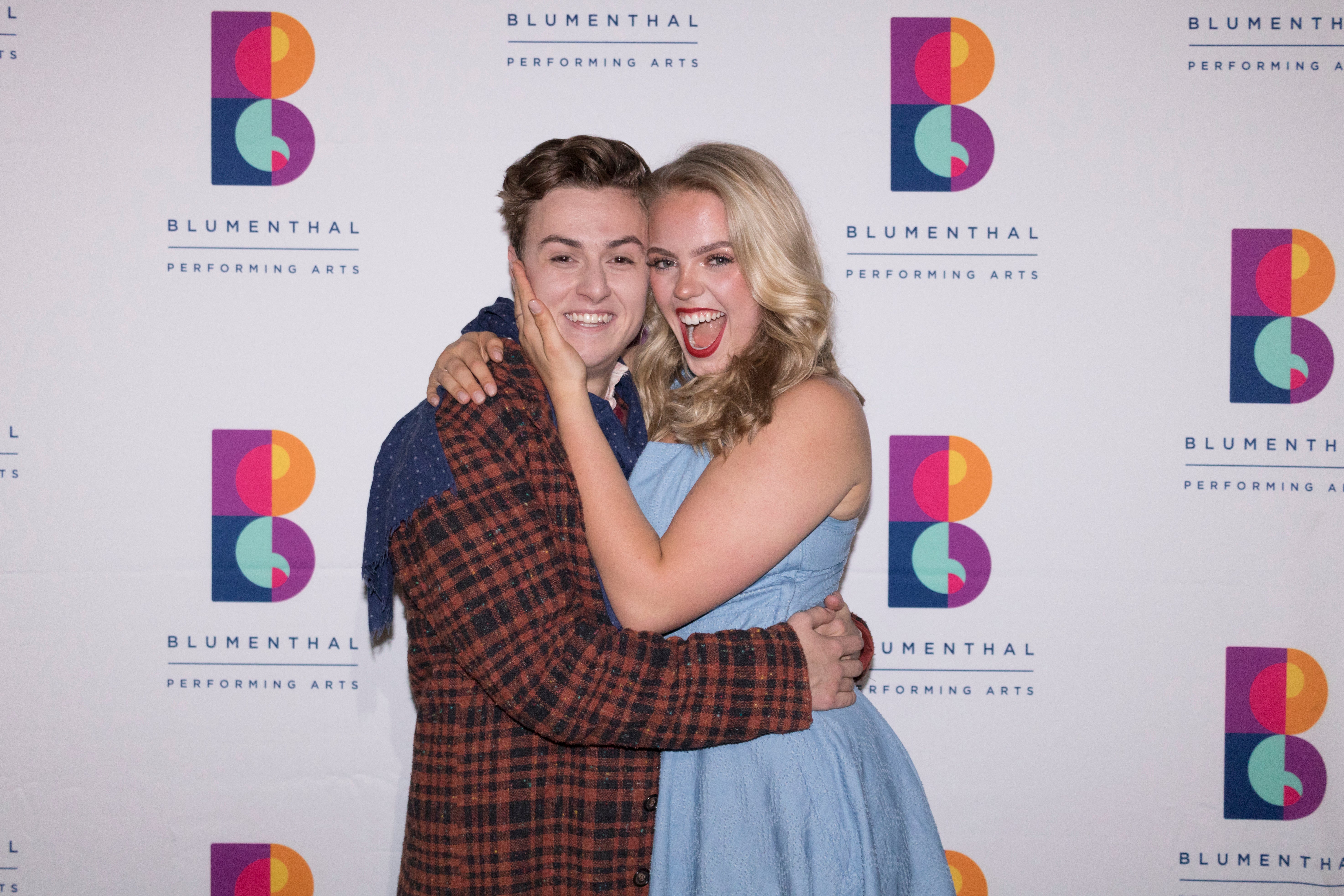 (2018 Blumey Awards Best Actress and Actor Winners Renée Rapp and Ethan Holtzman)
For one top administrator, watching students from his district perform at the Jimmy Awards reinvigorated his commitment to providing arts opportunities for all children from their earliest school years on.
Dr. John Jones, Assistant Superintendent for Teaching and Learning in Union County Public Schools (UCPS)—a school district serving more than 41,000 students in communities southeast of Charlotte—attended the Jimmy Awards in 2016. That year, two students from Central Academy of Technology and Arts (CATA) in Monroe won the Blumey Awards. They were Amina Faye and Justin Rivers, selected after stellar performances in their school's production of RAGTIME. Faye also went on to win Best Actress in the national competition and a $10,000 scholarship.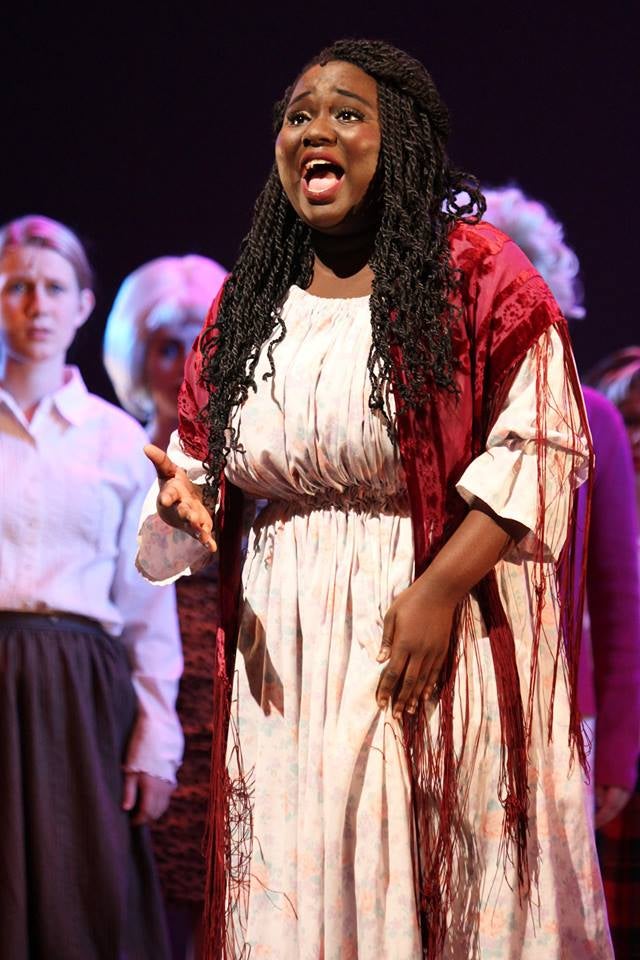 (Amina Faye performing at the 2016 Jimmy Awards)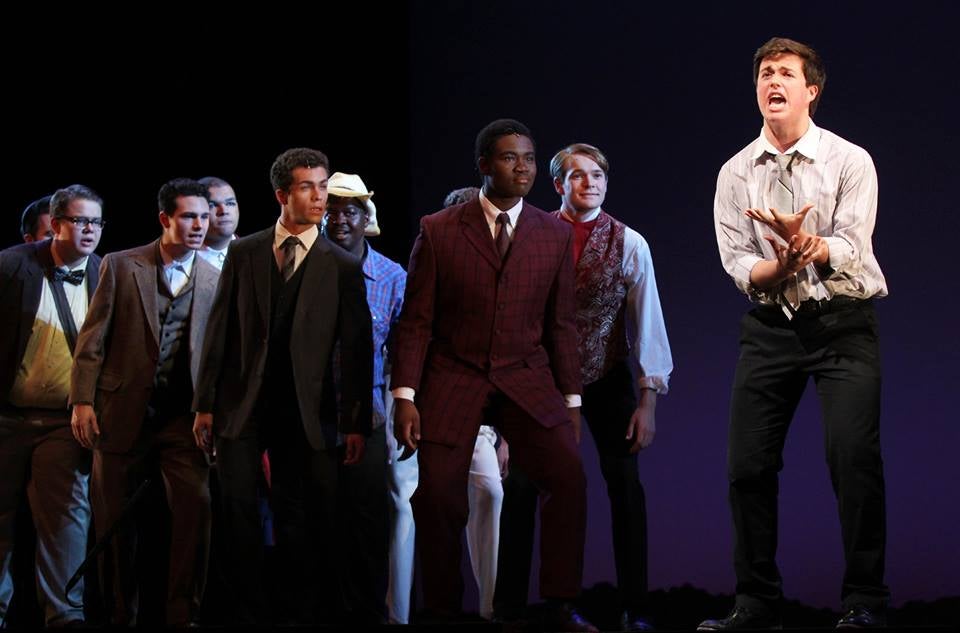 (Justin Rivers - pictured in red suit - performing at the 2016 Jimmy Awards)
"It was a wonderful experience," says Jones, recalling the excitement of being in New York's Minskoff Theater and seeing UCPS students training with Broadway's best. "Those students told us that their interests really started when they were in elementary school."
Having the chance to see theatrical productions as young children and later training at CATA played major roles in developing their passion for and skills in the performing arts.
This was gratifying news for Jones since part of his responsibility is ensuring that local students experience the arts throughout their education. UCPS students have opportunities to work with artists-in-residence, attend performing arts events throughout the year and benefit from other hands-on learning experiences through close partnership with the Union County Community Arts Council.
Many UCPS students and teachers also participate in various Blumenthal programs, ranging from the Broadway Junior Theater Celebration and The Blumey Awards to special pre-show events or discounts, scholarship opportunities, The Broadway Experience, Junior Ambassadors and more.
"[Seeing Amina and Justin at the Jimmy Awards] showed that when you open doors to expose students to programs like the arts that it really provides a pipeline...for students to get an insider opportunity for the career they want to pursue," says Jones. "We used to worry just about getting them the diploma and graduating but now it's really about bridging beyond school into careers and how it molds and shapes their experience."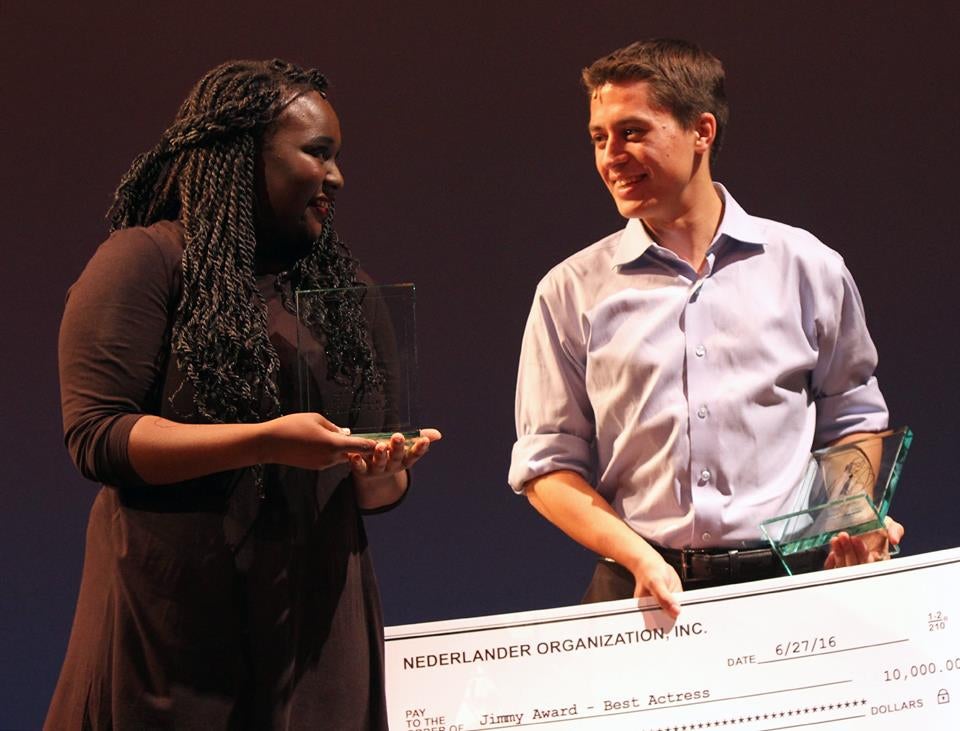 (Amina Faye accepting the 2016 Best Actress Award at The Jimmy Awards)
There are other important reasons for arts education too, says Jones, such as fostering creativity and developing the whole child. And for students with a particular passion for the arts, UCPS offers specialized programs: these include Benton Heights Elementary School of the Arts, which uses an arts-integrated model to teach all subjects, and CATA which offers an intensive performing arts track for high schoolers pursuing dance or theater arts. Providing early opportunities for students to pursue their interests is essential in helping them succeed.
The school district's commitment to arts education is evident, according to Frank Casstevens, arts coordinator at Benton Heights, where they will soon unveil a new state-of-the art performance facility. "On the district level, I think they very much support us," says Casstevens. "They fully want us to be a school of the arts. They help us do programming. They are very supportive of what we do in the arts and I believe they consider us to be high priority not just because of our Title I ranking but because they believe in what we do in the arts."
He and Jones also say that community support for the arts has also been an essential component of their success.
"I just think that the arts programing in Union County Public Schools is rich and so relevant," says Jones, "and that is due to organizations like the Blumenthal that not only know the importance of bringing quality arts programs to town but putting it before the students in ways that bring lifelong aspirations to the arts."

You can catch The Jimmy Awards livestreamed on Facebook, Monday, June 25 at 7:30pm ET.