Blumenthal Performing Arts Announces 2021 Blumey Awards Nominees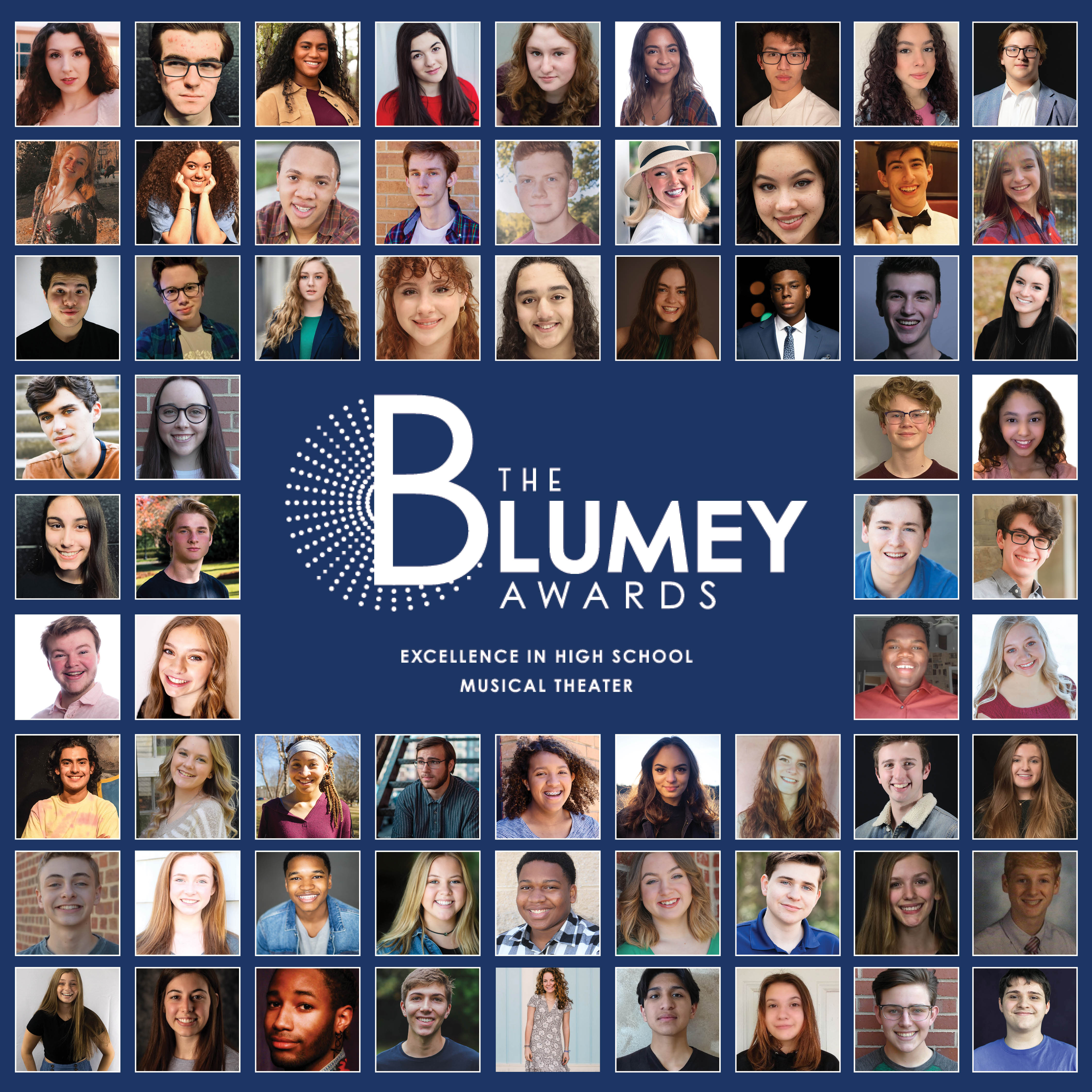 (March 31, 2021) Charlotte, NC - Blumenthal Performing Arts is pleased to announce the nominees competing for Best Actor and Best Actress in this year's High School Musical Theater Awards, also known as The Blumey Awards, presented by Wells Fargo that will air on PBS Charlotte Tuesday, May 25th at 8pm.
"Wells Fargo is pleased to be the presenting sponsor of this program for the 9th year in a row. We are amazed by the talent of these students and the dedication of their theater arts teachers," said Jay Everette with the Wells Fargo Foundation.
Blumenthal Performing Arts is committed to continuing the celebration of high school musical theater. Despite the fact that many schools in the region were unable to produce a show this year given the impact of the coronavirus, Blumenthal still wanted to provide students the opportunity to perform. To achieve this goal and ensure the safety of all participants, students auditioned individually for a panel of judges to allow for significant social distancing and safety protocols in excess of CDC and local recommendations.
Throughout the month of March, over 330 students from 34 participating schools completed the audition process. Two nominees from each school were selected to advance and will participate in a two-day audition workshop intensive with industry professionals in April. All nominees will then audition a second time to determine the Best Actor and Best Actress winners, who will subsequently participate in the National High School Musical Theater Awards, also known as The Jimmy Awards® (named after famed Broadway producer, James M. Nederlander). That program will be presented virtually on July 15th.
"It is essential to keep theater alive in our schools and to give students the chance to express themselves, connect, and excel through the performing arts," said Blumenthal Vice President of Education Andrea Maloney. "The Charlotte region is packed full of exceptionally talented young artists and this year's Blumey Awards program proved that remains true even during a year deeply impacted by a pandemic."
A 30-minute Blumey Awards Celebration show, airing on PBS Charlotte May 25th at 8pm, will feature the Best Actor and Best Actress nominees from every participating school, two medley numbers featuring the top scoring students nominated and the announcement of the Best Actor and Best Actress winners.
The order of performances, arrangement and orchestration for the ceremony will be led by New York-based professional music composer/conductor, David Dabbon. All rehearsals and performance recordings will be conducted safely and follow local and state guidelines.
This year's nominees for the Blumey Awards:
| | | |
| --- | --- | --- |
| | Best Actor | Best Actress |
| Ardrey Kell High School | William Kleinschmidt | Morgan Brenner |
| Bandys High School | Gabriel Beech | Haynes Baker |
| Central Academy of Technology and Arts | Jackson Randall | Lana Patel |
| Central Cabarrus High School | Jacob Scruggs | Chidera Dimkpa |
| Charlotte Country Day School | Jack Cooper | Lilah Peck |
| Charlotte Latin School | Matthew Marcus | Kate McCracken |
| Concord Academy | Kenan Starnes | Sophia DeJesus |
| Covenant Day School | Lance Lokas | Hallie Barnwell |
| Cox Mill High School | Camden Albury | Gracyn Hall |
| Cuthbertson High School | Thomas Johnston | Liz Betancourt |
| David W. Butler High School | Grant Bergeman | Leilany Sandoval |
| Davidson Day School | | Kathleen Moore |
| East Lincoln High School | Arturo Galarza Chavez | Rachel Ochoa |
| Hickory Ridge High School | Bryson Battle | Rachel Wilson |
| Hopewell High School | Jackson Scullion | Danielle Deavers |
| Kings Mountain High School | Donald (Lee) Page | Olivia Wilson |
| Mallard Creek High School | | Melissa Lozada |
| Mooresville High School | Daniel Turner | Sophia Choiniere |
| Nation Ford High School | Dylan Butler | Sarah Willoughby |
| North Lincoln High School | Jacob Nuhfer | Riley Washco |
| Northwest Cabarrus High School | Cameron Meyer | Mary Kathryn Brown |
| Northwest School of the Arts | Keyon Pickett | Sophie Miller |
| Northwestern High School | Christian Holmes | Savannah McCart |
| Piedmont Community Charter School | Andrew Moore | Sasha Lombardi |
| Pine Lake Preparatory | Dane Chilton | Abby Workman |
| Providence Day School | Carson Taylor | Katherine Beason |
| Providence High School | Daniel Binder | Mia Spies |
| South Mecklenburg High School | Cavan Meade | Ella Lowe |
| South Pointe High School | Donovan Mays | Molly Neal |
| Stuart W. Cramer High School | Tristan Nogueira | Molly Matthews |
| Weddington High School | Colin Pendergrast | Sarah Grimes |
| West Cabarrus High School | Gustavo Meza | Kayley Sansing |
| Westminster Catawba Christian School | Trey Buie | Jordan Smith |
| William A. Hough High School | Christopher Brammer | Jillian Lauder |
###
ABOUT BLUMENTHAL PERFORMING ARTS
Blumenthal Performing Arts serves the Carolinas as a leading cultural, entertainment and education provider. For more information, call (704) 372-1000 or visit BlumenthalArts.org. Blumenthal Performing Arts receives operating support from the Arts & Science Council and North Carolina Arts Council. Blumenthal Performing Arts is also supported by PNC Bank, sponsor of the PNC Broadway Lights.