5 Fun Behind-the-Scenes Secrets from Les Misérables with Stage Manager and Blumenthal Alum Ryan Gardner!
Former Blumenthal Performing Arts intern and Charlotte native Ryan Gardner will be back in the Queen City at the end of January for a week-long, nearly sold-out engagement of Les Miserables. He serves as Stage Manager for the iconic show.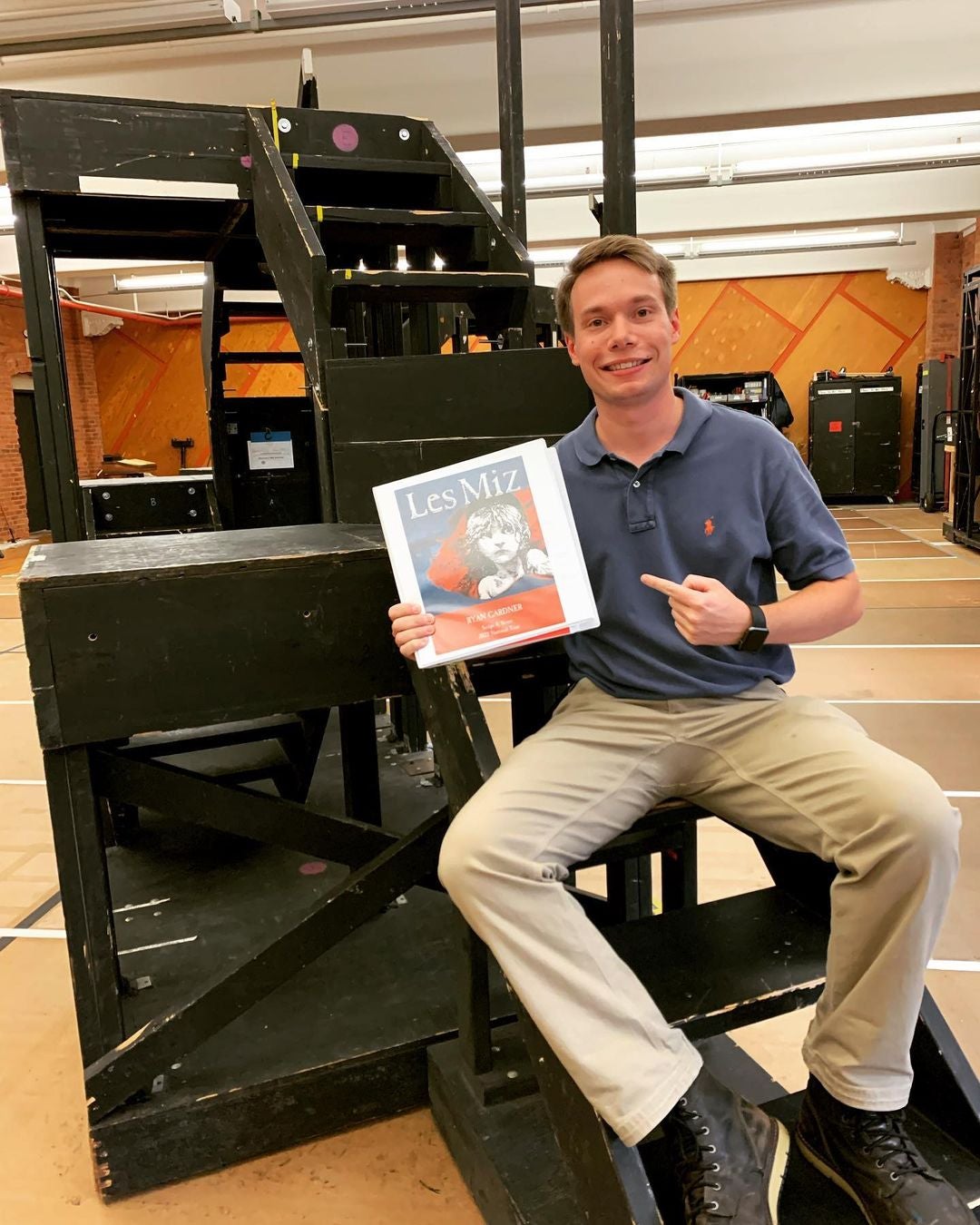 A Charlotte Latin School alumnus and a 2019 graduate of Boston College, Gardner already has multiple Broadway and national tour credits on his resume. That includes the five weeks he spent in Charlotte last spring on the stage management team for the national tour of Waitress.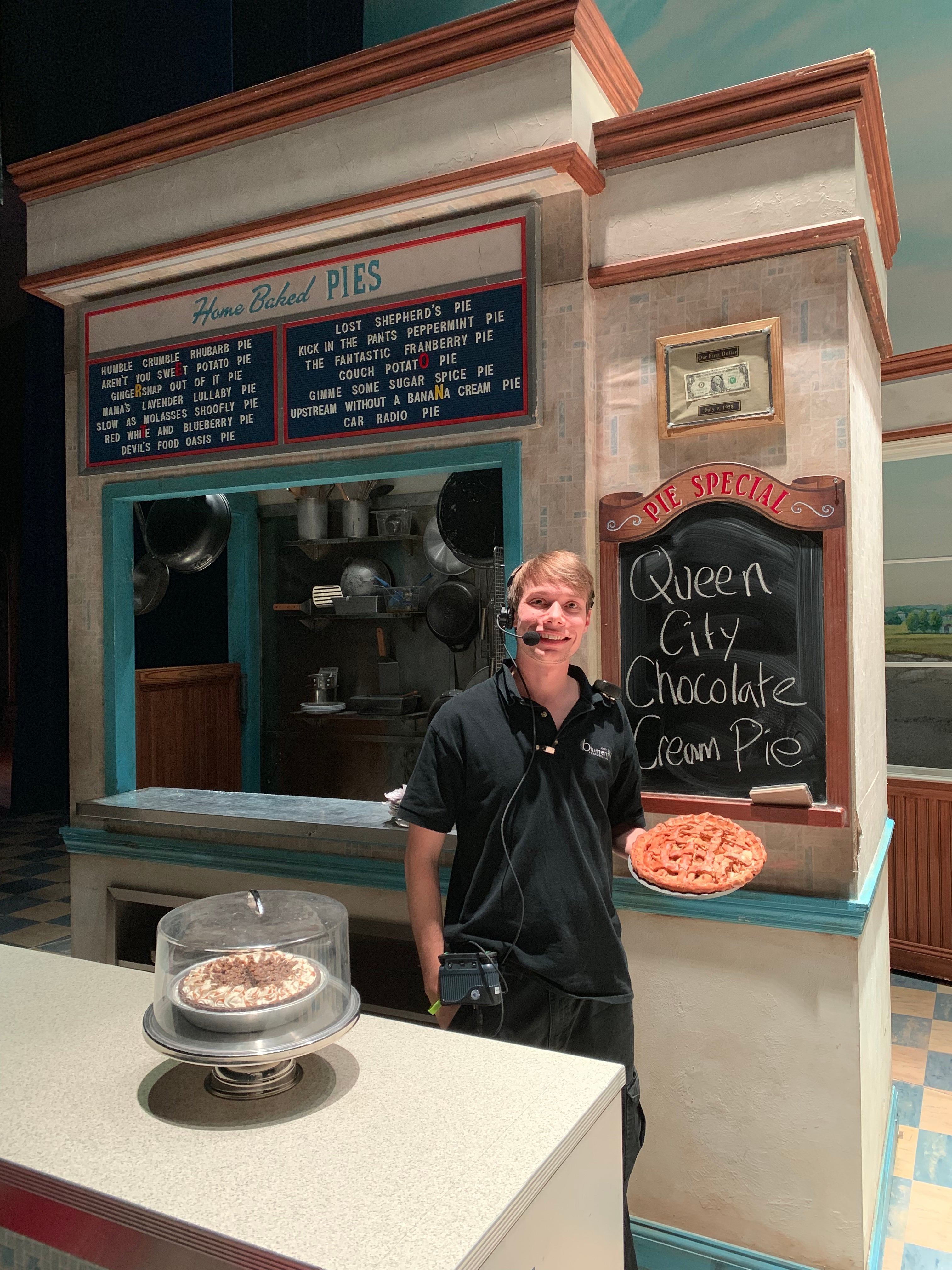 He joined the company of Les Miserables in August as the US Tour prepared to relaunch, after an almost 2½-year hiatus, due to the Covid-19 pandemic.
"It's been super fun already," says Gardner, who fell in love with Les Miz at an early age. "I saw the show come through Charlotte [in 2013] and it's a dream to be able to work on this and, especially, to bring it back to Charlotte again."
As the show celebrates its 37th year, critics across the country are hailing it as a top-notch production with a not-to-be-missed cast.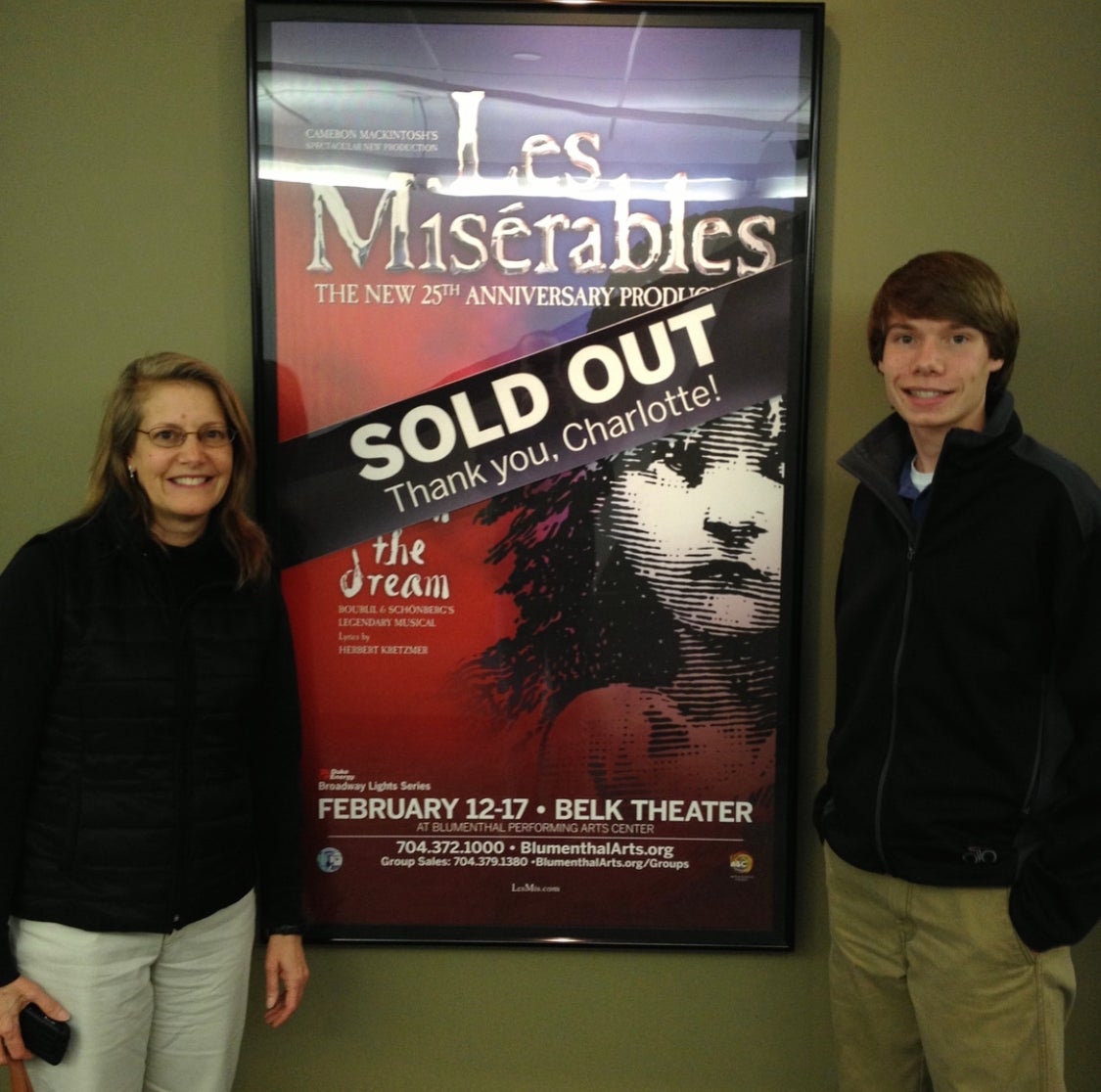 (Ryan and mom, Kelly seeing the show in 2013. Almost 10 years to the day!)
"How many other shows can say that they're still putting on large scale, touring professional productions at 37 years old?…It's just a testament to the music and the story," Gardner says.
Original composers, Claude-Michel Schӧnberg and Alain Boublil, actually flew in to meet with the actors and other company members as the tour rehearsed in Cleveland, Ohio. Legendary impresario Cameron Mackintosh, the show's producer also visited, and is keeping tabs on the production.
All this to say-- this tour is a big deal.
We caught up with Gardner by phone in Detroit, the seventh stop on the current tour, to find out more about what it's really like working on the acclaimed show and some of the backstage magic that makes it possible.
Here are 5 Fun Behind-the-Scenes Secrets he shared about Les Miz:
1. "Do You Hear the People Sing?"
It takes a whole lot of people (and stuff!) to bring Les Miserables to life as it tours the country. "Les Miz is a very complex show backstage," Gardner says. "And the choreography backstage—in the wings—is just as choreographed and sequenced and precise as it is on stage… Everybody has a particular place they need to stand or wait to do their costume change or execute a cue."
Eleven 18-wheeler trucks carry the sets, costumes, props and more from city to city.
Almost 100 people travel along with the show!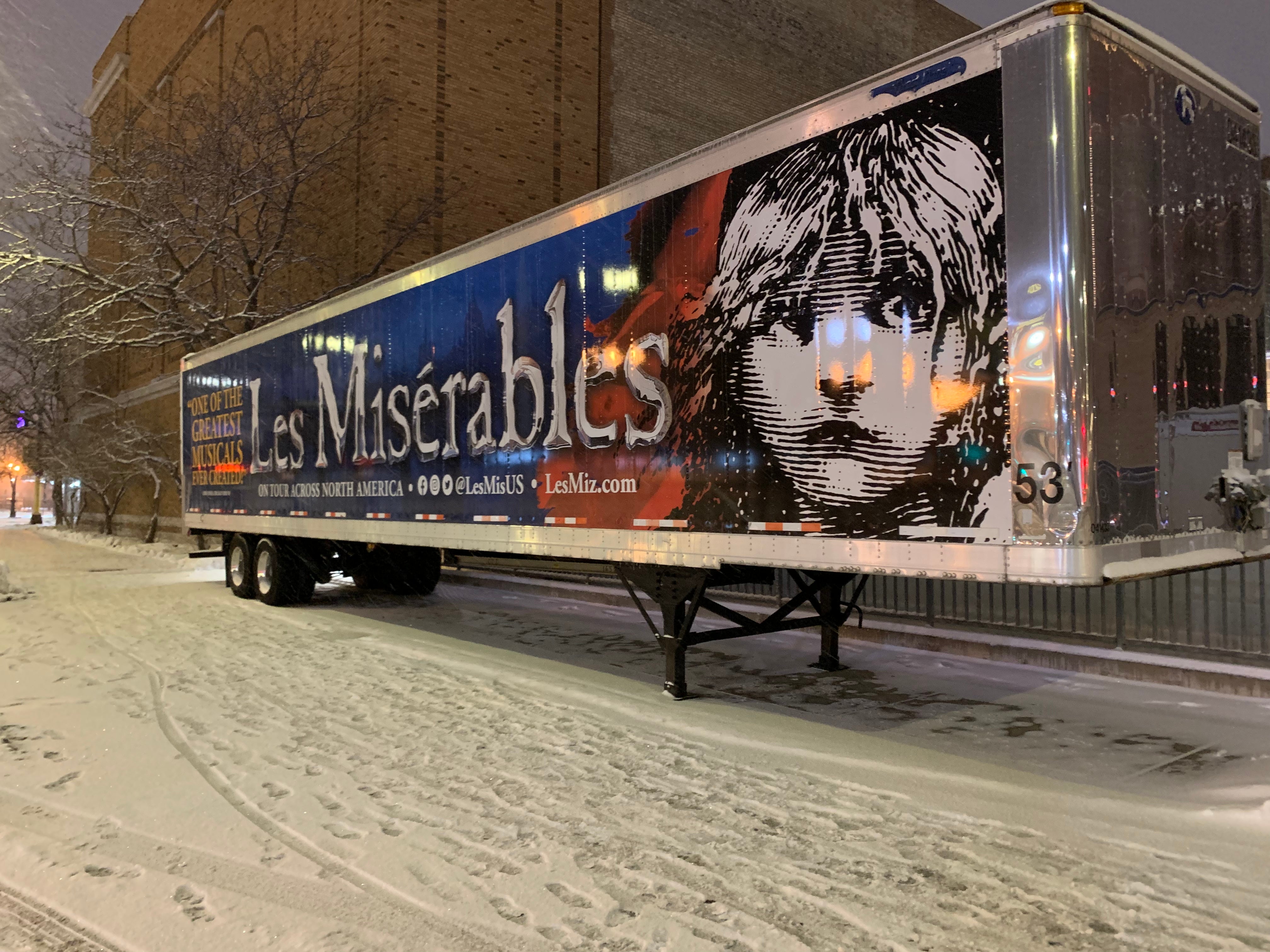 (One of the show's 11 touring trucks.)
That includes cast, stage crew, managers, musicians, health and safety specialists, parents/guardians of child actors, and wranglers (who supervise the five youngest cast members during performances and double as classroom teachers for some of them on the road, too.)
In each city, an additional 60 - 70 local crew members are brought in for two days to help load in the production. And return at the end to load it out.
After the set is installed and tested, another 30 local crew members join the traveling company backstage to help throughout the run with things like operating spotlights, handling microphones, assisting with costume changes, and putting on hair and makeup.
They come from local branches of the stagehands union, IATSE (International Alliance of Theatrical Stage Employees). They know their venues well and are skilled at safely working behind-the-scenes on touring productions.
But they have never worked on Les Miz before. They have to be taught in real-time as the show is happening.
"Stage Managers are overseeing all of this every night," Gardner adds, "making sure… we're doing this in a safe, effective way and making sure that we're maintaining the same product that you're going to see in Cleveland, that you're going to see in Phillie, and in Charlotte."
2. "A Heart Full of Love"
With live theater, anything can happen. Gardner recalls one recent incident that required a whole lot of teamwork to ensure the show could go on without interruption.
In Minneapolis, the actor who plays the lead role, Jean Valjean, was out sick. His understudy went in, according to plan. But about 30 minutes into the show, that actor sustained an onstage injury and tore his calf muscle. When he came off stage at the end of the scene, stage management determined he would not be able to continue with that evening's show.
"We had about 3 ½ minutes to get another understudy ready to play Valjean," Gardner says.
Trouble was: the guy they needed was already on stage performing an ensemble role.
Gardner whispered the situation to an actor who passed it on "telephone-game" style until it arrived at the understudy on stage. When he got the message, he exited mid-song and the backstage team jumped into action: swapping him out of his ensemble look and into the Valjean character, with a new costume, wig and microphone settings.
Meanwhile, a swing (an actor who covers multiple ensemble roles) was called in and prepped to replace the now-missing ensemble member's track!
When the next scene started, the new Valjean entered the stage to find little Cosette in the woods.
No lines were dropped. The show didn't stop or miss a beat of music. At intermission, management announced the actor change over the loudspeaker.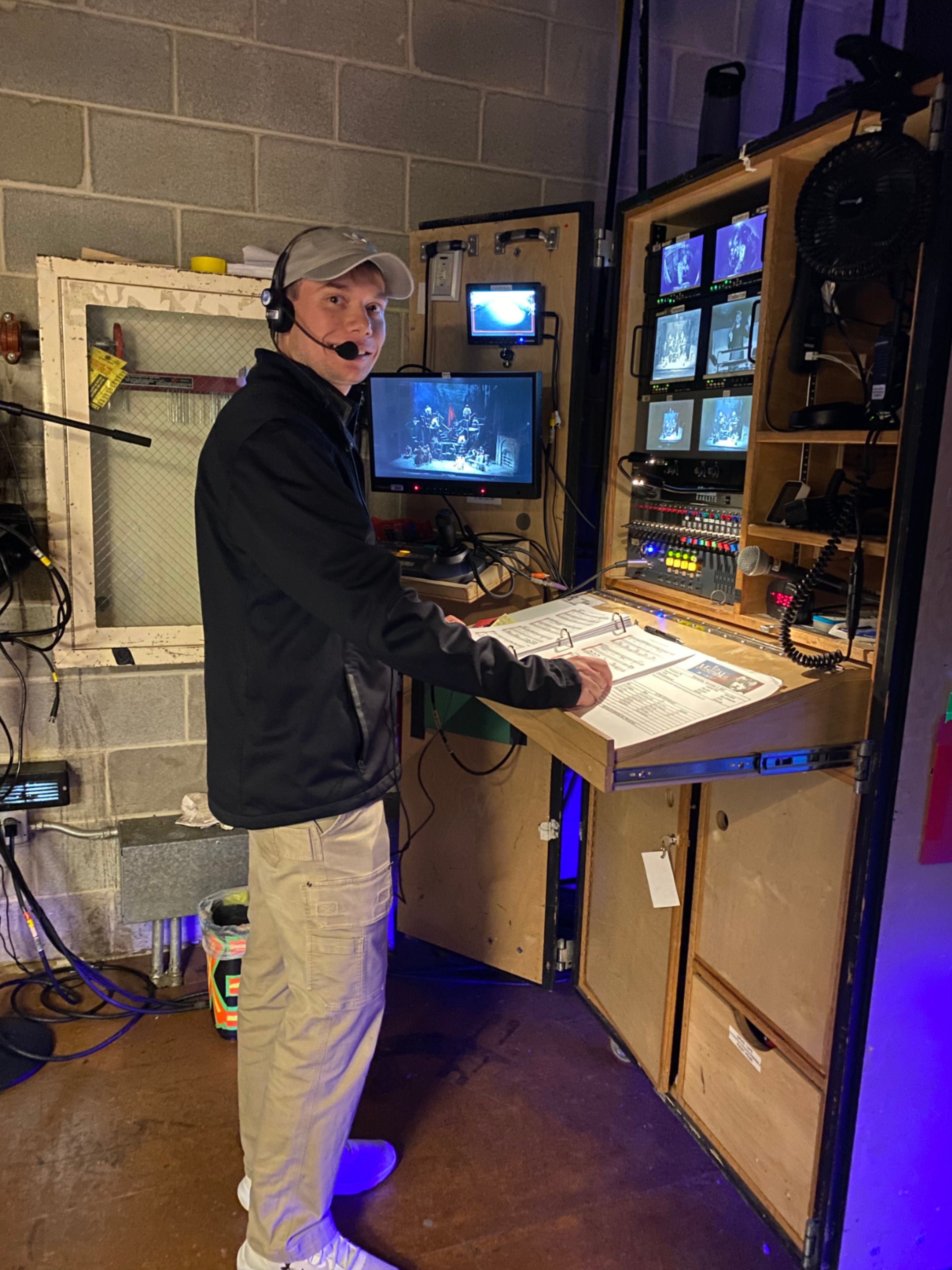 (Gardner calling the show at Mission Control)
"It's the whole mentality of 'the show must go on' and the whole mentality of 'the next player up,'" says Gardner, noting how everyone had put the show's needs above their own to achieve something "pretty miraculous."
"Those are some of the moments that you really love as a stage manager," he says, "when you're having to make those split second decisions, and problem solve and have to adapt and work collaboratively as a team in order to make sure that the show happens."
3. "Castle on a Cloud"
Besides the giant barricade, which Gardner compares to the spectacle of Phantom of the Opera's Chandelier and Miss Saigon's helicopter, the show uses a number of intriguing special effects.
For example, Les Miserables uses a lot of "atmospherics." These dry ice/CO2 fog machines create the ambiance for scenes that take place in the sewer or near water.
Three period rifles are also used during the show. Shooting blanks, they are fired onstage, which creates a realistic sound and a lingering smell of gunpowder. Live flames are used, as well, for candles and torches throughout the show—something that's unusual for stage productions. Gardner says audience members seated in the first few rows have told him they could feel the warmth from those torches as they watched.

Fighting scenes are intense, too, with strobe lights and sound ricocheting around the set. That's thanks to the sixteen speakers that are built into the set itself, instead of the more typical mics in the front or side of the stage. These allow for the cast to continue to hear the orchestra, even when it gets loud on stage, as well as for sounds to be isolated.
"It actually sounds like a cannon is coming from upstage right because its sound is actually traveling from upstage right," he says.
About that set: Les Miserables travels with its own stage, which is installed about six to eight inches above each touring venue's stage floor. This allows for all the automation—electronics, winches, and cables—"that look like magic" as they pull scenery on and off. It also helps with light cues, since a point on stage remains the same no matter where the show goes.
4. "Drink with Me"
Gardner says it's always special when someone in the cast is back in their hometown. In Charlotte, he looks forward to seeing family and visiting some of his old stomping grounds.
"I love to take people from the tour to some of my favorites," he says.
Among them are breweries like Birdsong, Legion, and Triple C. He also hopes to hit some local coffee shops and restaurants, including RuRus Tacos + Tequila, Mac's Speed Shop, and Alexander Michael's.
If weather permits, Gardner hopes to head to the White Water Center or to play a round of golf. He and several other cast and crew members travel with their clubs, just in case there's an opportunity to hit the fairway.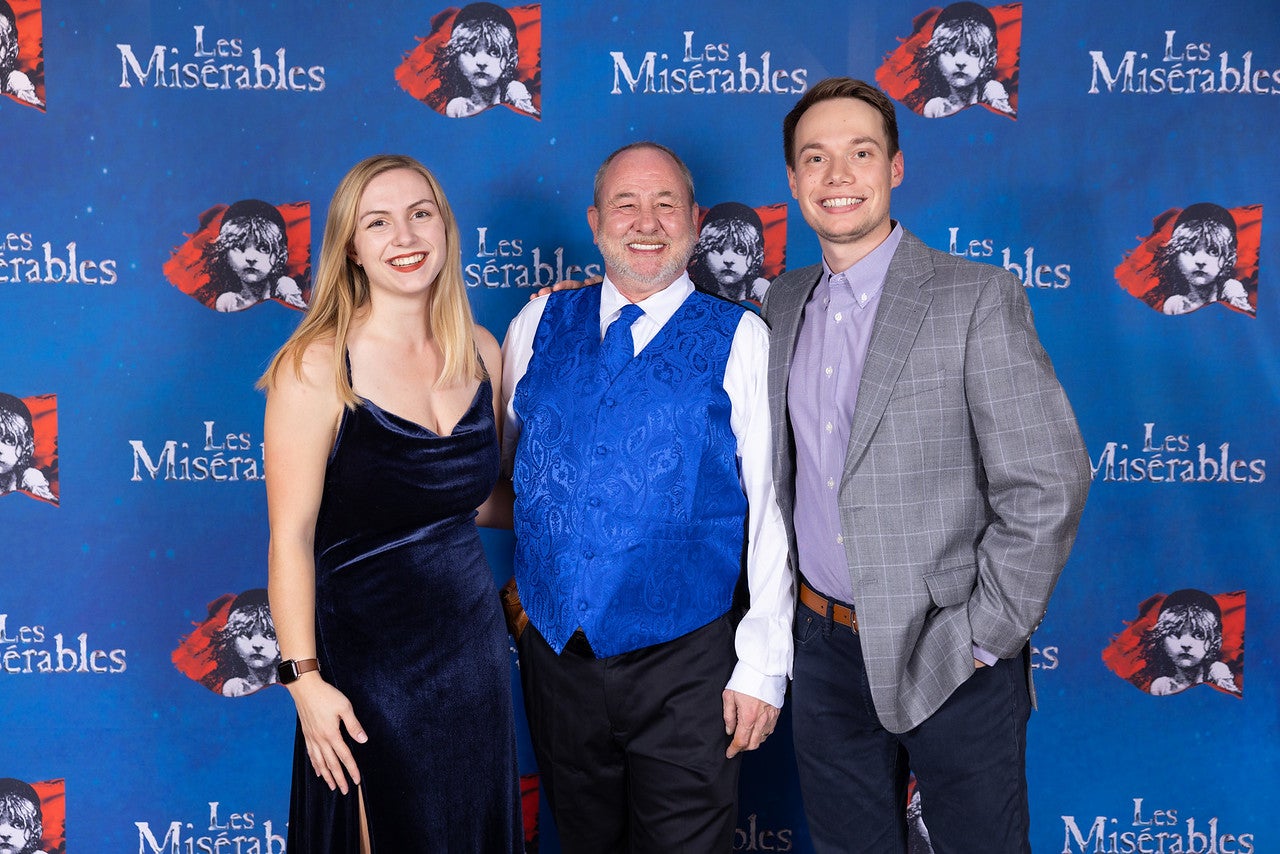 (Les Mis Stage Management team. Claire Farrokh (ASM), Jack McLeod (PSM), Ryan Gardner (SM))
"It's hard to be on the road for some aspects," Gardner says. "You feel like you're working all the time. It's good to find some outlets."
5. "At the End of the Day"
When the curtain comes down on the final Sunday performance in each city, load out begins almost immediately.
From 10:30pm on, teams are breaking down the lights and microphones, dismantling sets, packing costume pieces onto trucks and getting ready to travel to the next city. Crew members work for about seven or eight hours straight before hopping on a bus or flight (depending on the distance) toward the next city. They try to catch up on sleep while traveling.
Load-in in a new place starts on Monday at 2pm and goes to 11pm. It resumes Tuesday morning at 8am. By 5pm there's a company meeting and a sound check. Then the curtain goes up again at 7:30pm that evening, starting the whole adventure over.
"It takes not only a physical toughness, a mental toughness… when you're the most tired on that Tuesday and haven't slept in 48 hours—to be able to teach and supervise safely a new crew, make sure that we're delivering that same product that you're going to see on a Tuesday night or a Saturday night in whatever city we may be in."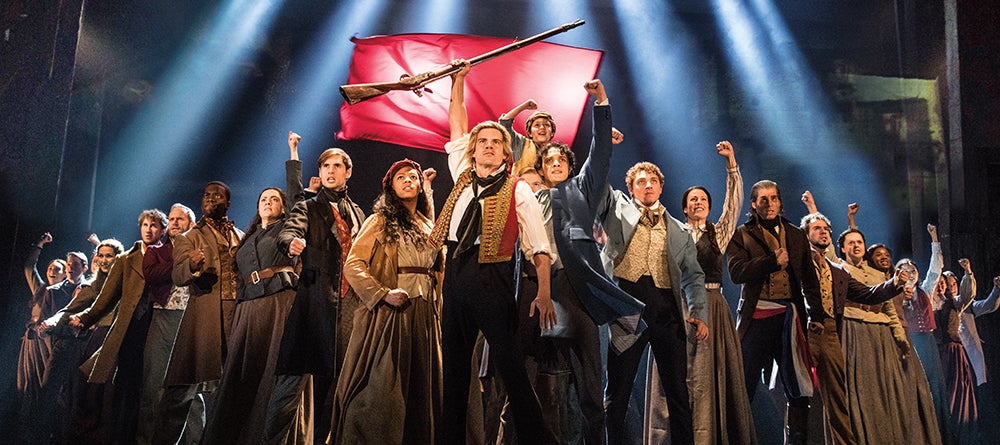 Now aren't you glad you can sit back, relax and watch it all unfold from the audience?! Don't miss your chance to see Les Miserables, January 31 - February 5, at Belk Theater!
Groups of 15+ receive 10% off. Valid on select performances and price zones.