7 reasons why you need to check out this year's Queen City Comedy Experience Sept 6 - 10
If you've been living on this planet for the last few years, chances are good you're due for a belly laugh.
Lucky for us, Queen City Comedy Experience is back Sept. 6 - 10 and it's jam-packed with all sorts of comedy action. Get ready for five full days of entertainment, presented by Queen City Comedy, The Comedy Zone, and Blumenthal Performing Arts.
Featuring dozens of acts, workshops, music, free stuff, and new features, here's a quick look at what's happening and why you won't want to miss out.

1. Great lineup of headliners and local artists
Nationally-acclaimed comics perform alongside the Queen City's best talent. Check out actor/comedian Chris Tucker (Rush Hour, HBO Def Comedy Jam, Air) Sept. 9 at Belk Theater, catch Shawn Wayans (from the Emmy-winning In Living Color) Sept. 8 and 9 at The Comedy Zone, and see Whose Line is It Anyway's Colin Mochrie alongside master hypnotist Asad Mecci in Hyprov: Improv Under Hypnosis Sept. 8 at Knight Theater.
Local faves will be strutting their stuff too.
That includes stand up with Tara Brown's Clean Comedy Show as well as Johnny Millwater Presents IV Show—a comedy and variety show mash up promising music, dancing, pro wrestling (?!) and more. Two-time QC Nerve's Best in the Nest Readers' Pick for Best Improv troupe, Now Are the Foxes, will be there. And sketch comedy sensations ScrewUp TV joins the scene with some of their best laugh out loud material.
Want to see it all?? Skip ahead to Reason #7 for details on VIP tickets.
2. Comedy options for every kind of fan
The offerings are diverse and plentiful. Short form and long form improv, stand up, sketch comedy and so much more!
How about pairing standup with grandma-approved gambling (Comedy Bingo) or a show inspired from a Tarot reading (Comedy in the Cards)? With this festival, you'll find just what you've been searching for and things you never knew you needed.
(For a full line up of entertainment and ticket links, check out https://www.blumenthalarts.org/queen-city-comedy-experience.)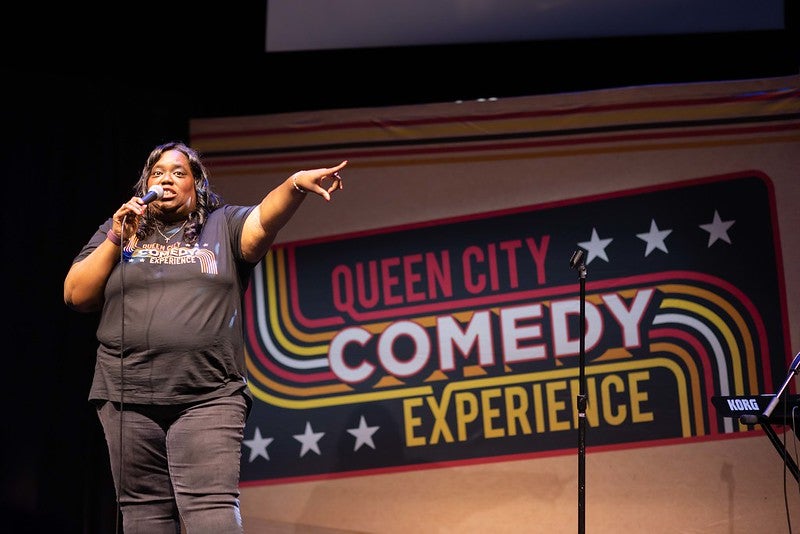 Music and laughter merge when local performer Mona Lisa Musiq plays the keys and sings her original and hilarious songs. And Cincinnati's Hot Mic features a full band improvising music and lyrics on the spot.
For political junkies, check out Capitol Fools (Sept. 7, Knight Theater)—a spin off group from "The Capitol Steps," which retired after a 40-year run. The group picks up and runs with the same great humor, zinging both sides of the political aisle with new song parodies, impressions, and some of the "Steps" greatest hits.
Internet sensation Lyle Forever brings his unique brand of "unlicensed therapist" wisdom to The Comedy Zone Sept. 9 as Therapy Gecko. Fans explore their hopes and dreams with Lyle on stage in this interactive show.
Catch comedy podcasters live this year too like QC Nerve Critics' Pick for Best Podcast, The Black Guy Who Tips (Sept. 9, Knight Theater). It's hosted by married couple Rod and Karen, who cover everything from pop culture to politics with empathy and wit. The show has been featured on NPR and mentioned in news outlets including The New York Times, Ebony.com and The Washington Post.
Small Town Murder, the hit true crime comedy podcast that focuses on a different small town each week comes to Knight Theater Sept. 9. Join hosts James Pietragallo and Jimmie Whisman as they explore one town's quirks and history through the lens of a horrible murder that took place there.
3. The festival takes place all over uptown
From tiny venues where you'll be right next to the action to the grand 2,100-seat Belk Theater, you'll find an array of settings for the comedy festival. In addition to traditional theaters, events also take place at the Mint Museum Uptown, the Knight Underground, The Comedy Zone at avidxchange Music Factory, and outside at Levine Avenue for the Arts.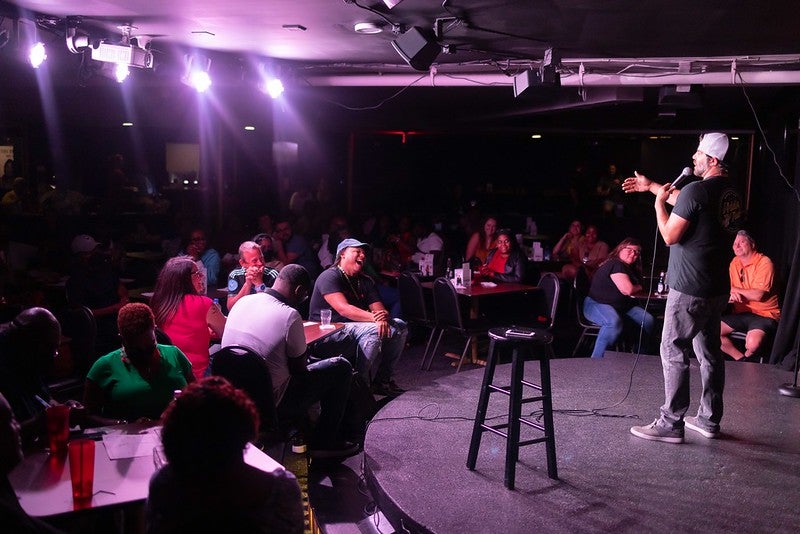 4. FREE Outdoor Entertainment
Friday and Saturday, come check out "Funny in the Streets," a street fair with all sorts of free entertainment from juggling and magic to comedy games. Catch local and Carolina-based bands including Rock-Folk-Americana fusion group Swim in the Wild, R&B singer-songwriter Arsena, jazz-inspired Cosmic Collective, and country-twinged Southside Watt.
Grab a drink at the Beer Garden, check out a variety of food options, visit the photo booth and more. Therapy Gecko will also be on site offering private "therapy" sessions for a small fee.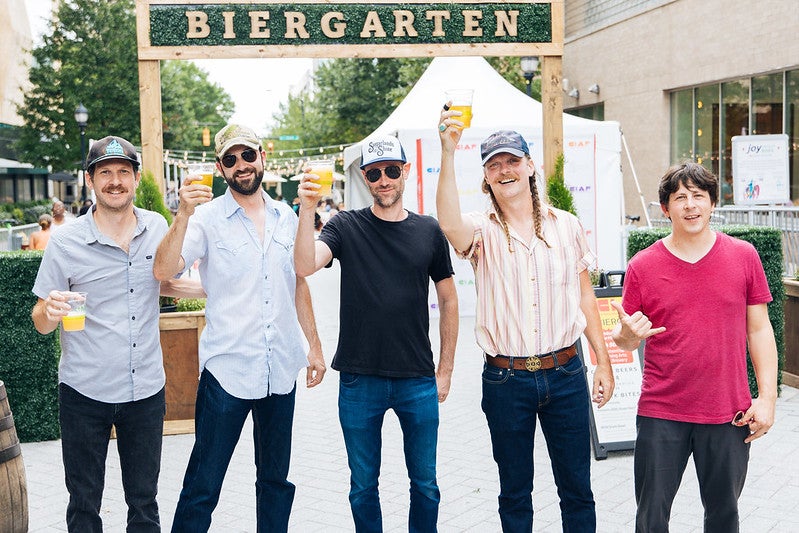 5. The festival lineup features underrepresented artists
The comedy world, and improv in particular, has a long history of favoring straight white male acts at the detriment of others. That's starting to change and Queen City Comedy has been vocal and active in ensuring opportunities exist for everyone.
The festival lineup includes events that shine a light on underrepresented talent. They include shows and jams with an LGBTQIA focus (We're Here, We're Queer, We're Funny and The Rainbow Jam with Diana Brown), a BIPOC improv jam hosted by an award-winning troupe out of Baltimore, Maryland (The Cupcake Jam with Cake Walk), an all-ladies show featuring stand up and improv performances (Queen Charlotte Comedy: Hosted by Bianchi & Byland), and a workshop for Parkinson's patients and caregivers.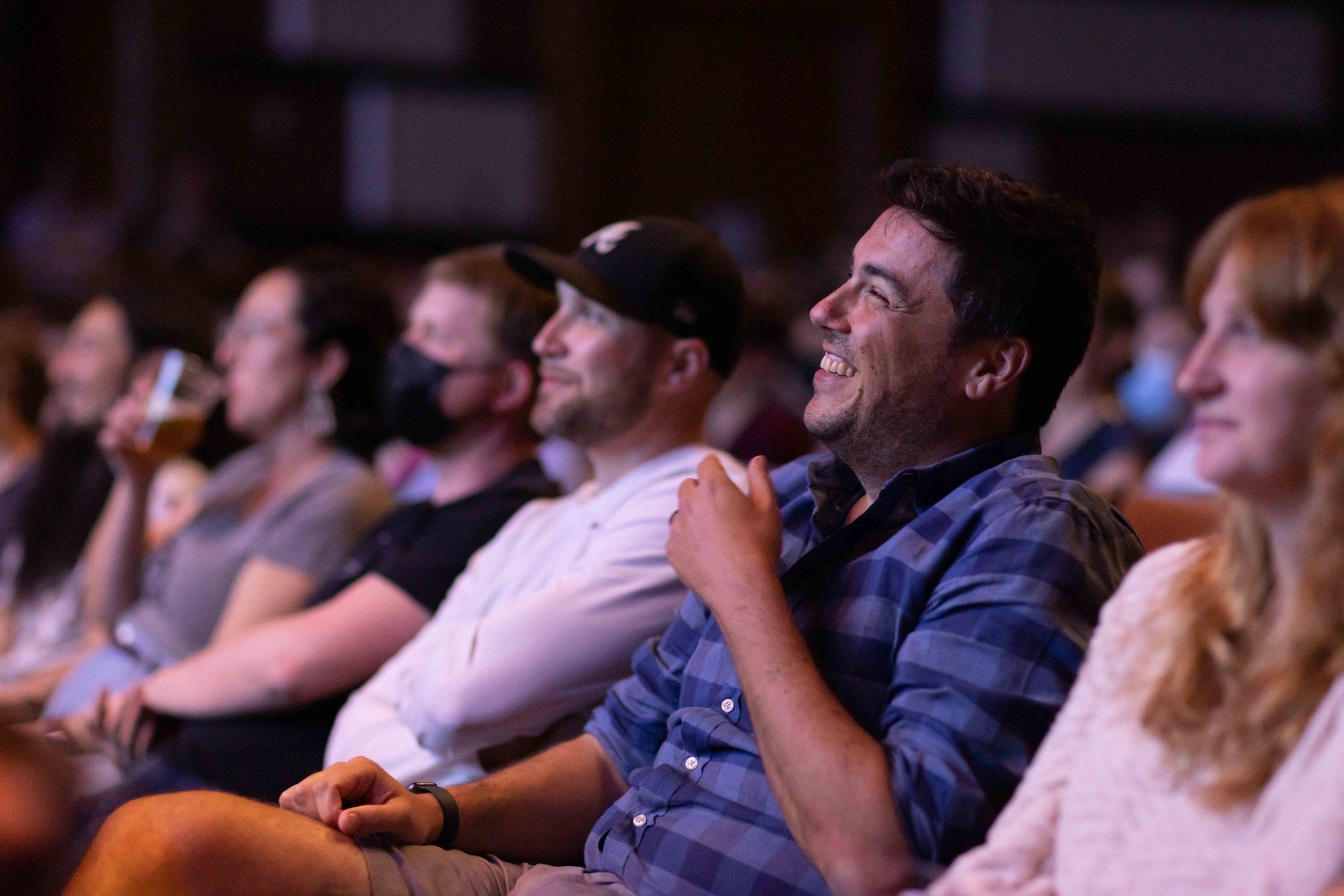 6. Lots of opportunities to learn comedy
This year's festival offers more workshops than ever before with local and visiting artists. They range from a focus on physical expression (Shut Up! An Improv Workshop with Jill Eickmann) to an exploration of character development (Intersection: Acting for Improv Workshop with Karla Dingle) to a Shakespeare-inspired offering from San Francisco-based artist Diana Brown (Rogues, Ruffians & Wiley Wits: Improvising Bawdy Shakespearean Characters).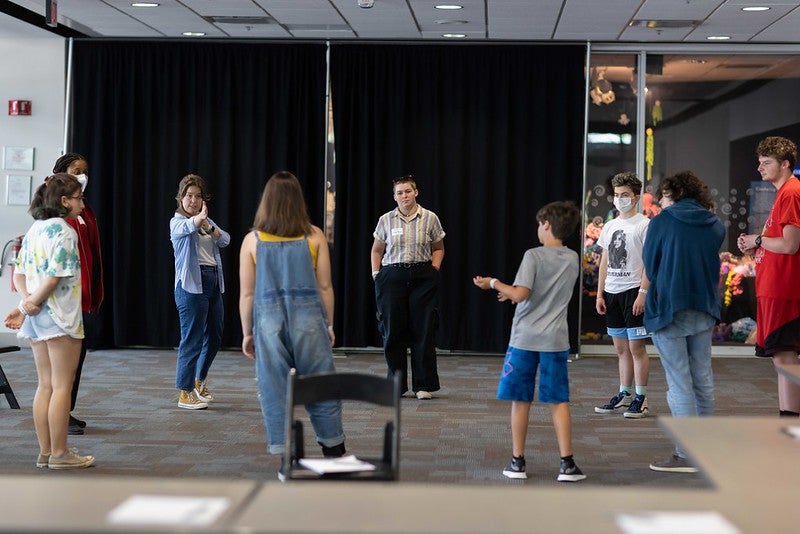 Participants in two of the workshops, Rogues… and Cake Mix: The Sitcom (focused on honing improv chops for a situation comedy format with the team from Cake Walk Comedy), also get the chance to perform in the festival Saturday night in the Shut it All Down Show (Stage Door Theater).
For the full workshop lineup, click here!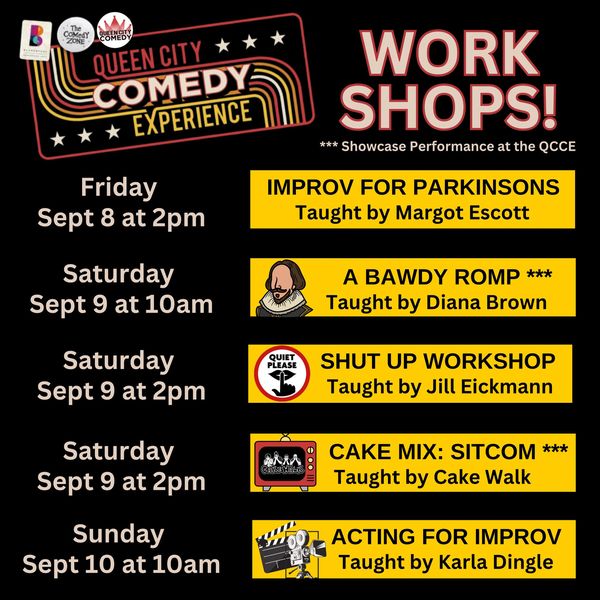 7. VIP Passes
Looking for a whole lot of funny? Guarantee premium seats to all the headline shows plus first entry to all local shows, and exclusive invites to after parties.
A VIP Pass is $350. Click here for more details.
However you take part, this festival's for you. Don't miss out. For a complete schedule and links for tickets, visit https://www.blumenthalarts.org/queen-city-comedy-experience