A Blumey Winner Comes Home: In Six, Amina Faye plays the third of Henry VIII's ill-fated wives
If you know nothing else about King Henry VIII (1491–1547), you likely know he had six wives who kept failing to produce a male heir. So, he kept dispensing with them.
The first, Catherine of Aragon, produced children who were stillborn or died in infancy. (A daughter survived, but Henry wanted a male heir.) The Catholic Henry sought an annulment so he could marry the beautiful Anne Boleyn, who also produced a daughter, but was eventually beheaded.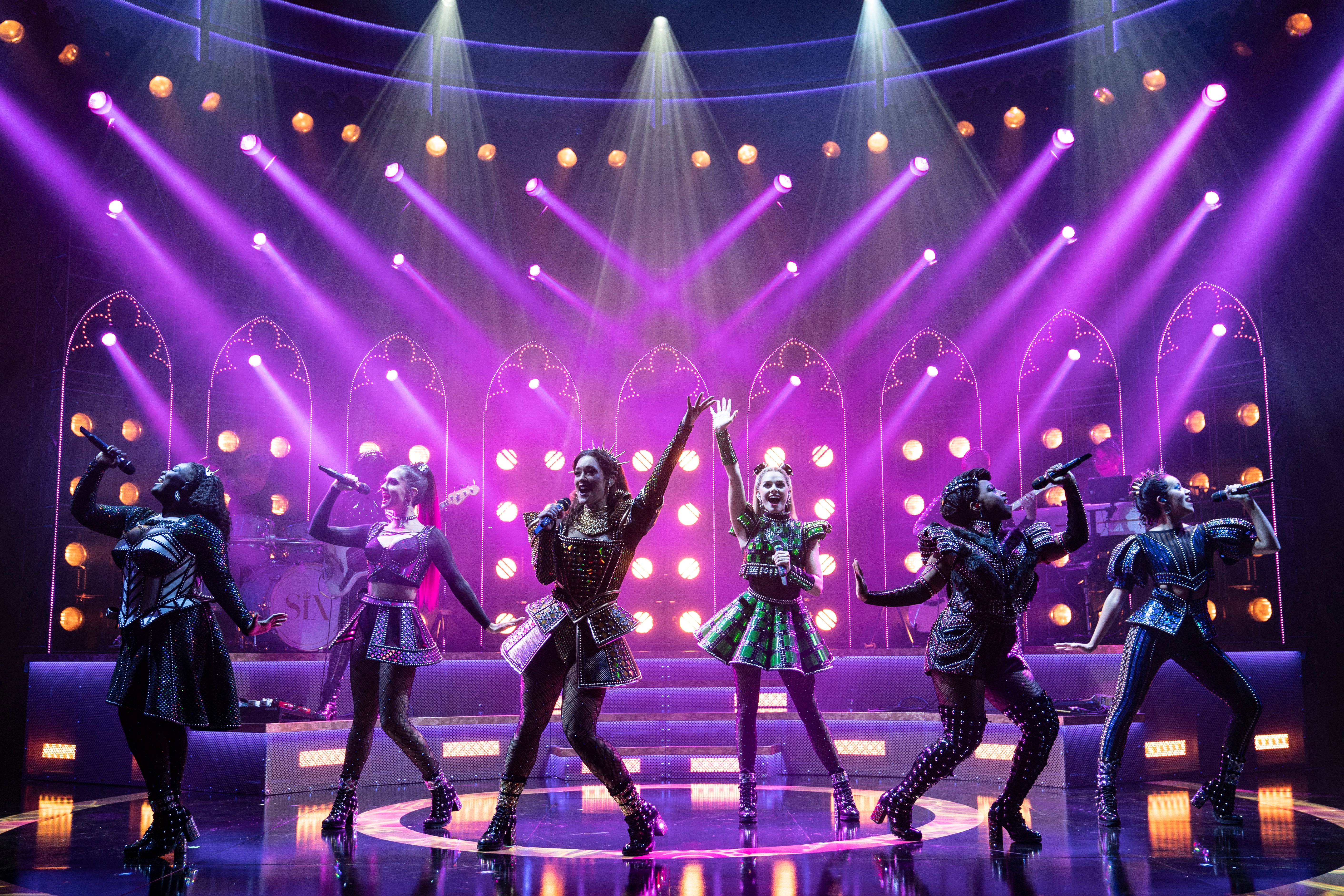 (The North American Tour Boleyn Company of SIX. Photo by Joan Marcus)
The musical Six (at the Blumenthal Performing Arts Center through July 4–16) summarizes the six wives' fates: "Divorced, beheaded, died, divorced, beheaded, survived."
"We know the story of Henry VIII only from his perspective," said Wingate native Amina Faye, who plays Jane Seymour—wife number three, who died of natural causes. "But this telling is different. People who don't know a lot about the show ask me: Who's playing Henry? And I love saying: 'He doesn't appear; it's not about him. This is told through the wives' perspectives.'
"Henry's previous wives –Anne Boleyn and Catherine of Aragon—were headstrong, vocal, dominant. Jane was a bit more submissive. She's known as the only one he truly loved, and it's believed she loved him, too."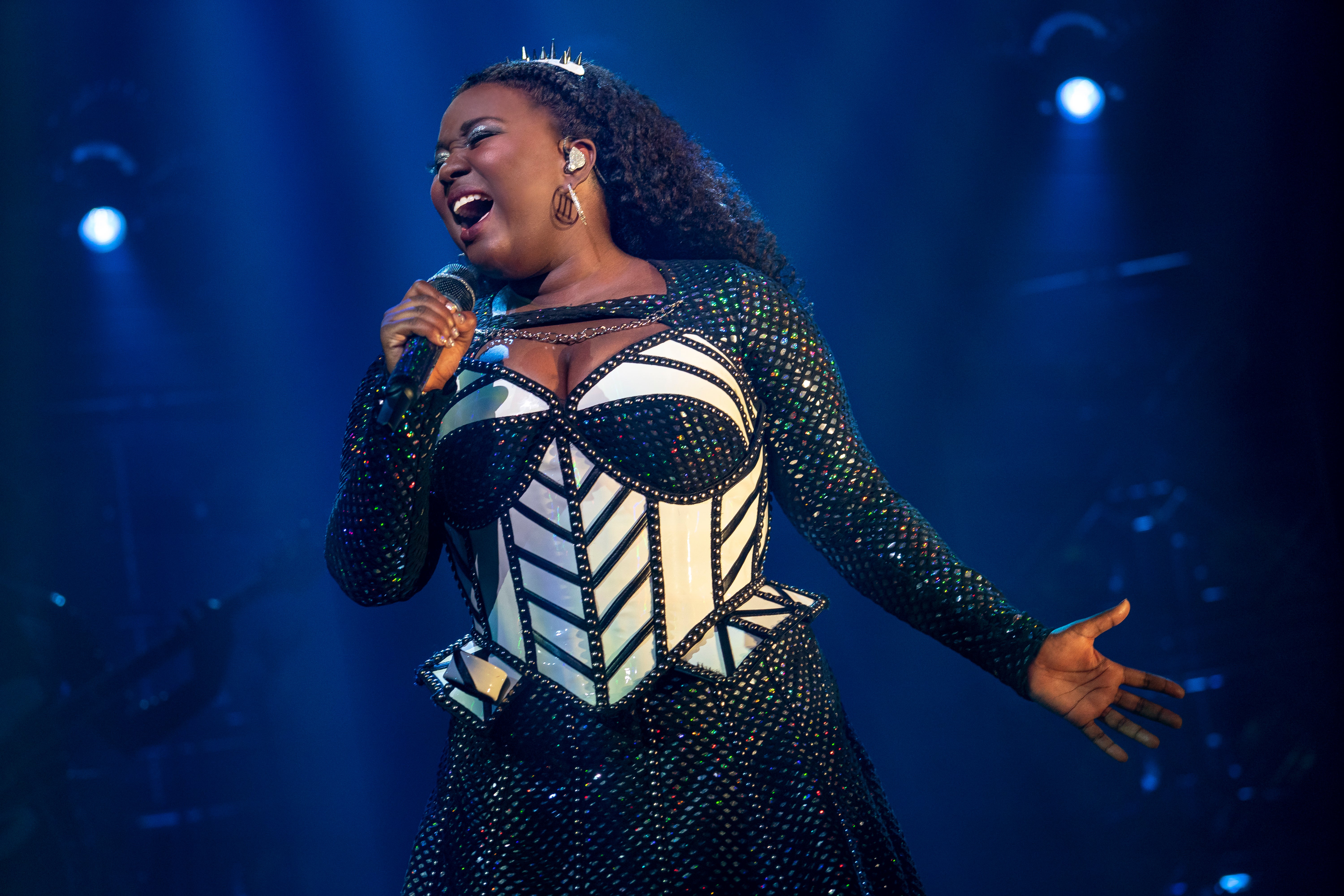 (Amina Faye as Jane Seymour in The North American Tour Boleyn Company of SIX. Photo by Joan Marcus)
Still, Seymour suffered. She and Henry (who were engaged the day after Boleyn's beheading) were married from 1536 until Seymour's death the following year. She died of complications from a grueling childbirth less than two weeks after delivering a son.
Based on Adele
Faye and her castmates did historical research on the women they play. But because each queen is fashioned after a pop star, they also listened to lots of music.
Faye, whose Jane Seymour is based on the singer Adele, sings what may be the musical's most touching ballad, "Heart of Stone." ("Soon I'll have to go/I'll never see him grow/But I hope my son will know/He'll never be alone.")
Here are the other characters in this "girl group" (and the pop icons they represent):
Catherine of Aragon (Beyonce, J. Lo)
Anne Boleyn (Katy Perry, Miley Cyrus)
Anne of Cleves (Nicki Minaj, Megan Thee Stallion)
Katherine Howard (Ariana Grande)
Catherine Parr (Alicia Keys) 

Henry's wives were subject to his tyrannical whims. In co-librettists Toby Marlow's and Lucy Moss' retelling, the wives reclaim their power. The actresses relish the opportunity. "There are six onstage queens, four alternates, plus our [all-female] band, The Ladies in Waiting," said Faye. "I feel a lot of girl power in that sisterhood."
Faye joined the national tour—her first and Six's second North America touring company—at its start last August. Six premiered at the Edinburgh Fringe Festival in 2017 and went on to win 23 awards (including the Tony Award for Best Original Score and the Outer Critics Circle Award for Best Musical) in the 2021–22 Broadway season.
'My Community Saw Something in Me'
Faye's been in the Belk Theater both as an audience member and on stage.
During her junior year at Central Academy of Technology and Arts in Monroe, N.C., she performed a scene from Into the Woods during the Blumey Awards. She returned her senior year —and won the best actress Blumey for Ragtime—before winning best actress at the 2016 National High School Musical Theatre Awards in New York. More commonly known as The Jimmys, the award includes $10,000 toward performing arts education. Faye earned a BFA in musical theater from Penn State.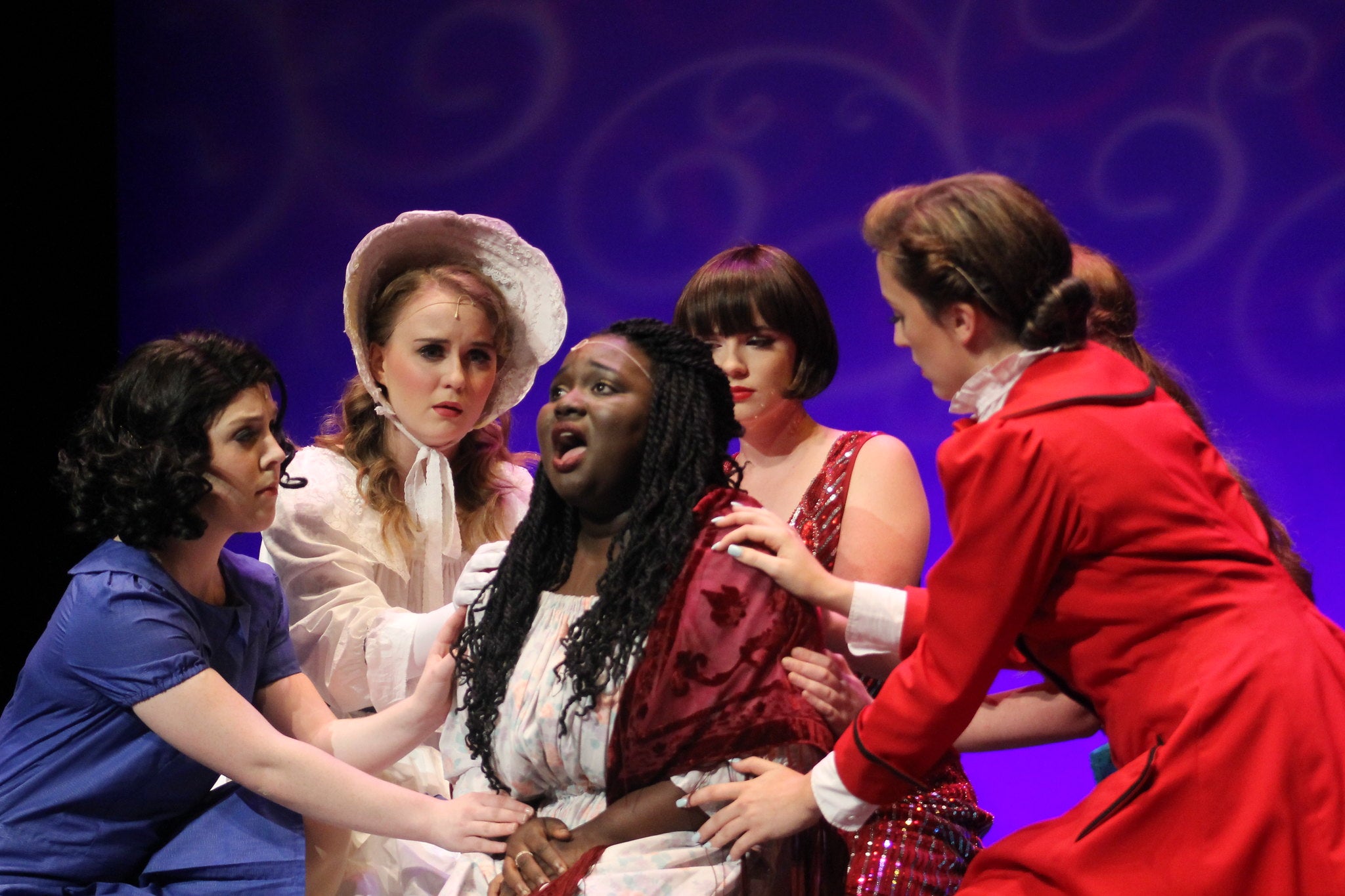 (Amina Faye performing in the 2016 Blumey Awards at Belk Theater)
"The Jimmys were fun," she said. "But I'm from Charlotte, and the Blumey came from my community. My school won for best musical that year, too. Winning a Blumey…meant my community saw something in me and that maybe I could pursue this. I'm still in touch with [Blumenthal's long-time CEO] Tom Gabbard and others I met through the Blumeys."
"Being an actor is really hard," she added. "The odds are not in your favor." She was "never 100 percent sure this would work"—until the Blumeys.
Intense and Explosive
Six may remind you more of a concert than a musical. "We break the fourth wall a lot, address the crowd and try to get people on their feet," Faye said. "I have five scene partners on stage, but our most important partner is the audience."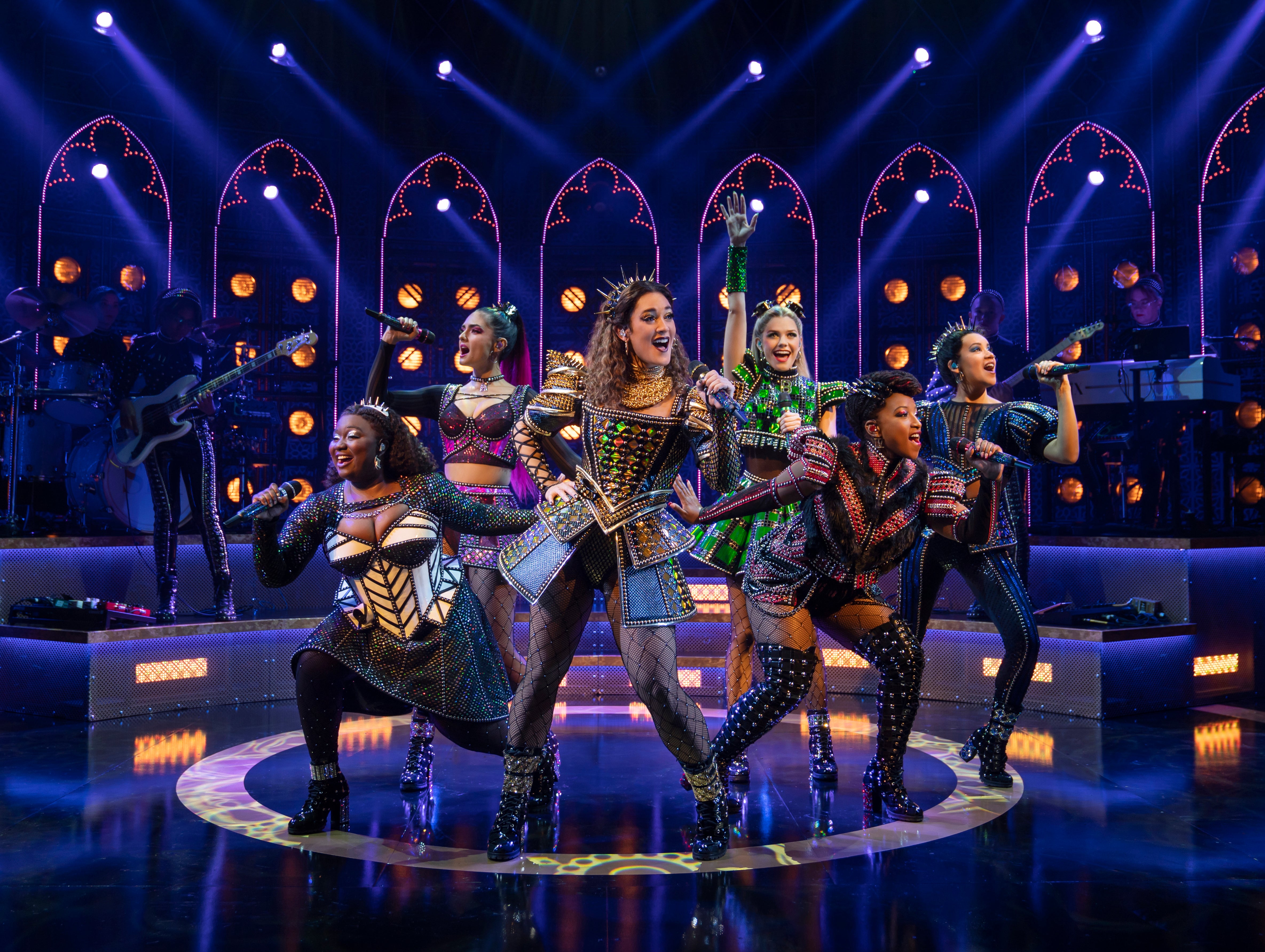 At just 80 minutes without intermission, it's easy for audiences to stay engaged during Six. Those 80 minutes aren't as easy on the performers. "There's no ensemble," Faye said. "The six of us are the principals and the ensemble. We don't leave the stage until those 80 minutes are over. It's intense and explosive."
Faye is thrilled about her theatrical homecoming. "Middle-School Amina would appreciate that Adult Amina is performing at the Blumenthal again," she said. "I grew up being inspired there and dreaming of being on stage myself. I hope students in the audience for Six will solidify in their minds that they want to pursue musical theater." 

Article by Page Leggett