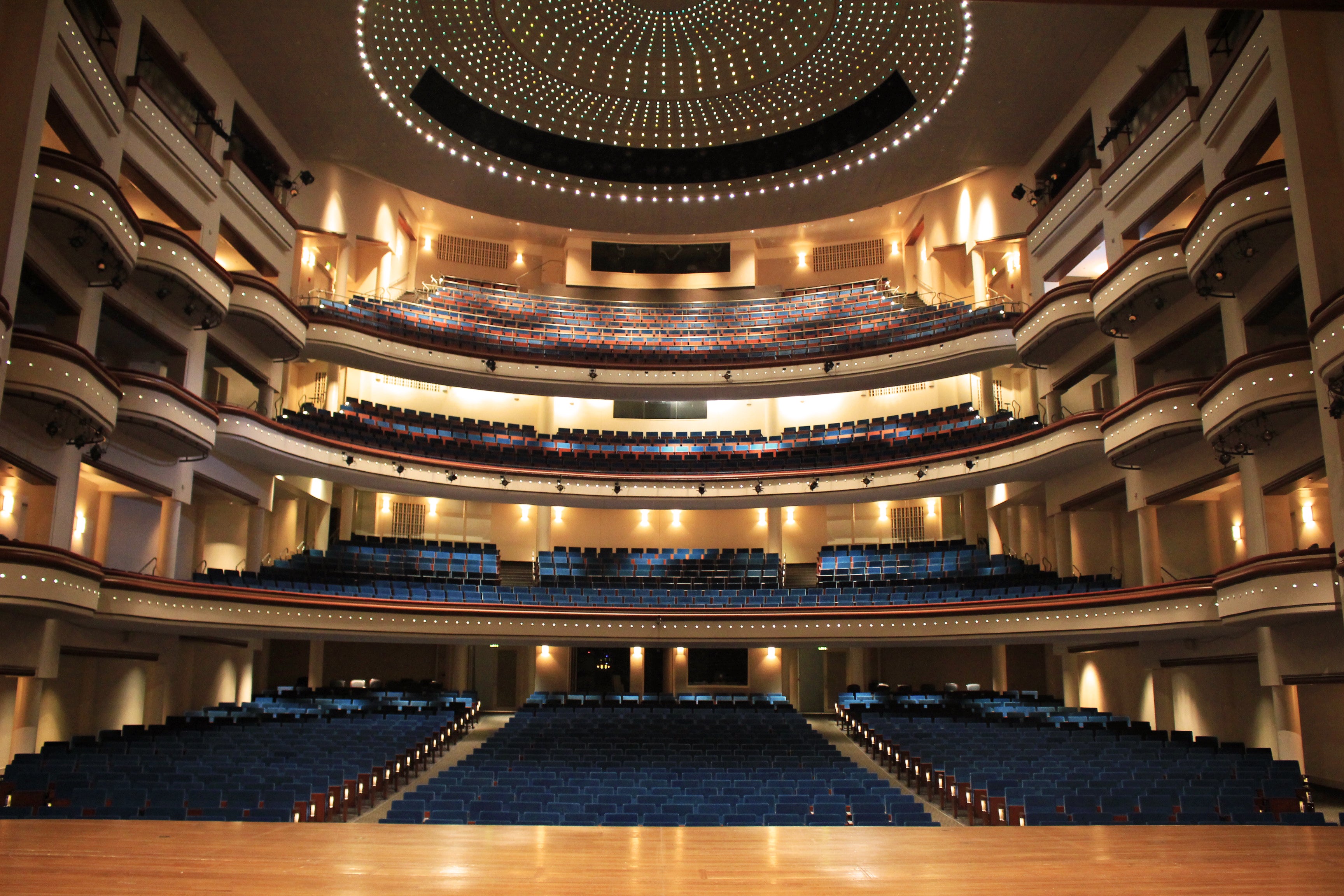 A Modern Valentine's Day Story: Shared Love of Theater and Music Brings Newlyweds Together
In honor of Valentine's Day, we're putting the spotlight on subscribers Jeremy and John David Whitener. For these newlyweds, theater and music are at the heart of their relationship. From their professional lives to their leisure time, it seems nearly every moment—shared or apart—is spent directing, rehearsing, performing or attending a theatrical event.
The couple, who tied the knot this past November, now live in Maiden, NC. Both are teachers in the area: John David is the Theatre Arts and Choral Activities Director at North Lincoln High School while Jeremy teaches Music and Performing Arts at Sherrills Ford Elementary School. Home is strategically located in between their two schools and The Green Room Community Theatre in Newton, where they are also active as performers and music directors.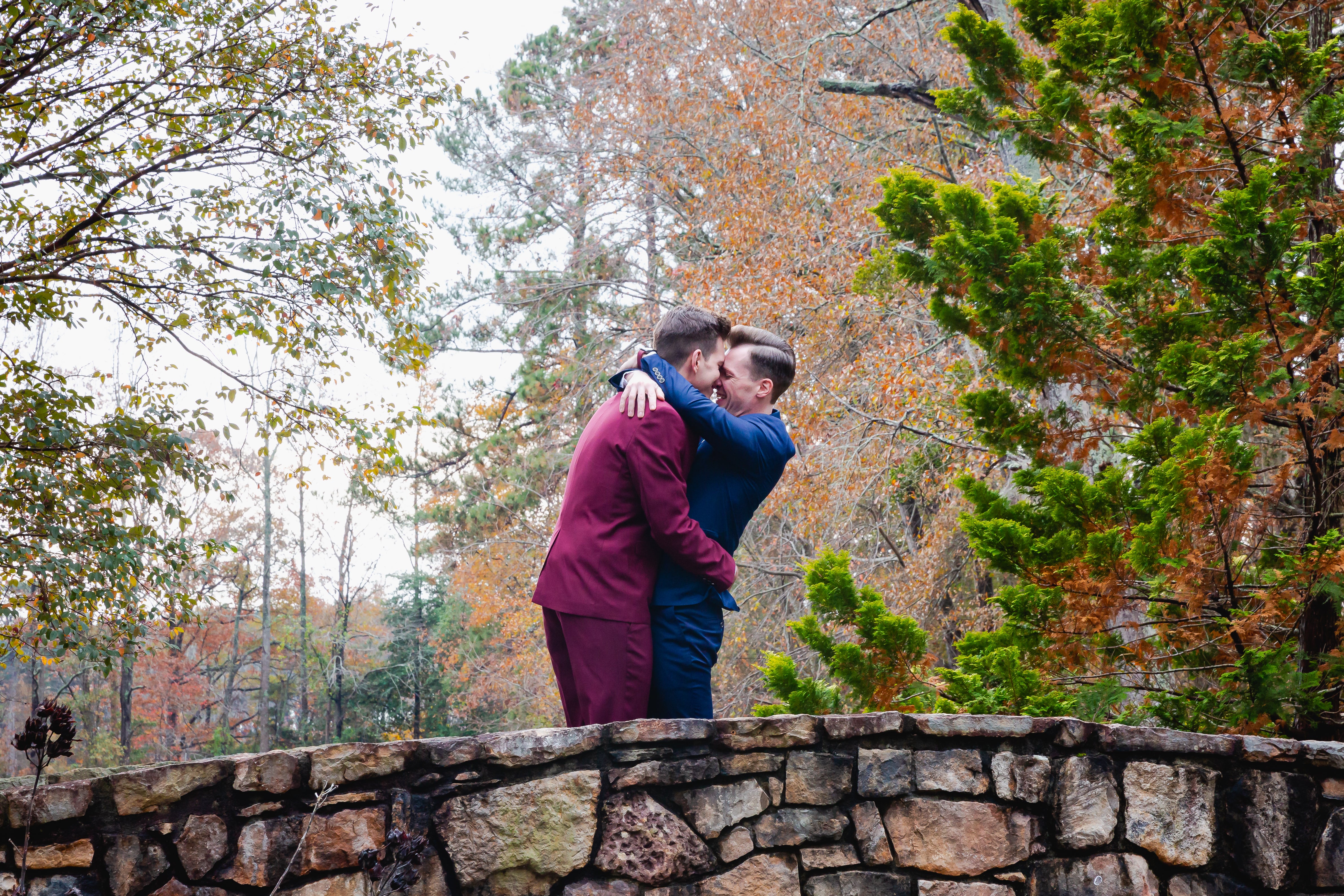 (John David and Jeremy's wedding day)
Both men grew up in the South—Jeremy even teaches at the same elementary school he once attended—but it took moving up North to find one another.
A RAINY FIRST DATE
They met in New York City. John David had relocated there from Tennessee to work on a graduate degree in opera at the prestigious Manhattan School of Music. Jeremy, meanwhile, who had been teaching in Catawba County headed to the Big Apple to give a regular office job a try, depleted from all of the extra hours he was working.
"When I first started teaching, I don't think I realized how much prep work you have to do outside your regular hours," says Jeremy.
Their first date was at Broadway in Bryant Park, a free outdoor concert series that features Broadway performers singing hits from their current shows. In a made-for-theater moment, they got stuck in a sudden downpour while an actor from the cast of LES MISERABLES was singing "On My Own." The music was so good, says John David, that they just had to stay. Afterwards, they ended up in Central Park where they chatted for hours, perched upon a big rock.
Exactly two years and one day later, back in New York on a surprise trip filled with theater-going, that rock would be the same spot Jeremy would choose to propose to John David.
Well before that memorable moment, however, the couple had moved to North Carolina in 2016, in part because Jeremy realized he wanted to return to teaching. "A 9-to-5 job wasn't very fulfilling," he says. "I missed working with kids."
They also found the cost of living in Manhattan to be outrageous. There, it took them weeks to save enough money to see a show. They knew if they moved to the Charlotte area, they would be able to catch many of the shows playing in New York at a more reasonable price with a subscription to Blumenthal Performing Arts.
"We've been season pass holders since the second year we've lived here," says John David.
(Jeremy and John David seeing Hamilton at Belk Theater)
WHAT BLUMENTHAL MEANS TO THEM
Both say Blumenthal's variety of programming and affordability has enabled them to see shows they might not have seen otherwise. "We definitely look forward to our Saturday date day going to see shows at the Blumenthal," says John David. " It's a big deal to us."
That increased exposure has had a positive impact on their classrooms as well. John David recently brought a group to see ONCE ON THIS ISLAND, a show he says is not in the typical musical theater canon performed by schools and community theaters. They have also been able to tap into Blumenthal's education programs to enrich their students' experience in the arts.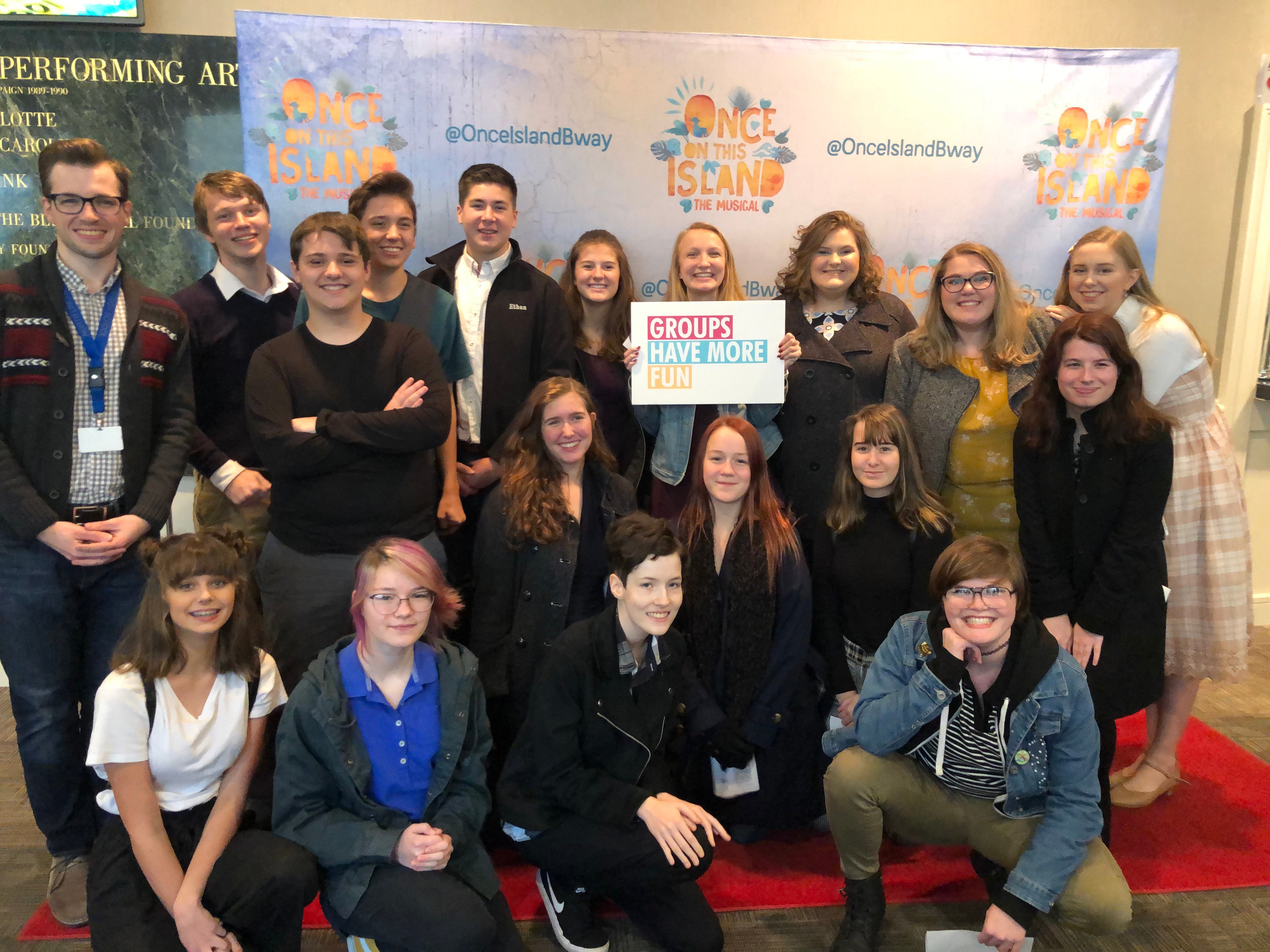 (John David and his students seeing Once On This Island at Belk Theater)
Jeremy's students are currently preparing their spring show, PETER PAN, JR., and looking forward to Junior Theater Celebration Charlotte, a gathering of thousands of local elementary and middle school students, at which they will get to perform a musical number on stage at the Knight Theater, in front of peers and a panel of experts. They will also get to participate in a day full of workshops.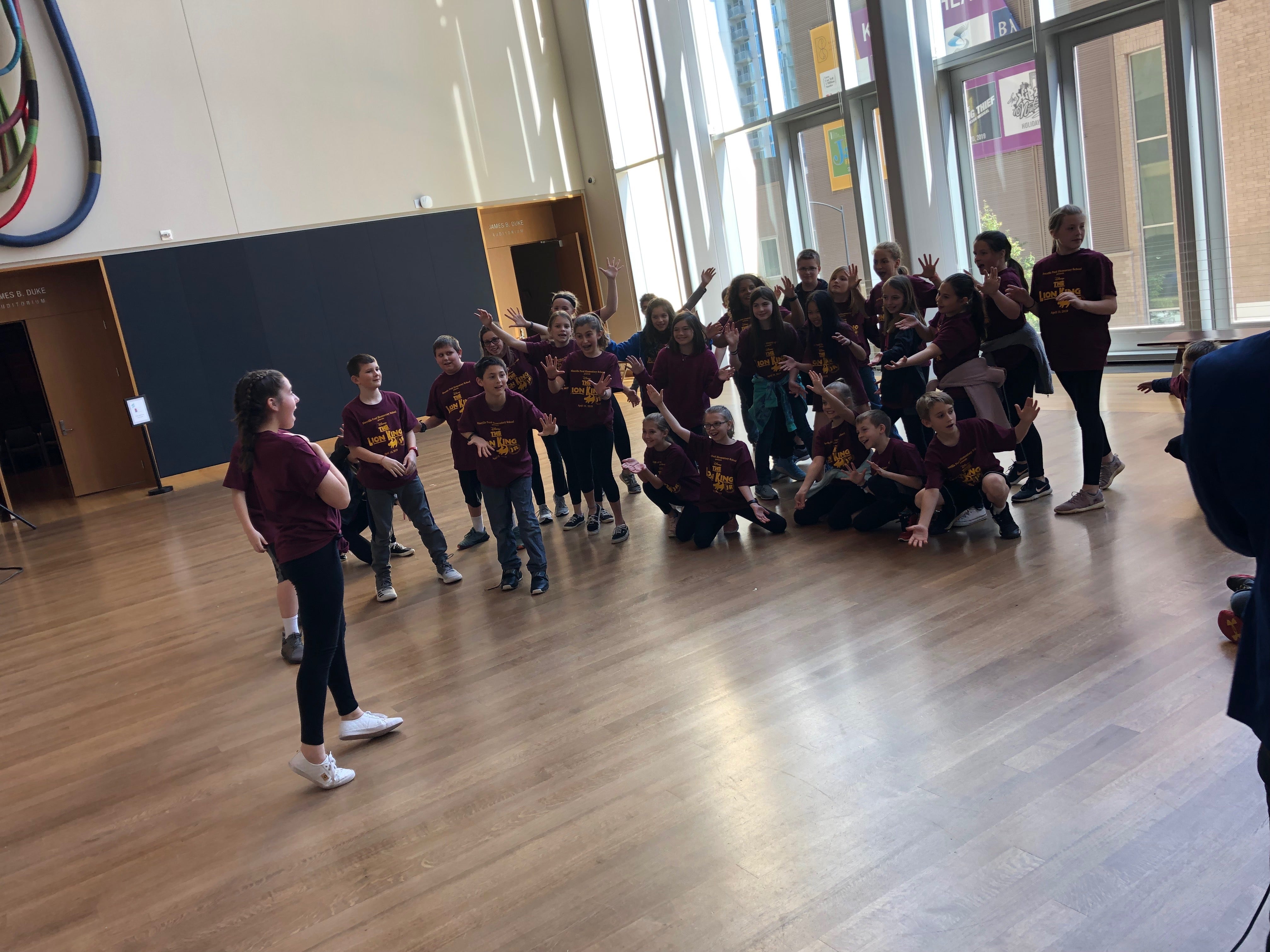 (Jeremy's students rehearsing for Junior Theater Celebration Charlotte, formerly Broadway Junior)
Last year was the first year they participated and Jeremy says it made a big difference for kids to discover that there are many other schools putting on shows in the area. Since then, he has noticed students becoming more engaged in the community and seeking out opportunities to see productions at other schools.
"Their parents have been advocating for the arts as well, which is really exciting," says Jeremy.
Meanwhile, John David's students at North Lincoln High are busy rehearsing 9 TO 5: THE MUSICAL and preparing for the annual Blumey Awards, the local competition that recognizes outstanding achievements in high school musical theater. "I think it's been a big eye opener for them," he says, noting the unique opportunity to see talented students from across the region perform, some of whom have even gone on to Broadway careers. "We limit ourselves by what we think is possible…" he says.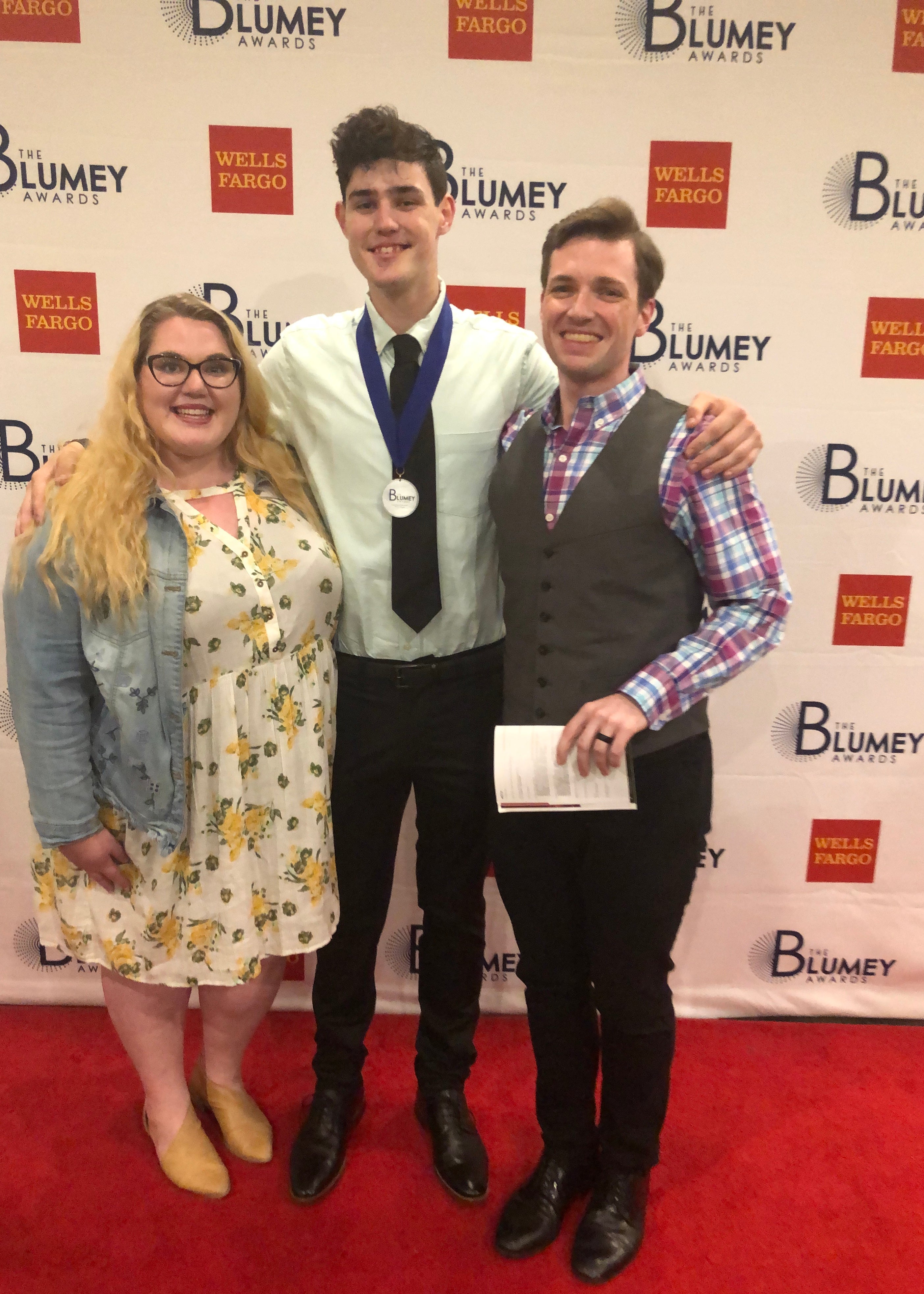 (John David with two of his students after The Blumey Awards)
Both men can often be seen at one another's schools offering support; they also enjoy opportunities when they can work together on outside projects. Right now, in addition to their school shows, they are both helming a production of FROZEN, JR. at The Green Room Community Theatre.
"There is nobody I'd rather have on my production team than him," says John David. "I think that's really special."
FINDING HAPPINESS IN A LIFE THEY ONCE THOUGHT WASN'T POSSIBLE
Their happiness and life together is something they don't take for granted. When HB2 was passed by the North Carolina General Assembly, putting LGBT rights on the national radar, and there seemed to be momentum for banning same sex marriages, Jeremy says he didn't know what his future would hold: "It kind of shut me down." He thought North Carolina might not be the place for him.
Even though there were economic incentives to move, John David, who had gotten used to the level of acceptance for LGBT rights in New York says he also initially worried what might happen moving back to the South.
"I just assumed there would be intolerance issues but since we've lived here, there's not been any problems at all," he says. "My students like Jeremy better than me. They look forward to when he comes to rehearsals. The parents have been super supportive… they're involved in our lives."
"[When] marriage was legalized, it was refreshing that we could publicly and legally bind ourselves together," says Jeremy. "And the fact we could do that in North Carolina was special too because I never thought that would be possible."
Looking back on his own life, John David thinks about how beneficial it would have been for him growing up to see an LGBT couple working in the arts.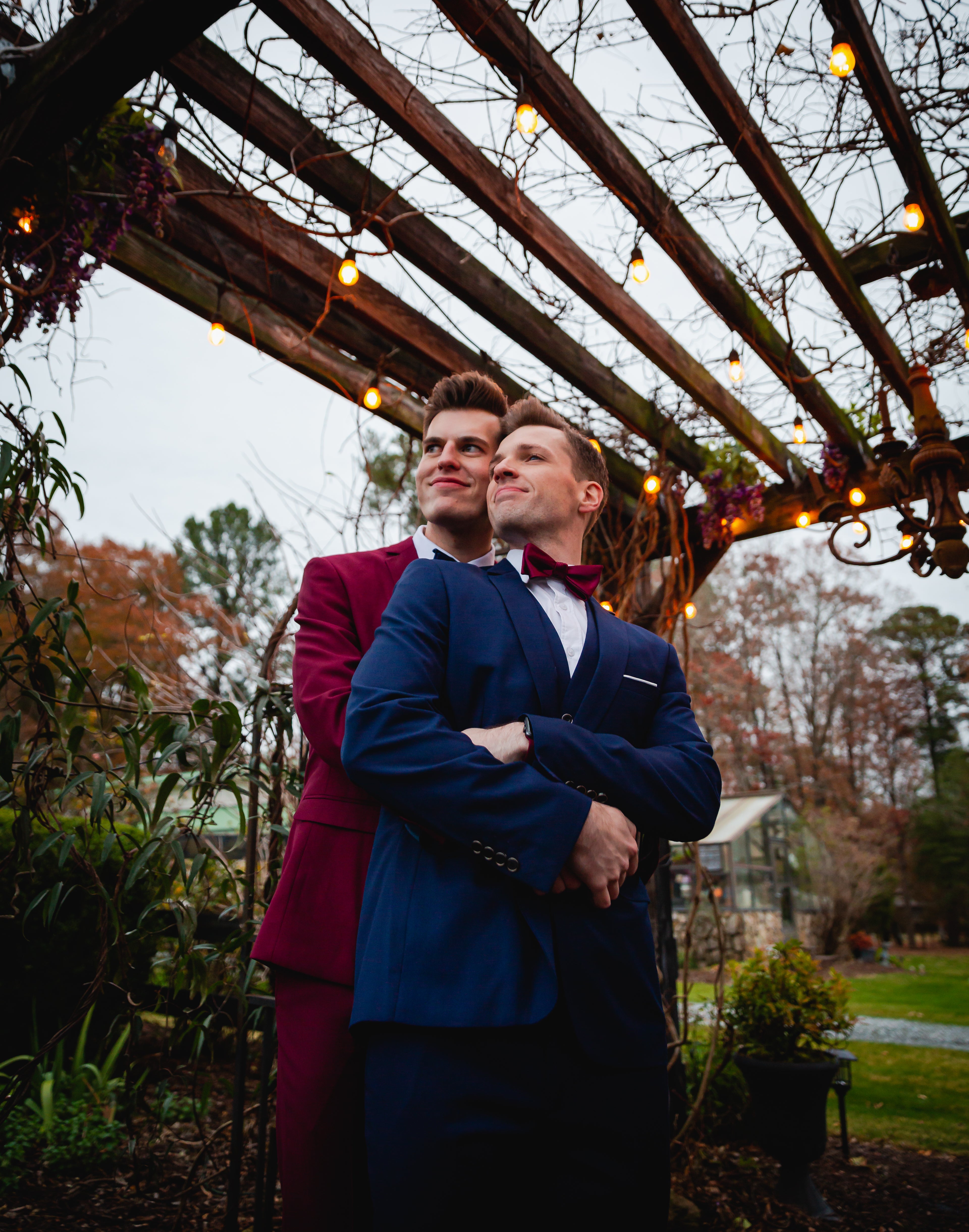 "As a high schooler, I could never have imagined that possibility," he says. "I hope that, by seeing us working together with the person that we love in the discipline that we love, it helps any of our students who are struggling with their identity to feel safe enough to dream of that reality for themselves. Having that example for myself in school would have made coming to terms with who I am much easier. It's hard to dream of a life that you don't believe is possible."