A Sneak Peek at New Artwork from Blumenthal Fellows Class of 2023: Part 2
Get ready for our second installment previewing the amazing creations made by the nine local visual artists selected as Blumenthal Fellows Class of 2023. Their original works will be featured alongside art from around the world at this year's Charlotte International Arts Festival. (Click here to see Part 1.)
Their works are colorful, interactive and wildly inventive.
From joyful contemplation to journeys of hope to nostalgia, here's a look at the inspired creations of artists Mike Wirth, Laurie Smithwick, and Greg Urquhart.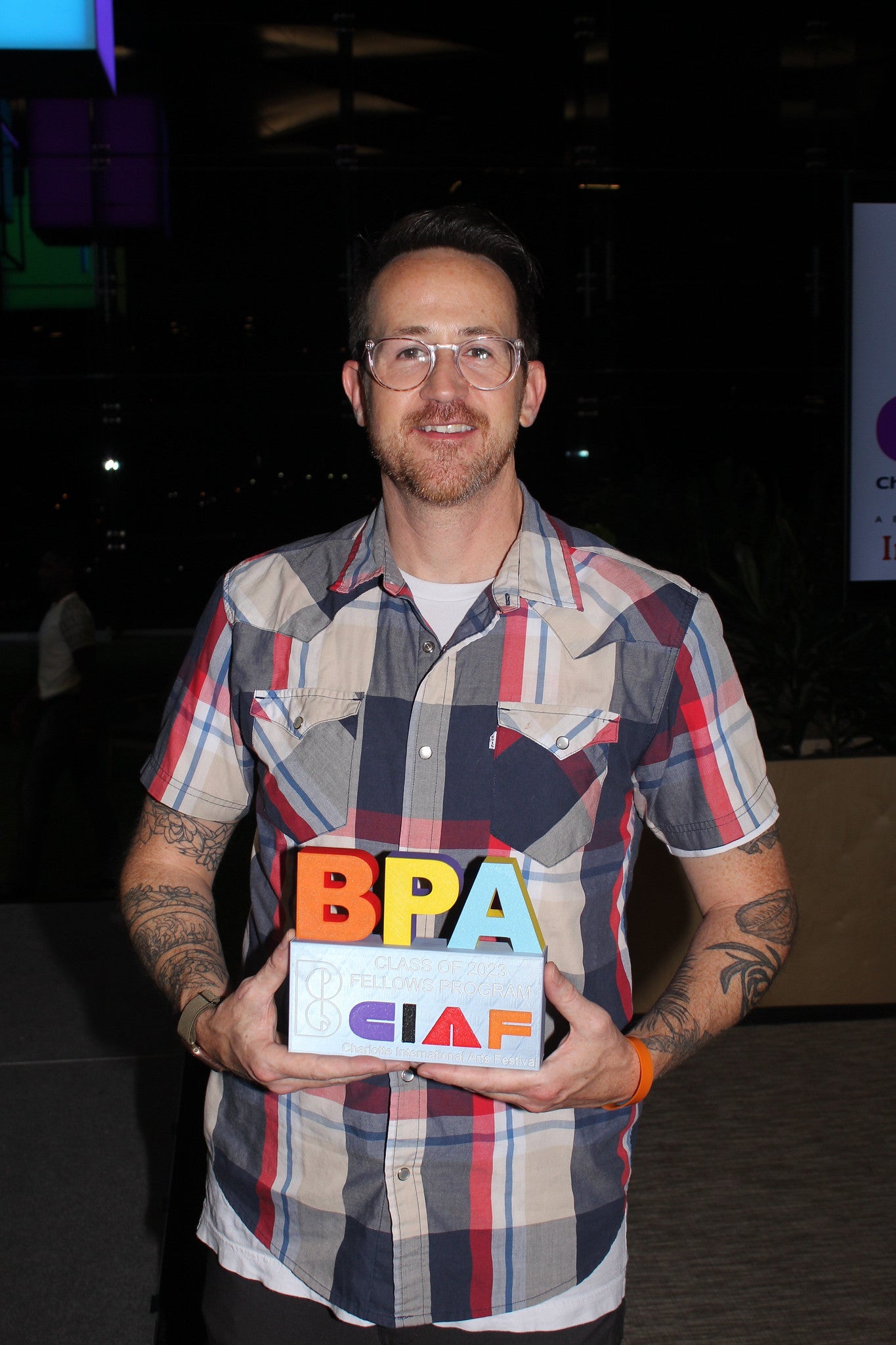 2023 BPA Fellow: Mike Wirth
Project Name: "Rimon: The Cosmogranate"
Where to Find it: Levine Avenue of the Arts
About the Artwork: For artist and educator Mike Wirth, developing his interactive art installation "Rimon" for the Charlotte International Arts Festival has been "a dream come true."
Rimon, which means pomegranate in Hebrew, started as an illustration in his ongoing Jewish Futurism project. In that series of digital images, Wirth—who is Jewish—imagines the adventures of The Wanderer, a futuristic Jewish traveler who explores what it means to be Jewish off the earth and in the cosmos.
In the series, Wirth takes a sacred symbol of Judaism, the pomegranate, and imbues it with special powers. The Wanderer's pomegranate can do anything: it's a spaceship, a computer, a communication device, a translator, and more.
According to Jewish tradition, the pomegranate symbolizes through its plentiful seeds all 613 mitzvot (divine commandments from the Torah). It is also a symbol associated with Rosh Hashanah (the Jewish New Year), and Sukkot (a harvest festival), both of which will take place in the same time frame as the Charlotte International Arts Festival.
"What's interesting from Judaism that's futuristic is reinvention," he says. "… That kind of adaptation of Judaism to its time, its place and, you know, its solar system in the future."
Through his artwork Wirth says he tries to reimagine and reignite a passion for the core values that come from Jewish cultural tradition.
At CIAF, Wirth will take his 2D concept into a 3D realm, by creating an enormous, interactive pomegranate. Glowing with 14,000 LED lights and an original soundscape, as many as 10 people can fit inside the geodesic dome at a time. And thanks to sensors that activate the lights and sounds, as many as12 people, at once, can interact with it from inside and outside the structure.
Wirth says the project is not intended to take people on a spiritual journey but to spark joy in visitors for whatever time they choose to spend with it.
Its Jewish ties are also important to him, however, "because there is so much anti-semitism today," he says. "…That's an unnerving statistic that's on the rise."
"I'm inspired because I'm seeing a lot of other Jewish artists and Jewish creatives and Jewish leaders get out there and say, 'let's make pro-semitic imagery and experiences for the public to have.'"
Several festive events will be hosted at "Rimon" in conjunction with the Jewish High Holidays, in collaboration with Queen University's Hillel chapter and Rabbi Judy Schindler of The Stan Greenspon Holocaust and Social Justice Education Center.
Although there is a large Jewish community in Charlotte, Wirth says he still meets people who tell him they have never met a Jewish person before. He says his CIAF project gives him the opportunity to connect with people in the community and serve as a sort of cultural ambassador.
Wirth's been a professional artist for more than 20 years, but exploring Jewish themes in his artwork is something relatively new. He says he was inspired to make it a part of his practice after seeing how other progressive artists he works alongside in Charlotte step out into the streets with big art projects that are culturally based—to stand up for communities as well as themselves.
"It's not easy to do this," he says. "...But I feel the most comfortable in my skin I've ever been in my life."
About the Artist: Mike Wirth is an artist and associate professor of Graphic Design at Queens University of Charlotte. He also currently serves as artist-in-residence at the university's Stan Greenspon Center for Holocaust and Social Justice Education. As an artist, he is best known as a digital experience designer and muralist. He was selected for an artist residency at Immersive Van Gogh and has participated in Blumenthal's Artists in Theaters program. Beyond Charlotte, his work has been seen in cities spanning New York, Miami, Paris and soon Jerusalem.
Learn more about Mike Wirth and his artwork at mikewirthart.com or on Instagram @mikewirth.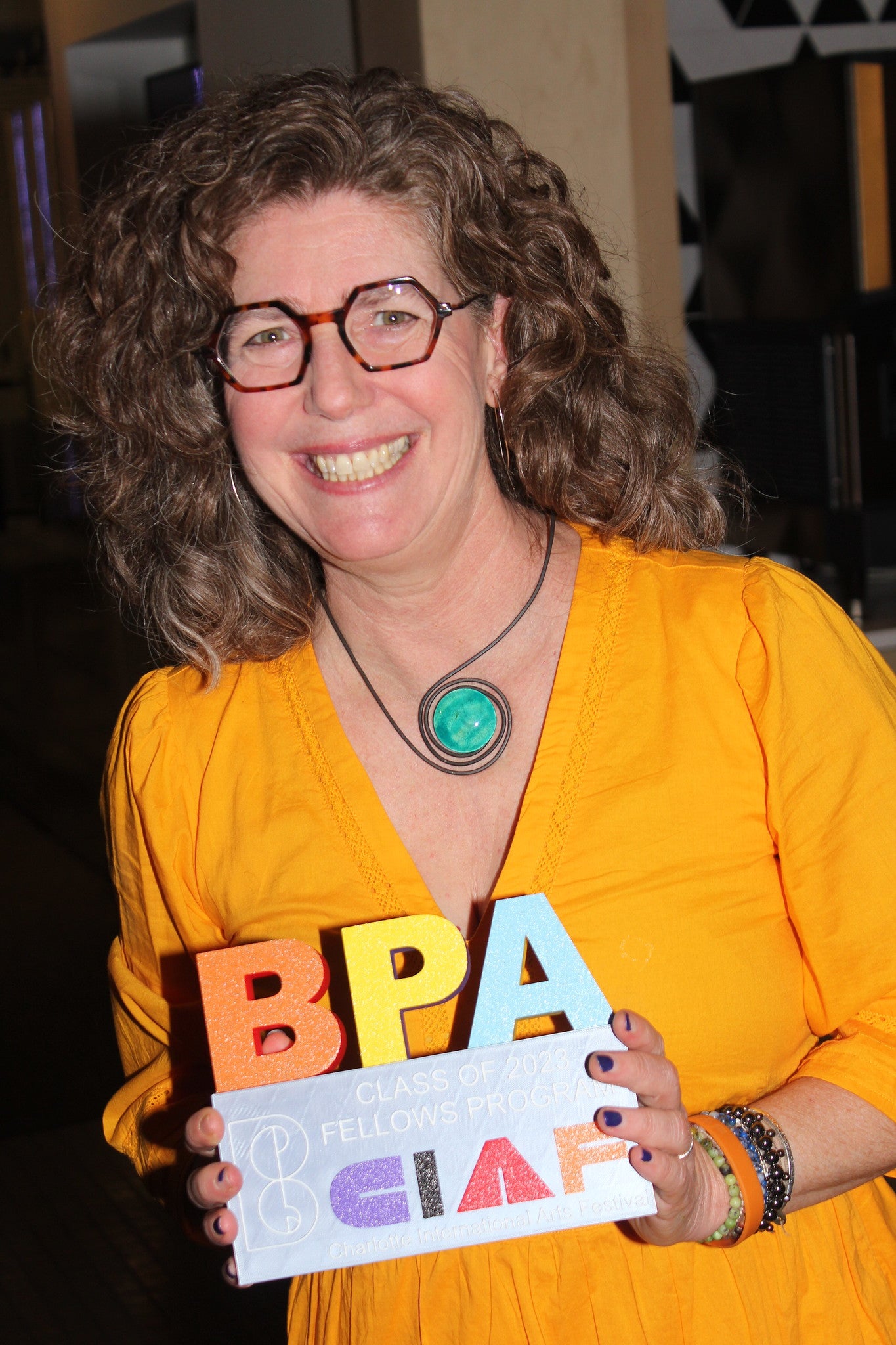 2023 BPA Fellow: Laurie Smithwick
Project Name: "Pilgrimage"
Where to Find it: Ballantyne's Backyard
About the Artwork: For the last few years, Laurie Smithwick has been obsessed with the idea of portals. She thinks about them, she's made art inspired by them (including her work-in-progress "100 Tiny Portals"), and she's reviewed her own life in terms of befores and afters.
For her, portals are a "seductive way" to visualize the magic that we experience throughout our lives in the form of coincidences, chance encounters, new experiences and transitions.
"As kids we're expected to believe in magic but as adults we're really expected to very much not believe in magic, except that magic things continue to happen to us," she says.
What are those magic things?
Everything from a child learning to walk or moving to a new school, to choosing a new life partner or quitting a job and much more. "All of those are major life transformations where the before ceases to exist and the after is forever changed because of the decisions that we've had. And I think if we can begin to view them all as a little bit of magic—that enables us to bring in the necessary ingredient of hope."
At CIAF, Smithwick will take that concept to a grand scale with "Pilgrimage." From far away, the plastic, multi-colored shapes will appear to create a sculpture. But up close, you discover they are separate translucent arches spread out and ranging from 3 feet to 8 feet high—perfect for visitors of all ages to play around, walk or crawl through.
(She worked with Murray Chapple from WhirlyPig Design to engineer and fabricate everything. "I brought him the vision," she says, "he has helped me bring it into the world.")
And as you make your way back and forth across this 40-foot or so pilgrimage, Smithwick hopes you will be conscious of the before and after of your journey.
Visitors' movements will also activate sound. Smithwick worked with local composer and musician Emily Sage Avery to create a five note chord where each of the notes harmonize with one another. As people play under and around the portals, their movements will create new musical combinations.
Smithwick says as CIAF approaches, she is looking forward to seeing what other local artists have come up with, too.
"This fellows program that Bree (Stallings, Blumenthal's director of artistic experiences) put together is its own sort of magic," Smithwick says.
"Because what she's doing is she's saying,'Okay, Charlotte artists, you're as big a deal as Amanda Parer is… your work is just as important as the Birdmen… and she's showing us… not just how to create work on a scale that we've never done it before, but she's saying you need to start seeing yourself through a different lens.
"There's a lot more than that though," she continues. "...The camaraderie that has grown up between us is just invaluable."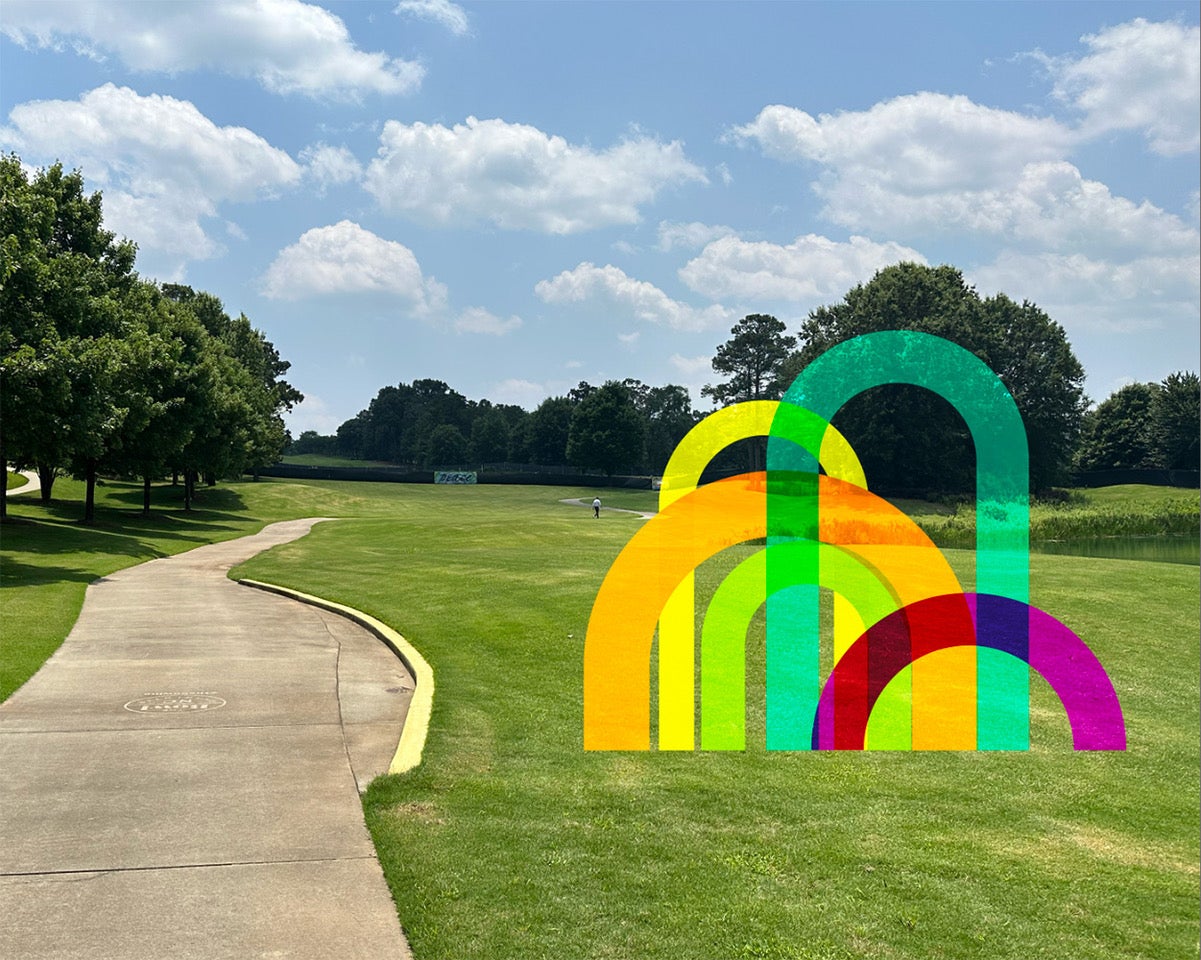 As they learn and work together, each is also transitioning into this new form of artist, she says. "I just can't wait to see what each of these people has produced."
About the artist: Charlotte native Laurie Smithwick is an abstract painter, printmaker and muralist. Her work has been featured in shows and public art installations all around the Queen City, including at the Mint Museum, McColl Center, and at the inaugural CIAF 100 Tiny Things exhibition. Her work also appeared on billboards and digital signs as a member of ArtPop Street Gallery's Class of 2020.
Learn more about Laurie Smithwick and her artwork at lauriesmithwick.com or on Instagram @lauriesmithwick.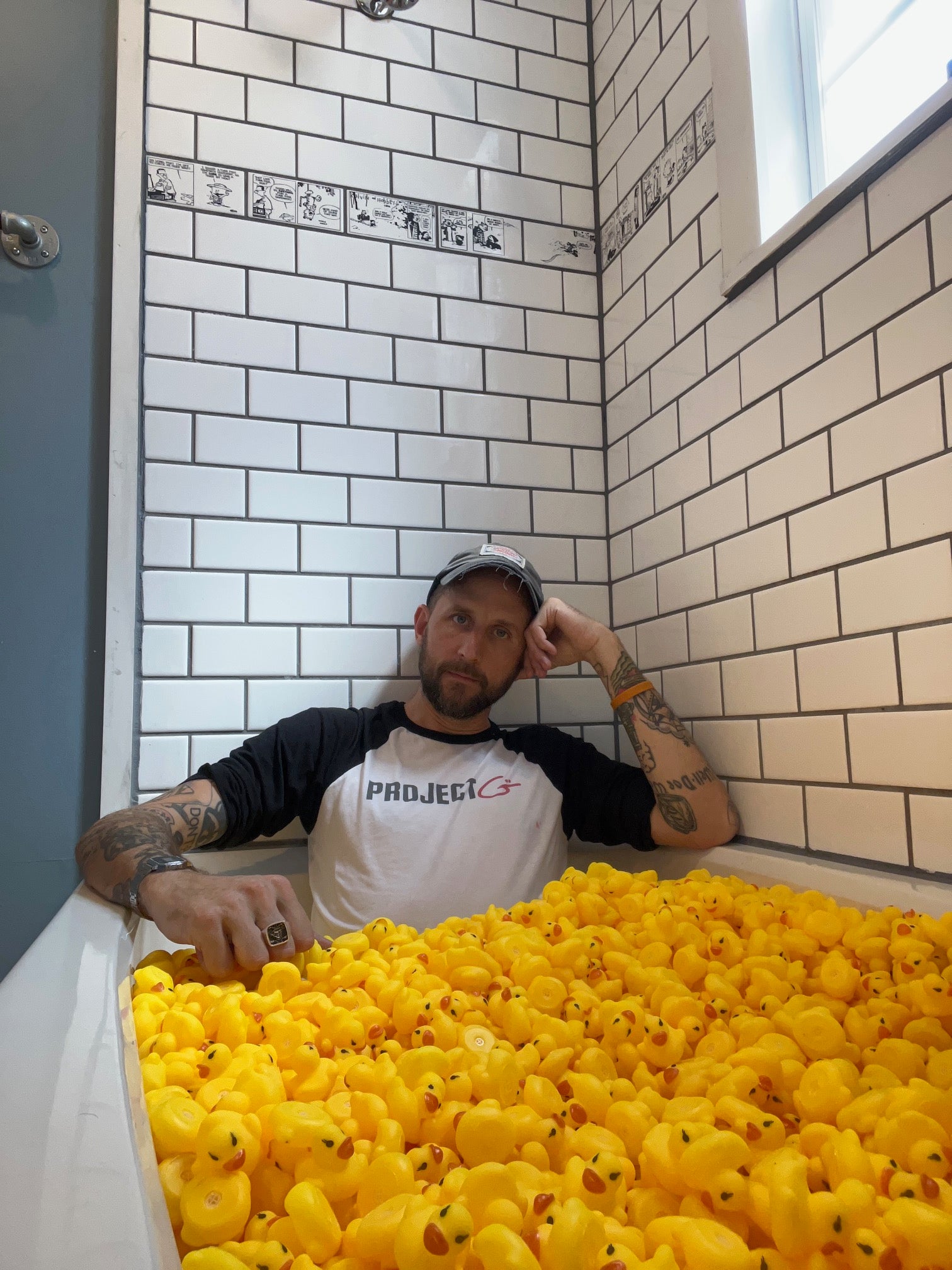 2023 BPA Fellow: Greg Urquhart
Project Name: "What the Duck"
Where to Find it: Levine Avenue of the Arts
Artist Greg Urquhart hopes to bring us back to our childhood days with his installation, "What the Duck." The artwork is a 6-foot tall double-sided giant duck made of thousands of 1.5 inch rubber ducks.
(Just how many, you ask? 3,484 to be exact.)
The sculpture, which will be mounted on a large wooden platform, also incorporates LED lights that give the sculpture a halo effect.
Urquhart has used rubber ducks in other recent artwork too, although never at this scale.
He says he's drawn to the little fellow primarily because of its nostalgia factor and the joyful emotions it stirs in people.
"It's a very simple design, a very simple toy," he says. "I think it just brings a positive feeling to people when they see them or they can relate to it … it's just like a happy memory for people and with the way the world is these days I think you need as much positive stuff to look at" as possible.
During Covid, Urquhart spent a lot of time creating projects with wood slabs and resin— including items like coffee tables and charcuterie boards.
"I got a little bit bored with that," he says. So he tried to figure out what else would be fun to put in resin and could be displayed as an art piece.
"I'm like, 'oh, rubber ducks. Why not— let's try it. And then it worked!"
There have been a couple of drawbacks, however. "A grown man buying Amazon rubber ducks in bulk is always a weird thing," Urquhart says, with a smile.
But one of the biggest challenges creating the piece has been the weather. "Resin's very particular," he says.
That made it challenging to construct the project during the hot summer months, especially since his studio behind his house isn't weather-controlled. That meant much of the work had to take place in his living room. Durability is another factor he had to consider carefully, to ensure the piece can withstand any unexpected weather conditions during the two-week festival, as well as foot traffic from the tens of thousands of visitors who are expected to come through Levine Avenue of the Arts, where it will be on display.
Urquhart, who is also a General Manager at Lenny Boy Brewing Co. says there's a bonus feature he's excited about. The microbrewery has created a special beer, "What the Duck Lager," in tribute to his creation for the festival. It's available at the Levine Avenue Oktoberfest Biergarten. (When you order, be sure to look for the custom duck beer tap handle that Urquhart crafted!)
Urquhart says he's extremely honored to be part of the Blumenthal Fellows program. It's been a great experience, he adds, even though designing work for such a big event can be stressful.
"The other eight fellows are amazing," he says. "We're all leaning on each other and helping each other as best we can, which is awesome.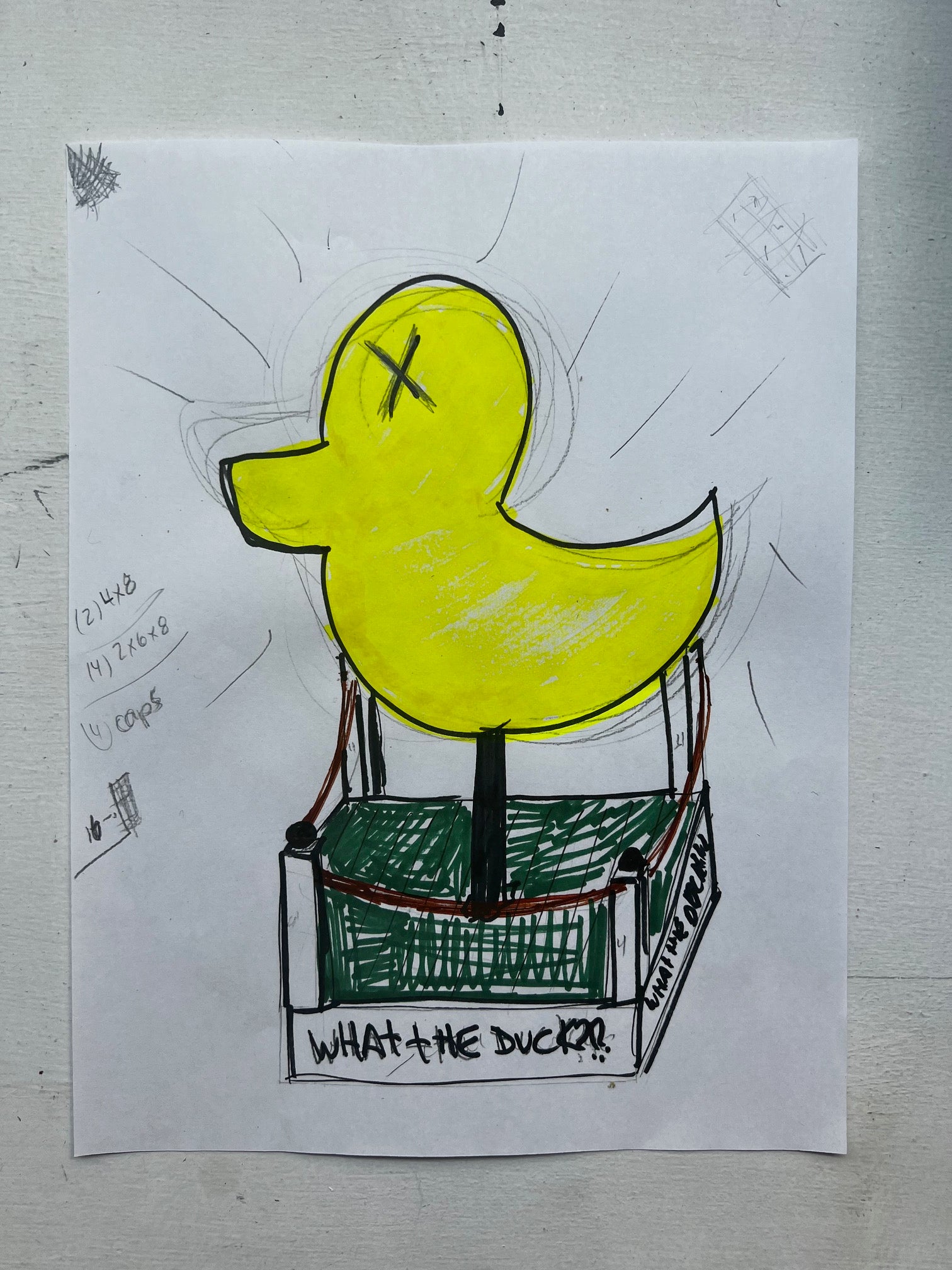 He's got high praise for Blumenthal's Bree Stallings, too. "She's one of the hardest working people I know… I don't know how she does it but she's incredible and this is the second year she's doing this and she's knocking it out of the park so that's great."
He says he can't wait to see his artwork installed and how people react to it. Getting that opportunity, he says, is priceless.
About the artist:
Greg Urquhart works with a variety of mediums, including wood, resin, and acrylics. His work has been shown locally at Summit Coffee House in NODA and recently was featured at H Gallery + Studios in Ventura, California.
Learn more about Greg Urquhart and his artwork on Instagram @projectgworkshop.