Backstage with Cat Carter and the Baby Kittens (can't make this up) She Cares For
When Andrew Lloyd Webber's famed musical CATS returns to Belk Theater this August 13 - 18, the actors may be surprised by whom they run into backstage: real live kittens.
For years, union stagehand Cat Carter has been a foster parent to animals without a permanent home. Her specialty is helping young, motherless kittens—known as "bottle babies"—that need to be fed by bottle round-the-clock.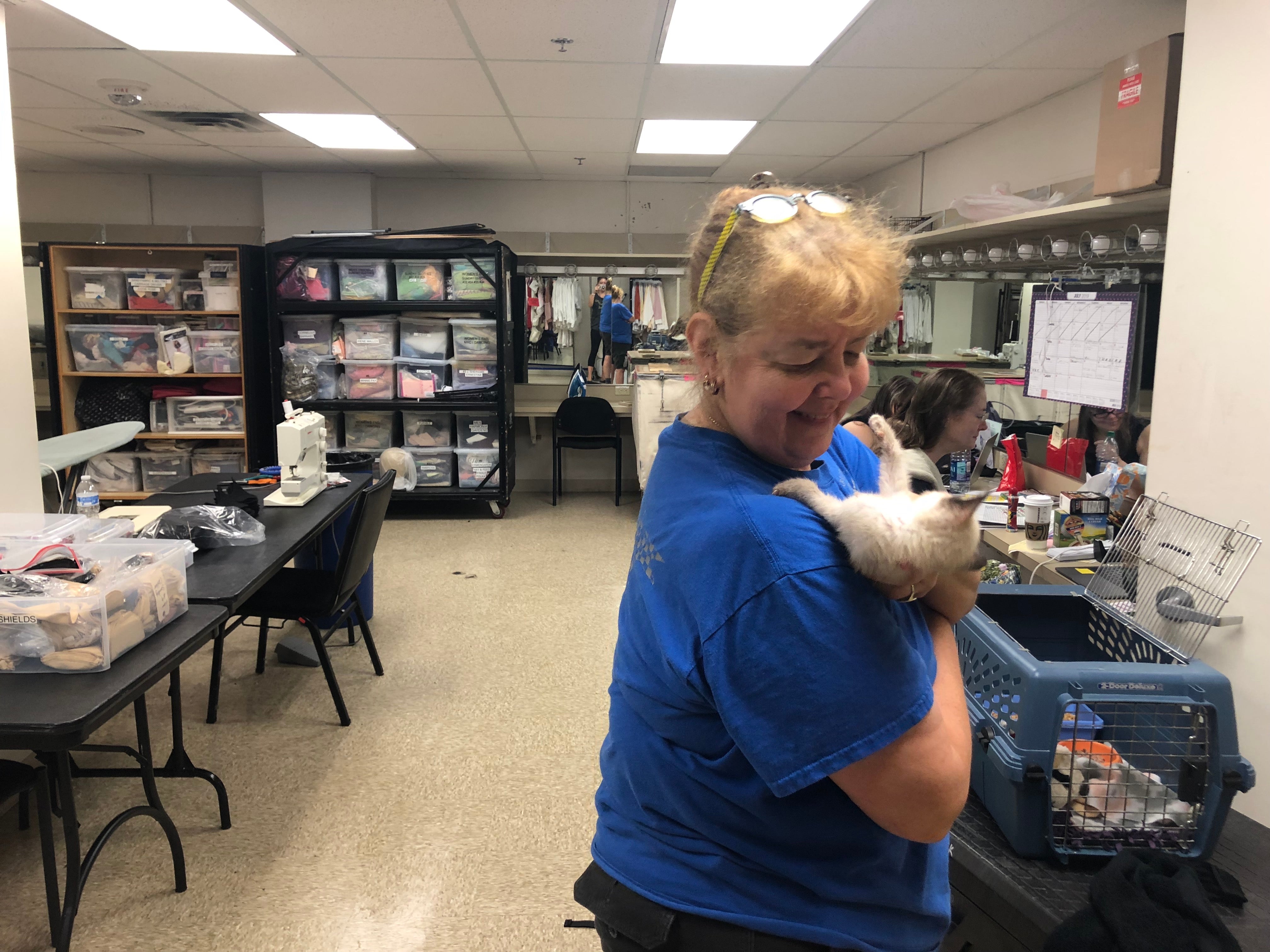 For the first two weeks of their lives, bottle babies need the most care: their feedings happen every two hours. A few weeks in, they can go stretches of three to four hours at a time. Carter's unique schedule enables her to take on this challenging volunteer work. "You've got to be committed," says Carter. "It's a crazy schedule. A lot of people can't do that… normally people with a 9 - 5 job can't take a box of kittens [to work] with them."
WORKING AS A STAGEHAND
Carter got her start in show business at age 15, running lights and sound at The Little Theatre in Winston-Salem, her hometown. Her first paid job was making costumes in Old Salem. Now 50, she's picked up many different skills throughout her career. Depending on the production, Carter's role varies greatly: from running lights or sound and doing carpentry to assisting with props, or serving on the wardrobe crew. For Broadway shows, she really likes to do wardrobe—often handling tasks like laundering the costumes or as an assigned dresser, helping specific cast members with rapid costume changes.
"Every day is different," says Carter, who also serves as Treasurer of the Local 322 branch of the International Alliance of Theatrical Stage Employees (IATSE). "I'm not sitting behind a desk doing the same thing, getting carpal tunnel… I work with a lot of talented people and I get to work with so many people from all of the country and all over the world really.
"It's not real structured… It gives me a lot of time to do other things that I like, like spending time with the Humane Society of Charlotte. I'm pretty passionate about the work I do there."
VOLUNTEERING TO CARE FOR THE MOST NEEDY ANIMALS
She has been a regular volunteer with the Humane Society since the mid-1990s and estimates she has helped foster 400 - 500 kittens so far. "A lot of people think they're hard to give up," says Carter. "I have three cats and a dog of my own—I don't find it hard to give them up. Other people need them more than I do."
Over the years, she's become especially committed to helping the most needy animals. "I got more comfortable with uncomfortable things," she says. "My heart grew. If an injured animal came into the shelter, I just had to help it… healthy animals everyone wants but my heart goes out to the ones that aren't quite as whole. There's a leg amputation or a tail amputation or their head's just not right. That's what I tend to want to help more."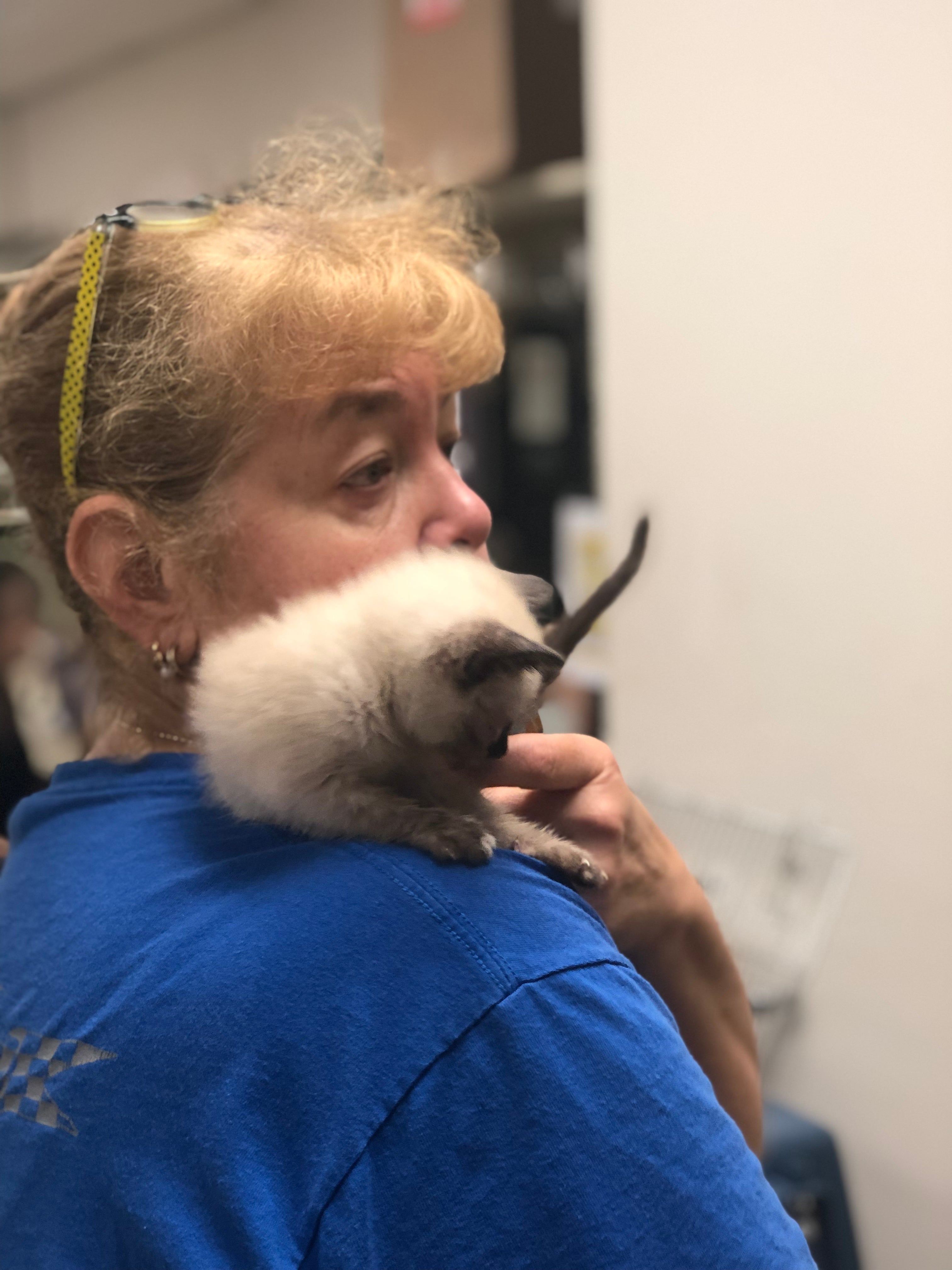 Always passionate about animals, Carter was not allowed to have any dogs or cats as a child but had her own parakeet. As soon as she had her own apartment, she got a cat. It was feral and wouldn't allow her to come near it for about six months. Before long, one cat turned into three. Then it was six cats and a dog.
"I had to put the kibosh on that," says Carter. "I can't take them all but I can do the best I can."
At another point in her life, she admits she took things too far. Following her mom's advice to "stay busy" right after separating from her husband, she took in 36 kittens. "It was crazy," says Carter. These days, she usually fosters two or three kittens at a time.
BACKSTAGE WITH FURRY FRIENDS
During her work breaks, Carter can be found feeding and caring for the kittens. She says cast and crew members usually respond well to having them around but she tries to be sensitive to those who don't like them. Often, company members have to spend long stretches on the road without their own animals. "They appreciate having a little cuddle time with kittens," says Carter.
Some performers and crew members have even taken it a step further, deciding to adopt an animal that they meet backstage in Charlotte. The most recent instance of that happening was just last month during HELLO, DOLLY's run at Belk Theater.
Cat was nursing a young kitten who was fighting a respiratory infection (she made a full recovery!) and named it after one of the characters in the show, "Ermengarde." When Morgan Kirner, the actress who plays that character got word of the special visitor backstage, she instantly fell in love and hopes to return to Charlotte once she finishes the tour, to adopt "Ermewgarde Vanderkitten."
Here's a cute video she shared in her Instagram Stories!
Backstage With Cat Carter from Blumenthal Performing Arts on Vimeo.
Carter recalls driving the first bottle baby she ever cared for up to Washington, D.C. after it was weaned and had all of its shots. She hand-delivered the kitten to a cast member from a touring production of HAIRSPRAY, who had fallen hard for it. Another time, a Production Manager fell in love with a puppy she was fostering. He ended up buying an SUV so he could accommodate his new pet, opting to drive rather than fly from one tour destination to another.
All the time she spends around animals gives Carter a special appreciation for the Tony Award-winning show CATS. She has worked behind-the-scenes on many different productions. Last time it came through Charlotte, she served as a dresser for the actor portraying Rum Tum Tugger and expects she'll work as a dresser this time too.
"I find the make-up fascinating and the physicality is wonderful," says Carter. "I like the music."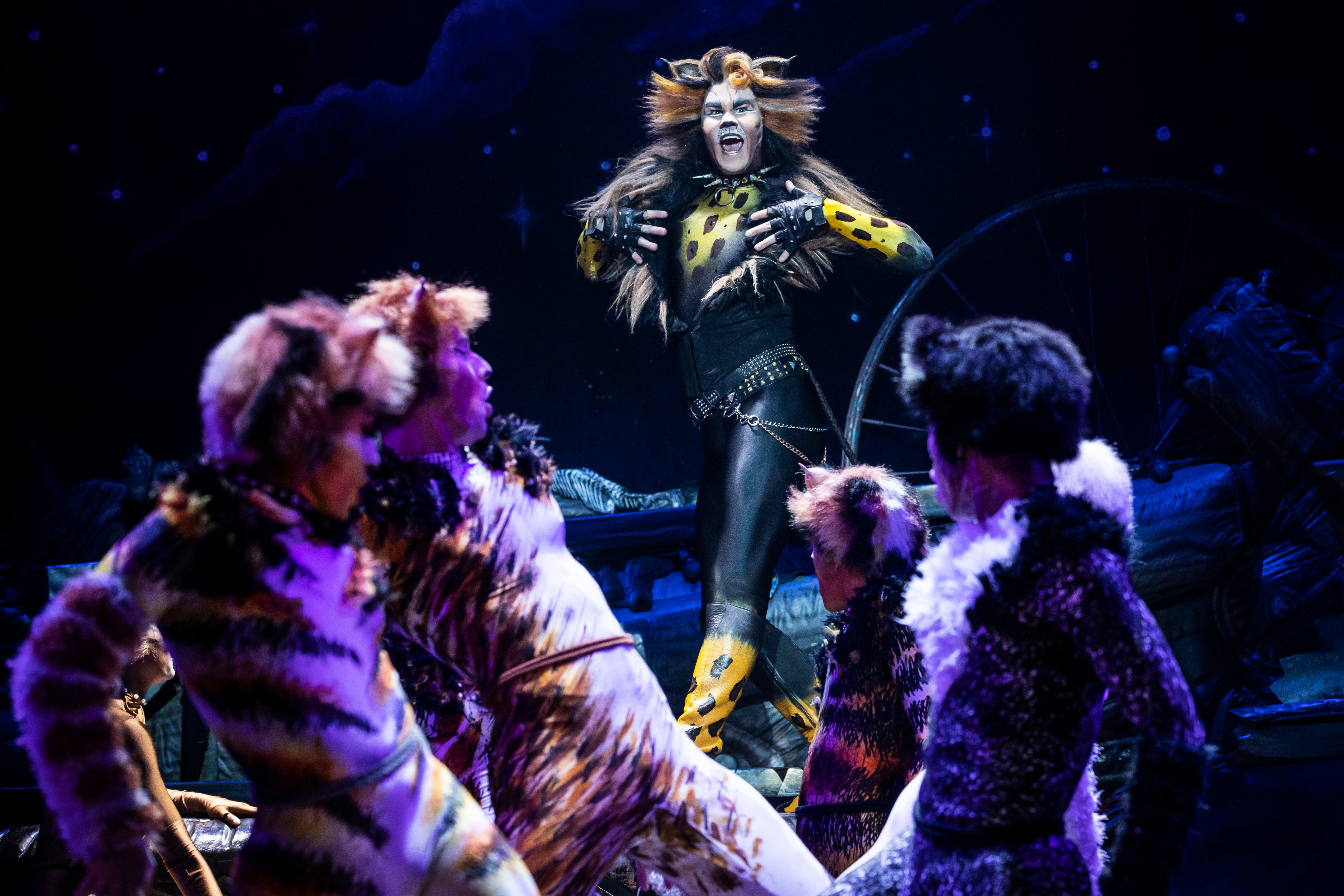 (McGee Maddox as 'Rum Tug Tugger' and the North American Tour Company of CATS.)
It's the purr-fect show for us to take a moment to tip our hats to this animal lover who has done so much to help those in need. And with a name like Cat, what else would you expect?
"It was meant to be," says Carter. "It really was."