Blumenthal L.E.A.P. Sparks Creativity and Helps Elementary School Kids Become Better Writers
On a recent Thursday morning, fifth grade students at Thomasboro Academy, a public school in west Charlotte were up on their feet. Theater Teaching Artist Jenna Cartee was leading them through a series of physical and vocal warm ups.
Students stretched and shook out their limbs like ragdolls. They giggled, trying to repeat tongue twisters, like "You need not need unique New York!"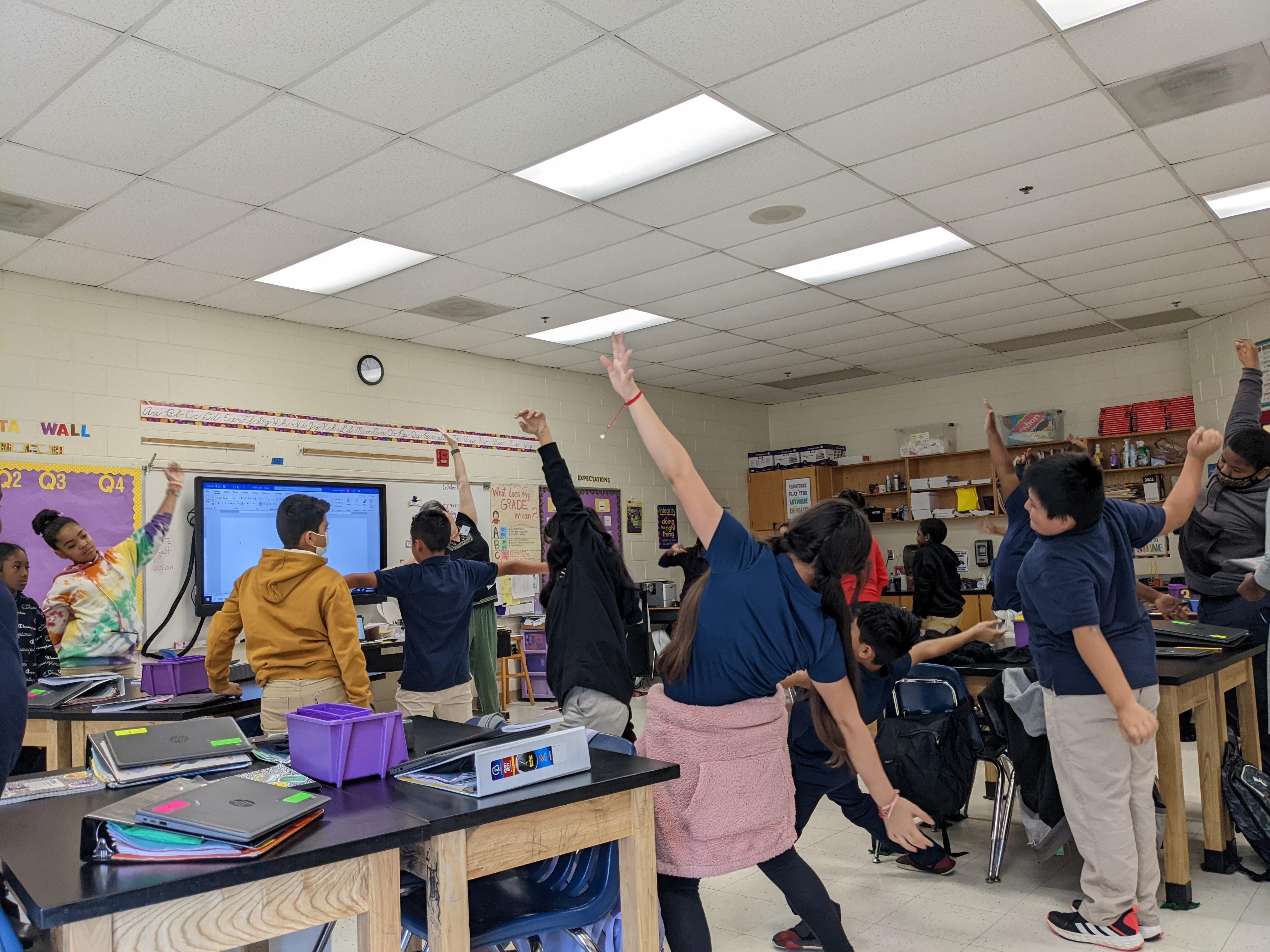 Alert and engaged, students jumped into that day's lesson on storytelling.
Literally jumped—as Cartee introduced the word "pantomime," and they gave it a try. It was one of several theater terms she peppered the lesson with that day.
This was the second week that Cartee, program coordinator for Blumenthal L.E.A.P., visited English Language Arts' (ELA) teacher Bridget Turman's classroom. A welcoming space, it is filled with Turman's colorful posters on writing tips and reminders about what components make a strong story.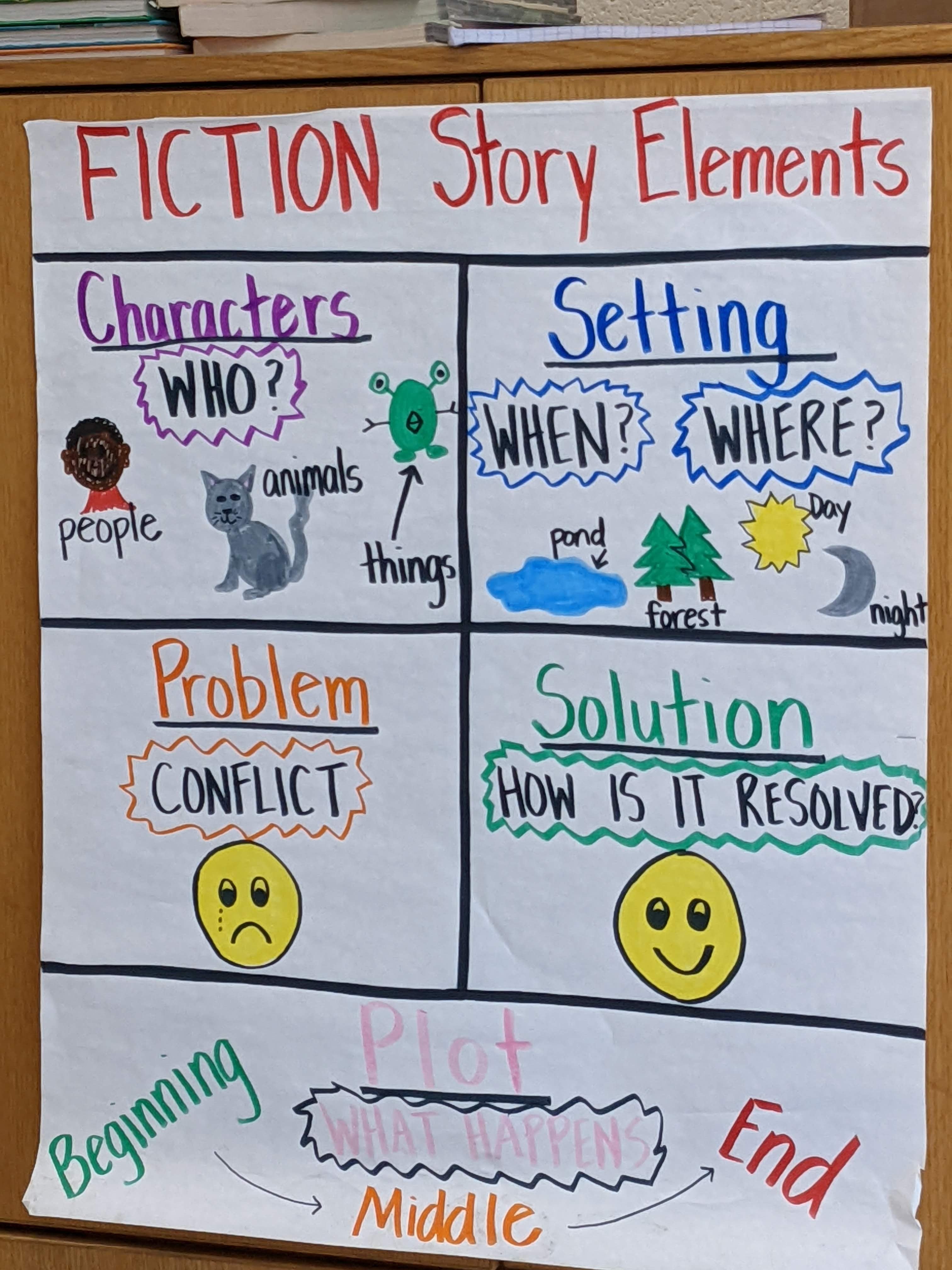 WHAT IS L.E.A.P?
Blumenthal L.E.A.P. is a new initiative from Blumenthal Performing Arts that helps local elementary school students improve their writing skills, find joy in creative expression and build self-confidence.
L.E.A.P. stands for Literacy Engagement Through Arts Program. Now in its second full year of implementation, the program uses storytelling and acting as tools to engage and inspire students. Throughout the school year, participating classrooms welcome Cartee every week for lessons that support and complement the standard district and state-mandated ELA curriculum.
L.E.A.P. is one of the many ways Blumenthal's Education department works to fulfill a key aspect of the nonprofit's mission: "[to] share and employ the arts as a major catalyst to strengthen education, build community cohesiveness and advance economic growth."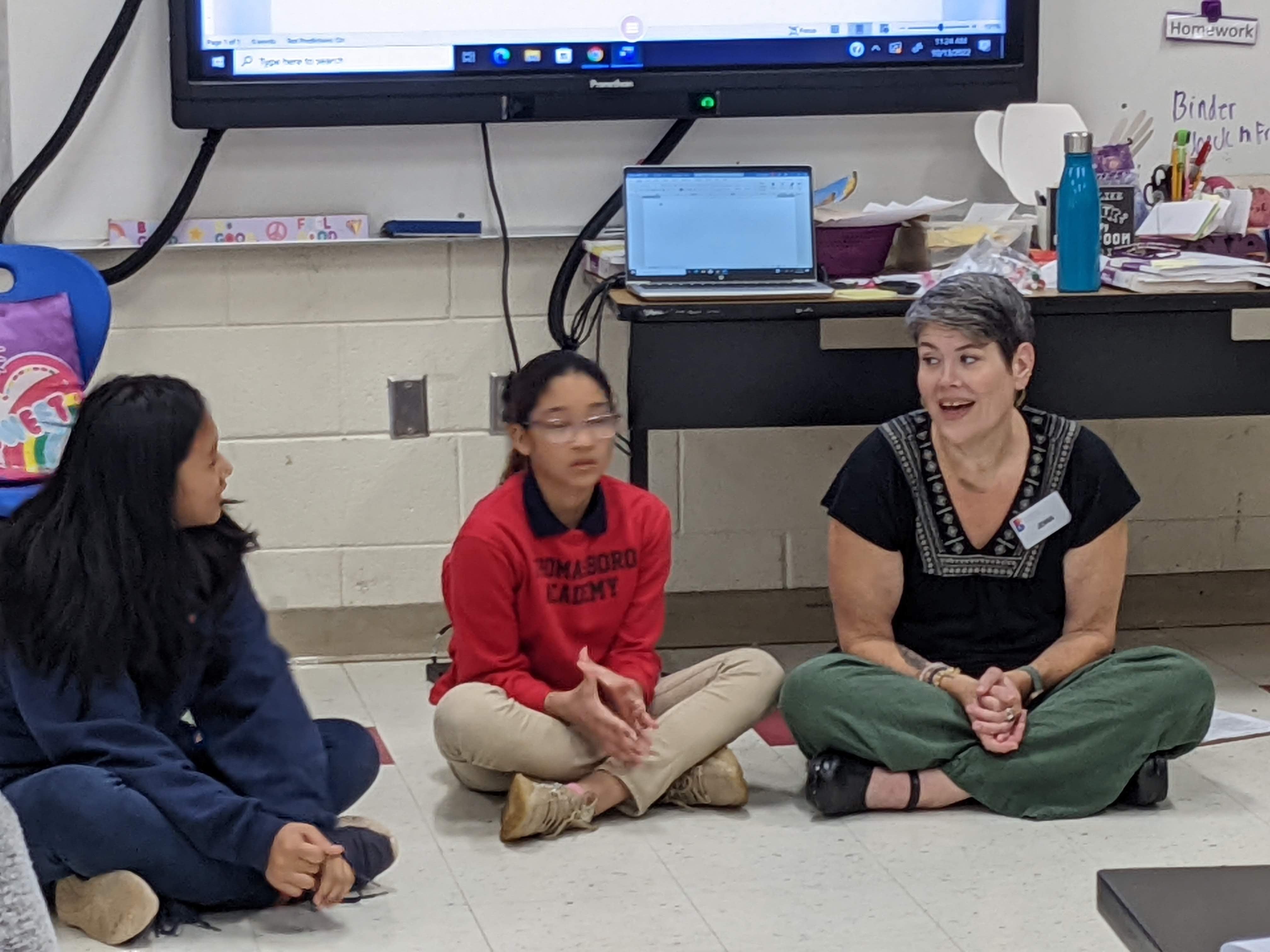 Research has shown that literacy is closely connected to upward mobility. Elementary school, especially third grade, is known as an important milestone for students in their academic journey. Many programs target helping younger kids to meet reading and writing objectives. But L.E.A.P. aims to fill another gap, focusing on reengaging older elementary school students with literacy and bolstering their skills as they prepare for middle school.
"Reading and writing skills plummeted across all grade levels these past few years due to the pandemic," says Blumenthal's Education Initiatives Manager, Micah Hein, "so L.E.A.P. was created to help students get excited about literacy again and work towards narrowing that achievement gap."
This year, L.E.A.P. is working with about 130 fifth grade students from Bruns Avenue Elementary and Thomasboro Academy. Both are Title I schools, where a large percentage of students come from low income households.
HOW IT WORKS
Cartee says a major focus of the program is showing kids that writing can be a fun opportunity for creative expression and it's not as hard as they may fear.
"So many students view their school time as a drag," Cartee says. But a program like this, carefully coordinated with each ELA teacher's goals and curriculum, helps to change that misperception.
Students come in with varying skill levels. At the beginning, some students can be overwhelmed just thinking about writing one sentence, Cartee says. But week by week, they make progress.
The first half of the program emphasizes story idea generation. Cartee guides students as they improvise story ideas together aloud to illustrate that story creation can be a fun, low stakes process they can do right off the top of their heads. Along the way, they use well-known folk tales to explore different aspects of storytelling, like exciting beginnings, adding relevant details, building action, and developing the climax of a story.
They practice these models, then try using what they learn to create new stories.
On this particular day, for example, students examined why some stories have morals and what we can learn from them. First Cartee led them through a vibrant retelling of "The Three Little Pigs," followed by a class discussion on the lessons the author was trying to convey. Then she had students brainstorm lessons they would want to impart if they were writing their own story. Students suggested various possibilities and Cartee chose one of them, "Be a Hero," as the moral of a new story they created together.
And like that, Cash the Air Jordan-wearing pit bull—who stands up to class bullies—was born.
For exercises like this, Cartee says, she tries to model good story structure and guide students while continuously asking the class for input on where the story should go next. Her goal is to take the pressure off as they create. Revision and editing can always happen later, she tells them, if the story doesn't go the way they want.
During the second half of the program, students write and polish one of their own original stories. They get extra support from additional Blumenthal staff who come into the classroom to assist. All of the stories, along with students' illustrations, are compiled and printed as a commemorative book that students take home at the end of the year.
Students also work with Cartee throughout the year on acting. "The acting piece really informs the writing," Cartee says. "...that's the energizing part. It's so fun to get up there and act. And then to be able to take what we do there and bring it back to the writing."
When kids take turns acting out scenes, it gives them a chance to work on observation skills and think about what goes into a good, vivid description.
What makes something funny or compelling, for example? Is it a squeaky voice? Did someone give side-eye when delivering their line? Students learn to express these details in their writing.
Students also grow in poise and self-esteem when they act in front of their peers, Cartee adds.
"They say the #1 fear of adults in the U.S. is public speaking, right? It's not death! It's standing up in front of people and talking. We don't force that on anyone but all of the students grow in that and it's really exciting to watch."
The program culminates in a special celebration in March, dubbed LEAP Day, where all of the participants come together at Blumenthal's Knight Theater. Each class performs one of the stories they worked on throughout the year. They participate in theater games, have a pizza party, and proudly wear their matching t-shirts. All of this is possible, thanks to the support of generous sponsors.
"Stepping onto the stage is a magical moment,'' says Blumenthal's Vice President of Education Andie Maloney. "[It] empowers youth to share their stories through performance and demystifies the theater, giving ownership of the space to the students and generating a welcome invitation for belonging in the space that hopefully transcends beyond the program."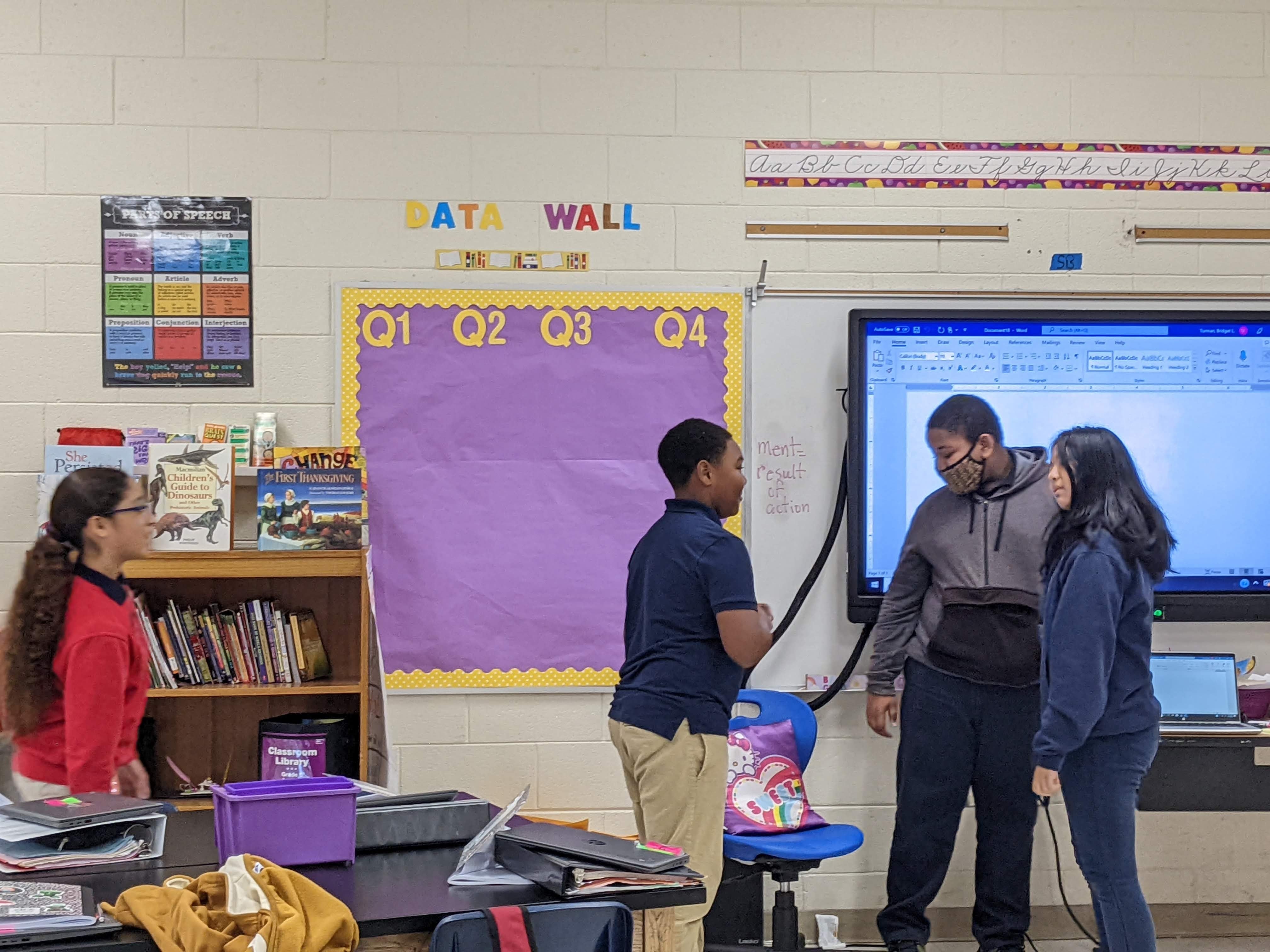 DOES IT WORK?
"What I love… is that we absolutely see growth with the students as a result of the program," says Cartee, who designed the curriculum based on a nationally recognized model originally created by Children's Theatre Company in Minneapolis, Minnesota. "We see it without a doubt that the students grow and that they have a wonderful time doing it. And even if it's just for an hour and twenty minutes once a week, there's this spark that happens in their learning environment where they're excited for what comes next."
Turman says she's already seeing a difference with students, as they apply some of the lessons they have learned with Cartee during their regular ELA schoolwork. "I think this program is going to make it easier for them to write," she says.
And she's thrilled to see many students can't wait for Thursdays to roll around.
"Honest to God, I love this program," Turman says. "I think this should be in every school…"