Blumenthal Performing Arts Announces 2022-2023 Broadway Season
(March 20, 2022) Charlotte, NC – Blumenthal Performing Arts announced an exciting collection of Broadway hits taking center stage for the 2022–2023 season, including 2020 Tony Award® nominees for Best Musical, JAGGED LITTLE PILL and TINA—THE TINA TURNER MUSICAL; Broadway's newest smash, SIX; 2020 Tony Award® winner for Best Revival of a Play, A SOLDIER'S PLAY, starring Tony® nominee Norm Lewis; MJ, direct from Broadway; and a host of returning musical theater classics and beloved new favorites, including the winner of nine Tony Awards®, THE BOOK OF MORMON.
"Charlotte audiences welcomed Broadway back this past season with open arms. Next season, we're going all out and bringing even more shows for our audiences to enjoy," said Blumenthal President and CEO Tom Gabbard. "The lineup coming to Charlotte next season offers something for everyone, but what all of these shows have in common is the transcendent entertainment of theater. We are so excited for our audiences to experience the best and brightest of Broadway with these spectacular productions."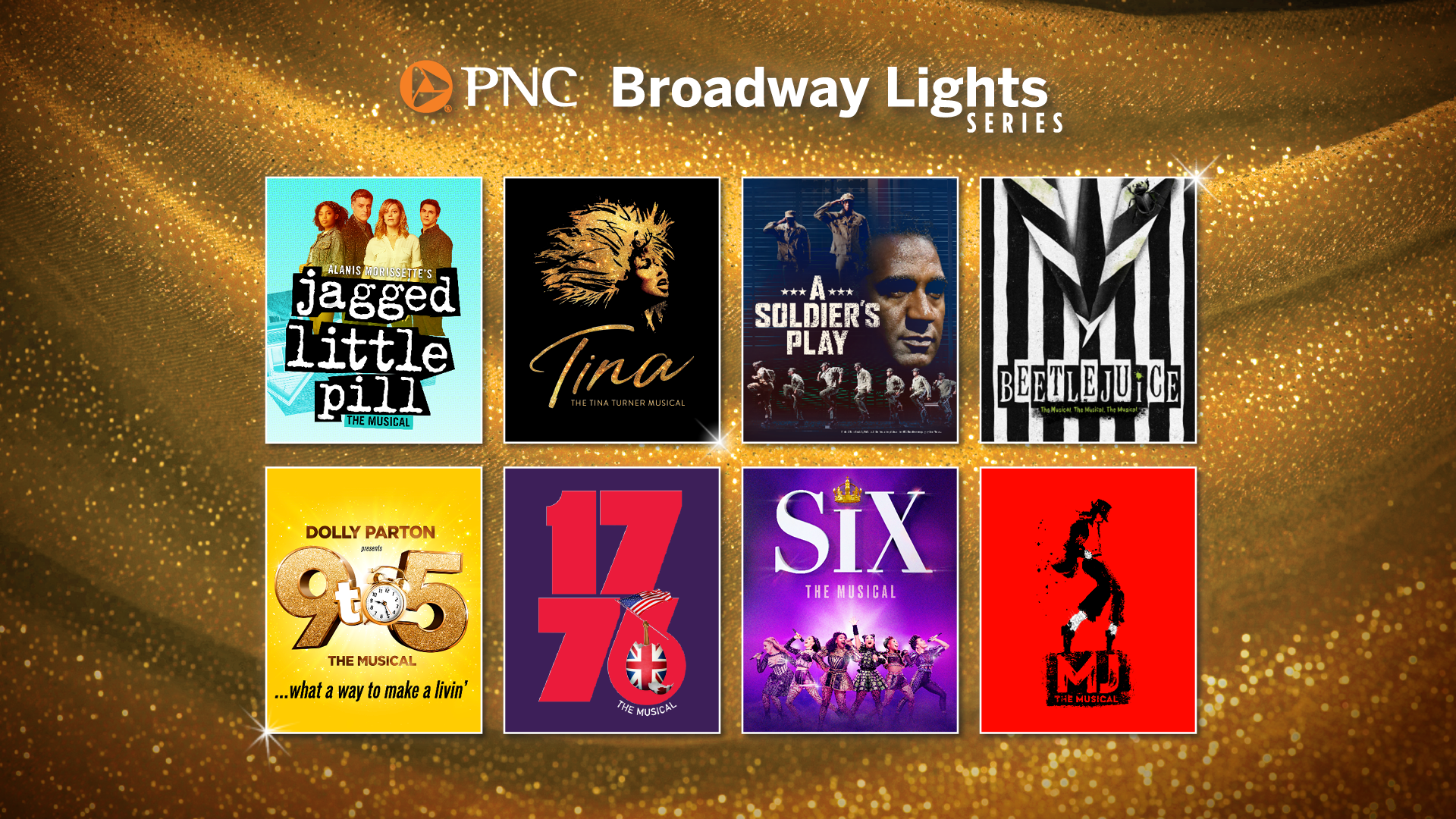 The PNC Broadway Lights Series, Blumenthal's premier Season Ticket, will feature an eight-show package, including:
Jagged Little Pill, November 29–December 4, 2022
TINA—The Tina Turner Musical, December 27, 2022–January 1, 2023
A Soldier's Play, January 10–22, 2023
Beetlejuice, March 28–April 2, 2023
9 to 5, April 18–23, 2023
1776, June 6–11, 2023
SIX, July 4–16, 2023
MJ, September 27–October 8, 2023
PNC Broadway Lights Series tickets range from $300–$984.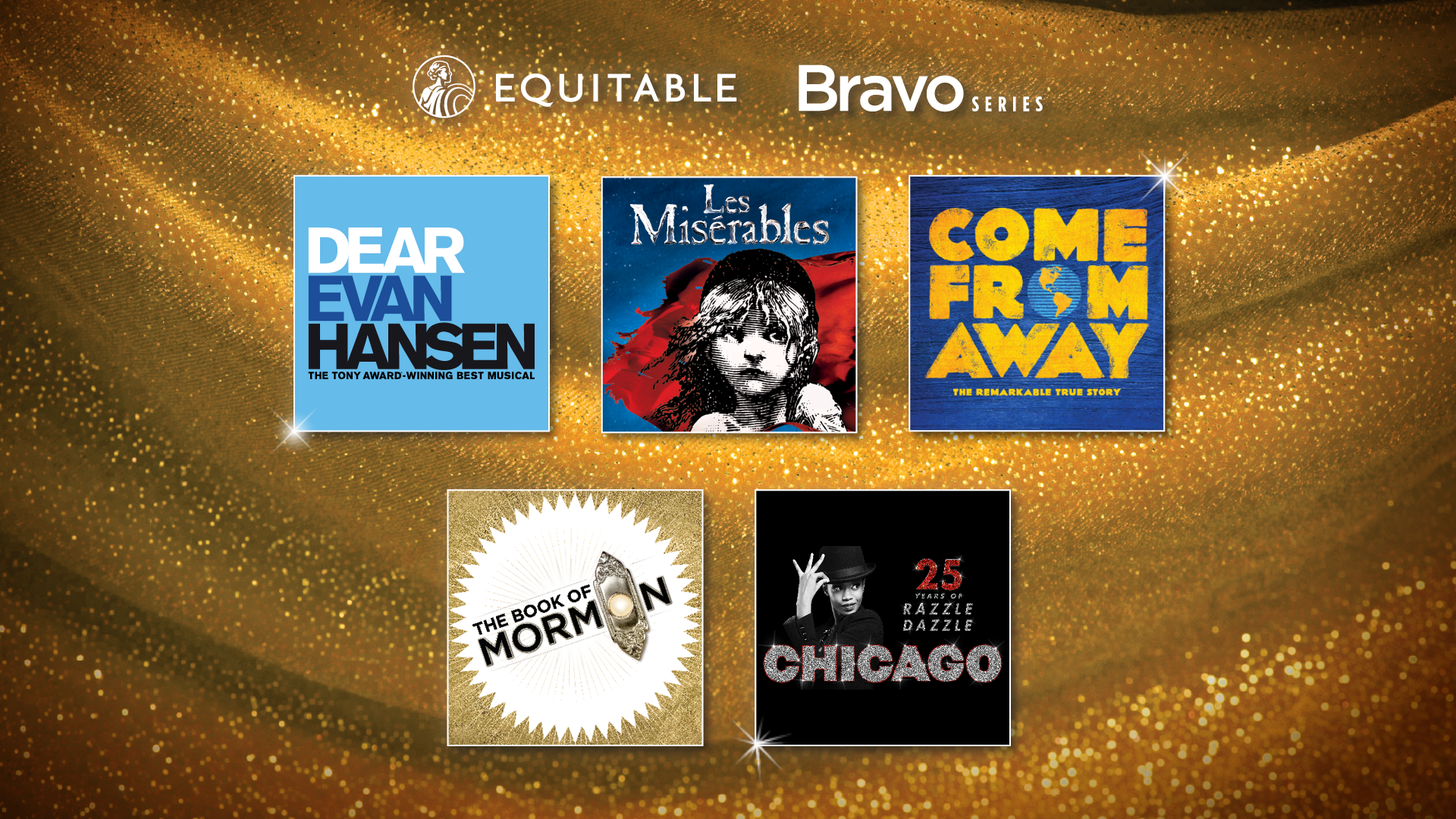 The Equitable Bravo Series offers a package of five shows:
Dear Evan Hansen, October 25–30, 2022
Les Misérables, January 31–February 5, 2023
Come From Away, March 7–12, 2023
The Book of Mormon, August 8–13, 2023
Chicago, September 12–17, 2023
Equitable Bravo Series tickets range from $192–$648.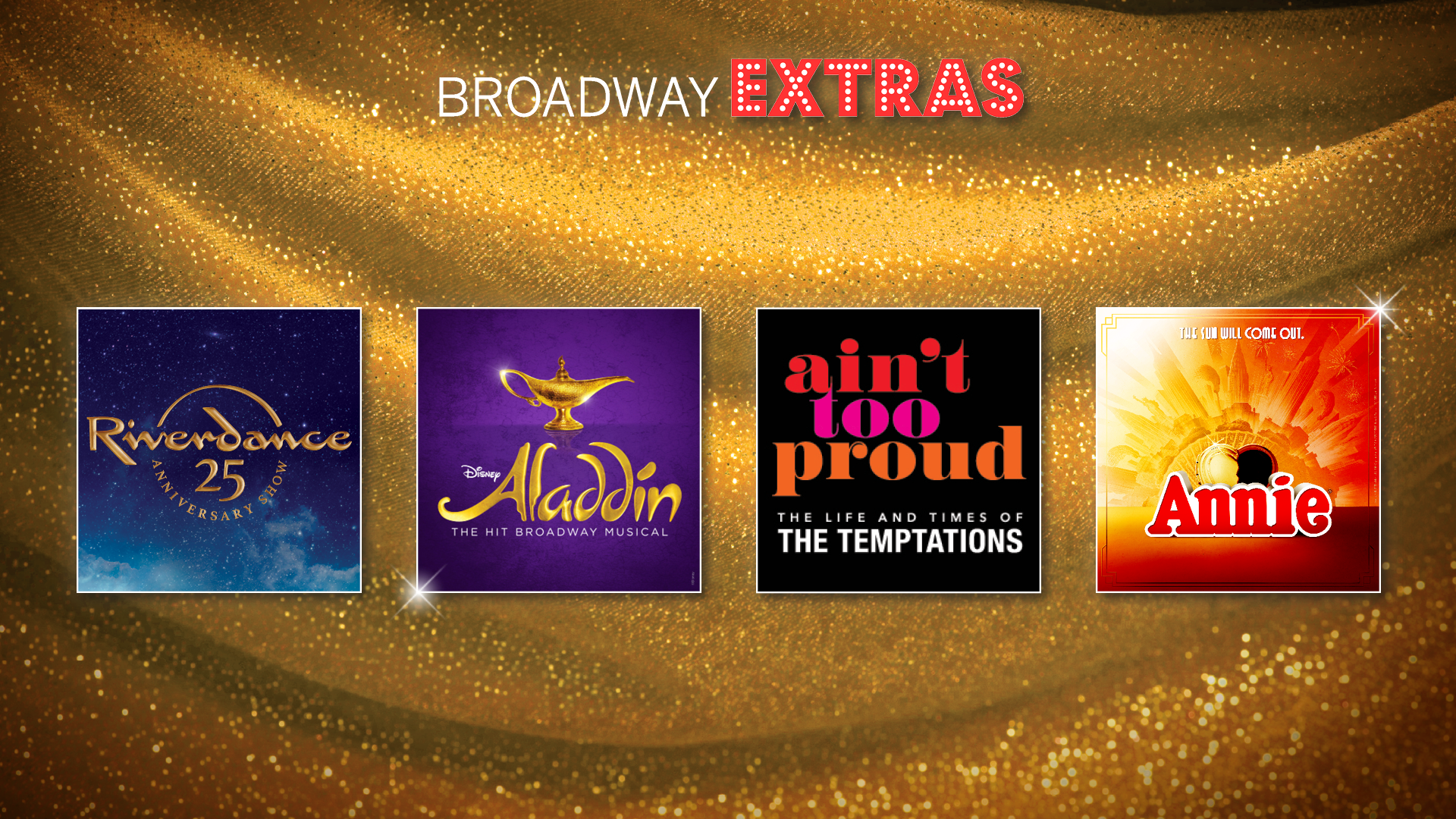 As well as the offerings in its two main Broadway series, Blumenthal will present additional shows during the year. Currently slated Broadway Extras include:
Riverdance 25th Anniversary Show, February 14–19, 2023
Disney's Aladdin, April 4–9, 2023
Annie, May 30–June 4, 2023
Ain't Too Proud: The Life and Times of the Temptations, July 25–30, 2023
Subscribers to the PNC Broadway Lights Series and Equitable Bravo Series may choose to swap some of their season tickets for these Broadway Extras or any additional special attractions added during the year. The ability to swap shows is one of the many exclusive benefits offered to season ticket holders, who enjoy guaranteed seats for all of the shows in their season package.
PNC Broadway Lights Series tickets are renewable annually, guaranteeing season ticket holders the best seats at the best prices each year. PNC Broadway Lights Series season ticket holders also have the ability to swap up to four PNC Broadway Lights season shows for anything coming the following season and the option for a 12-month extended payment plan.
Equitable Bravo Series seats are not renewable, but subscribers will have first priority to purchase individual tickets to PNC Broadway Lights Series shows next season. Equitable Bravo buyers may also swap up to two season shows for anything else coming to Blumenthal theaters, including PNC Broadway Lights Series shows, and have the option of a six-month payment plan.
For more information or to make a purchase:
– Visit BlumenthalArts.org/Broadway
– Call 704-335-1010
PNC BROADWAY LIGHTS SERIES SHOW DESCRIPTIONS
Jagged Little Pill
November 29–December 4, 2022
Belk Theater
SOME SHOWS YOU SEE. THIS SHOW YOU FEEL.

Joy, love, heartache, strength, wisdom, catharsis, LIFE—everything we've been waiting to see in a Broadway show— is here in the exhilarating, fearless new musical based on Alanis Morissette's world-changing music.

Directed by Tony Award® winner Diane Paulus (Waitress, Pippin, upcoming 1776) with a Tony®-winning book by Diablo Cody (Juno) and Grammy®-winning score, this electrifying production about a perfectly imperfect American family "vaults the audience to its collective feet" (The Guardian). "Redemptive, rousing and real, JAGGED LITTLE PILL stands alongside the original musicals that have sustained the best hopes of Broadway" (The New York Times).
You live, you learn, you remember what it's like to feel truly human… at JAGGED LITTLE PILL.
TINA—The Tina Turner Musical
December 27, 2022–January 1, 2023
Belk Theater
THERE IS ONLY ONE.
HER VOICE IS UNDENIABLE. HER FIRE IS UNSTOPPABLE. HER TRIUMPH IS UNLIKE ANY OTHER.

An uplifting comeback story like no other, TINA—The Tina Turner Musical is the inspiring journey of a woman who broke barriers and became the Queen of Rock n' Roll.

One of the world's best-selling artists of all time, Tina Turner has won 12 Grammy Awards® and her live shows have been seen by millions, with more concert tickets sold than any other solo performer in music history.
A Soldier's Play
January 10–22, 2023
Knight Theater
WINNER! TWO 2020 TONY AWARDS®, INCLUDING BEST REVIVAL OF A PLAY!
A SOLDIER'S PLAY, the1982 Pulitzer Prize–winning thriller by Charles Fuller, has rocketed back into the spotlight, thanks to this 2020 Tony Award®–winning Best Revival from Roundabout Theatre Company. "This is a play that deserves to be staged regularly all over America—though it's hard to imagine that it will ever be done better than this. It keeps you guessing all the way to the final curtain." (The Wall Street Journal) In 1944, on a Louisiana Army base, two shots ring out. A Black sergeant is murdered. And a series of interrogations triggers a gripping barrage of questions about sacrifice, service, and identity in America. Broadway's Norm Lewis leads a powerhouse cast in the show Variety calls "a knock-your-socks-off-drama," directed by Tony® winner Kenny Leon.
Beetlejuice
March 28–April 2, 2023
Belk Theater
He earned his stripes on Broadway… now the ghost-with-the-most is coming to Charlotte.
It's showtime! Based on Tim Burton's dearly beloved film, this hilarious musical tells the story of Lydia Deetz, a strange and unusual teenager whose whole life changes when she meets a recently deceased couple and a demon with a thing for stripes. With an irreverent book, an astonishing set, and a score that's out of this Netherworld, BEETLEJUICE is "SCREAMINGLY GOOD FUN!" (Variety). And under its uproarious surface (six feet under, to be exact), it's a remarkably touching show about family, love, and making the most of every Day-O!
9 to 5 The Musical
April 18–23, 2023
Ovens Auditorium
TUMBLE OUTTA' BED AND STUMBLE TO DOLLY PARTON'S RIP-ROARING MUSICAL COMEDY!
The smash-hit musical of 9 TO 5 features a book by the iconic movie's original screenwriter Patricia Resnick and an Oscar, Grammy and Tony nominated score by the Queen of Country herself, Dolly Parton.
9 TO 5 THE MUSICAL tells the story of three women pushed to the boiling point by their sexist and egotistical boss. Concocting a plan to kidnap and turn the tables on their despicable supervisor, will the ladies manage to reform their office—or will events unravel when the CEO pays an unexpected visit? Inspired by the iconic 80's film and brought to you by Dolly herself, this hilarious new production is about teaming up, standing up and taking care of business!
1776
June 6­–11, 2023
Belk Theater
They knew they would make history, but not what history would make of them. Fed up with living under the tyranny of British rule, John Adams attempts to persuade his fellow members of the Continental Congress to vote in favor of American Independence and sign the Declaration. But how much is he willing to compromise in the pursuit of freedom? And to whom does that freedom belong?
From American Repertory Theater at Harvard University and Roundabout Theatre Company, Jeffrey L. Page and Tony Award® winner Diane Paulus reexamine this pivotal moment in American history in a new production of this Tony Award®–winning musical.
SIX
July 4–16, 2023
Belk Theater
Divorced, beheaded, died, divorced, beheaded, survived.
From Tudor Queens to Pop Princesses, the SIX wives of Henry VIII take the mic to remix five hundred years of historical heartbreak into an exuberant celebration of 21st century girl power! This new original musical is the global sensation that everyone is losing their head over. The New York Times says SIX "TOTALLY RULES!" (Critic's Pick) and The Washington Post hails SIX as "Exactly the kind of energizing, inspirational illumination this town aches for! The Broadway season got supercharged!"
MJ
September 27–October 8, 2023
BROADWAY'S MOST ELECTRIFYING NEW MUSICAL!
He is one of the greatest entertainers of all time. Now, Michael Jackson's unique and unparalleled artistry is coming to Charlotte in a brand-new musical. Centered around the making of his 1992 Dangerous World Tour, and created by Tony Award®­­–winning Director/Choreographer Christopher Wheeldon and two-time Pulitzer Prize winner Lynn Nottage, MJ goes beyond the singular moves and signature sound of the star, offering a rare look at the creative mind and collaborative spirit that catapulted Jackson into legendary status. Now it's time to turn it up— MJ is headed on tour!
EQUITABLE BRAVO SERIES SHOW DESCRIPTIONS
Dear Evan Hansen
October 25–30, 2022
Belk Theater
WINNER OF SIX TONY AWARDS® INCLUDING BEST MUSICAL
AND THE GRAMMY AWARD® FOR BEST MUSICAL THEATER ALBUM.
A letter that was never meant to be seen, a lie that was never meant to be told, a life he never dreamed he could have. Evan Hansen is about to get the one thing he's always wanted: a chance to finally fit in. DEAR EVAN HANSEN is the deeply personal and profoundly contemporary musical about life and the way we live it.
DEAR EVAN HANSEN has struck a remarkable chord with audiences and critics everywhere, including The Washington Post who says DEAR EVAN HANSEN is "Theatrical magic. One of the most remarkable shows in musical theatre history." The New York Times calls it "a breathtaking knockout of a musical." And NBC Nightly News declares the musical "an anthem resonating on Broadway and beyond."
DEAR EVAN HANSEN features a book by Tony Award® winner Steven Levenson, a score by Grammy®, Tony® and Academy Award® winners Benj Pasek and Justin Paul (La La Land, The Greatest Showman), and direction by four-time Tony Award® nominee Michael Greif (Rent, Next to Normal).
Les Misérables
January 31–February 5, 2023
Belk Theater
Cameron Mackintosh presents the acclaimed production of Boublil and Schönberg's Tony Award®–winning musical phenomenon, LES MISÉRABLES. This brilliant staging has taken the world by storm and has been hailed as "a reborn dream of a production" (Daily Telegraph). Set against the backdrop of 19th century France, LES MISÉRABLES tells an enthralling story of broken dreams and unrequited love, passion, sacrifice and redemption—a timeless testament to the survival of the human spirit. The magnificent score of LES MISÉRABLES includes the songs "I Dreamed a Dream," "On My Own," "Bring Him Home," "One Day More" and many more.
Come From Away
March 7–12, 2023
Belk Theater
Broadway's COME FROM AWAY is a Best Musical winner all across North America!
This New York Times Critics' Pick takes you into the heart of the remarkable true story of 7,000 stranded passengers and the small town in Newfoundland that welcomed them. Cultures clashed and nerves ran high, but uneasiness turned into trust, music soared into the night, and gratitude grew into enduring friendships.
Don't miss this breathtaking musical written by Tony® nominees Irene Sankoff and David Hein, and helmed by Tony®-winning Best Director, Christopher Ashley. Newsweek cheers, "It takes you to a place you never want to leave!"
On 9/11, the world stopped.
On 9/12, their stories moved us all.
The Book of Mormon
August 8–13, 2023
Belk Theater
The New York Times calls it "the best musical of this century." The Washington Post says, "It is the kind of evening that restores your faith in musicals." And Entertainment Weekly says, "Grade A: the funniest musical of all time." Jimmy Fallon of The Tonight Show calls it "Genius. Brilliant. Phenomenal." It's THE BOOK OF MORMON, the nine-time Tony Award®–winning Best Musical.
This outrageous musical comedy follows the adventures of a mismatched pair of missionaries, sent halfway across the world to spread the Good Word. With standing room only productions in London, on Broadway, and across North America, THE BOOK OF MORMON has truly become an international sensation. Contains explicit language.
Chicago
September 12–17, 2023
Belk Theater
After 25 years, CHICAGO is still the one musical with everything that makes Broadway shimmy-shake: a universal tale of fame, fortune, and all that jazz, with one show stopping song after another and the most astonishing dancing you've ever seen. No wonder CHICAGO has been honored with 6 Tony Awards®, 2 Olivier Awards, a Grammy® and thousands of standing ovations. As we celebrate our 25th anniversary —you've got to come see why the name on everyone's lips is still...CHICAGO.
BROADWAY EXTRAS SHOW DESCRIPTIONS
Riverdance 25th Anniversary Show
February 14–19, 2023
Belk Theater
RIVERDANCE, as you've never seen it before! A powerful and stirring reinvention of this beloved favorite, celebrated the world over for its Grammy Award®–winning score and the thrilling energy and passion of its Irish and international dance. Twenty-five years on, composer Bill Whelan has rerecorded his mesmerizing soundtrack while producer Moya Doherty and director John McColgan have completely reimagined the groundbreaking show with innovative and spectacular lighting, projection, stage and costume designs. Immerse yourself in the extraordinary power and grace of its music and dance—beloved by fans of all ages. Fall in love with the magic of RIVERDANCE all over again. For over 25 years, nothing has carried the energy, the sensuality and the spectacle of RIVERDANCE.
RIVERDANCE began its journey as the interval act in the 1994 Eurovision Song Contest, produced for television by Moya Doherty. This electrifying and innovative seven-minute dance piece was then developed into a full-length stage show by Producer Moya Doherty, Composer Bill Whelan and Director John McColgan. With its fusion of Irish and International music and dance, the show broke all box office records during its world première run in Dublin in early 1995. When the show transferred to London the reaction was unprecedented. There followed a hugely successful tour starting in New York in March 1996, where 8 sold-out shows at Radio City Music Hall heralded the start of two decades of touring by RIVERDANCE companies throughout North America. Since its inception RIVERDANCE has packed theatres throughout North America, Oceania, Asia, Europe, South Africa and South America.
Disney's Aladdin
April 4­–9, 2023
Belk Theater
Discover a whole new world at Disney's ALADDIN, the hit Broadway musical.
From the producer of The Lion King comes the timeless story of ALADDIN, a thrilling new production filled with unforgettable beauty, magic, comedy and breathtaking spectacle. It's an extraordinary theatrical event where one lamp and three wishes make the possibilities infinite.
See why audiences and critics agree, ALADDIN is "Exactly What You Wish For!" (NBC-TV).
Annie
May 30–June 4, 2023
Belk Theater
Holding onto hope when times are tough can take an awful lot of determination, and sometimes, an awful lot of determination comes in a surprisingly small package. Little Orphan Annie has reminded generations of theatergoers that sunshine is always right around the corner, and now the best-loved musical of all time is set to return in a new production—just as you remember it and just when we need it most.
ANNIE, directed by Jenn Thompson, features the iconic book and score, written by Tony Award® winners Thomas Meehan, Charles Strouse and Martin Charnin. This celebration of family, optimism and the American spirit remains the ultimate cure for all the hard knocks life throws your way
Ain't Too Proud – The Life and Times of the Temptations
July 25–30, 2023
Belk Theater
AIN'T TOO PROUD – THE LIFE AND TIMES OF THE TEMPTATIONS is the electrifying new smash-hit Broadway musical that follows The Temptations' extraordinary journey from the streets of Detroit to the Rock & Roll Hall of Fame.
Nominated for 12 Tony Awards® and the winner of the 2019 Tony Award® for Best Choreography, it's a thrilling story of brotherhood, family, loyalty, and betrayal during a decade of civil unrest in America. Set to the beat of the group's treasured hits, including "My Girl," "Just My Imagination," "Get Ready," and "Papa Was a Rolling Stone," Ain't Too Proud tells the unforgettable story of the legendary quintet that Billboard Magazine named the greatest R&B group of all time.
###
ABOUT BLUMENTHAL PERFORMING ARTS
Blumenthal Performing Arts serves the Carolinas as a leading cultural, entertainment and education provider. For more information, call (704) 372-1000 or visit BlumenthalArts.org. Blumenthal Performing Arts receives support from the Infusion Fund and the North Carolina Arts Council. Generous support is also provided by PNC Bank, sponsor of the PNC Broadway Lights series, and Equitable, sponsor of the Equitable Bravo Series
Follow Blumenthal Performing Arts on Facebook, Instagram, Twitter and YouTube.
ABOUT PNC
PNC is a financial services company that is devoted to the communities it serves. Community programming through Grow Up Great, a birth to five initiative, prepares children for kindergarten and a successful school career. Other initiatives focus on arts support and quality of life for all of our citizens, promoting art as the common thread that binds us together in new, surprising and hopeful ways. PNC continues to be a strong supporter of museums, exhibitions and performing arts organizations. For the eighth year, PNC is the presenting sponsor of the PNC Broadway Lights Series.
ABOUT EQUITABLE
Equitable is a financial services company with a legacy of helping people look forward to the future with courage, strength, and wisdom. Equitable provides advice, retirement plans, annuities, life insurance and employee benefits in the United States. Equitable's mission is to help its clients secure their financial well-being so they can pursue long and fulfilling lives. They have a long-standing commitment to building a culture of inclusion, professional excellence and continuous learning. Through philanthropy, volunteerism and sustainability, Equitable leverages resources and risk proficiency to build a stronger society for their customers and employees. Equitable provides support for the 2022–23 Equitable Bravo Series.