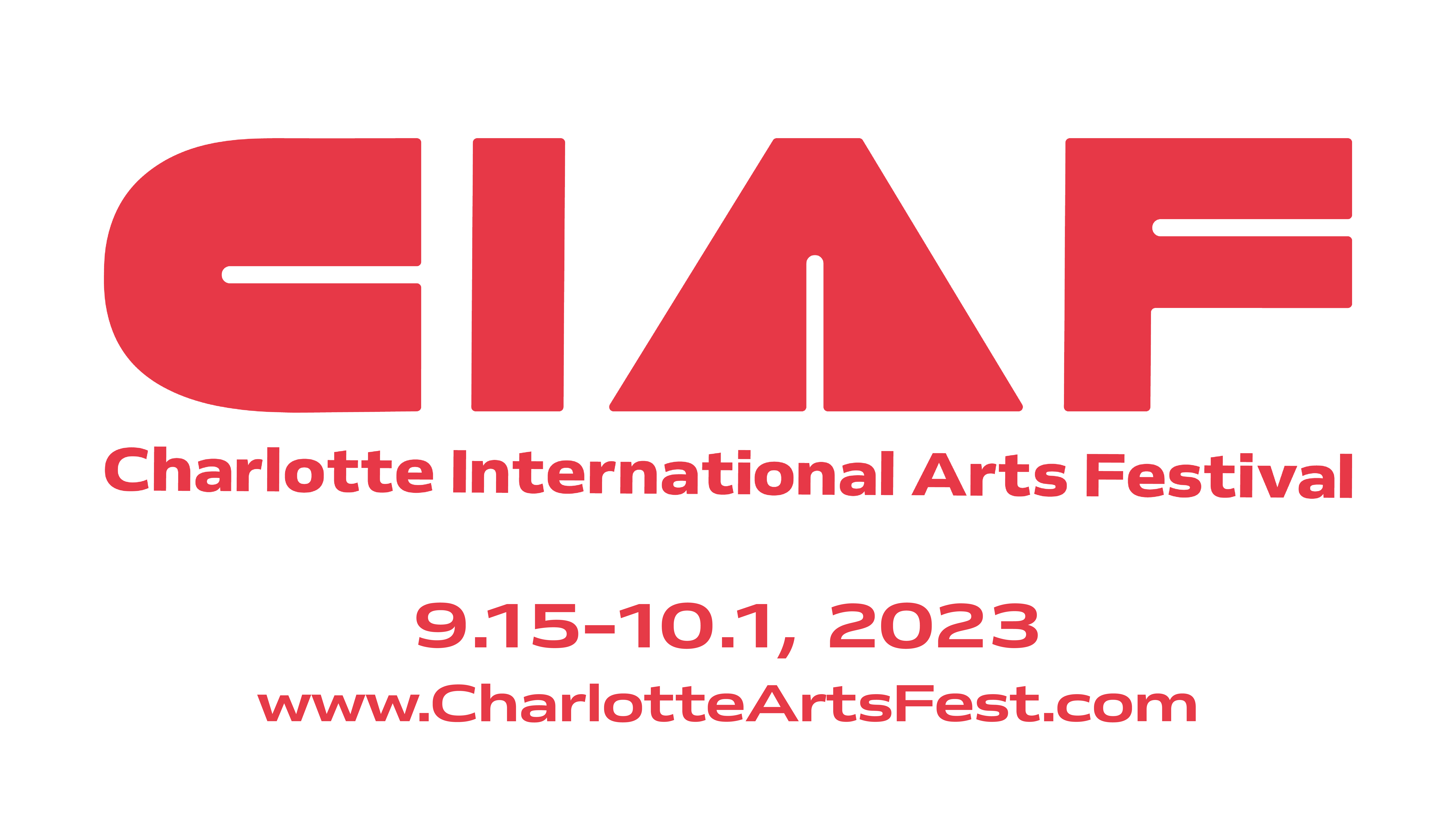 Blumenthal's Charlotte International Arts Festival Completes Inaugural Run - Announces 2023 Dates
(October 7, 2022) Charlotte, NC – The first CHARLOTTE INTERNATIONAL ARTS FESTIVAL (CIAF), presented by Blumenthal Performing Arts, a multi-week celebration and showcase of international and local arts across genres, mediums, and cultures, came to a close on October 3, 2022 with a thrilling performance of Blue Lapis Light on the side of the Government Center building. An ambitious undertaking by Blumenthal Performing Arts, the festival was a huge step forward for the city and the region, where an arts festival to this scale and accessibility has never been realized before. Thanks to an overwhelmingly positive response, Blumenthal is excited to announce that CIAF will return September 15–October 1, 2023.
​​​​​
The inaugural arts festival presented a variety of acts representing more than 10 countries with more than 200 events across the city. With many events and installations occurring in Ballantyne's Backyard, CIAF also marked the first time Blumenthal Performing Arts extended a large swath of its programming 20 miles outside of Uptown, making CIAF events more accessible to a larger audience.
In addition to location accessibility, CIAF's programming was largely free and open to the public, with ticketed events starting at $5, making the arts accessible to all facets of the community, many of whom may not have had access to the arts to this degree before. The final weekend of CIAF, hurricane weather hit Charlotte; Blumenthal's staff worked quickly to reschedule performances and pivot outdoor events inside at SouthPark Mall. Visitors enjoyed free events BEES, a family-friendly interactive piece by Australia's Polyglot Theatre, and SWAY's Bloom!, a colorful dance spectacle with aerialists swaying atop 15-foot poles. Blumenthal is thrilled to bring more playful, creative, innovative programming to CIAF in 2023.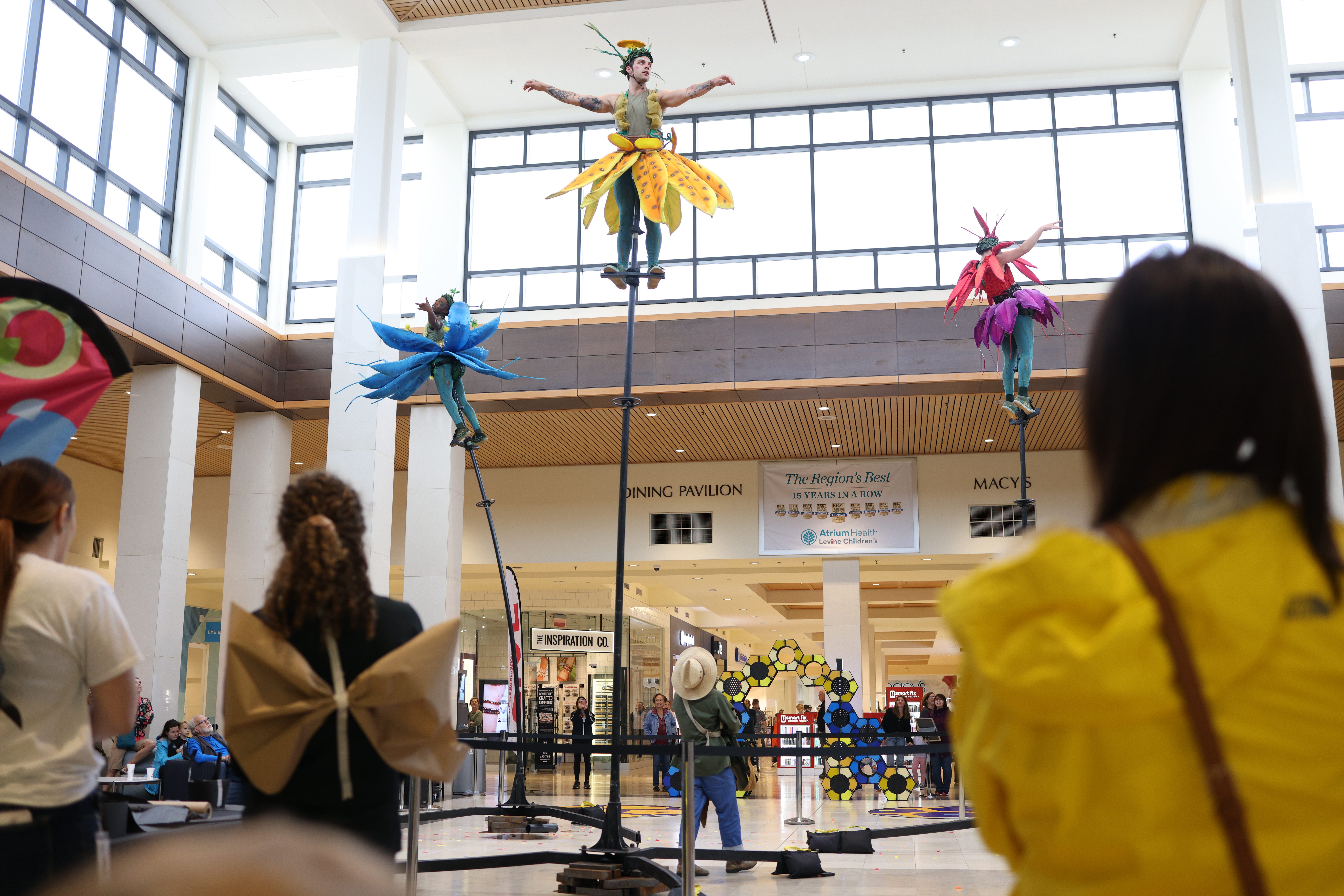 When Blumenthal was shut down in 2020 due to the COVID-19 pandemic, it received a Shuttered Venue Operators Grant (SVOG) from the federal government. Much of that funding went toward the launch of the festival, with the aim of getting people back to work. With SVOG, Blumenthal was able to put more than half a million dollars toward the creative talent behind the festival, from projection artists to theatrical storytellers, dancers, technicians, and more.
"The launch of CIAF exceeded our expectations in every way, demonstrating that our region is eager to embrace this big new idea for a high-quality, annual festival celebrating creativity, community, and international cultures," said Blumenthal President and CEO Tom Gabbard. "Among my favorite sights were the thousands of families who came to experience Architects of Air—Luminarium (UK), and free evening performances of eVenti Verticali (Italy) and Birdmen (Netherlands). The creativity of hundreds of local artists was showcased in 100 Tiny Things, an art project where marvelous creations were found in unexpected places. Free music from local and regional artists was enjoyed at lunch and evenings on Levine Avenue of the Arts, where a Biergarten with games was created to inspire people to enjoy being together. The world premiere of Blackstar Symphony—the Music of David Bowie—attracted fans from the UK and across the US. In Charlotte, I've never heard as many different languages spoken as I did wandering through the crowds that turned out at Ballantyne's Backyard to enjoy the big art and free shows there. All this proved that, with CIAF, we're creating something wonderful for our entire community."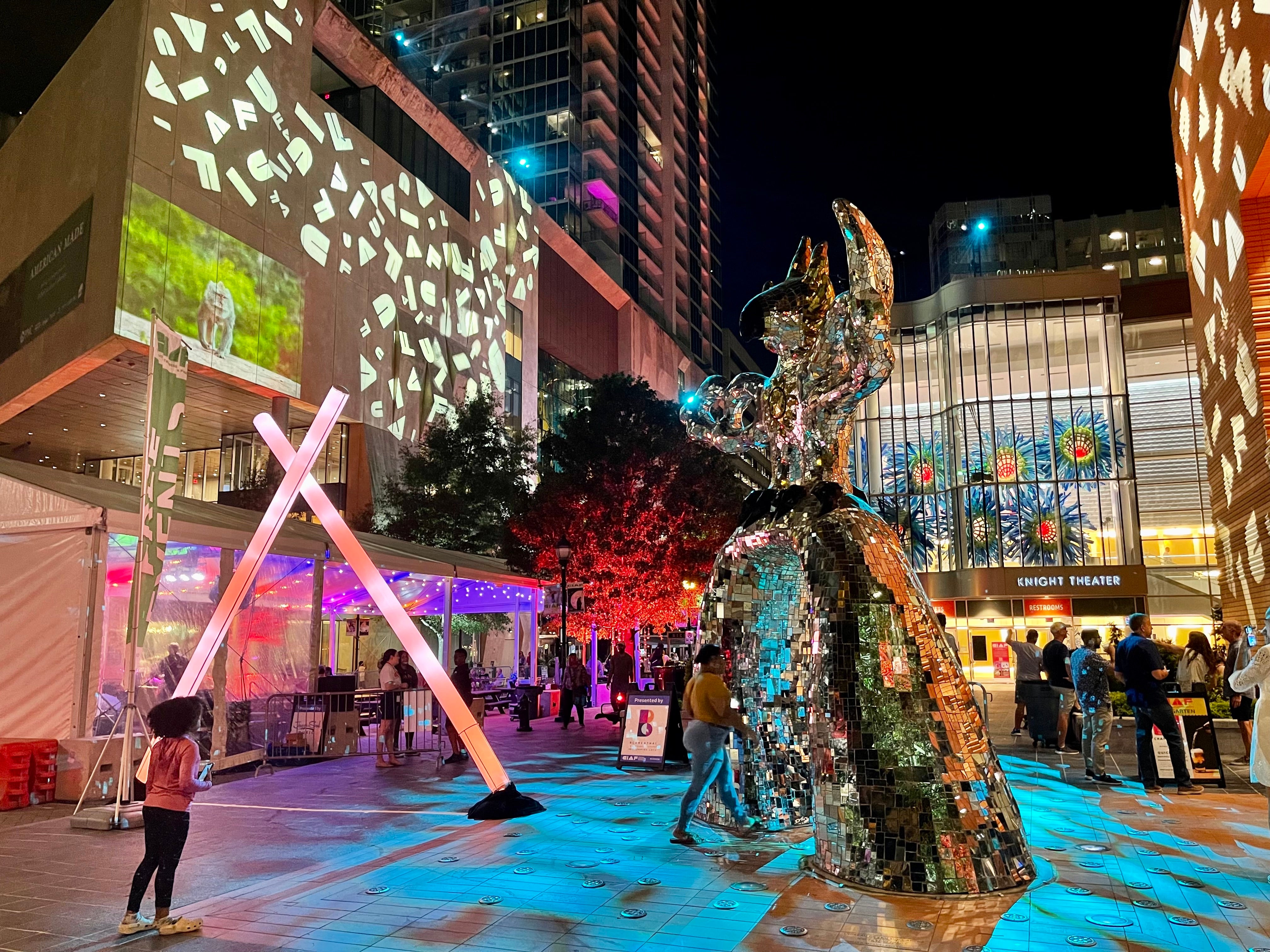 By the Numbers
31 ticketed events saw guests from:

266 different cities in the Carolinas
41 states and Washington, DC
Countries outside the US including the UK, Spain, Canada, and others.

176 free pop-up events

18 at SouthPark Mall
44 at Levine Avenue of the Arts
5 at the Government Center Building
2 at The Green
52 at Ballantyne's Backyard
52 at Romare Bearden Park
3 in Uptown Charlotte

16,410 entries to Architects of Air—Luminarium
5 large-scale art installations
100 Tiny Things public art installations by local artists
13 Blumenthal Fellowship Program installations representing 34 visual artists
17 artists painted 19 custom picnic tables
15 projection artists
165 festival volunteers
319 job opportunities
1,292 pints sold of Blumenthal's signature CIAF beer, "Brush Stroke," developed in partnership with Heist Brewery
For more information, visit charlotteartsfest.com.
Follow CIAF on Facebook and Instagram for updates about the festival in 2023.
#cltartsfest

###
ABOUT BLUMENTHAL PERFORMING ARTS
Blumenthal Performing Arts serves the Carolinas as a leading cultural, entertainment and education provider. For more information, call (704) 372-1000 or visit BlumenthalArts.org. Blumenthal Performing Arts receives support from the Infusion Fund and the North Carolina Arts Council. Generous support is also provided by PNC Bank, sponsor of the PNC Broadway Lights series, and Equitable, sponsor of the Equitable Bravo Series
Follow Blumenthal Performing Arts on Facebook, Instagram, Twitter, and YouTube.