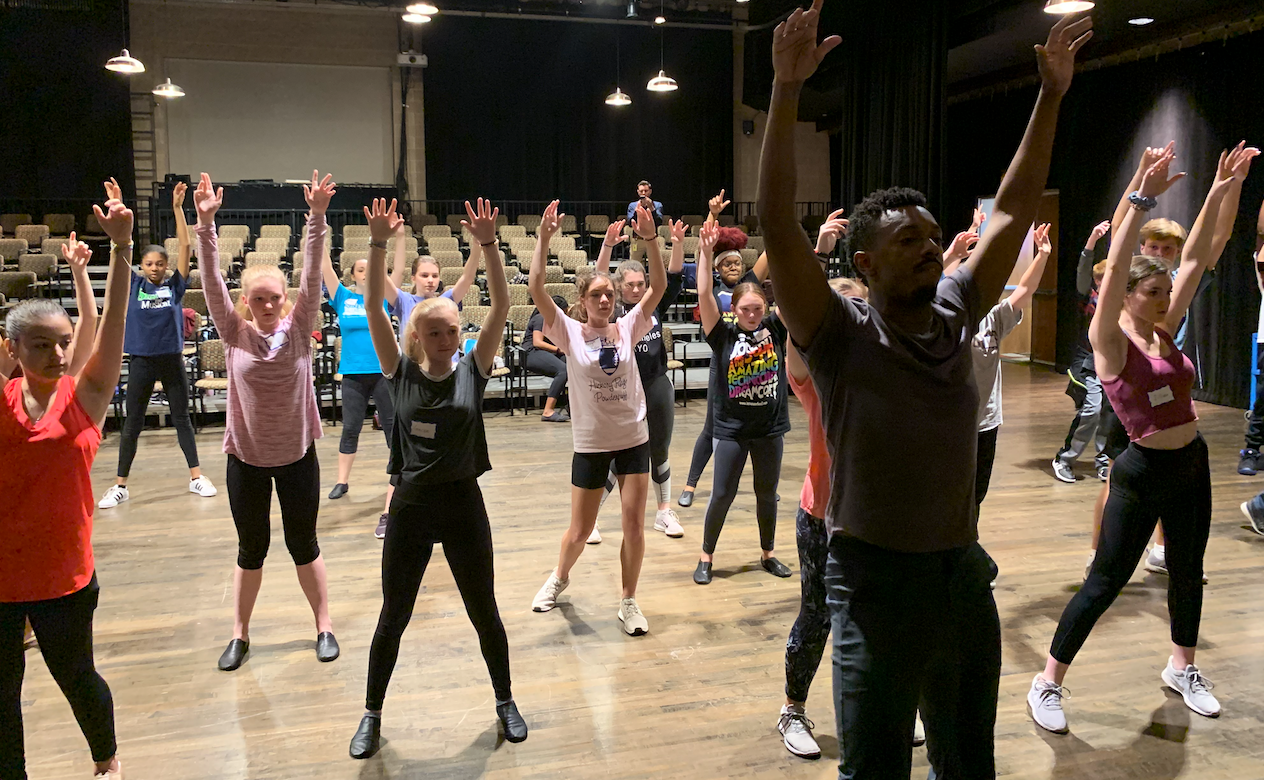 Broadway Actor Tyler McKenzie Fresh Off the National Tour of HAMILTON Takes Time to Work with Local Students
Broadway actor Tyler McKenzie, a 2009 graduate of Central Academy of Technology & Arts in Monroe, says he's on break after two years performing in the hit show HAMILTON in New York and on the national tour. But he's hardly staying still. McKenzie's idea of taking it easy includes moving into a new apartment, planning a wedding for next fall, and traveling all around the country teaching master classes.
"Oh, it's been very restful," says McKenzie. "...I left with the intention to teach as much as I can as well as rest as much as I can after two years of doing the show eight shows a week… it feels like I'm enjoying being a human which is so, so nice."
McKenzie is used to keeping busy. Last fall, the Charlotte Observer reported that he taught 18 classes in a two-week span during HAMILTON's run in the Queen City. That was on top of volunteering to register voters and serving as the emcee for Eduham—an event at which thousands of students from area Title I high schools had the rare opportunity to watch a morning of original student performances, attend a talk-back with the cast and then head to a special matinee performance of HAMILTON.
Dancing and singing in a high intensity production like HAMILTON is physically draining, says McKenzie, but taking breaks is not something that you're necessarily taught to do when you're on the job. It's absolutely necessary, however, if you want to have a long career as a performer. That's one of the many messages he shared with high school students when he visited Charlotte in October for a master class at Blumenthal's Stage Door Theater.
McKenzie, who lives in New York, was in the area after receiving The Young Alumni Award from his alma mater, Western Carolina University. Much of his teaching these days is through an organization called The Broadway Collective, which offers online as well as in person workshops. But the project in Charlotte was different. "I have a nice contact here at Blumenthal now so I can talk to them and tell them I'm going to be here and then they came up with this idea and here we are," says McKenzie.
ABOUT THE MASTER CLASS
Nearly three dozen local high school students participated in the dance workshop, learning actual show choreography from HAMILTON. Students then had the opportunity to ask McKenzie a wide variety of questions about his path as a performer, how to get noticed by casting directors, as well as the most challenging aspects of his career.
"There are so many questions that I think young artists are afraid to ask," says McKenzie, "so I teach and we move around and we sometimes do singing and sometimes do acting and then I usually give as much time as I can for questions and answers."
McKenzie opens himself up, graciously sharing his perspective, but making it clear that there's not one single path forward for a career in the performing arts.
"I was focused on training for sure when I left high school," says McKenzie, who started studying dance his junior year at CATA. "As long as you make training and health a priority, there's no right or wrong way of doing things."
He credits hard work and taking every opportunity to learn from others around him as keys to his success. To improve his dancing, he would stand in the back of classes and watch how others did moves—practicing until he got them just right, then putting his own twist on them. "I use everyone around me to my advantage rather than comparing myself to others," says McKenzie, who has only done dance shows since graduating from WCU's musical theater program.
Focusing on the audition process as a learning experience can also be helpful. "As long as you can say that you've done all that you can and you're prepared then rejection is not [a big deal]... It's not about whether you're good, it's whether you're right for the world [of the show.]" A lot of other factors come into play for casting, he says, like are you the right size? Has anyone else auditioning already worked with the director? These things aren't in your control.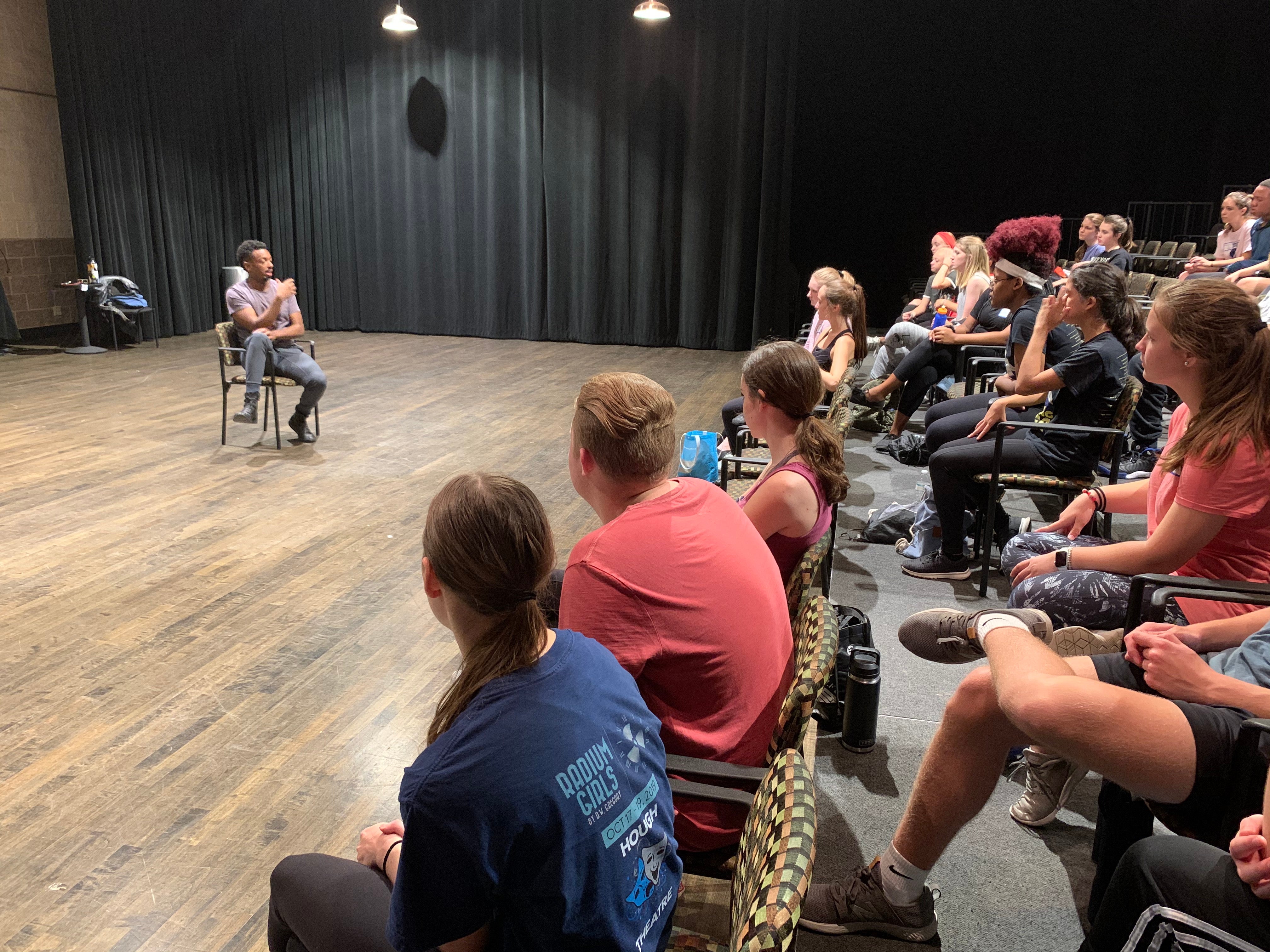 (McKenzie opens up to Master Class students during a Q&A session at Blumenthal's Stage Door Theater)
One of McKenzie's most discouraging moments as a performer actually happened soon after being cast in HAMILTON on Broadway. He had to learn his entire role—which included being on stage for 46 out of the total 50 musical numbers—just by practicing with the Dance Captain and no one else in the company. At first, he felt completely overwhelmed.
Despite already having performed in other major productions (including MAMMA MIA on Broadway and the national tour of MATILDA), he wondered if there had been a mistake and he should drop out.
He pushed through by leaning on friends for support and working really hard. He would show up two hours early for rehearsal so he could watch video of the steps he would be learning that day. Then he'd spend some time meditating in the dark studio to prepare for the challenge ahead.
The hard work paid off and when later he was cast in the national tour, he was able to draw on that experience and be a leader for others as they learned the show.
STUDENT REACTIONS
For Kira Farnham, a sophomore at Hickory Ridge High School, this was her first time participating in a master class. "It was really amazing," says Farnham. "I am a dancer so I love dancing and I just got done with a show so it was nice to have another thing to really learn more about the process and… learn a really famous dance that you get to see a lot of people doing. It was really just a great opportunity and to be able to find other theater kids that love to do this stuff as well."
Classmate Lily Evans also enjoyed the experience, even though she's new to dance. "It was really cool," says Evans. "The first part [was] very hard—very, very, very hard because I just am so unathletic and I sing and I act but I do not dance. So this was very different for me… I need to dance more to get where I want to go. And so this really helped with that."
"I thought it was great," says Desirae Powell, a sophomore who often participates in master classes at her school Northwest School of the Arts. "Whenever I see an opportunity to learn something from somebody or learn anymore about any craft in general, I take it. I think it's really helpful in dance, auditioning, calls, every aspect…"
Most important, McKenzie wants students to know that they should be themselves and that they are not alone. "Wherever [you're] training, be the hardest working person in the room. If you can always lead by your work ethic and rely on that, that's the way you'll get the job."