Celebrate the 4th Annual Charlotte Jazz Festival with these Fabulous FREE Events
World- and regionally-renowned performers will take the stage when Charlotte Jazz Festival returns to uptown April 29 - May 4. Beyond the ticketed mainstage events, you can catch many free, live performances throughout the week. Here are some highlights you won't want to miss!
Enjoy lunchtime and happy hour shows throughout the week at the Levine Outdoor Pavilion with performances by some of the leading local and regional artists. You can even make a full day of it Sat, May 4 with nearly continuous free music from 1:30 - 10pm!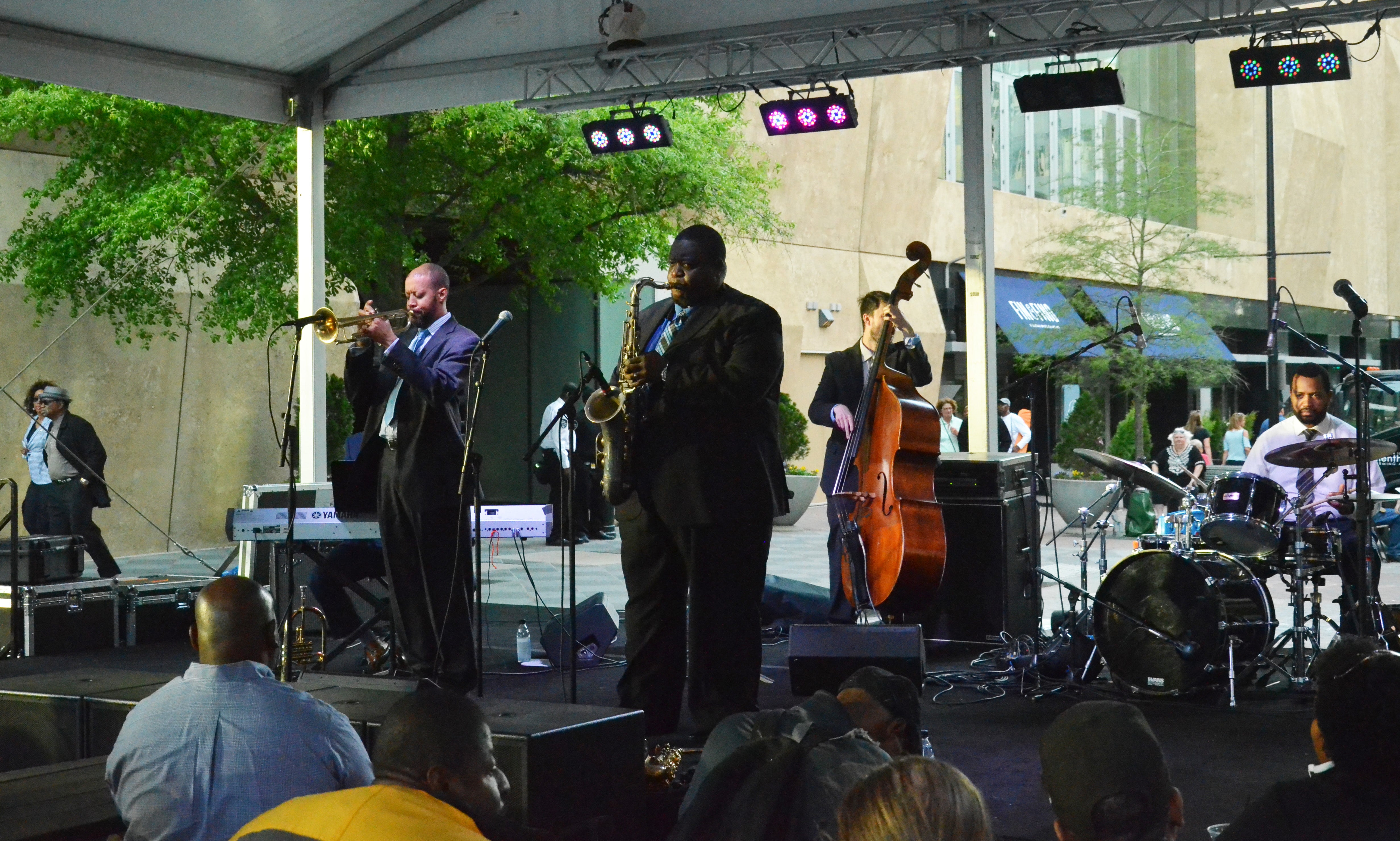 For night owls, last year's popular Late Night Jam Sessions will be back downstairs at Knight Theater Fri, May 3 and Sat, May 4. "It's a very cool speakeasy environment," says Tom Gabbard, president and CEO of Blumenthal Performing Arts. At this and many other events throughout the week, you can also find drinks and light bites available for purchase.
GET IN ON THE FUN
A perennial favorite, the New Orlean's style Second Line Parade, returns too, with a new time slot,Thurs, May 2 at noon. Join in the fun, strutting with the band, twirling umbrellas and celebrating America's own original art form.
"We're hopeful that workers will pour out of those office towers and join the second line," says Gabbard.
Prepare to be blown away by the virtuosity of some of the region's best student performers during the finals of the Loonis McGlohon Young Jazz Artist Competition, Sat, May 3 under the Jazz Tent at Romare Bearden park. Judged by a panel of outstanding musicians from Jazz at Lincoln Center Orchestra, each student receives a critique of his or her performance during the competition. Winners take home more than bragging rights—they receive money to further their music education and the opportunity to book future performances at special Charlotte area events.
"The community and the student piece has always been integral to Wynton's mission," says Gabbard, crediting jazz great Wynton Marsalis as the driving force behind the festival. "We have been very eager and enthusiastic collaborators, but he's really the one who had the vision to make this (festival) unique."
Creating opportunities to bring the community together is just as important as the great music you'll find here, says Gabbard: "The social aspect is really important to us. We're trying to use jazz as the great connector to nurture relationships and good vibes between family members."
For complete festival information, visit: CharlotteJazzFestival.com
The Charotte Jazz Festival is part of Charlotte SHOUT! For a list of all events and festival info visit www.CharlotteShout.com.