Charlotte Native Ryan Gardner Helps Bring the Magic of Waitress to Audiences Everywhere
Former Blumenthal Performing Arts intern Ryan Gardner has seen a lot of pie these last few years.
Since 2019, he's been on the stage management team for four different productions of Waitress—the inspiring musical about Jenna, a waitress at a local diner, who's stuck in a marriage with an abusive husband, but finds new hope and courage through her amazing pie baking skills.
Gardner has traveled the U.S. and Canada on two tours, helped relaunch the show on Broadway, and is now back in the Queen City through May 22 for an extended engagement at Blumenthal's Booth Playhouse.
"It's been quite the journey with this show and it's been a perpetual gift," says Gardner, who currently serves as Waitress's Assistant Stage Manager. "...I love that we get to continue to be able to bring it to different audiences."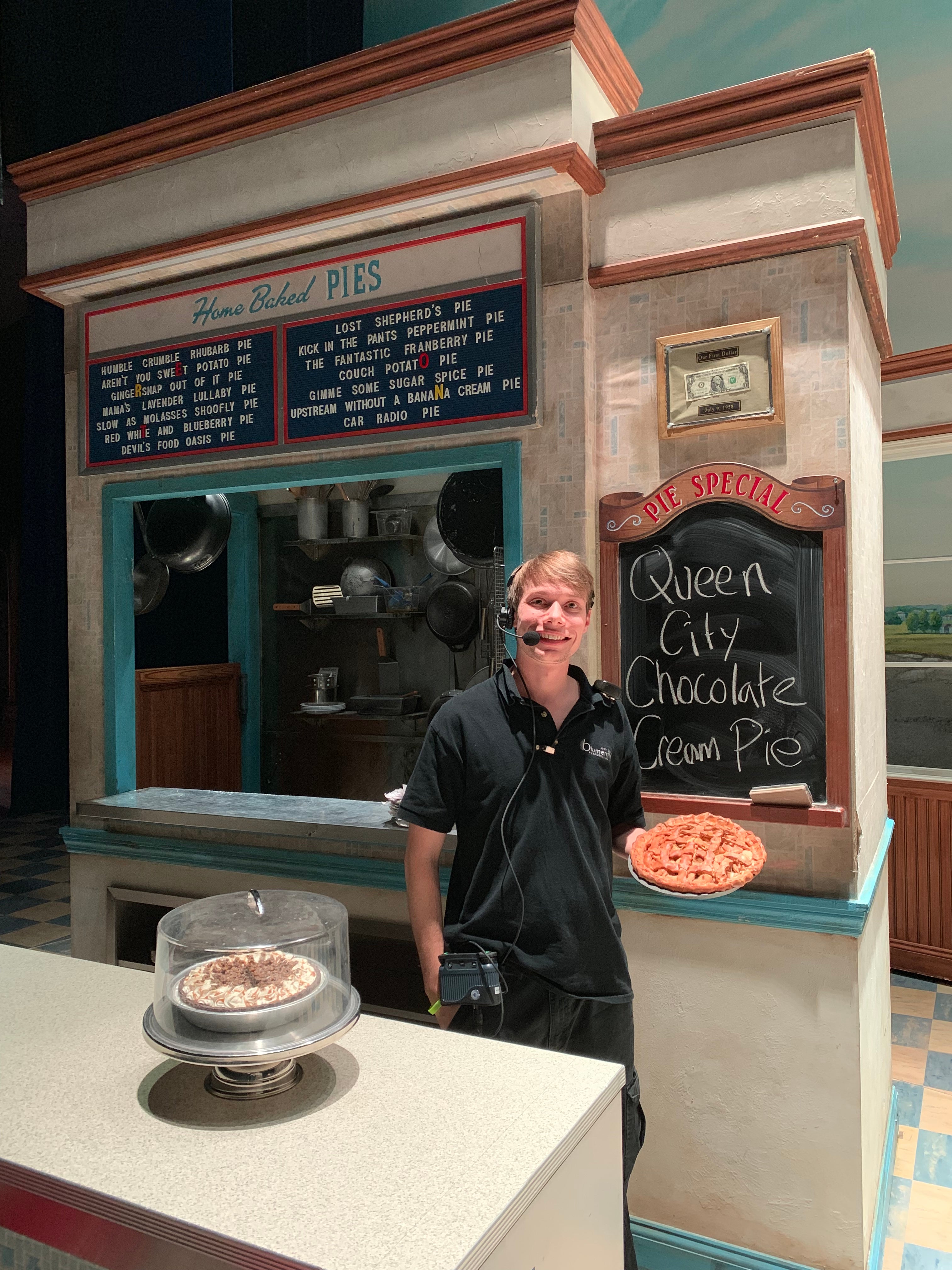 (Gardner on the set of Waitress at Booth Playhouse)
So how much pie are we talking about?
Well, there are the real pies used for each performance—32 per week—locally sourced, wherever the production plays. (In Charlotte, they come from Whole Foods. Gardner says the grocery store can accommodate current cast requests for sugar-free varieties, a vegan option, and pecan pie, which is currently out of season.)
"We also have over 30 beautiful fake pies that were handmade and are used in the show," he says, "plus another batch that are permanently displayed in the 'Pie Portal' that surrounds the proscenium of the stage."
Each of the fake pies is specifically made to match the wild concoctions described in the script. It's the job of stage management to make sure all of those pies, along with set pieces, people, lights, sound and more are in the right place at the right time during every performance.
The stage manager's responsibilities
Once a show has its opening night, the director's role ends and stage management takes over. Their role is to maintain the integrity of what was created during the rehearsal and dress rehearsal process. Stage managers need to have both artistic and technical skills to do their job well.
"The designers of the show, the director, [and] the producers are trusting the art in the stage managers' hands to make sure it is preserved," Gardner says. "And so you're looking out for blocking and lines, but you're also in charge of making sure that the technical cues are executed at the same time in a safe manner every single night."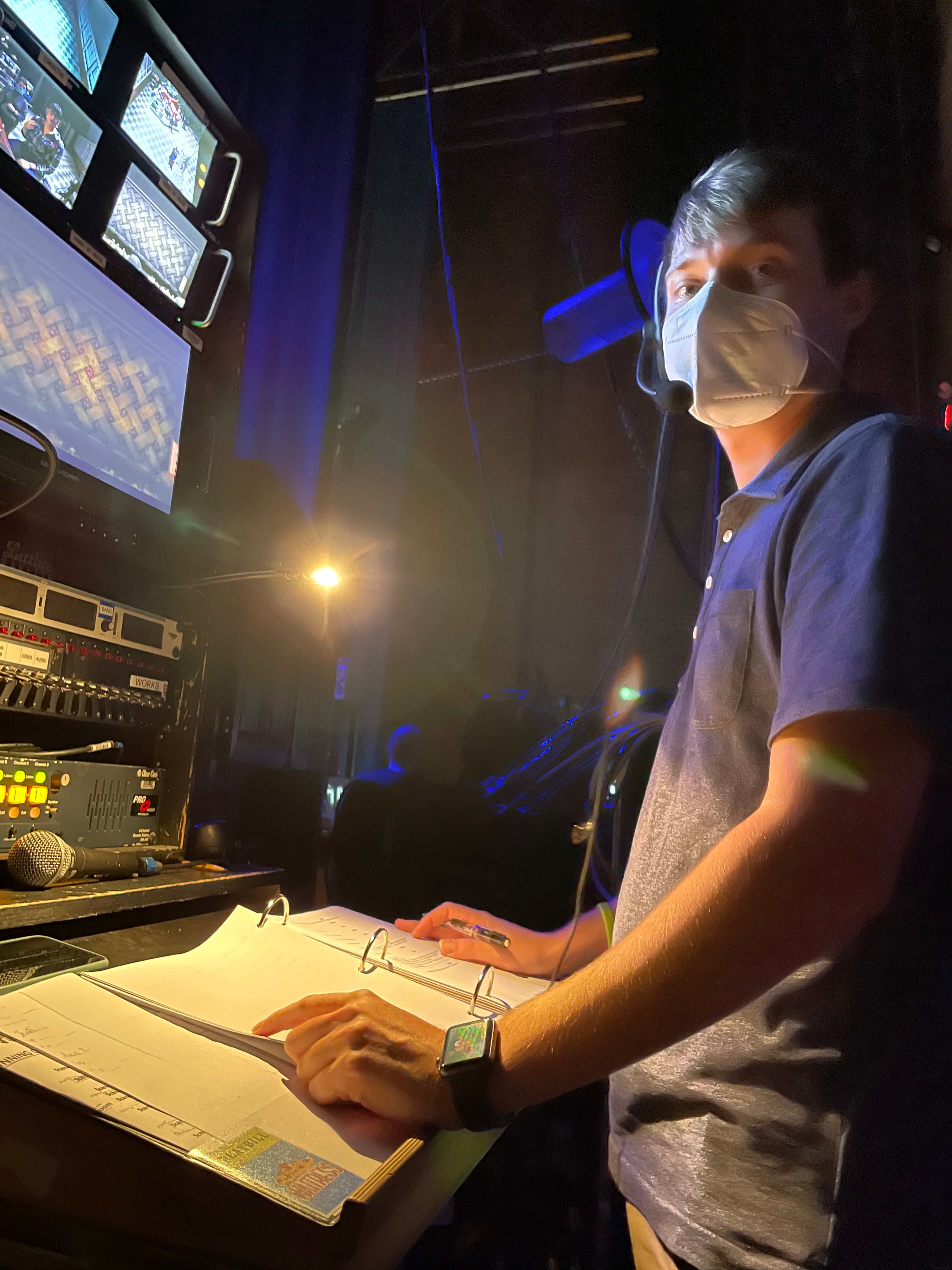 (Gardner calling the cues during the show, while serving as Production Stage Manager for the 2021-22 national tour)
That can be a challenge on the road where stage dimensions vary substantially. Stage managers need to be ready to problem solve and adapt quickly. Sometimes the backstage area feels like a big game of Tetris, he says, as they try to find space for all the set pieces.
The essential thing is that what the audience sees on stage—whether they're in a 2500 seat venue or an intimate theater, like Charlotte's Booth Playhouse—is the same night after night.
"It might be your 400th show doing it but it's the audiences' first show seeing it," he says. "You always want to make sure it's that special… experience that you had on your first night seeing the show."
The importance of hands-on experience
Gardner has always had an interest in technology and what happens behind the scenes. Even in elementary school, he was more interested in show elements like the lighting rather than being on stage himself. He found a terrific first mentor in Charlotte Latin School teacher Jay Scott, who is the Performing Arts Center Manager and Audio/Visual Specialist at the K-12 school. Scott has also taught Upper School Technical Theater there since 2000. By middle school, Gardner was part of the tech crew working under Scott's supervision on plays. In high school, he joined Scott's elective class with a handful of other students.
Scott encouraged students of all ages to experiment with technical theater and create in a hands-on way.
"He allowed us to learn by doing," Gardner says. "Especially in this field, you can't just read a book about how to do theater or how to work as a stage manager or how to work in a scene shop. It's all about doing."
Gardner also got great hands-on experience as a Blumenthal Technical Production Intern in the summer of 2017. He helped with that year's edition of Charlotte Squawks, from dress rehearsals through the five-week run. That show also took place in Booth Playhouse, where Waitress is currently playing. (Another fun fact: that year's Squawks cast featured Central Academy of Technology and Arts alumna Nkeki Obi-Melekwe, who is now starring on Broadway in Tina: The Tina Turner Musical !)
Gardner also helped with four Broadway tours that came through Charlotte that summer. He got a close up look at how the load-in process works—that's the moment when the sets and props arrive and are installed at a theater—and how tours coordinate logistics with Blumenthal. He had the unique opportunity to shadow the visiting stage managers too, listening on the headset as they "called the show" (i.e., gave the technical and other backstage cues for the crew and cast).
"You can't get that type of experience in a classroom," he says.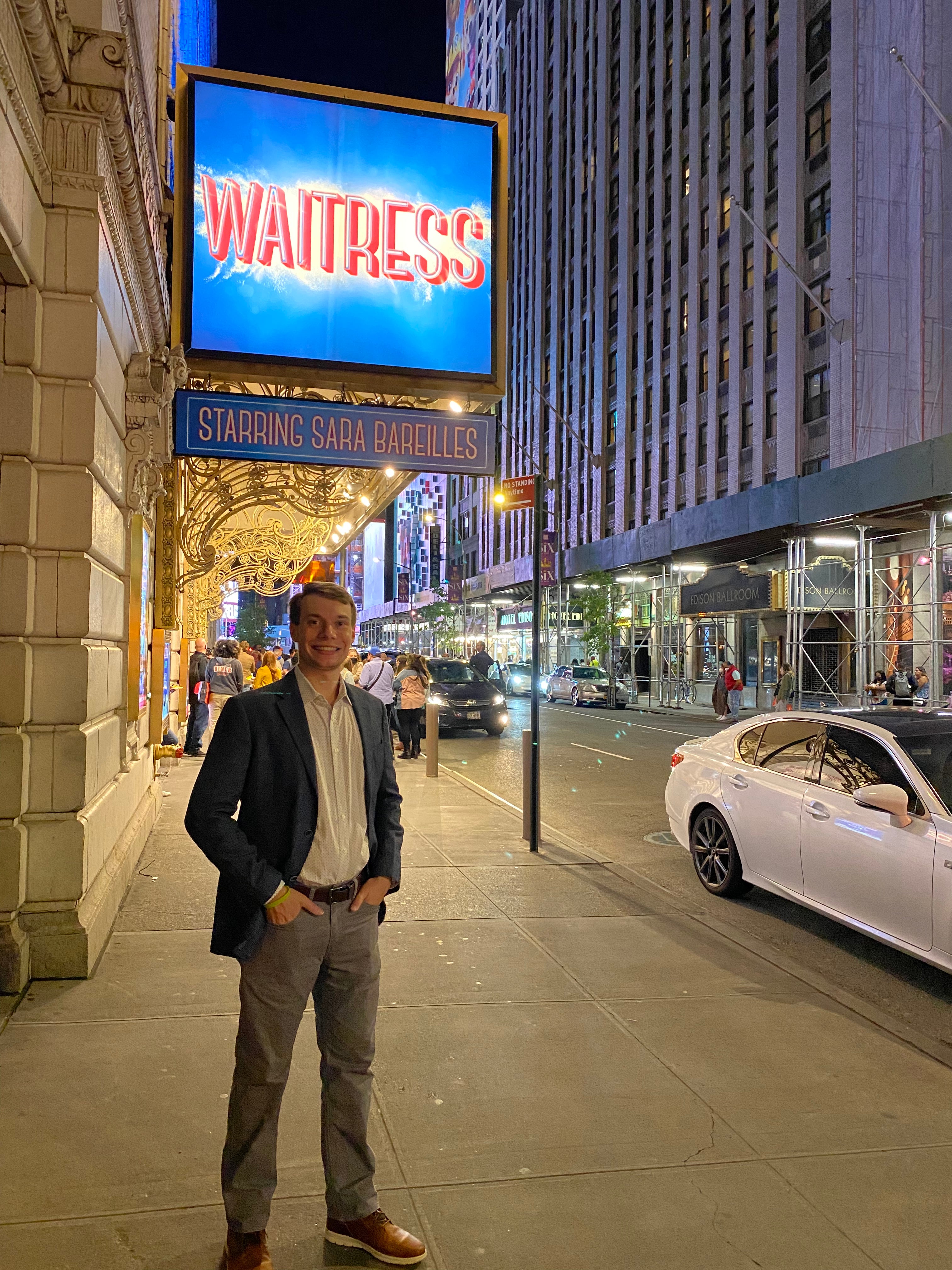 (Gardner in front of the Broadway marquee for Waitress)
By then, Gardner was a student at Boston College, pursuing a BA in Theater Production. He had worked on many high school and college productions but his Blumenthal internship was his first experience working at a professional level.
"I've always loved going to the Blumenthal… And I think that was one of the reasons I wanted to at least try out touring," Gardner says. "I never went to New York to see Broadway shows or anything."
In addition to his internship at Blumenthal, he got experience while still a student working summer stock theater at Barrington Stage Company in Massachusetts. Gardner was also selected as one of eight college stage managers across the country as a National Stage Management Fellow at the Kennedy Center in Washington, D.C.
Gardner says all of these experiences were enriching and informative. He is also grateful for college courses he took outside of theater. At BC, he minored in Business with an emphasis in Management and Leadership. Courses in business, psychology and team management, for example, have proven to be invaluable.
They have helped him navigate difficult conversations and develop better emotional intelligence when working with others. They have also helped him successfully manage relationships and create a cohesive team made up of many different types of people, from cast and crew to creatives and producers. As the Stage Manager, you serve as the connector between all of them.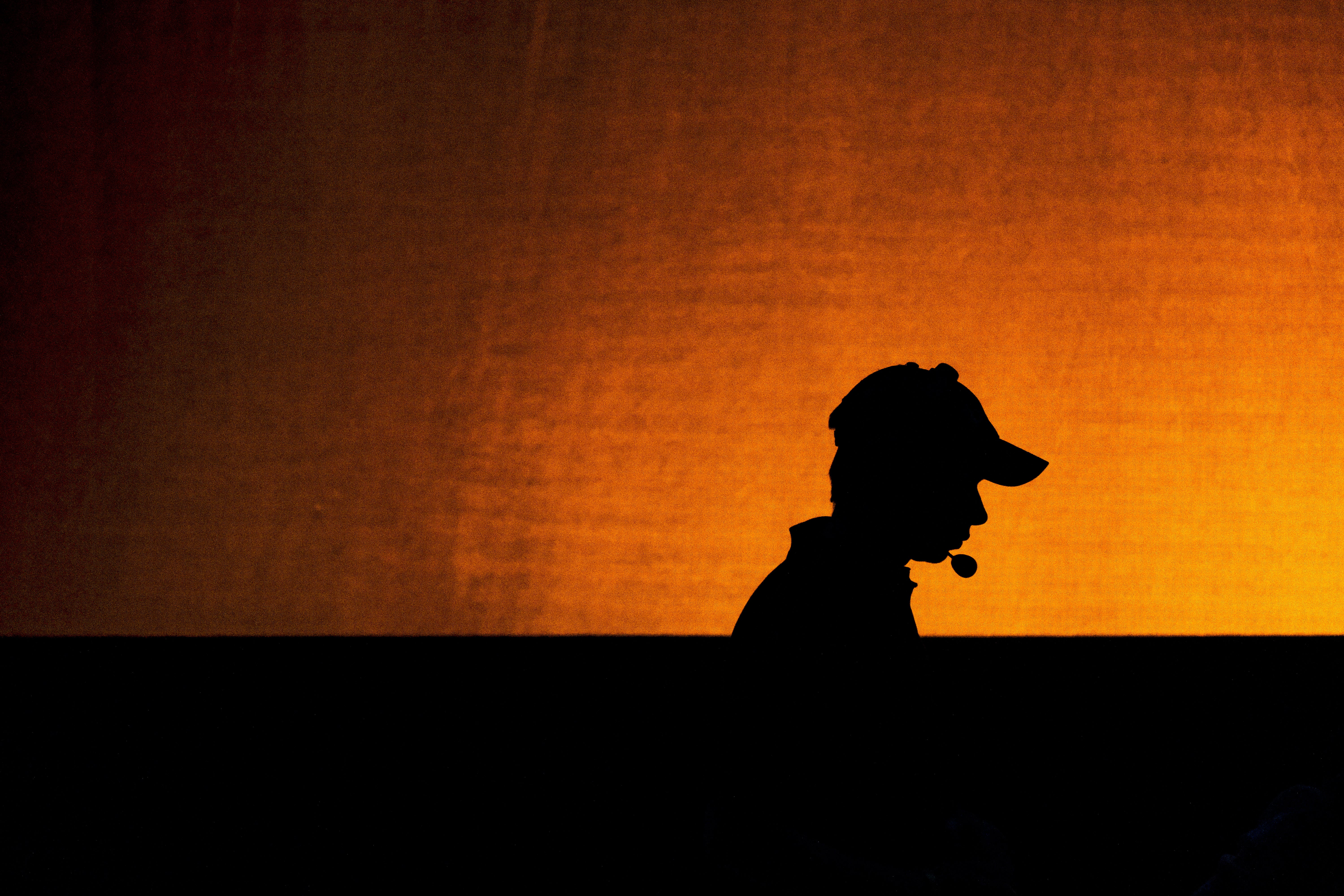 (Gardner during technical rehearsals prior to opening on the WAITRESS tour)
Gardner encourages theater students with an interest in working backstage to cast their nets wide and explore as many different opportunities as possible. In his own experience, Gardner says opportunities to do light design in high school and college, to mix audio for his church on Sundays, pursue various internships and even study acting in college have all made him better equipped to do his job now.
"There's always going to be time to specialize later," he says.
Crossing paths with other Blumey alums
As we head into the final stretch of the local high school musical theater season with the Blumey Awards later this month, how could we not mention that Gardner also participated in the program all four years of high school?
He has also crossed paths professionally with other Blumey alums. There's Obi-Melekwe, who was a Blumey Awards Best Actress nominee. There's also Providence Day School alum Thomas Laub—a former Blumey Awards Best Actor nominee—with whom he worked on David Byrne's American Utopia. Laub is one of the show's producers.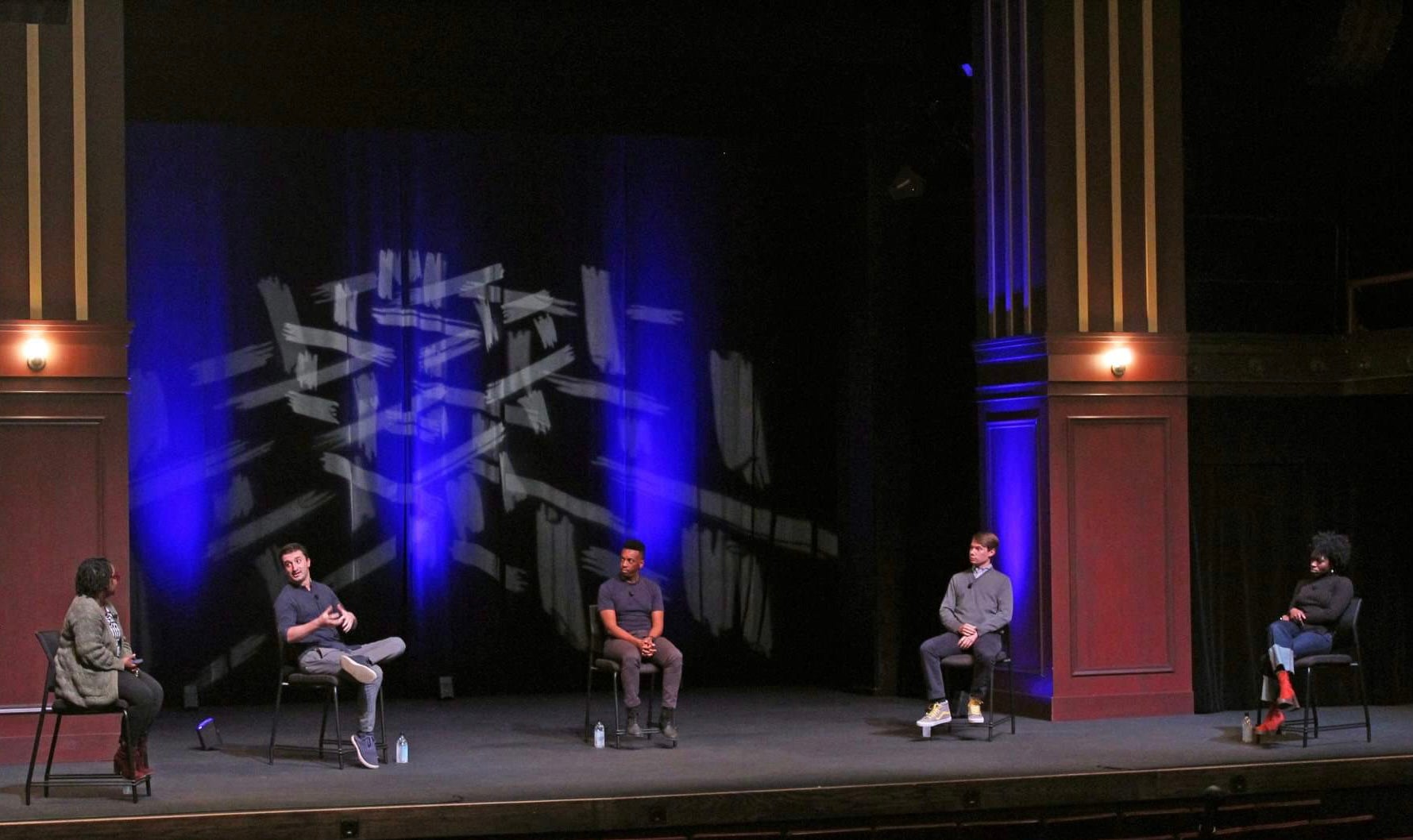 (Gardner on stage at McGlohon Theater in December 2020 for a conversation on theater careers along with New York producer Thomas Laub, Hamilton swing Tyler McKenzie, Tina star Nkeki Obi-Melekwe and host Tiffany Bryant-Jackson of Open Cage productions)
Gardner also recently caught 2013 Blumey Awards Best Actress winner Eva Noblezada performing in Hadestown on Broadway.
"How cool it is that there are so many Blumenthal alums that are out there in the industry working… [and] we're all around the same age," Gardner says.
"Just to think that all five of us—Reneé (Rapp), Eva, Thomas, Nkeki, me—were all in the same building performing together is pretty neat. There's definitely something special here in Charlotte…"