CHEERS! Blumenthal Introduces 14 New Broadway-Themed Cocktails This Season
Some artists work in oils or pastels. Harold Logan works in liqueurs with a splash of grenadine.
Logan, the Special Events Manager within Blumenthal Performing Arts' Food and Beverage department, has been busy crafting drinks that please the palate and the eye.
He and his team have developed 14 new Broadway-themed cocktails for guests to try throughout the 2022-'23 season. Each drink will be available for a limited time only, during the specific production that inspired its creation.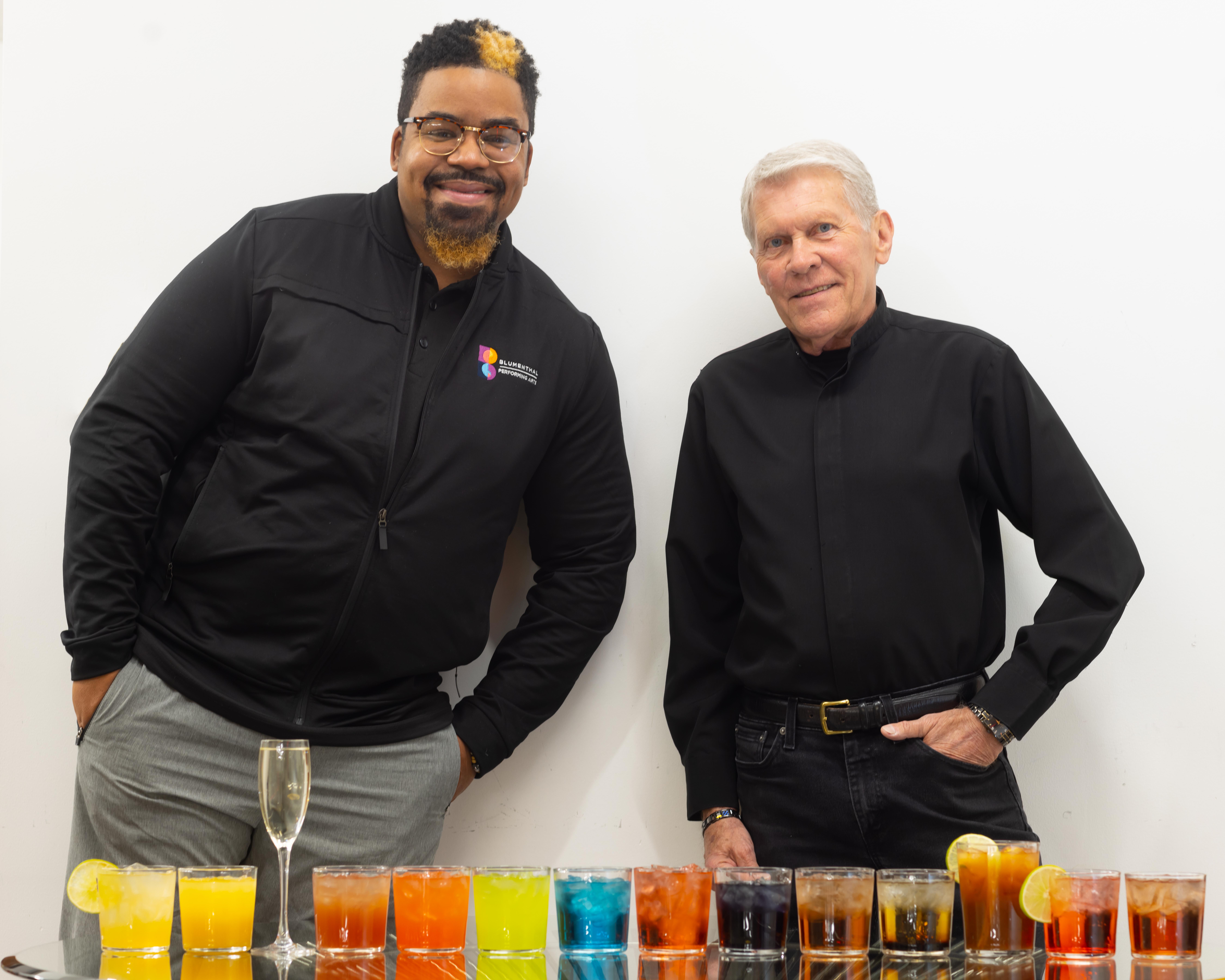 (Blumenthal Food and Beverage Special Events Manager Harold Logan and Head Bartender JP Smith)
For Logan, the goal is to provide something special to enhance guests' time at the theater and help build anticipation for the season ahead.
"It's not just coming to see a show," he says. "It's an experience."
Logan, who has worked more than 15 years in the food/hospitality industry and holds a degree from Johnson & Wales University in Restaurant/Food Services Management, has been part of Blumenthal's team for nearly six years. This isn't the first time he has created specialty drinks for Blumenthal events.
But in the past, his concoctions have come together right before a show arrives in town, as an unexpected surprise for guests at the theater.
Seeing their success and the popularity this fall of "Brush Stroke"—the new signature beer that Logan partnered with Heist Brewery to custom brew for Blumenthal's inaugural Charlotte International Arts Festival—he saw potential to design a full lineup of themed drinks to bring to the theater.
"I wanted to create something that was different, something that we haven't done before and I wanted to utilize all of the spirits that we currently offer," Logan says.
So he set out to meet the challenge with flavor and pizzazz.
For Logan, that meant more than simply coming up with fun names. In taste and looks, he wanted his creations to evoke the essence of a show. He researched all 14 productions, the characters and the artists involved to capture nuances via his signature drinks.
"It's so cool to be able to geek out on theater, man, and I love this stuff," Logan says. "I really enjoy it."
That research led him to discover, for example, that Michael Jackson's favorite drink was White Moscato. And you'll see that as a key ingredient in "Iconic," the specialty cocktail for MJ: The Musical (available at performances September 27 - October 8, 2023 in Belk Theater.) ("Iconic")
TRY, TRY, TRY AGAIN
Logan developed his slate of drinks and tested them out first with his wife's help. "We did a lot of workshopping at home," he says with a laugh. "...We had a ball and we were safe doing it because we were in the confines of our home, so that was cool. We had a wonderful night over some drinks and some music."
But making tasty and visually appealing drinks was only part of the equation.
"We also wanted to create a seamless approach with our bartending staff," he says.
Bartenders need to be able to prepare and serve drinks efficiently, whether it's during the more leisurely pre-show hour or during a brisk 20-minute intermission of a sold out Broadway show. That's where, he says, the aid of JP Smith Blumenthal's most seasoned bartender, was pivotal.
Together, they workshopped the whole spectrum of offerings.
That led to some modifications—like with "Patriot's Pride"—the cocktail creation for the musical 1776 (coming to Belk Theater June 6 - 11, 2023). Logan wanted a drink that was red, white and blue but the recipe he came up with had too many steps, in practice.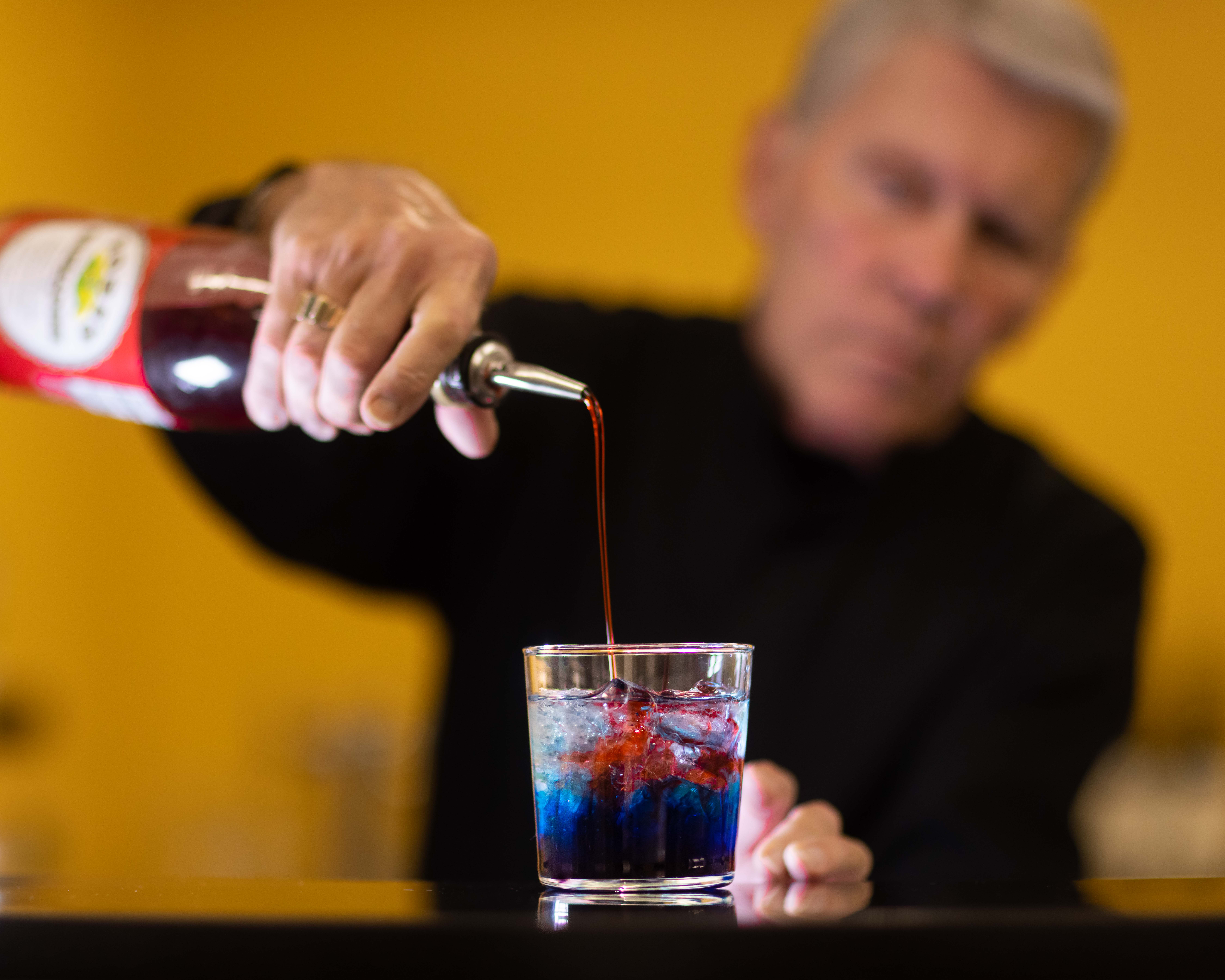 (Patriot's Pride)
"From my Johnson & Wales mind and my scientific approach to cocktails, it was just too intricate," he says. "It would work perfect at a country club…"
So, they whittled it down to just four ingredients for a tasty drink that still achieved the look he wanted.
SOME FAVORITE BLENDS
Among the fourteen drinks he created, Logan says he has a couple of favorites. One is the bright green Midori liqueur-flavored concoction, "Pucker Up, Pucker Up, Pucker Up" created for Beetlejuice (available March 28 - April 2, 2023 at Belk Theater). ("Pucker Up, Pucker Up, Pucker Up")
Another is "Out of Sight," a Kahlua-flavored drink for the musical Ain't Too Proud (July 25 - 30, 2023 at Belk Theater). That one comes with a twist of nostalgia. ("Out of Sight")
Logan says when he was reading the show Ain't Too Proud and learning about the characters, it brought back childhood memories of his parents on family vacations and gatherings at his grandmother's house. That's when the adults would be playing card games and listening to music by artists like Marvin Gaye and Stevie Wonder. It's also when he'd catch his mom enjoying her all time favorite drink, a Black Russian.
"And when I was a kid, I would always see her make this drink and it would just look like coffee to me and I never understood: 'why is my mom drinking coffee?' And it just looked weird in a glass."
So as he pondered what combo would work best for this show, he hit on a modified Black Russian, as the perfect choice. "An ode to my mother and [an] ode to the wonderful music that Broadway could do for you," he says. "...From a memory standpoint, from an emotional standpoint, that's my favorite drink by far." (See below, for Logan's recipe!)
TIPS FOR ENJOYING DRINKS AT THE THEATER
Logan offers theatergoers these two suggestions for making it a relaxed evening with plenty of time to enjoy your concessions.
→ If possible, come early to the theater so you're not rushed to find your seat. Drinks and light snacks are available one hour before each show.
→ If you plan to have a drink at intermission, go ahead and pre-order it from the bar when you arrive at the theater. You'll be able to save time and skip the line later. Simply present your drink ticket to the usher at the drink table near the bar, who will retrieve your order—freshly prepared about five minutes before intermission.
INTRODUCING THIS SEASON'S FULL LINEUP OF COCKTAILS
Tina – The Tina Turner Musical - December 27th - January 1st
"Rolling River" - Vodka/ Apple Cider/ Splash of Ginger Ale/ Lime Slice
A Soldier's Play - January 10th - 22nd
"Beautiful Tragedy" - Makers Mark/ OJ / Splash of Peach Schnapps/ Lime Slice
Les Misérables - January 31st - February 5th
"Soloist" - Champagne / Peach Schnapps / Splash of Tonic
Riverdance - February 14th -19th
"Curtain Call" - Vodka/ Cranberry uice/ Splash of OJ/ Lime slice
Come From Away - March 7th -12th
"Welcome Home" - Vodka/ Pineapple juice/ Splash Grenadine/ Lime Slice
Beetlejuice - March 28th - April 2nd
"Pucker Up, Pucker up, Pucker Up" - Midori / Vodka/ Splash of Pineapple
Aladdin - April 5th - 9th
"Fly with Me" - Blue Curacao/ Pineapple Rum/ Splash of Ginger Ale
Annie - May 30th - June4th
"Hard Knock-on Rocks" - Vodka / Sprite / Splash of Grenadine
1776 - June 6th - 11th
"Patriot's Pride" - Splash of Grenadine/Vodka/ Club soda/ Splash Blue Curacao
Six - July 4th - 16th
"Crown Jewel" - Crown Royal/ Peach Schnapps / Splash Cranberry Juice
Ain't Too Proud - July 25th - 30th
"Out of Sight" - Vodka/ Kahlua/ Club soda
The Book of Mormon - August 8th - 13th
"The Almost Virgin Mary" - Bloody Mary Mix/ Vodka/ Celery /Lemon/ ime
Chicago - September 12th - 17th
"Flirty Shirley" - Vodka/ Grenadine/ Sprite/ Lime slice
MJ - September 27th - October 8th
"Iconic" - White Moscato/ Cranberry / Splash of Peach Schnapps (Fun Face: White Moscato was Michael Jackson's favorite drink!)
WANT TO TRY BARTENDING AT HOME?
Here's Harold Logan's recipe for "Out of Sight," specially crafted for Ain't Too Proud.
Ingredients:
Ice
Vodka 2 oz
Kahlúa 1 oz
Club Soda
Fill a lowball glass with ice. Add vodka, then Kahlúa and finish with a club soda float (i.e., fill it to the top or to your taste). Serve with a straw for people to enjoy the fullness of each layer or to stir and mix up the flavors.
LOGAN'S TIPS FOR MAKING YOUR OWN DRINKS AT HOME
Keep it simple.
Focus on what appeals to you. "All taste buds are different," Logan says." … Go off of what you enjoy."
And use fresh fruit to add a nice little surprise to any cocktail. For example, Logan's recipe for "The Almost Virgin Mary," available at performances of The Book of Morman (August 8 - 13, 2023 at Belk Theater), includes fresh lemon and lime as garnishes and a stalk of fresh celery to stir the drink. ("The Almost Virgin Mary")
Cheers!