FREE April Events at Blumenthal
Looking for some springtime fun? Blumenthal has got you covered with five FREE events this month. Whether you're looking for music, comedy or spoken word, there is something for you!
Director of Community Engagement Boris "Bluz" Rogers says these special events have been developed to amplify the voices of current Charlotte artists and creatives as well as offer opportunity and hope to the next generation of talent.
"To show them that there is a way to be a productive WORKING artist in Charlotte," he adds. "And perhaps, a little selfishly, it is a way of keeping our homegrown talent at home until another big city comes calling for their amazingness, in which [case] we say go chase your dreams wherever they may be."
So get out there, Charlotte, and have a good time!

Laughs and Stanzas
April 18 @ 7:30pm
QC Social Lounge (300 North College Street)
Admission is free but tickets are required. Click here for more info.
This new event features a rotating group of some of the best up and coming comedians and poets for a night of lighthearted fun.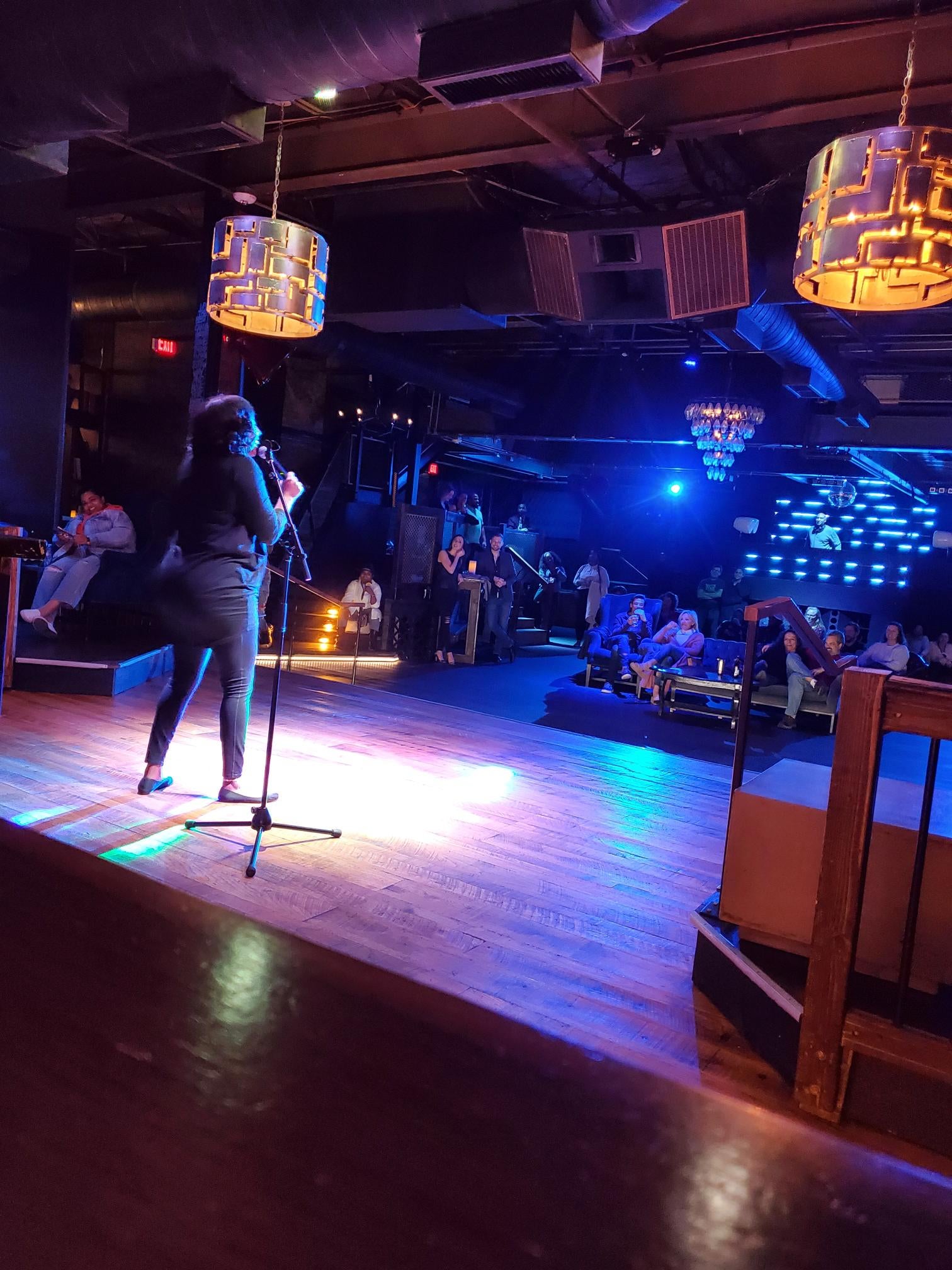 Among the entertainers at this event will be comedian Tara Brown, who has performed her clean family-friendly comedy around the country. She was the 2019 "Best Comedian" readers pick for Queen City Nerve and called one of "the stand-up comedians you need to know in Charlotte" by CharlotteFive.com
She'll be joined by Jordan Centry, another young comedian who has been getting a lot of attention. He has been part of the Queen City Comedy Experience in Charlotte and won "Comics Comic" at The Comedy Zone's Comedy Battle Championship.
Poet JC Cowan, a staple in Charlotte poetry for more than 20 years, will be there too.
It's a fun event, says Blumenthal Event Manager Joe Hunsaker, and this new venue provides a sleek new location with a "feel" that's part museum, part library and part bar. "It's just a really cool, eclectic looking space," he says.
Cash bar available.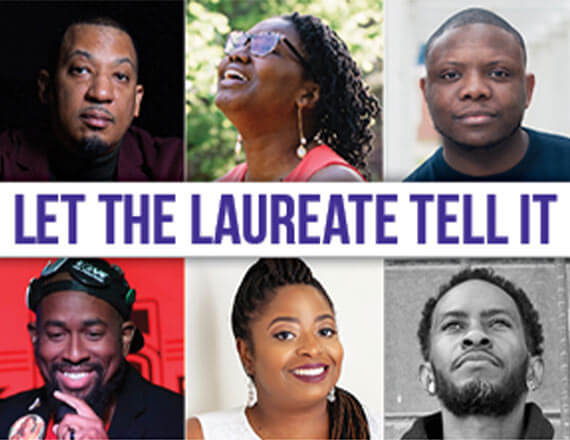 Let the Laureate Tell It
April 19 @ 7:30 pm
Knight Theater at Levine Center for the Arts
Admission is free but tickets are required. Click here for more info.
It's national poetry month! What better way to celebrate than with this historic event bringing poet laureates together from across the country? Charlotte's never hosted so many poet laureates from different cities and states all together on one stage. It will also be the moment Charlotte announces its first-ever poet laureate!
The Laureates include:
Dasha Kelly - Wisconsin
Roscoe Burnems- Richmond VA
Angelo Geter- Rock Hill, SC
CJ Suitt - Chapel Hill, NC
KaNikki Jakarta - Alexandria, VA
David Oliver Judah- Pomona, CA
Rhea Carmon- Knoxville, TN
Emmanuel Bean- Houston, TX
"Pay attention to all of them," says Rogers, who also serves as coach to the three-time national championship-winning competitive slam team, SlamCharlotte. "...they will all bring a very unique and interesting perspective from their own walks of life and from the cities they represent."

Wednesday Night Live: Ladies Who Rock the Art World
April 20 @ 7pm
Bechtler Museum of Modern Art at Levine Center for the Arts
Free (no ticket required) • Click here for more info
Did you know you can catch free live events or programming every Wednesday night at the Levine Center of the Arts Wednesday Night Live series? From 5-9pm on Wednesdays, admission is also free to the Bechtler Museum of Modern Art, Harvey B. Gantt Center for African-American Arts + Culture, and The Mint Museum.
Mark your calendar for this special rendez-vous on April 20 with women who have "painted, penned and pirouetted their way into history!" Storytelling and humor will collide at Ladies Who Rock the Art World, where four local performers share the stories of women who have made a lasting impression on the arts. This Nerdy Night Out event is hosted by Joni Deutsch, Tiffany Bryant Jackson, Jenny Kabool and Kitty Janvrin. Content will be PG13.
"Smart people like to have fun too," says Events Manager Hunsaker. If comedy clubs and breweries aren't your thing, this kind of info-tainment may be just what you're looking for.

Acoustic Grace
April 21 @ 7:30pm
Brooklyn Grace (219 South Brevard Street)
$5 tickets to attend in person or enjoy free via livestream on Blumenthal's Facebook page!
Featuring music by local artists, this evening of singer-songwriters and a cappella performances takes place monthly in this historic venue, the former Grace A.M.E. Zion Church. April's event will be hosted by vocalist and instrumentalist Jessica Macks and Blumenthal's own Bluz Rogers.
This show will feature two powerful singers, St. Floyd and Dexter OJ.
"Music is in the process of saving my life," St. Floyd writes. "I'm a southern, black, queer person who recently discovered I can and enjoy writing songs. I love to catch a good jazzy, R&B, neo-soul vibe with a little kick cause' I'm a lil churchy. But I'm an Aquarius so I might surprise you from time to time. I'm grateful for the opportunity to share my music. I hope you hear something you enjoy and appreciate."
Dexter OJ released his debut album, "Blue," in 2019. The son of a minister of music, he's spent his whole life exploring and expressing himself musically. He has opened for Grammy Award-winning artist, Anthony Hamilton, and been featured on Spotify's "I Love My Neo-Soul" editorial playlist.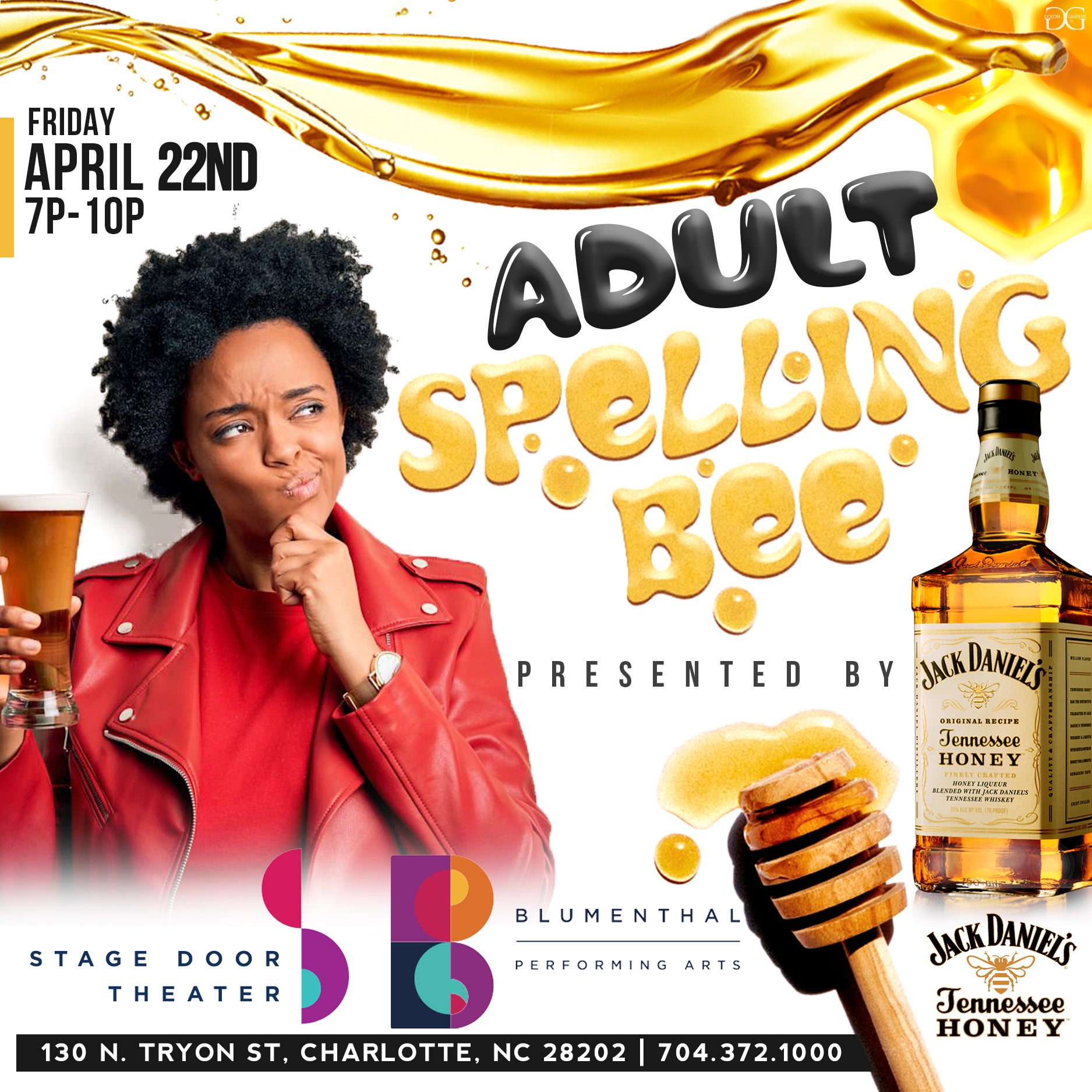 Adult Spelling Bee
April 22 @ 7:30pm
Stage Door Theater (North College b/w Trade & 5th Streets)
Admission is free but registration is required
It's not your ordinary spelling bee but the participants sure will be buzzing. The first 10 spellers to sign up (21+ only) at the Stage Door Theater the night of the show will compete for the title of Adult Spelling Bee Champ.
Here's the catch: after each correctly spelled word, contestants must down a standard shot of Jack Daniels. Expect loads of fun with a slate of weird words drawn from across pop culture, science and beyond, while the whiskey-imbued try their darndest to spell them write...errr.. right.