Get in on the Act at "Yes, And! The Audience Participation Show"
Looking for a good laugh and a one-of-a-kind evening with friends? You'll find both when you spend time with local improv phenoms, Now Are the Foxes, and special guests at "Yes, And! The Audience Participation Show" on Thursday, June 22 at 7:30pm (Stage Door Theater).
For most comedy shows, audiences come to watch. But for this event—a collaboration between Blumenthal Performing Arts and Queen City Comedy—there are tons of opportunities for you to get in on the action and join the fun.
The show features a curated selection of the best audience participation improv activities all in one 90-minute extravaganza. Climb on stage for a speaking or non-speaking role, share a story for the actors to riff on, or simply sit back and watch the action unfold live.
Comedian April Kirby, who has performed improv for more than ten years both in the Triangle and Charlotte region, says one of the best parts of improv is its spontaneity.
"It almost feels like alchemy," she says.
"We're creating something that none of us as individuals would have been able to come up with."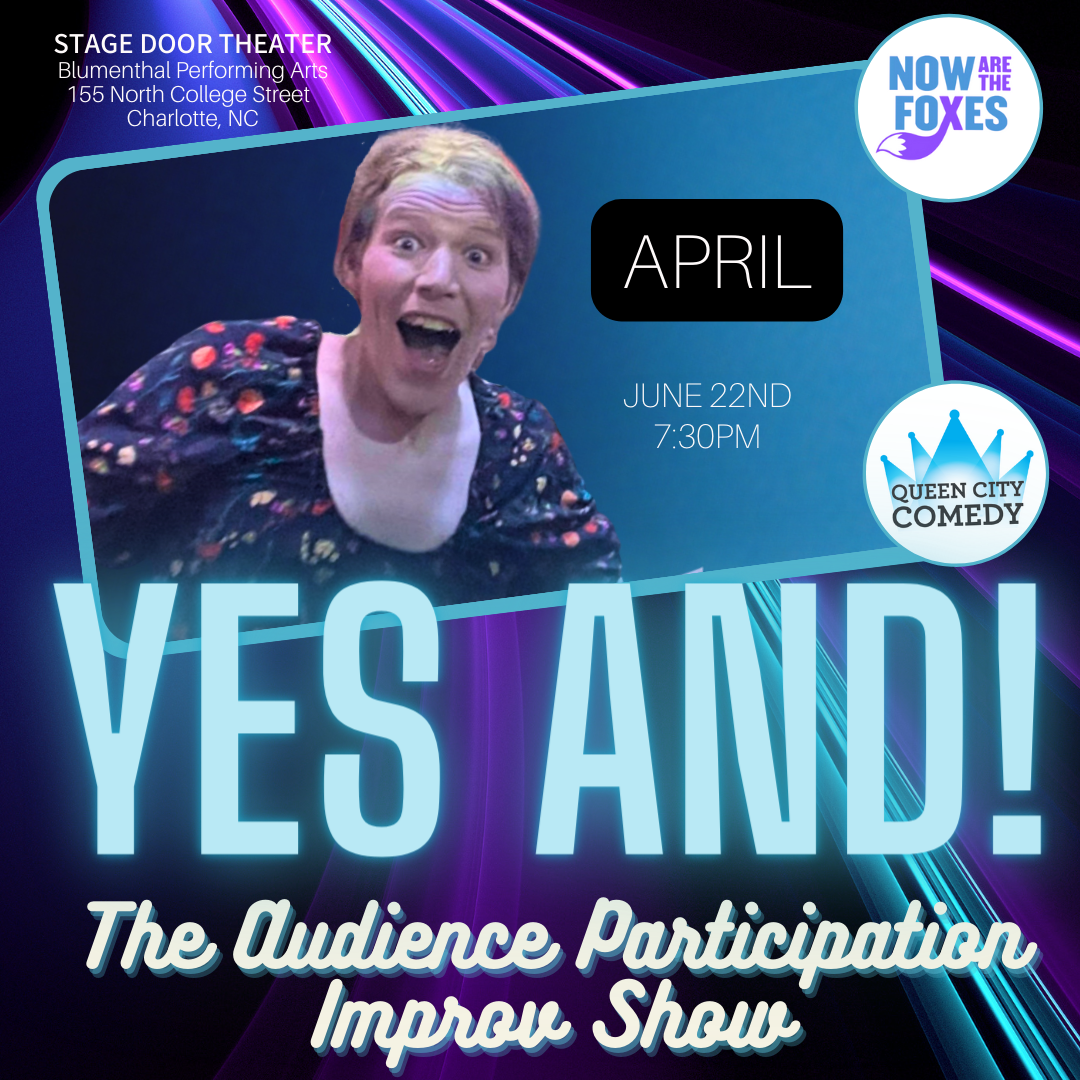 What's the difference between Sketch Comedy and Improv?
Kirby, who has performed both types of comedy, says there are many ways you could look at the differences. But here's her quick guide:
"In sketch, a lot of the time you're trying to defy people's expectations," she says. And in improv, "you're fulfilling people's expectations in a delightful way."
So, what can you expect at "Yes, And!"?
Kirby says the evening is going to feel like one big improv party. There will be games, short scenes as well as long form improv. The cast usually announces right before the next act what kind of help they can use and asks for volunteers to raise their hands.
(Kirby says in situations like this, some people inevitably point at their friends. But be careful, she warns, because that's also one of the best ways to volunteer yourself!)
One of her favorite games is called "Columns" where the improvisers tap the shoulder of a volunteer to finish a line or add a word/object as they are performing. Whatever the person adds becomes part of the improvisation. (It's like a staged version of Mad Libs!)
Long form improv usually involves some kind of interview. For that, audience volunteers share a story based on a prompt. It could be anything from what happened to them that day to an interesting dating experience to their worst job ever. Based on what the improvisers hear, they perform an original set of scenes incorporating actual details from the stories collected.
How do improvisers prepare for the unexpected?
Practice, practice, practice.
Improv performers rehearse to work on techniques that can help add structure when they're up on stage. That helps ensure whatever they do creates a coherent story. But there's always a bit of a leap of faith, Kirby says.
"After a long enough time improvising, part of it is just the fun of 'I wonder what's going to happen out there' and trusting that whatever does happen, we'll have a lot of fun…"
Ready to give it a try?
Kirby says if you're planning on coming to the show but are a little nervous to volunteer, she encourages you to give it a shot—even in a small way.
"We're all very friendly and welcoming," she says. The goal is to build something together, not to embarrass someone.
One of her favorite things as an improviser is helping to make the audience participant feel like the star of the show.
"And, hey, if you like that, then consider some improv classes too," she says. "Because once you participate, you know, you're half a step from doing improv, anyway."