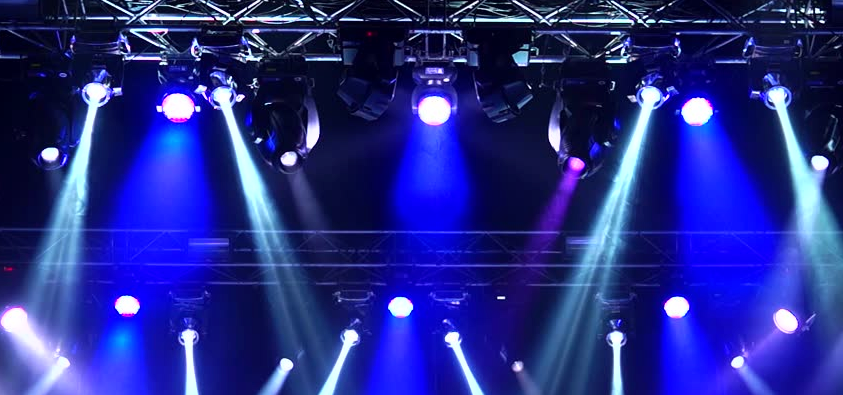 GETTING A TASTE OF BROADWAY: Students Train with Pros at Blumey Awards Audition Workshops
Imagine spending a day on stage rehearsing with Broadway professionals. That's what students from dozens of local high schools got to do April 13 and 14, through free, full-day audition workshops hosted by Blumenthal Performing Arts. The sessions were led by composer, dance arranger and orchestrator David Dabbon (Sondheim on Sondheim, Beetlejuice The Musical, Audra McDonald Live At Lincoln Center) and performer Kirsten Scott (Big Fish, Follies, Jersey Boys).
The event was open to all students eligible for a Best Actor or Best Actress Award in this year's Blumey Awards. Over the course of two days, more than 50 students received individual feedback and vocal coaching on a song from their own school's musical production or another piece of their choice.
The workshop was an extra chance to fine-tune their audition material for the Blumey Awards before the final judging takes place as well as prepare for any other performance opportunities down the road. Blumenthal has been offering this unique opportunity to local students since 2013. Auditioning is an important skill to practice for amateurs as well as professionals since almost every performance opportunity requires it.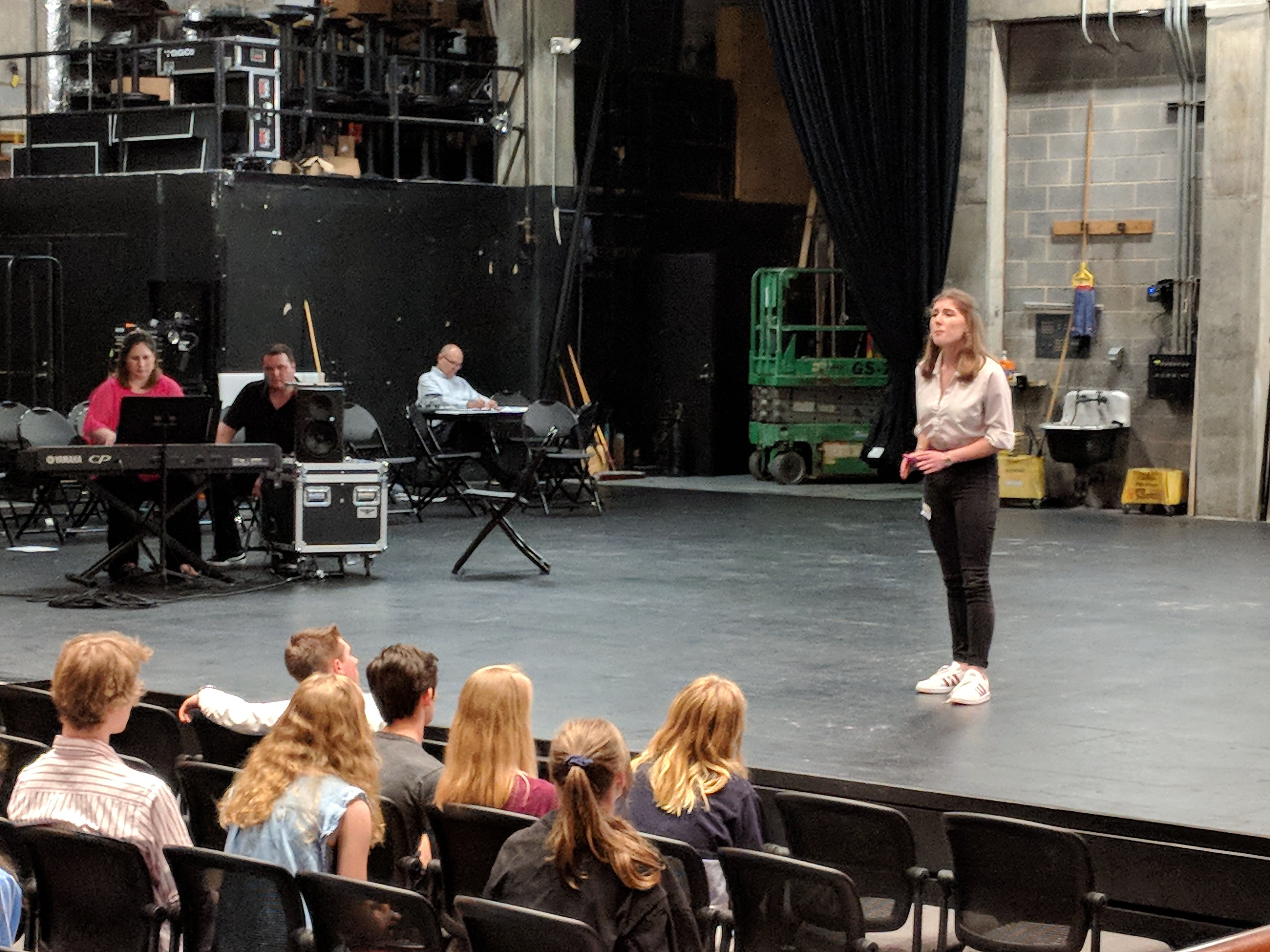 As part of the Blumey Awards judging process, students who scored in the top 20 in the Best Actor and Best Actress categories, based on their performance in their school's musical, will be invited to audition in front of a panel of judges in early May. The audition helps narrow down the list to the final six nominees for Best Actor and Best Actress. The two winners, who will be announced May 19 during the Blumey Awards ceremony, go on to compete in New York at The National High School Musical Theatre Awards, a.k.a. The Jimmy Awards, against Best Actor and Best Actress winners from other regional competitions hosted around the country. This year the Jimmy Awards will take place on June 24.
Charlotte has been a strong competitor at the Jimmy Awards in the past, including last year's Best Actress win for Renee Rapp of Northwest School of the Arts. (In fact, her former teacher, Matthew Hinson, who will receive an Inspiring Teacher award at this year's Jimmy Awards was onsite for the workshops, serving as one of two audition accompanists. He worked alongside Megan DeLaura, a voice and piano instructor, who has also music directed past Blumey Award-winning shows.)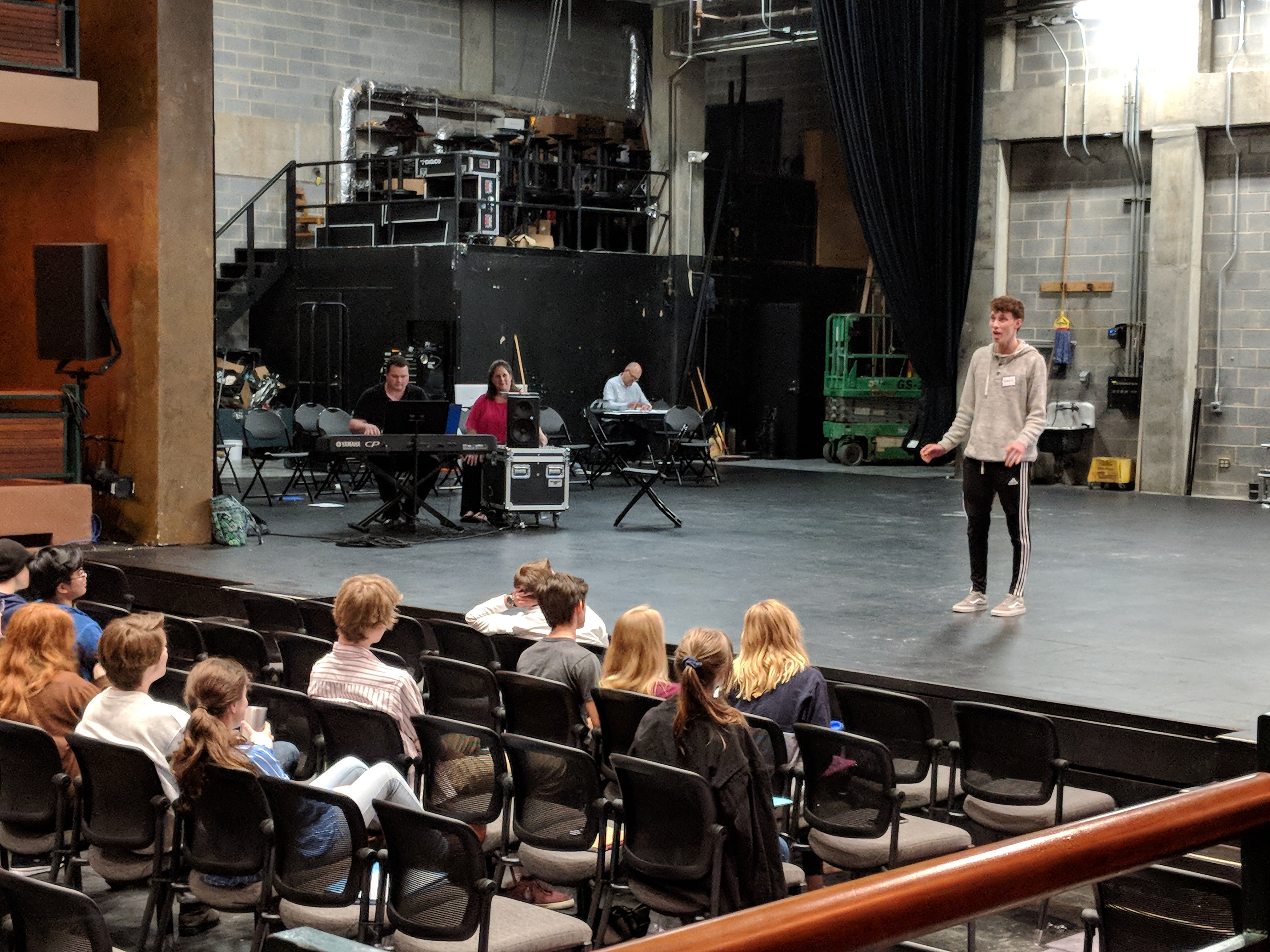 During the Blumey Award Audition Workshops, students rehearsed in front of their peers and received precise feedback from seasoned pros. It was hard work: students were pushed to move out of their comfort zone and to try new ways of performing or visualizing the song they had brought with them.
"[O]ne of the things I keep stressing is it's really important to be yourself while singing," says Dabbon, who has served as Musical Director for the Blumey Awards since it began in 2012. From advising on technique and breathing, to boosting confidence or asking specific and sometimes very personal questions, Dabbon and Scott focused on helping students find the best way to tell their stories through song. It's the same process Dabbon uses as a vocal coach to professionals and that Scott has experienced as a Broadway performer.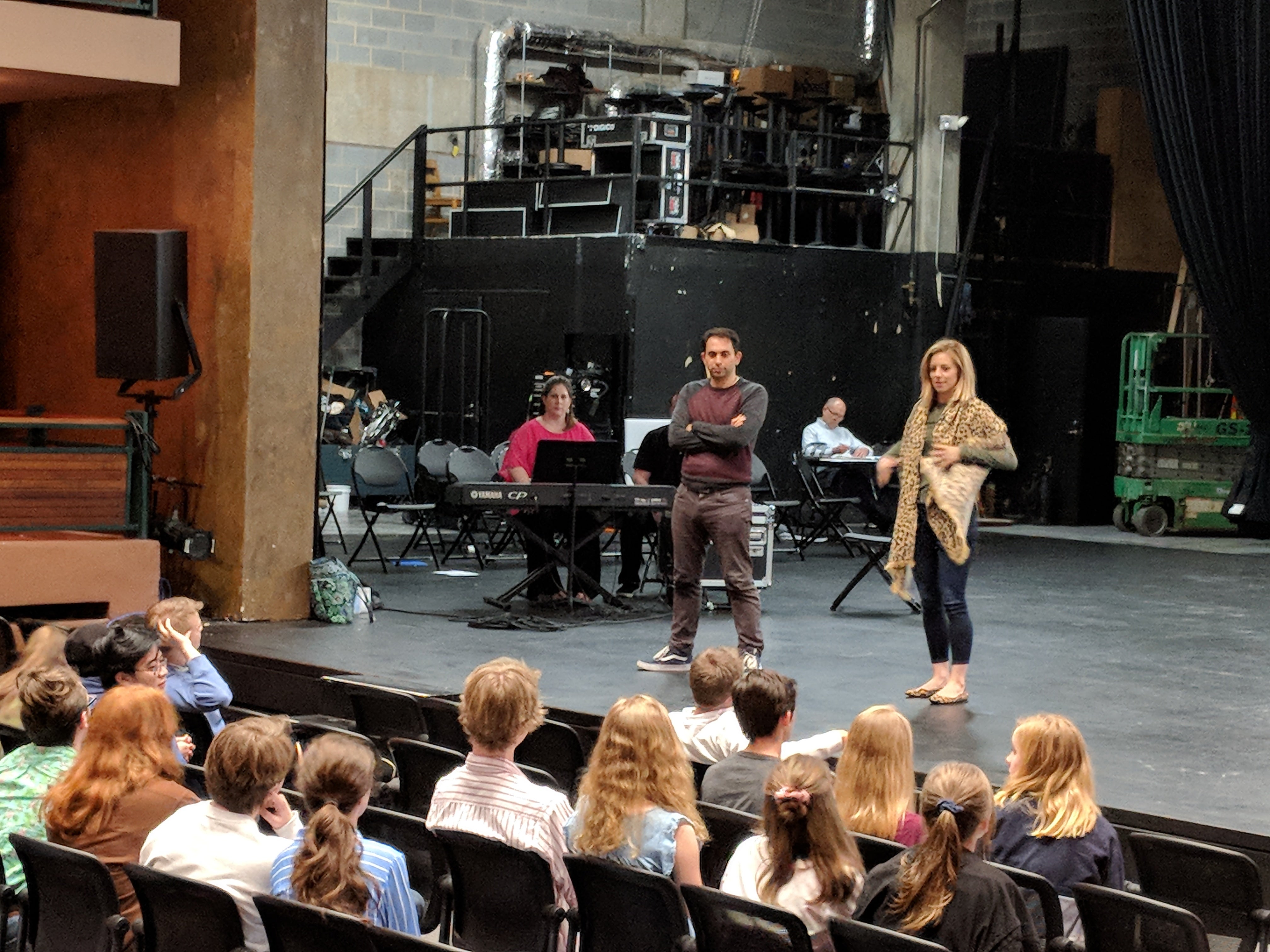 "I literally have done this, I've walked in your shoes," says Scott. "I've auditioned for colleges to be a musical theater major. I've done my high school musical, I've now dedicated my life to this profession. In certain ways it helps inform me as a teacher because I know the exact things the kids struggle with: nerves, their voice might not be in the best place that they want it to be that day, they might have just had a long night studying for a test and they might be tired: all of those things influence a performance."
For students, getting specific feedback from professionals who have made it to the top of their fields, is a rare opportunity.
"They took my audition, just flipped it upside down," says freshman McKenna Lawler of Piedmont Community Charter School, "And it makes you think about it in a totally different way. I feel like little by little I'm becoming better and better at what I want to do."
Ethan Sorreda, a sophomore at Christ the King Catholic High School, learned to really focus on the song's message and how he could better incorporate gestures and facial expressions to convey its meaning. "At first I was really anxious but then once I got there I just gave it my all," says Sorreda. "And then after that I thought to myself, 'I want to do that again.'"
"It's one of the hardest things to do to stand in front of a group of people and be like, 'this is my life, these are my problems and this is what I struggle with. These are my demons and I'm baring them to you all,'" says Macy Skaggs of Northwest Cabarrus High School. "It's so scary and I don't get how we do it but I think the thrill and the risk of being like, 'I'm a human and I suffer through all of these things and being able to share experiences is so beautiful' and even though it's hard, we stand up and do it, not because we just want to but because it has to be done."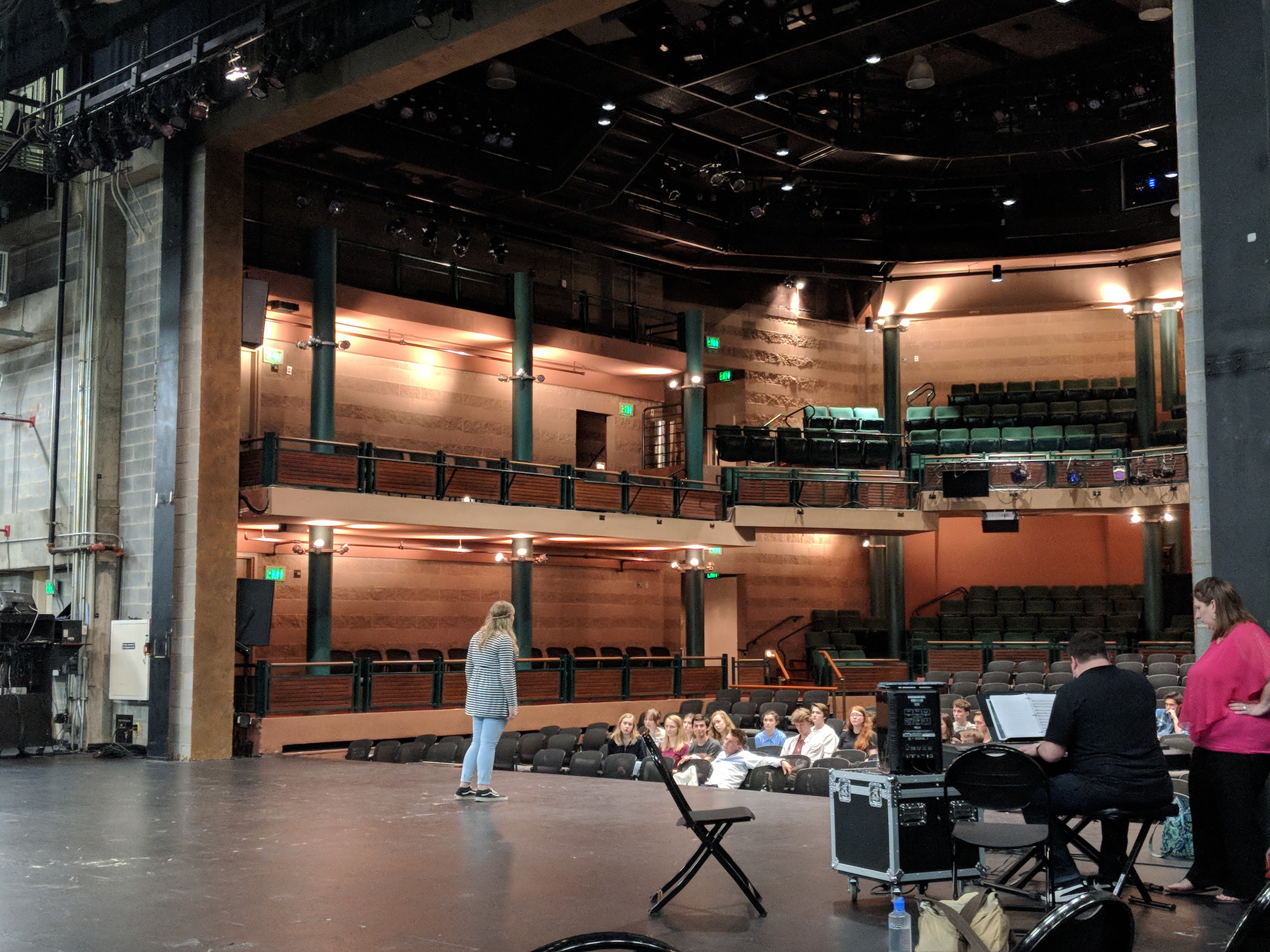 Sayo Oni, a senior at Central Academy of Technology and Arts and a 2018 Best Actor nominee, has appreciated both the quality of the vocal training and the overall experience of camaraderie he has found through the Blumey Awards. "It's a thrilling experience," says Oni. "...it's so nice to be able to perform with people who share the same passions and ambitions as you."
"I'm blown away by Charlotte," says Dabbon, . "... every year the level of talent, awareness, sweetness, intelligence, joy, community I find in the arts through this program is outstanding."
Both Dabbon and Scott emphasize that just as there are many ways to interpret a song, there are many paths these students may decide to take in life and that's OK.
"If they can walk away from today knowing that they're enough, that they can be themselves and whoever, whatever they want to be is enough, then we've done our work," says Scott. "[T]hen they can have that confidence and they can straighten up their spine and walk into the world a better human."