GREAT EXPECTATIONS: Porch Productions Inc. Helps 3 Unique Schools Get To Junior Theater Celebration Charlotte
From March 26 - 28, more than 2,000 students and teachers will gather for the annual Junior Theater Celebration Charlotte (JTC CLT) at Blumenthal's Knight Theater. It's an exciting opportunity for elementary and middle school aged kids with a passion for musical theater to connect with one another. They participate in a day of workshops, led by teaching artists from New York-based iTheatrics, and receive professional feedback on a snippet of their school show.
Among this year's participants will be three very different area schools that have been preparing their musical with the help of Porch Productions Inc., a local company that engages and empowers youth through the performing arts. The organization fills a niche in these schools—providing students the chance to participate in a musical theater experience that might not otherwise exist. Through these school residencies, students at Irwin Academic Center, Billingsville-Cotswold Elementary and The Palmetto School are also developing character, gaining self-esteem and learning personal responsibility.
PUTTING ON A SHOW THE PORCH PRODUCTIONS WAY
Everything kids do with Porch Productions Inc. is intended to closely replicate a professional experience. Students work on an officially licensed Broadway Jr. musical—an author-approved, condensed version of a well-known show. They use Music Theater International's show kits that contain the major components they need to get started, from scripts and music scores, CDs with fully orchestrated accompaniment, a Director's Guide and more. (Fun Fact: Blumenthal's Education department subsidizes or completely covers the cost of show kits for approximately 95% of all participants in JTC CLT!)
But that's just the jumping off point for them.
"It's not just, 'we come for an 8 month residency and we do cutesy things,'" says Porch Productions Owner Monica Pettiford. "We do a full staged production. We don't do anything half-way."
As part of their experience in a Porch Productions show, students participate in audition workshops, learn how to create a theater resume, write their own bio for the program, and receive their own professional headshot. "A lot of kids go on to other opportunities so we give them those resources," says Pettiford.
Kids perform using lavalier mics and under LED stage lights. Backstage, crew members help build sets or create costumes. There are even playbill ads and show merchandise to sell! Performers are also expected to come to each rehearsal prepared and with the proper equipment. That means, remembering to pack a bag for themselves with items like their cast notebook (with the script, music score, etc.), a pencil, a highlighter, dance shoes, dance clothes, a snack, and a water bottle.
"We really teach them about responsibility," says Pettiford. "It's creating a sense of pride. They are so excited to be involved in this process but the parents appreciate them taking ownership of it…"
MORE ABOUT THESE SCHOOLS
Each of the schools Porch Productions is working with this year has its unique challenges and opportunities. "We are very keen on adapting to our environment," says Pettiford, whose team works with an average of 60 - 70 students per school show.
This is the third year the company has worked with students at Irwin Academic Center, a CMS magnet program that features a rigorous, accelerated academic program. Pettiford helped launch the drama club when her daughter was a student at the school. Since most special opportunities here are tied to students' advanced academics, Pettiford says drama club serves as a unique chance for them to express themselves through the arts. These are high achieving kids who benefit from strong parent participation at the school, but that doesn't necessarily mean they have had much previous exposure to the performing arts.
The newly merged Billingsville-Cotswold Elementary is a Title I and International Baccalaureate World School. It serves a diverse community of students from low and high socioeconomic backgrounds. This is the first year Porch Productions is working with the school. Here too, parents are very involved behind-the-scenes, helping Pettiford's small team of four work their magic. They find props and costumes, build sets, assist backstage and more. The PTA off-sets production costs but some families cannot afford to pay the student participation fee. In those cases, Porch Productions waives the fee rather than turn anyone away. "We want every child to participate no matter what their means," says Pettiford.
At The Palmetto School in Rock Hill, Porch Productions has a slightly different focus and set of circumstances to navigate. Here, some students have moved in and out of the production, based on other factors taking place in their lives. These kids reside at the Children's Attention Home, Homeless Shelters, or are at risk- academically, behaviorally, or emotionally. The school integrates the arts as part of its curriculum to help students improve learning and heal from trauma. The school musical has helped students to dive into reading and literacy. Students have also worked on overcoming stage fright and controlling their anger.
"It's as much a creative opportunity as a space for learning those life skills," says Pettiford. "You have to learn to listen to one another, learn to be a generous actor. A generous actor is someone who comes prepared and ready to listen."
As part of the experience, students will reflect on their participation in the school musical and write about how it has affected them. Some of these stories will be shared later at a school showcase.
WHAT JTC CLT REPRESENTS
Pettiford says kids at all three schools are looking forward to their chance to participate in Junior Theater Celebration Charlotte, where they will perform on a professional stage and work with top theater professionals. It's been a major motivator to them to keep their grades up and manage their behavior at school. For many kids, even those from affluent backgrounds, this will be their first time visiting Knight Theater and seeing what it's like backstage.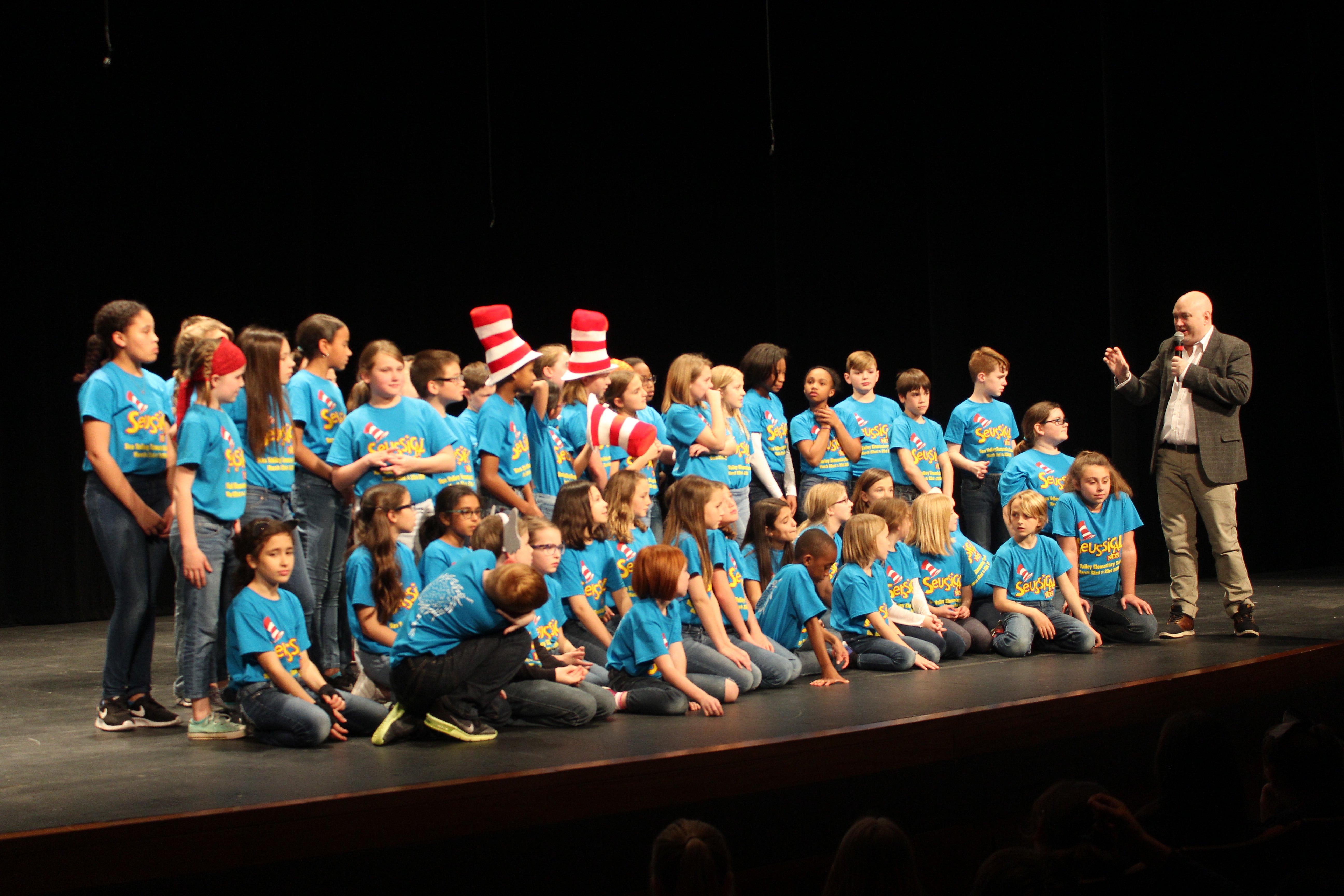 "Our only hope for them is they will gain confidence and they will understand with preparation and the proper resources they can do anything they want to do," says Pettiford. "Opportunity is where you're prepared to experience what [life] brings."
Blumenthal is lending a hand too by subsidizing transportation costs for many schools, including Irwin and Billingsville-Cotswold.
Pettiford knows experiences like these can be life-changing. "Through my parents exposing me to the arts at a very young age, I grew an affinity for it," she says. Her company's name is actually an homage to her own childhood dreams and the long summer days she spent inventing shows on her grandmother's front porch. As a black woman and a business owner who has worked many years in the entertainment industry, Pettiford hopes to model for all children—and particularly children of color—that their dreams are also achievable.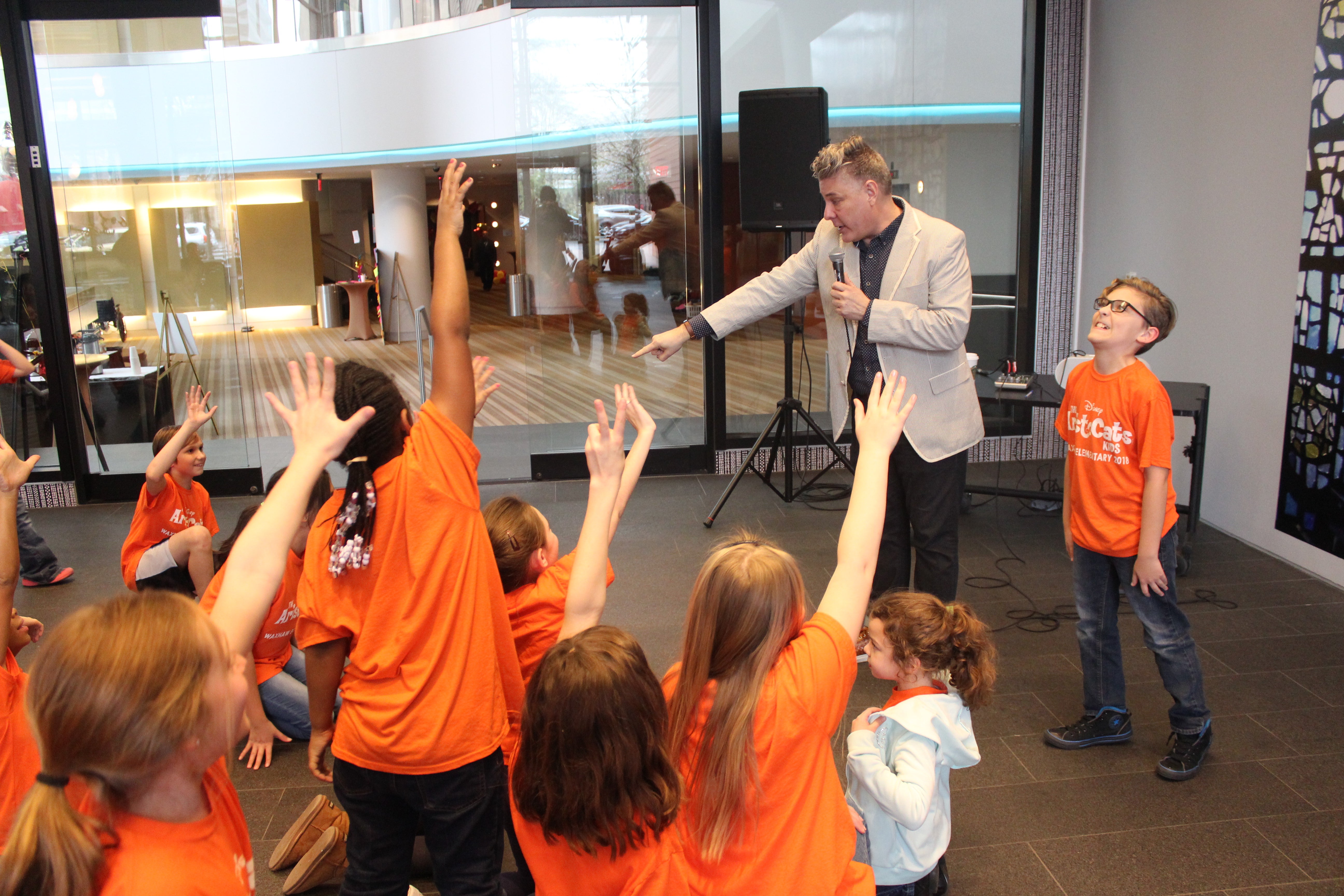 She's also watched with pride as her alumni perform around Charlotte and beyond. Last summer was especially sweet when 13-year old Ramon Reed returned to town as a cast member in the national tour of Disney's The Lion King. Reed got his start with Porch Productions when he was just 7 years old. "To go to The Lion King this summer and see Ramon on stage (as Young Simba), it was just—I'm so grateful. I tell my parents, all it takes is a spark."
For more information about Junior Theater Celebration Charlotte, visit: BlumenthalArts.org/JTCC