How Rapid Testing and other Steps have Helped Keep Theaters Going in Charlotte and Beyond
When the COVID-19 Omicron variant spiked in Charlotte recently during the run of Ain't Too Proud at Belk Theater, Blumenthal Performing Arts was ready to go with rapid tests.
"Everyone front of house—ticketing, security, box office—was tested daily right before they reported to work," says Tommy Cantrell, Blumenthal's director of Front of House Operations.
The upper lobby at the nearby Booth Playhouse became a make-shift testing site to ensure no asymptomatic staff would unwittingly transmit COVID to co-workers or theater patrons. (Note: keep in mind this was during a time when folks were waiting hours to get tested at some locations around the city! Thankfully, Blumenthal had planned ahead.)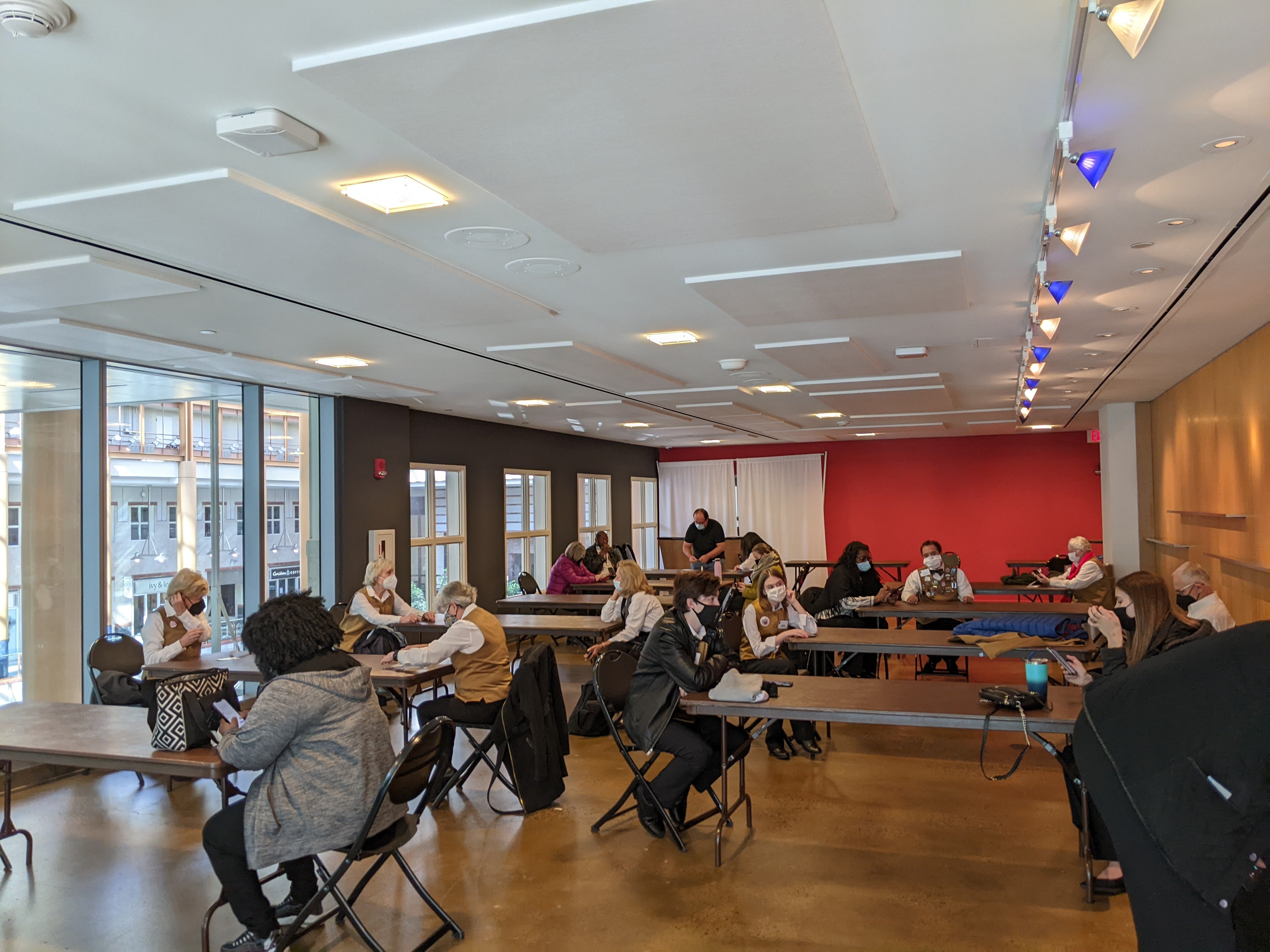 (Blumenthal staff and volunteers waiting for COVID rapid test results ahead of a performance of Ain't Too Proud)
For the last six months, rapid testing has been part of Blumenthal's multi-pronged approach to reducing the spread of COVID. But its advocacy for introducing rapid testing industry-wide began as many as 18 months ago.
The non-profit started providing free FDA-approved, rapid COVID tests last August for operating staff at Immersive Van Gogh. Testing was optional but encouraged two to three times weekly. When Wicked opened in September at Ovens Auditorium, tests were made available to staff working in the theater as well as to Blumenthal's office personnel.
"What all the Broadway shows have adopted—that we were right at the front early on doing—was looking at daily testing," says Blumenthal's President and CEO Tom Gabbard, who also chairs a sub-committee on rapid testing for the national Covid Theatre Think Tank, a consortium that includes theater professionals and front-line health experts.
He first started learning about rapid testing in June 2020. "Back then we were exploring the possibility of testing an entire audience," he says.
Thanks to the arrival of the vaccine, that degree of large-scale, on-site rapid testing didn't turn out to be necessary to safely reopen. But targeted, rapid testing backstage and among front of house staff has become an increasingly important tool to catch potential cases as early as possible and keep Blumenthal's theaters operating.
The current work on rapid testing may also help down the road, by enabling theaters and other public gathering spaces to be better equipped for future viruses that could arise. For example, as part of his work with the Covid Theatre Think Tank, Gabbard spoke via video call with researchers in Finland and Israel, who are working on breath analyzers to test for COVID-19. The technology wasn't yet ready for the current crisis but it likely will be available in a year or two, Gabbard says, and could be programmed to look for other viruses.
The hope is research like this could lead to even faster and more cost-effective testing options.
"Imagine simply blowing into a disposable plastic tube and getting a test result inexpensively in 15 seconds," he says.
A Blumenthal Volunteer's Perspective
At the beginning of the pandemic, like many people, longtime Blumenthal volunteer Cathey Winfield was very nervous about the risks COVID-19 presented.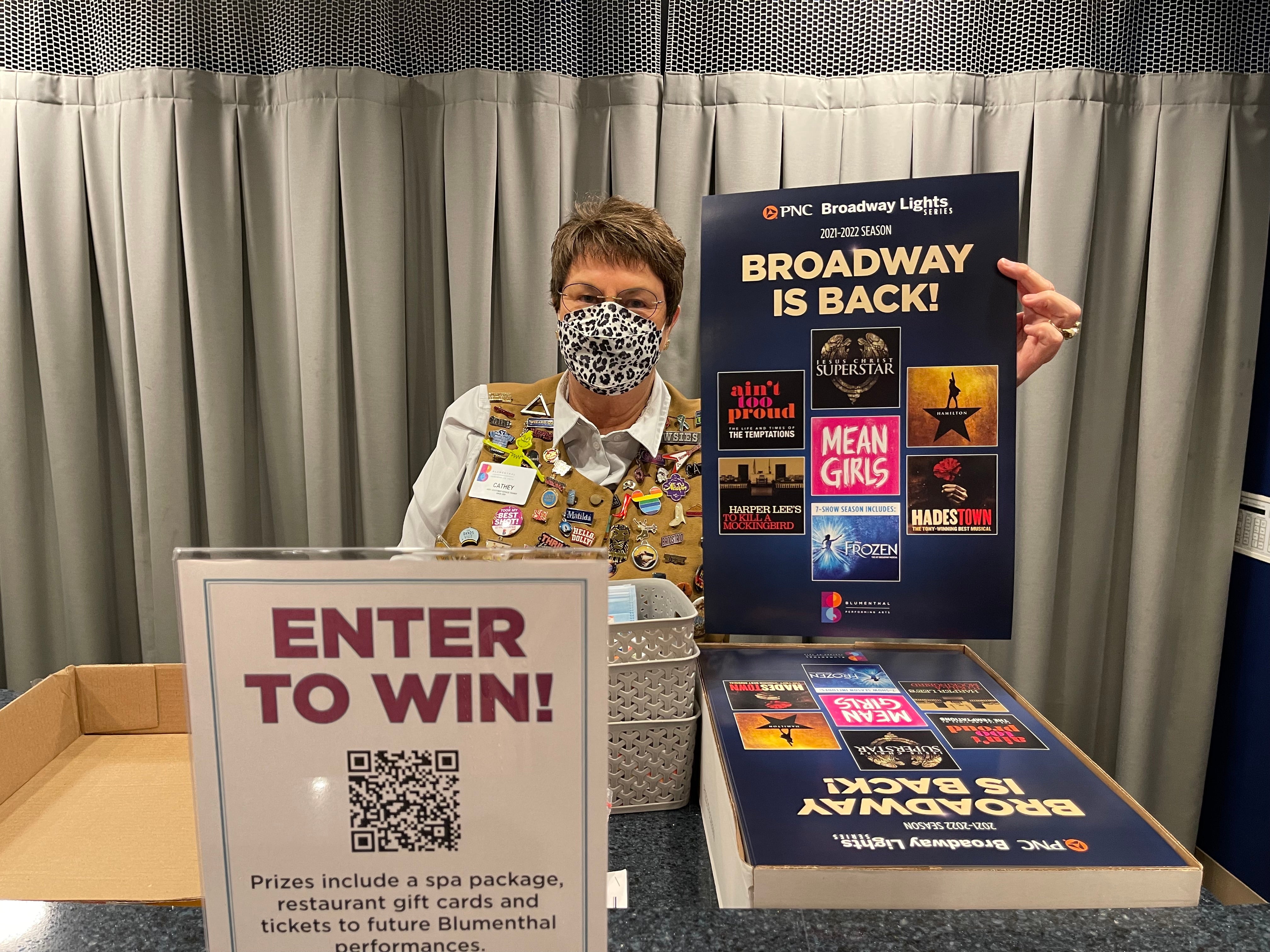 (Blumenthal volunteer Cathey Winfield)
"I was in one of those categories that you know, if you get it, then you may be six feet under," she says. "Well, I didn't want to be one of those. I was cautious doing everything we were told to do…"
She even participated in a Duke University study, sending in nose swipes every two weeks and having her blood tested monthly in support of COVID research.
But experiencing first-hand how Blumenthal has approached reopening theaters in the COVID era has been reassuring. The organization requires vaccination for staff and volunteers, and enforces mask-wearing and social distancing whenever possible. It also has improved its air filtration systems and enhanced its cleaning measures in all of the theaters.
The backstage area has become an essentially quarantined space too, with most shows no longer allowing visitors or vendors, in an effort to keep it as safe as possible for performers and crew.
"I just appreciate everything that our CEO has done—Tom Gabbard—in trying to keep our theater and our arts open and going … with respect to keeping everyone safe, and yet letting them come back out," Winfield says. "I just feel like Blumenthal has been exemplary in what they've done and I applaud them for that."
Staff and Guests Appreciate the COVID Precautions in Place
Other returning and new volunteers share that perspective too. "By and large, most folks are positive and appreciative of the protocols," says Cliff Olson, director of Volunteer Services. The organization has actually had a "deluge of new applications," he adds.
Many audience members also seem to appreciate the COVID safety policies and the way staff politely enforces them, according to recent post-show customer surveys.
The focus remains on providing excellent customer service. "We're the front line face of Blumenthal," Olson says. With masks on, they have simply had to master the art of smiling with their eyes.
With approximately 500 people—including staff, adult volunteers, and teen Junior Ambassadors—being part of a rotating front of house team at the theater, Olson says he is proud of and grateful for the way people have stepped up in this challenging time.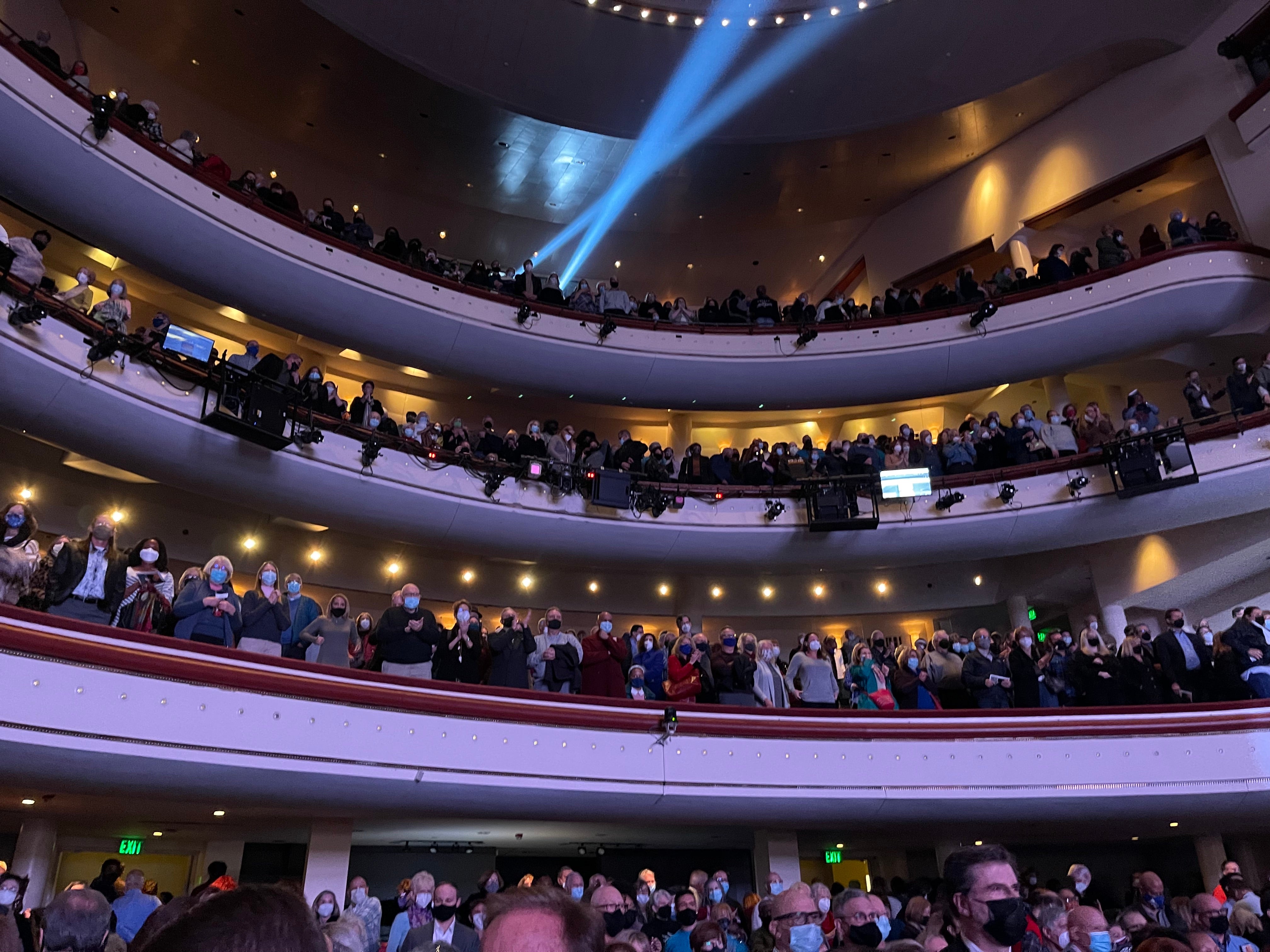 "We're really appreciative that that spirit has been so positive," he says.
Keeping it positive has been important in other ways too. For example, Blumenthal offered a tax-free $100 incentive for employees to get vaccinated and another $100 when they get boosted, to acknowledge the time for travel and rest that could be necessary by taking those steps.
All of the measures—from providing rapid tests to vaccine incentives to implementing air filtration system upgrades and more—require investment, but Gabbard sees them as essential.
"For us, the cost of doing this, which is not insignificant, is well worth it because it keeps our shows open, keeps people employed, keeps us in a position of being able to continue to serve audiences," he says. "And so it's worth the expense so we don't have to shut down."