 Immersive Van Gogh Concludes Record-Breaking Engagement
(Charlotte, NC) – Immersive Van Gogh concluded its final run at Camp North End on January 2, 2022. Originally set to play through September 12, 2021, the exhibit was extended three times due to popular demand, playing its final performance on January 2, 2022.
The record-breaking exhibition played more than 1,600 performances and sold more than 300,000 tickets in Charlotte, with nearly half (46%) of ticket buyers coming from outside the Charlotte Metropolitan Area and an astonishing 78% of tickets purchased by new customers who have never attended an event at Blumenthal Performing Arts previously. Audiences enjoyed the exhibition so much, they came back for more, with nearly 10% of tickets bought by repeat customers. The local economic impact of Immersive Van Gogh can be estimated at more than $40 million. This estimate includes monetary impact generated by ticket buyers, tourism, hotels, dining, parking and more.

"We exceeded every expectation we had for Immersive Van Gogh in Charlotte," said Tom Gabbard, Blumenthal CEO. "When we set out to bring this exhibition to Charlotte, we were looking for an outside-the-box way to reconnect the community with artistic experiences that had been put on pause at the beginning of the pandemic. We employed more than 200 people and allowed audiences the opportunity to get reacclimated to enjoying a show indoors. The impact of this experience across multiple pockets of the community—including our rich network of artists here in Charlotte, as well as the local tourism, dining and hospitality industries—has inspired us to explore introducing more immersive experiences into our future programming."
The exhibit was hosted at Camp North End, a state-of-the-art 76-acre mixed-use development featuring award-winning restaurants, retail shopping and ample outdoor space for visitors to lounge year-round. Immersive Van Gogh called the Ford Building, a former Ford factory and local historic landmark, its home for more than five months. In addition to the ticketed gallery, the space featured a separate gallery of public art, highlighting work by local Charlotte-area artists that included murals and larger-than-life sunflowers. Fifteen Artists-in-Residence were given financial support, space to create and access to hundreds of visitors to the exhibit.​​
​​​To create the atmosphere of Van Gogh in the public space, local artists used: 120 cans of spray paint; 60 gallons of paint; 35 rolls of painters tape; and 600+ yards of printed fabric to create 210 painted sunflowers; 3 Vincent paintings or sculptures; 6 interpretations of Starry Night; and 2 interactive social media filters. The youngest artist paid to participate in creating the space was 16 year old and 4,000 is the highest number of merch items sold by a single artist. An incredible $400,000+ went back into artists' pockets.
By the Numbers
*120 cans of spray paint
*60 gallons of paint
*35 rolls of painters tape used
*16 – age of the youngest artist paid to participate
*3 artistic "Vincent" names painted or sculpted (fabric, quote wall, tire sculpture)
*600+ yards of printed fabric
*210 sunflowers painted
*6 artistic renditions of Starry Night (custom turf, Robin Stallings's mural, Bree Stallings's fabric, etc.)
*2 interactive filters (Mike and Cheeks' ear and sunflower field)
*3,400+ subsidized tickets for students, teachers and community members
*15 – number of artists selected for the Artist in Residence program, the most of any city that has hosted the IVG exhibition
*4,000+ - Most number of items sold by a single artist (Hasty Ladies)
*Almost $500,000+ back in artists' pockets Director of Artistic Experiences, Bree Stallings, said, "Being a professional working artist myself, I know how devastating the pandemic has been on the arts, especially for local artists who work to ensure our city is a culturally vibrant community. When we first began dreaming up how to bring this huge, international project to Charlotte, we knew we needed to make sure that we used this opportunity to showcase our endless local talent. Through Immersive Van Gogh, we have seen how this approach benefited both Charlotte artists and audiences. I've heard from local artists who have said that these opportunities helped them find bigger and better projects, while inspiring them to think differently about the economic model of their business to reach more people. Most importantly, I've had artists tell me that this opportunity has helped them to eat and pay rent during this tumultuous and uncertain time. The public has also had many opportunities to discover and better understand artwork, while engaging with artists and seeing work being made for and around them. It deepens the experience for our audience and reminds us of how art contributes to a thriving social fabric."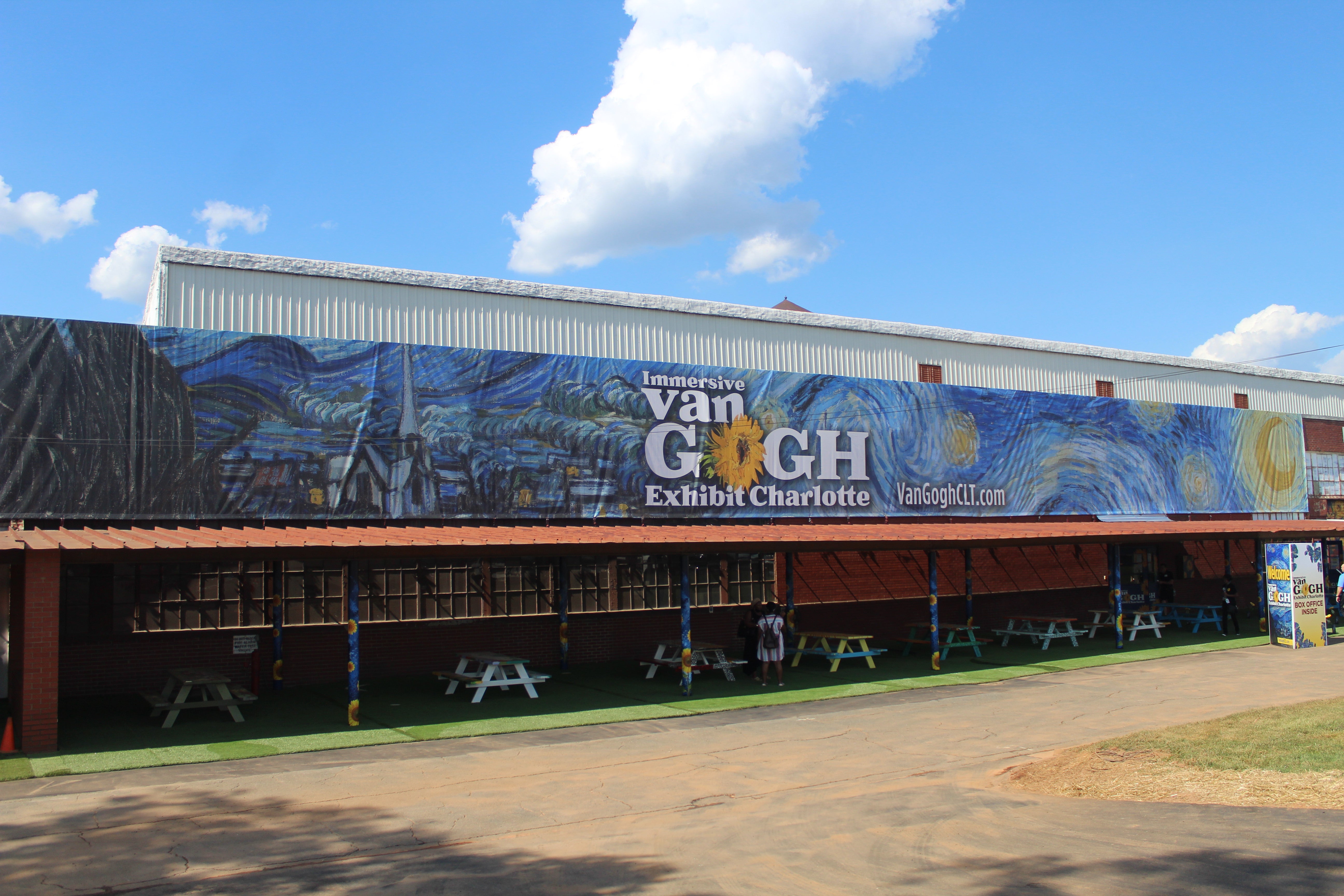 With creative direction by Italian film producer Massimiliano Siccardi, original music by multimedia composer Luca Longobardi and art direction by Vittorio Guidotti, Immersive Van Gogh is a vivid and breathtaking sensory experience that's refreshingly different from a traditional art exhibition. The audience is invited to enter the legendary works of post-Impressionist artist Vincent van Gogh—evoking his highly emotional and chaotic inner consciousness through art, light, music, movement and imagination. Coming to life through 500,000+ cubic feet of projections that illuminate the artistic genius's mind in Camp North End's historic Ford Building, the exhibition features a curated selection of images from Van Gogh's 2,000+ lifetime catalog of masterpieces. Famed pieces include Mangeurs de Pommes de Terre (The Potato Eaters, 1885), Nuit étoilée (Starry Night, 1889), Les Tournesols (Sunflowers, 1888) and La Chambre à coucher (The Bedroom, 1889). Paintings will be presented how the artist first saw the scenes, based on an active life and moving landscapes turned into sharp yet sweeping brushstrokes.
Follow the exhibition on social media on Facebook and Instagram.
###
ABOUT BLUMENTHAL PERFORMING ARTS
Blumenthal Performing Arts serves the Carolinas as a leading cultural, entertainment and education provider. For more information, call (704) 372-1000 or visit BlumenthalArts.org. Blumenthal Performing Arts receives operating support from the North Carolina Arts Council. Blumenthal Performing Arts is also supported by PNC Bank, sponsor of the PNC Broadway Lights.
ABOUT LIGHTHOUSE IMMERSIVE
Founded in 2019 by Toronto-based producers, Corey Ross and Svetlana Dvoretsky and Toronto-based developer – Slava Zheleznyakov, Lighthouse Immersive is the first experiential entertainment multi-plex, aiming to cultivate community and creativity through large-scale events and exhibitions of all art forms. With locations in Toronto, Chicago, and San Francisco, Lighthouse Immersive offers versatile spaces for creators to present their work, while engaging audiences around the globe in unique art experiences that encourage dialogue and inspire new artistic creations.