Kahlil Ashanti Set To Debut "Meet Richard Pryor" In Charlotte
It was 2005 and actor/writer/entrepreneur Kahlil Ashanti had just finished an award-winning run of his then new one man show, BASIC TRAINING, at the Edinburgh Fringe Festival, when he heard that comedian Richard Pryor had died from a heart attack. Ashanti had long been a fan, listening to the comic's famous recordings over and over again as a kid. He was stunned that Pryor's passing was barely a blip on the news.
"For everything this man has done, all the ground he's broken… I decided then that I wanted to tell his story," says Ashanti.
For years that idea stayed at the back of his mind, as life charged on. Ashanti continued to read about Pryor in his spare time while embarking on a variety of other professional projects, from touring with BASIC TRAINING and co-writing POST-SECRET: THE SHOW to playing a recurring role on the Amazon Prime series, "The Tick." Ashanti also became a father and intentionally scaled back his performing so he could be actively involved in raising his three young sons. (His own childhood had been marred by a violently abusive father.) With more time at home in Vancouver, he picked up computer coding, a skill he hoped would open some new business opportunities for him.
Finally, Ashanti says a perfect storm of factors, including his youngest son starting kindergarten, made it possible for him last spring to start crafting the show that he had been contemplating for 14 years. With all of his kids in school, he had more time to dedicate to his own projects. That's when WeShowUp.io, the new app he had designed to help connect audience members and artists in an unprecedented way, suddenly and somewhat unintentionally took off.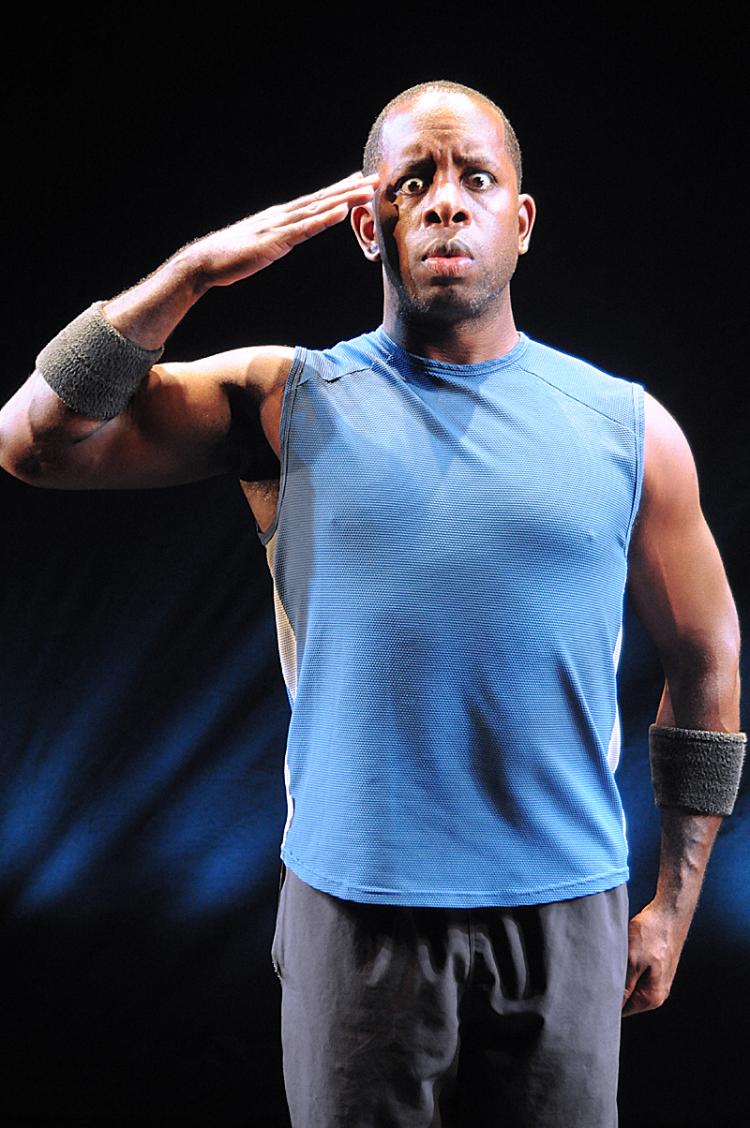 (Kahlil Ashanti in BASIC TRAINING)
"Rehearsing Richard Pryor was a wonderful escape from the pressures of running a startup," says Ashanti.
Now that long-awaited production, MEET RICHARD PRYOR, is heading to Charlotte to make its US debut. The one-man performance piece will play at The Comedy Zone, Feb. 3 - 5.
ABOUT THE SHOW
Ashanti doesn't try to rehash old material or impersonate Pryor in the piece. Instead, without costume changes or props, he portrays dozens of vibrant characters and evokes distinct places (including the brothel Pryor grew up in) that contributed to shaping the future comic and his unique brand of comedy.
"The story is told through the eyes of an old soul who may or may not have grown up with Richard Pryor," says Ashanti. "...When you go to see the show, you're not going to see an impression of Richard Pryor jokes, you're going to see people introduce him, who knew him back in 1950s Peoria, Illinois."
MEET RICHARD PRYOR follows Pryor from his childhood and rise to fame as a clean cut performer (in the mode of a young Bill Cosby) to 1967 Las Vegas, when he stunned audiences by abruptly walking off the stage mid-set at the Aladdin, one of the newest and most luxurious hotels on the strip. "What the F--- am I doing here?" he famously said, in an apparent crisis of authenticity.
It could have been a career-ending move. Instead, Pryor would rehone his comedy and emerge several years later with a rawer, more daring brand of humor grounded in his own life experiences. Ashanti says Pryor's album "Live & Smokin" from 1971 shows this new persona—no longer a Bill Cosby clone but someone who is unapologetically on stage talking about his life and where he came from. Pryor started using curse words in his act, something that was an arrestable offense at the time, Ashanti says, but also painted a more authentic picture of the way people in his world spoke.
In many ways, Pryor was a trailblazer. He grew up in an era when segregation prevented black people from performing in front of white audiences, says Ashanti, but he helped break down that barrier. Today's performers and comedians with their Netflix specials also owe him a debt of gratitude: "Richard Pryor was the first stand up comic of any color to have his material broadcast in movie theaters."
Ashanti believes that Pryor deserves more recognition for all that he did and he's happy to bring this new story to the Queen City. "Charlotte is one of the places that first embraced BASIC TRAINING," says Ashanti. "It's kind of a home for me—a place for me to come and share it with audiences there."
UPDATE ON WESHOWUP.IO
Charlotte was also one of the first places to test out Ashanti's innovative app, WeShowUp.io, which allows the public to reserve select seats to performances at a minimal price and then pay whatever they think a show is worth after seeing it. It is now available in 14 cities around the world with ten more expected to come on board in the first quarter of 2020.
While it is not a substitute for other ticketing systems, Ashanti says many organizations, including orchestras and aquariums, are embracing the app and using it for a portion of their seats, as a way to subsidize the cost of getting new and risky work out there. "It's really beginning to expand beyond theater and it's growing rapidly," says Ashanti.
You can even try it for MEET RICHARD PRYOR at The Comedy Zone. What could be more perfect? From one trailblazer to another...